---
Editor's Pick:
Honorable Mention:
Newbies:
Soldiering On:
Cubs Sites:
Just Read 'em!
Conglomerates
NL Central
NL East
NL West
AL East
AL Central
AL West
Miscellany
Chicago Sports
News Sources
Thursday, May 29, 2008
Last Wednesday, the Fire played a friendly (exhibition game) vs. Wisla Krakow, a polish team. The match was pretty much horrible as both sides played their reserves, and neither side could keep possession of the ball long enough to come up with any viable scoring opportunities. The match ended in a disappointing nil-nil draw (0-0 tie). I sat with section 8 (the crowd of rowdy die-hard fire fans who sing and chant the whole game giving all the Fire game's some much needed ambiance) largely because I didn't want to be surrounded by opposing fans, who turned out in droves to watch their squad take on the Fire, the mighty, mighty Fire.
The biggest highlight of the whole match was Wilman Conde's play. He'd previously been injured and benched following a tumultuous off season in which he demanded a trade, but the Fire front office never accommodated him. He's since apologized to his teammates, and then after it had seemingly blown over was quoted by Pedro Gomez in the following report:
Pedro Gomez' sideline report on ESPN Thursday Night Soccer - "He is extremely frustrated with this situation. He didn't come to this country to sit on the bench and be away from his family. He would love for them to let him even go back to Columbia to play in his native country, but they're not doing that. He said he has been told by a member of the Fire's front office that they will not trade him to the Eastern Conference because they do not want to strengthen another team in their own conference. Obviously a lot of speculation has been about him being reunited with the former Fire coach, Juan Carlos Osorio in New York. Guys -"
Anyhow, Conde, one of the most talented players on the Fire, got the start against Wisla and singlehandedly kept their entire team from scoring... well with at least one assist from back-up goal keeper Nick Noble.
Conde's performance against Wisla was good enough to earn him the start just four days later when the Fire returned to league play against the New York Red Bulls (yes, they're owned by and named for the eponymous energy drink.)
The back story on the Red Bulls game was especially interesting as the Red Bulls' new coach, Juan Carlos Osorio, is the Fire's old coach... and the Fire didn't really want him to leave... and Wilman Conde wanted to leave the Fire so he could follow the coach who he'd played for as far back as when Osorio was coaching in Columbia. Complicating matters even more is that there's another Fire player named Lider Marmol who would also rather be playing in New York for Osorio. All of this creates a tangled web of loyalties and hurt feelings, but one squad proved a slight bit better when the Fire absolutely destroyed New York on Sunday, 5-1.
So now, the Fire are tied for the top of the league standings with the Columbus Crew and the New England Revolution, but the Fire lead on goal differential, so they are currently the best team in the league. (The best team in Major League Soccer is awarded 'The Supporter's Shield.)
Posted by Byron at 9:44 AM | | |
Sunday, May 18, 2008
The Fire faced off against the Houston Dynamo last night at Toyota Park, and as usual, I was in attendance.
The weather yesterday afternoon was a beautiful 70 degrees and sunny, so Toyota Park was idyllic right before kickoff.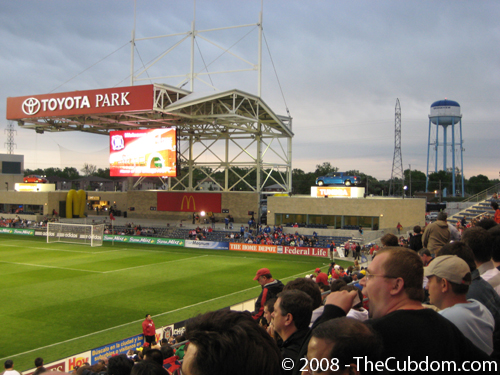 Toyota Park at dusk
Section 8 was in full throat and apparently decided it was a good time to honor Peter Wilt, I'm assuming they want him back as the team Presidency is currently vacant. On a side note, they were very loud last night and could be clearly heard, trumpet and all, at mid-field where I was sitting.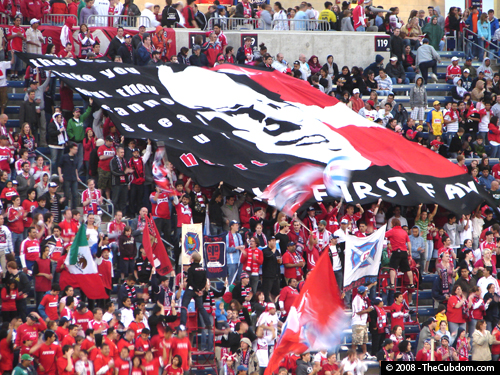 Section 8 unfurls their Peter Wilt 'First Fan' banner
The great weather, and my great mood wouldn't last long however. God soon began to pour water down from the heavens, which made the pitch wet. In the 17th minute, Ricardo Clark (Houston) had a great look from the top of the penalty area, as he approached the ball, I had fear flash before my eyes, but Chris Rolfe sacrificed his body and dove in front of the smash. With relief, I watched as the ball deflected high into the air, but John Busch was slipping on the turf and the ball bounced into the back of the net just out of reach of the best goalkeeper in MLS.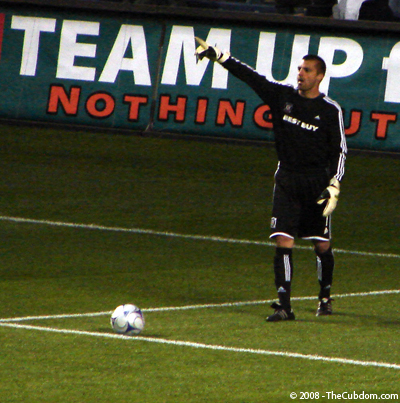 Jon Busch is the best goalkeeper in MLS.
Later, in the 28th minute, someone fouled a Fire player (the details are irrelevant), and a free kick was awarded to the Fire. There's no reason to describe Cuauhtemoc Blanco's assist or Calen Carr's goal, because I happened to have caught it on video.

Cuauhtemoc Blanco takes a free kick and Calen Carr heads it in. Toyota Park erupts in joy!
In the second half, Wilman Conde was subbed in. I think it was only his second time seeing action this year... and you didn't believe me when I said it was pouring.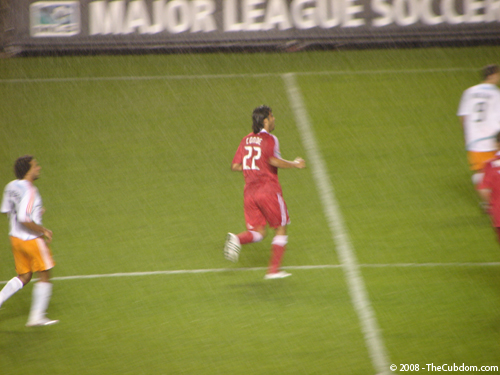 Wilman Conde, playing in the rain.
Anyhow, in the 84th minute, Conde fouled someone and the referee pulled him aside to lecture him, all the while allowing Houston to take the free kick. Surprise, surprise, with Conde out of position, the Dynamo scored, giving them the 2-1 victory. While I'm busy complaining about the referee, I've got to say, he was atrocious last night.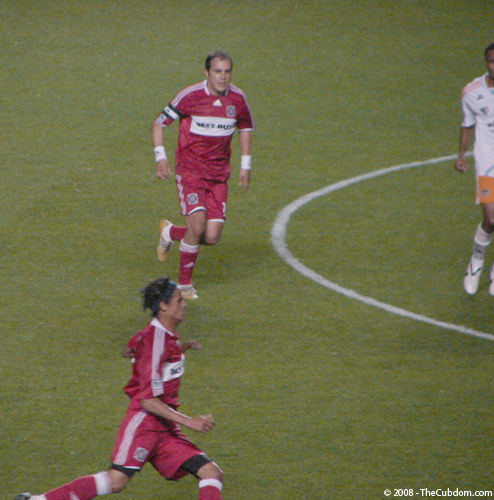 Cuauhtemoc Blanco and Calen Carr
Posted by Byron at 1:36 PM | | |
Friday, May 9, 2008
State, ISFA, Governor, Sam Zell trying one last time to steal from taxpayers.
There's been a lot of news on the Cubs sale front of late. The rumblings from many sources is that the 'books' will be sent out to the six prospective ownership groups in a week or two.
In what appears to be a last minute attempt to revive the ISFA deal, Jim Thompson (whom I'm losing respect for daily) is now promising that there will be no name change if the state buys Wrigley.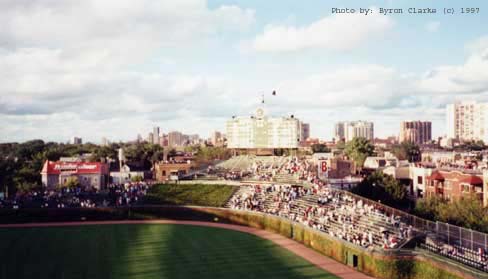 This raises two questions. Where's the revenue shortfall going to come from? (If the agency had been planning to sell naming rights, it was probably banking on some revenue.) Well, lets think about the ISFA. It's assets/income opportunities if it purchased the park would come from rent the club pays, concessions, other 'inside the ballpark' revenues, and tax dollars. Now, if there's any drop in 'inside the ballpark' revenues to the new owners, the club is devalued... so that doesn't make a lot of sense for Sam Zell. But, if the new revenues come from the taxpayers, well then everyone can eat the taxpayers' pie and so the new owners and the Tribune can have an extra helping of profit.
Similarly, Al Yellon recently had a sit down with Crane Kenney, the Cubs' interim-President. Here's what Crane had to say about taxpayer dollars being used by the ISFA.
All right, so I think we've already talked about the sources of funding for this transaction will come exclusively from inside this building. So what we would do is we would take what we call the transactional taxes that are paid here, sales taxes that are paid in the building on food, drink, merchandise, amusement taxes that are paid on ticket sales, use taxes, etc. Those taxes that are right now being paid inside the building for money being spent here, we would use a baseline year of 2007 and then all the incremental taxes that otherwise would have been paid into the general coffers above that baseline year would now go to support a bond issue which would renovate the stadium over 30 years.
So let me get this straight. What if I wanted to purchase Wrigley Field. Would the state really allow me to set a baseline year of tax payments and not increase those taxes for the next 30 years?
Let's do a little math here. I checked Team Marketing Report's Fan Cost Index, which they've released every year since 1991. In '91, the average Cubs ticket price was $10.10, and the FCI was $83.40 or $20.85 per person. (FCI is based on a family of four attending a game.)
For 2008, the Cubs average ticket price, according to TMR, is $42.49 and the FCI is $251.96 or $62.99 per person.
Assuming the tax rates didn't change from 1991 to 2008 (they did, but they went up), the tax authorities would have expected 12% of the ticket revenue (entertainment tax) and 10.5% (sales tax) of the rest. In other words, a fair estimate of per fan tax revenue in 1991 was (.12 x 10.10 + .105 x 10.75 =) $2.34 per person. The same estimate using the 2008 levels is (.12 x 42.49 + .105 x 20.50 =) $7.25. (Note that the above paragraph assumes the average fan spends at the FCI amount, but the FCI amount is not developed using average fan expenditures per game.
The final factor I'll look at is attendance. In 1991, attendance was 2,314,250. Let's assume 2008 attendance will be at the same level as 2007, or 3,252,462. Using our previous assumptions about tax per fan per game, that brings 1991 tax revenues to approximately $5.4 million and 2008 tax revenues to $23.6 million.
In other words, if the ISFA had purchased the stadium in 1991 using the same tax threshold they are suggesting now, the city/county/state authorities would receive $5.4 million of taxes from the Cubs this year and $18.2 million would be redirected to paying off bonds so the state could own Wrigley Field. That's $18.2 million that doesn't go to fix pot holes, hire police and firefighters, or replace broken streetlights in drug-infested neighborhoods.
If all of that seems like too many ifs, too many assumptions, let's run the numbers if the deal closes before the end of the season and they adopt 2007 as the baseline.
2007 FCI: 219.21 or $54.80 per person. Average ticket cost was $34.30. So tax revenues would be .12 x 34.30 + .105 x 20.50 = 6.27 per person. We assumed no change in attendance, so the difference is $7.25 - $6.27 = $0.98 per person x 3,252,462 = $3.2 million.
So just the incremental tax revenue from 2007 to 2008 is $3.2 million... and that assumption is on the low side because it doesn't factor in the hike in tax rates that occurred in 2008. (Thanks Todd Stroger Jr. and the CTA).
Thus, in it's first year, given the conditions Crane Kenney outlined for Al, the taxpayers would be subsidizing $3.2 million dollars of the Wrigley Field purchase price... and it would grow from there. I'd say write your governor, but Blagojevich is already a fan of corruption... so write your state representative, write your alderman, write your mayor. There's already enough corruption in Chicago politics. Illinois taxpayers don't need to subsidize Sam Zell.
Posted by Byron at 11:23 AM | | |
Sunday, May 4, 2008
Fran Spielman reports in the Sun-Times that the Cubs have reached an agreement with Tom Gramatis, the owner of the Ivy League Baseball Club (3637 N. Sheffield Ave), the Sheffield Baseball Club (3619 N. Sheffield Ave), and the Wrigley Field Rooftop Club (3617 N. Sheffield Ave).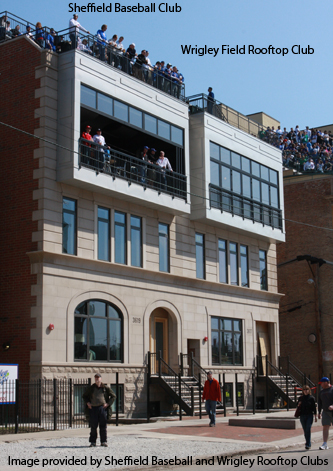 The new agreement seems to be fair. It exempts the Ivy League Baseball Club from the 17% revenue sharing agreement the other rooftops have in favor of a flat fee. This is because the Ivy League Baseball Club has a lower roof than the surrounding rooftops, so it's view was obstructed by the 2006 bleacher expansion. In return for the concession on the Ivy League club, Gramatis agreed to submit his new rooftops to the standard revenue sharing program.
Here's a picture I took last month (below). You can clearly see 3639 Wrigley Rooftop and the Ivy League Baseball Club are under construction. 3639 Wrigley Rooftop has a new hulking bleacher on top, but I'm not sure what the plan is to improve the view from the Ivy League Club.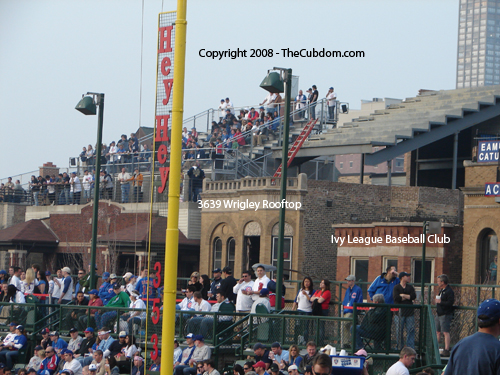 The other interesting nugget in the article is an estimate that the total revenues of all the rooftops are around $18 million, making the Cubs' take $3 million.
For more information on the Cubs Rooftops, check out the Wrigley Field Rooftop Directory.
Posted by Byron at 2:25 PM | | |
Deep in the Bowels of the Tribune Company, Sam Zell and a handful of Tribune Company executives are seated around a conference room table.
Sam Zell: We took out too much debt to buy this blasted company. Everybody needs to come up with a way to make more money, pronto! Crane, Crane Kenney, how can the Cubs make more money?
Crane Kenney: Well, we could sell naming rights to Wrigley Field.
Zell: Out of the Box you numbskull!
Kenney: Er... we could sell the stadium to the state. Just make a little contribution to the G-Rod campaign and maybe the state will pay more for the decrepit park than any other suitor.
Zell: I like where you're going with this, Crane... but it's not good enough or quick enough!
Kenney: Well, our best assets are Wrigley Field, followed by our flagpole legends (Ronny, Billy, Ernie, and Ryne). Shazaam! Let's have a legends day at Wrigley!
Zell: Come on Crane, you're almost there... keep squeezin' that noggin' of yours. We already have a legends day virtually every single year. We already sell out every game, how could we possibly squeeze out more revenue?
Kenney: An orgasmic look of bliss suddenly seizes him. We could have a legends game! Get all the guys out to play on the new turf. That'd sell like hot cakes.
Zell: Scratches his beard in deep thought What would happen if Ernie broke his hip... that could be a PR disaster. No, we should keep the baseball playing to young folk.
Kenney: Wait... I'm getting an idea here... We've got Ryne Sandberg managing in Peoria, he'd sell tickets! Let's just have the Chiefs play at Wrigley.
Zell: That's what I'm talking about, Crane.
UPDATE: For part 2 in this series, a look at the expected revenue from this game, see: TribCo Revenue Grab: Revenue Estimate for The Sandberg Game 2
Posted by Byron at 1:22 AM | | |
Thursday, May 1, 2008
Way back in the day, I used to publish my all-star votes periodically as a way to discuss the rest of the league. Now that all-star voting is available again this year, I think I'll do so again.
| | | |
| --- | --- | --- |
| Position | American League | National League |
| First Base | Morneau, J., MIN | Lee, D., CHC |
| Second Base | Grudzielanek, M., KC | Utley, C., PHI |
| Third Base | Rodriguez, A., NYY | Ramirez, A., CHC |
| Shortstop | Jeter, D., NYY | Rollins, J., PHI |
| Catcher | Rodriguez, I., DET | Soto, G., CHC |
| Outfielder | Guerrero, V., LAA | Bay, J., PIT |
| Outfielder | Sizemore, G., CLE | Fukudome, K., CHC |
| Outfielder | Suzuki, I., SEA | Griffey Jr., K., CIN |
| Designated Hitter | Ortiz, D., BOS | Our pitchers hit |
For those stats inclined folks, please don't freak out. I haven't looked at anything to make my decisions. No, mostly these were influenced by watching baseball tonight and the sports page.
Notes
• Derrek Lee may not get many votes over Albert Pujols, but Derrek is awesome and Albert's a Cardinal.
• Chase Utley reminds me of Ryne Sandberg. How about a Ryan Theriot for Chase Utley deal. Darn, I wish Ed Wade was still in Philly.
• Alex Rodriguez is the best player in baseball, and one of the greatest ever. David Wright probably ought to get the vote on the NL side, but he wears the wrong uniform, so Aramis Ramirez wins my vote.
• I've always loved Pudge Rodriguez, even if he destroyed the Cubs in 2003, even if he might have done something bad that rhymes with airtroids. And of course, I had to vote for Geovany Soto. He had six RBI yesterday!
• Ken Griffey Jr. deserves way more respect and fanfare than he gets. He's played clean throughout the steroid era, and he's on the doorstep of 600 homeruns. Ruth, Aaron, Mays, Griffey.
• Ichiro! is still one of the most exciting players in all of MLB. His countryman Kozuke Fooky isn't too far behind.
• It's really not fair that the All-Star game determines World Series home field advantage. The All-Star game is heavily tilted to the American League because of the undue influence of hitting in the All-Star game (Pitchers never hit), yet the AL teams all have an extra hitter. This is played out in the Baseball lines at Bodog. If I didn't like Big Papi so much, I would have abstained from voting for the DH.
• I voted for only four Cubs. I wasn't too bad, was I?
And Finally, I updated the Chicago Cubs Owner Review page to include the latest on Sam Zell, the Illinois Sports Facilities Administration, and the Cubs sale process.
Posted by Byron at 9:48 PM | | |
---
Search
---
Recent Entries
---
Monthly Archives
---
---
Cubs Sale Articles