---
Editor's Pick:
Honorable Mention:
Newbies:
Soldiering On:
Cubs Sites:
Just Read 'em!
Conglomerates
NL Central
NL East
NL West
AL East
AL Central
AL West
Miscellany
Chicago Sports
News Sources
Monday, May 31, 2004
Its Memorial Day, and so its time for a Cubdom thanks to my Grandpa Jesse, a WWII veteran, and all other military service men and women. Thanks!
Make that two in a row! The Cubs rode a strong Greg Maddux outing to their second consecutive victory (3-1). Maddux threw 6 and two thirds of an inning, allowing one run, but leaving with a strained oblique muscle. (Please make it stop!) Maddux pitched pretty well, but allowed seven hits and two walks, giving the Astros a couple of chances. Maddux is now 4-4, with a 4.41 ERA.
Joe Borowski picked up his 9th save today, but it was pretty rocky. He got the lead off man, but then put two runners on before striking out the go-ahead run.
Roy Oswalt pitched well again, but not as well as Maddux. Oswalt pitched 6 innings, allowed 3 earned runs on 10 hits including a two run dinger to Moises Alou.
In the second inning, Todd Hollandsworth hit a broken bat double and hustled into second. When the throw squirted away from Jeff Kent, Hollandsworth sprinted to third. I bring this up, because I haven't taken the opportunity to mention how much I appreciate Hollandsworth's play. Playing mainly as a bench player/late inning replacement, Hollandsworth is hitting .319 with a .420 OBP. He has provided some power (.623 SLG, 6 homers), and a reliable glove. Perhaps the reason I like Hollandsworth so much is that he is always hustling, has a respectable arm in the outfield, and then executing the fundamentals (i.e. hitting the cutoff man, throwing to the right base, etc.). Way to go Todd.
Greg Maddux Sacrifice Bunt Watch: Maddux was asked to bunt for the first time since May 14th. Once again, Maddux had a bit of difficulty before getting the bunt down properly. In his first stab, Maddux popped the bunt up in the air, and into the Cubs dugout. However in the second attempt, Maddux got the bunt down pretty well and successfully sacrificed Paul Bako and Ramon Martinez over.
Following up on the Derrek Lee comments yesterday, the table below contains Derrek Lee's career statistic splits (as of 5/30/2004).
 Derrek Lee Career Splits - Month by Month

Split
Avg
AB
R
H
2B
HR
RBI
BB
K
OBP
SLG
SB
Mar Apr
.230
552
84
126
32
26
90
86
164
.340
.438
16
May
.232
650
77
151
26
20
66
59
178
.302
.380
3
June
.286
420
70
120
29
27
73
66
85
.389
.557
5
July
.291
437
68
127
25
21
70
49
116
.365
.515
8
Aug
.275
472
71
130
31
18
60
67
116
.369
.464
12
Sep Oct
.288
524
85
151
31
23
89
65
139
.374
.491
9
Derrek Lee 2004 Stats - as of 5/30/2004

Avg
AB
R
H
2B
HR
RBI
BB
K
OBP
SLG
SB
.257
175
24
45
12
5
27
20
41
.343
.423
2
So what can we learn? (Provided past performance indicates future results). D. Lee's average is a bit higher than we would expect, but we should see the average climb between 30 and 50 points over the next couple of months. Also, the slugging percentage is higher than would be expected, but we can expect some extra thump for the next two months. Finally, the OBP should climp by about 40 points in the next couple of months.
Posted by Byron at 12:00 AM | | |
Sunday, May 30, 2004
Cubs Win, Cubs Win, Cubs Win, Holy Cow! The Cubs broke their five game losing streak today and beat the Pirates 12-1. The final score was a bit deceptive as the game was tied 1-1 at the start of the seventh, but the Cubs scored 3 in the seventh, 1, in the eigth, and 7 in the ninth.
Zambrano picked up the win, throwing six innings, allowing one run, and striking out eight. However, Zambrano also gave up eight hits, three walks, and hit three batters. The fact that Zambrano allowed only one run while averaging 2.33 runners per inning is nothing short of miraculous.
In the four game series, the Cubs' pitchers hit 10 batters (Clement 3, Mitre 2, Jimmy Anderson 2, and Zambrano 3), while the Pirates hit one (Mike Johnston). Of course, Johnston was the only pitcher ejected. After lobbying the umps for three games Lloyd McClendon (Pirates manager) finally got the umpires to issue a warning to both teams. Johnston then promptly hit a batter in the ninth getting himself and McClendon ejected. The series also featured benches emptying twice, although no punches were thrown.
Over the past two days, Derrek Lee has batted 4 for 10 with 3 runs scored and 6 RBI. As Lee warms up, I keep hoping that Lee's reputation of being a slow starter, who really gets going in June is accurate. I noted last week that Lee's swing was looking better, and maybe its starting to pay off (although I ought to mention there was a 1-20 stretch in the last week). Anyhow, with Sosa still out due to injury, the Cubs could sure use some extra thump in the lineup.
At the end of April, I wrote about Hee Seop Choi's fast start, and predicted that his production would fall off. (Click here to see the Hee Seop Choi thread) Now that it is the end of May, its time to revisit that prediction, and evaluate the D. Lee for Choi trade.
| | | | | | | | | | | |
| --- | --- | --- | --- | --- | --- | --- | --- | --- | --- | --- |
| Player | R | H | 2B | HR | RBI | BB | SO | AVG | OBP | SLG |
| Derrek Lee | 24 | 45 | 12 | 5 | 27 | 20 | 40 | .263 | .350 | .433 |
| Hee Seop Choi | 26 | 34 | 6 | 11 | 27 | 24 | 43 | .254 | .377 | .560 |
| Hee Seop - April | 14 | 18 | 0 | 9 | 18 | 12 | 17 | .295 | .419 | .738 |
| Hee Seop - May | 12 | 16 | 6 | 2 | 9 | 12 | 26 | .219 | .404 | .342 |
* monthly stats are through 5/29 game
The two firstbasemen are pretty well matched offensively. Choi has slightly better offensive numbers, but Lee's stellar defense more than makes up the difference. After two months, the biggest difference between the two players is that Choi earns $310,000 while Lee is paid $6,166,667. Still, I am witholding a preliminary judgment on who "won" the trade, (although through two months, the Marlins clearly have comparable value and a fatter wallet).
While Choi's production drop wasn't as drastic as I envisioned, (I figured the strikeouts would really balloon as pitchers exploited those 'gaping holes' in Hee Seop's swing.) I don't expect his numbers to be near his April production again, or at least until next April. On the otherhand, by all accounts, Lee's production will improve as we move into the "hot" months.
In the long run, I expect Hee Seop Choi will "figure it out" and develop into a Raffy Palmeiro-esque hitter. (As you all might know, I'm like Darren Baker, I really like Hee Seop.) Sure wish the Cubs coulda kept him, but D. Lee's no slouch, gotta love the glove.
By winning today, the Cubs avoided falling into last place, and instead climbed into a tie for third. With the Reds losing, the Cubs are now 2.5 back of Cincy, 1 back of Houston, and tied with St. Louis.
Mark Prior threw in what was hopefully his final rehab start at AAA Iowa. He struck out 10, threw 79 pitches, and gave up 2 solo home runs in 5.3 innings. The news out of Iowa is positive, and I am looking forward to a possible Prior start about June 5th or so.
Sportscenter ran a nice piece about the NL Central discussing the fact that all of the teams are above .500. Both Harold Reynolds (whom I really like) and John Kruk (an ignoramus who just takes time away from Reynolds and Rob Dibble) predicted that all five teams would finish the season above .500. I disagree with both analysts, and I believe Pittsburgh and Milwaukee will both finish the season below 81 wins. Neither Pittsburgh nor the Brewers have had any serious injuries this year, and will undoubtably have to deal with at least one major injury. While all of the teams in the Central are pretty good, the Brew Crew and the Bucs just don't have the depth.
Finally, congratulations to Buddy Rice on winning the Indy 500 today. I was disappointed that the race was rain shortened, but winning the race, the pole position, and the pit crew competition suggested that Rice was pretty dominant. Well done.
Posted by Byron at 12:00 AM | | |
Saturday, May 29, 2004
I HATE ROB MACKOWIAK. Yesterday, two games, two losses, two blown saves, and two walk-off home runs ... somewhere Harry Caray is finding irony in a tradgedy for Cubdom.
In the first game, Joe Borowski had a 5-4 lead when he came in to close the game. Borowski promptly allowed a run and loaded the bases before serving up a walk-off grand slam to Rob Mackowiak. The final was 5-9.
In the nightcap, LaTroy Hawkins had a 4-2 lead when he came in to close the game. Hawkins promptly allowed a two run home run to Rob Mackowiak. In the tenth, Francis Beltran threw one pitch, and gave up a walk-off home run to Craig Wilson. The final was 4-5.
Today, the Cubs scored four runs off Josh Fogg in the first inning, and looked to snap their four game losing streak. Alack, Mark Prior's achilles heel is sore, and Sergio Mitre was pitching in his place. Mitre managed to allow 6 (earned) runs in three and two-thirds innings. Three of those runs came off of a Rob Mackowiak three run home run in the fourth. The Pirates never looked back, as they piled on against the Cubs suddenly impotent bullpen. The final score was 7-10.
There have been very few positives this weekend (D. Lee hit a homer, thats it) and it has brought out the doomsday Cubs fan inside of me. I am concerned we will be talking about yesterday's doubleheader twenty years from now when we discuss Cubs' meltdowns following playoff years. The Cubs losing streak stands at five, and I am hoping Zambrano can put an end to it tommorrow.
Rob Mackowiak - Cub Killer Extraordinaire

Date
AB
R
H
RBI
BB
SO
Fri 5/28, Game 1
5
1
1
4
0
2
Fri 5/28, Game 2
1
1
1
2
1
0
Sat 5/29
4
2
2
5
0
1
First three games of series
10
4
4
11
1
3
The NL Central: The Cubs are in fourth place, 3.5 games behind the Reds. The whole division is over .500, while every other division in baseball has a team below .400 and at least two teams below .500 (except the four team AL West). The Reds lead the Astros and Cardinals by 2.5 games, the Brewers by 3, the Cubs by 3.5, and the Pirates by 4.
Around the League: Scott Rolen has 50 RBI's after 48 games - on pace for 169 RBI's. The Royals are playing a bit better, and maybe, just maybe, pretty please, hold on to Carlos Beltran until he can become a free agent after this season (see May 10th entry).
Posted by Byron at 12:00 AM | | |
Thursday, May 27, 2004
Something happened and the original entry didn't get posted properly, here is a synopsis of what I remember writing.
The Cubs just got swept in a two-game streak by the Astros. I am not happy. The Cubs pitching has been horrible. The scores were 0-5, and 3-7. Oswalt shut us out in the first game, and Petite Pettitte started the second game. Pettitte hurt his arm in the fourth inning, but the Cubs couldn't come back against the Astros bullpen.
Tom Goodwin, and Todd Wellemeyer were placed on the DL. Wellemeyer tore a muscle in his shoulder, and Goody has a strained groin.
Cubs players currently hurt
Players Name
Salary
Sammy Sosa
$16,000,000
Kerry Wood
$8,000,000
Alex Gonzalez
$5,750,000
Mark Prior
$3,150,000
Mark Grudzielanek
$2,500,000
Kent Mercker
$1,200,000
Tom Goodwin
$650,000
Todd Wellemeyer
$310,000
Total
$37,560,000
Posted by Byron at 12:00 AM | | |
Tuesday, May 25, 2004
The Cubs lost a big game today. We entered the day with the opportunity to put the Astros 2.5 games in back of us, and instead the Astros are only half a game back, while the Cubs find themselves 1.5 games behind the Reds. Roy Oswalt shut down the Cubs offense by throwing a three-hitter, and Carlos Zambrano had a rough outing, allowing 4 runs in 5 innings. The offense is struggling pretty badly, but there isn't much that can be done short of a trade. The Cubs bench players, who have decided they will be known as "the lemons" are starting to show a bit of everyday play fatigue.
Derrek Lee's swing looked very good today. Although Lee went 0-3, he seems to have evened out his swing, and reduced the uppercut. The balls that he has been popping up were simply fly-balls today. I think D-Lee is about to start crushing some baseballs. Also wondering, why Derrek Lee is hitting behind Aramis Ramirez. Ramirez is supposedly a breaking ball hitter, and Lee a fastball hitter. It would stand to reason then that Ramirez should hit behind Lee so that Lee would see more fastballs. Well, I'll ask Paul Sullivan.
I was thinking the other day about the Cubs pitching depth. The Tribune ran an article second guessing Jim Hendry's trade of Juan Cruz to the Braves for Andy Pratt and a minor league outfielder, Richard Lewis. Although I agree that the trade doesn't look so wonderful right now, I am not losing any sleep over it. However, it got me thinking about the Cubs pitching depth and marveling at Jim Hendry's foresight once again.
I had/have been saying since last July that the single biggest free agent the Cubs could sign during the 2003 off-season was Ivan Rodriguez. When Hendry signed Maddux, with the money I wanted him to spend on Pudge, I was disappointed and felt that the Maddux signing wasn't the best use of the spare budget room. (Think about a lineup with Ivan Rodriguez instead of Damian Miller... think about Pudge's defense). However, with the recent spate of injuries I now see Hendry's genius again. While Pudge has turned around the Tigers, and would have looked fantastic in the middle of the Cubs order, a rotation of Zambrano, Clement, Mitre, Rusch, and Juan Cruz would look significantly worse than our injury riddled rotation.
Speaking of the Cubs rotation, I saw some Cubs memorabilia on-line today that disappointed me. The plaque read "four of a kind" and included pictures of Wood, Prior, Maddux, and Clement. I want to know why Carlos Zambrano can't get any respect? Zambrano has been the staff ace so far this year, and didn't exactly have a bad campaign last year. Oh man, I can't wait til the Cubs get healthy and can start our big five right in a row. Prior, Wood, Zambrano, Clement, Maddux... sure would be nice. Best possible date for that to occur would be about June 5th, but not until about June 15th.
I think I am going through the five stages of mourning, and have now reached acceptance.
I filled out an All-Star ballot Today... and was suprised at some of the guys I voted for, but I picked those I thought were having the best season to date, (Barry got the nod over Pat Burrell, because he is Barry.)
| | | |
| --- | --- | --- |
| Position | American | National |
| C | I. Rodriguez, DET. | J. Estrada, ATL |
| 1B | T. Martinez, TB | A. Pujols, STL |
| 2B | A. Soriano, TEX | M. Loretta, SD |
| 3B | A. Rodriguez, NYY | S. Rolen, STL |
| SS | M. Young, TEX | J. Wilson, PIT |
| OF | V. Guerrero, ANA | J. Pierre, FLA |
| OF | C. Beltran, KC | L. Berkman, HOU |
| OF | M. Ramirez, BOS | B. Bonds, SF |
I won my first baseball award last week, although it isn't much to write home about (but the website's another thing.)
excerpt
Ask Paul Sullivan
ChicagoSports.com
May 19, 2004

How is Sammy's achilles feeling? I noticed he's not getting much air on his home run hop this year... and that's a shame. Is he about to join Grudzielanek (and he who must not be named, you know, Voldemort) on the DL? --Byron Clarke, Bloomington, Ind.

Byron, you win the award for prescient Cub fan of the year, sending this e-mail last week before Sammy even thought about sneezing. Sammy is now on the DL, though his Achilles' heel is his back, not his Achilles.
Posted by Byron at 12:00 AM | | |
Monday, May 24, 2004
I made it back from Boston, and the Cubs managed not to fall apart on me while I was gone. I was paniced like the rest of Cubdom when I heard Kerry Wood had been placed on the DL, and quite concerned that Kent Mercker was added to the list of walking wounded. From reading news accounts, It doesn't sound like Mike Remlinger was really ready to return to the bigs quite yet, but with no lefty in the bullpen, the Cubs needed to bring him back. We lost two of three to the Giants last week, but then won two of three against the Cardinals at Wrigley. Moises Alou has had some monster games, but that is about the extent of what I was able to learn from a few minutes of ESPN scattered over my weekend.
I attended my first game in Fenway Park, and it was fun. Fenway is very similar to Wrigley Field, but it seems smaller. I don't think the upper deck at Fenway is as deep as the upper deck at Wrigley, but I think there is an extra level. I got to see the BlueJays and the Red Sox go eight and a half innings of very close baseball until the Red Sox scored six in the bottom of the eighth. I was happy to see that the Boston fans lived up to their reputation, and were rather passionate. Unfortunately, I was sitting towards the back of the stadium and learned that they haven't replaced the original seats (or at least I doubt they have), and it was rather cramped. I also think Wrigley/Tribune Company have done a better job of upkeep than the Yawkey family did. I'll end by saying that the Green Monster wasn't as big as I thought it would be, but still pretty high. I don't know how the wind affects Fenway, but I do know that if the Green Monster were in left field at Wrigley, it would make it impossible to hit home runs when the wind was blowing in.
Posted by Byron at 12:00 AM | | |
Wednesday, May 19, 2004
After watching last night's game, I had a sneezing attack and will be going on the five day disabled list. Like my good friend Sammy, I will be skipping out on what I normally do for a few days, only to return and struggle mightily. Anyhow, I am going to Boston for a few days and will probably miss all of the Cubs games in the mean time. It will take a while to catchup, but rest assured I will be back with a vengeance when I do return. (I will also be saving any corks I may run across while in Boston.)
Last night was nearly one of the greatest nights in baseball, except Michael Barrett managed a hit, Moises Alou, a walk, and Matt Clement reached on a dropped third wild pitched strike. While Jason Schmidt only faced 30 batters, retiring 27 of them, and notching a one hitter, Randy Johnson was turning Sports Center into the Randy Johnson highlight reel. Johnson pitched a perfect game against the Braves, which was exciting for all baseball fans. The Turner field fans were standing the entire ninth inning rooting against their team in a 2-0 game. Thats OK I guess, even the best teams lose 60+ games a year, but how many perfect games do you get to witness?
Matt Clement shouldn't be neglected however. He pitched eight innings, allowed only one run, and still took the loss. Tough Luck loser. Anyhow, I feel another sneeze coming on, so I better run before I rupture another ligament.
Cubs players currently hurt
Players Name
Salary
Sammy Sosa
$16,000,000
Kerry Wood
$8,000,000
Alex Gonzalez
$5,750,000
Mike Remlinger
$3,983,333
Mark Prior
$3,150,000
Mark Grudzielanek
$2,500,000
Posted by Byron at 12:00 AM | | |
Sunday, May 16, 2004
As frustrated as I was four days ago, I am feeling remarkably upbeat today. In a game where Glendon Rusch started in place of Kerry Wood (sore triceps). Jose Macias started for the sore-shouldered/flu symptom beleaguered Todd Walker. Ramon Martinez started in place of fractured wrist Alex Gonzalez, and Todd Hollandsworth played for Sammy Sosa (back spasms induced by sneezing)... I have to say this: The Cubs are deep. I should also throw in the fact that Francis Beltran won the game today even though he probably wouldn't be on the twenty five man roster if Mike Remlinger were healthy.
OK, OK, what happened? The Cubs completed their sweep of the Padres, winning 4-2 to finish their west coast trip 4-2. It wasn't pretty, but it wasn't ugly either - the Cubs just showed they were better than the Padres this weekend. Rusch pitched 4 2/3 innings, giving up two runs. Beltran pitched 1 1/3 innings, leaving two inherited runners stranded, and then walking and stranding two runners himself. The bullpen pitched 4 1/3 innings of no-run baseball, and LaTroy Hawkins, Kyle Farnsworth, and Joe Borowski all threw 1-2-3 innings to close out the game. Offensively, Jose Macias went 3 for 5, with a home run and two runs scored. Michael Barrett also hit a solo dinger, which was his fifth of the season.
Around baseball, Ben Sheets struck out 18 Braves in nine-innings today... Kerry will eventually get more than 20, although Prior might beat him to it. Mike Piazza hit a two run home run in the the ninth to spoil Roger Clemen's would-be eighth win. The Mets wound up winning in the 13th inning on a Jason Phillips dinger, which has allowed the Cubs to pull even in the NL Central.
Posted by Byron at 12:00 AM | | |
Saturday, May 15, 2004
Cubs won today, three in a row! The Final score was 7-5, but it seemed like an easier win than the final score suggests. The Cubs jumped out to a 7-2 lead with a five run fifth inning, but the Padres scored once in the sixth, seventh, and eighth to make it a bit tighter. Alou, Sosa, and Ramirez all hit home runs (Sosa's home run passed Mike Schmidt on the all time list, #549, Ramirez was a three run shot that put the game away.)
Sergio Mitre started, and pitched servicably well. He gave up three earned runs in six innings, lowering his ERA to 4.93 (ouch). The bullpen was generally leaky, with Mercker and Farnsworth both allowing a run apiece. LaTroy Hawkins finished the game and recorded a save. However, Joe Borowski probably doesn't have anything to worry about. I am sure Dusty went with Hawkins because Borowski had pitched in the previous three games. (After the fact note: The Chicago Tribune reported that Dusty wanted to start the ninth off with Hawkins because Borowski had struggled with Brian Giles, and Dusty just let Hawkins finish.)
Chip Caray's contract is up for renewal at the end of this season, and I haven't figured out if I want him back yet. He isn't Joe Carter terrible, but neither he nor his grandfather were great play by play men. Add to the fact that Chip doesn't have the charisma of Harry, and I wouldn't mind a new man in the booth next year, provided that the new fella is better. During today's game, Chip had me laughing at his inconsistent calls. Moises Alou hit a "shot" to center field that was really a bloop hit. However, the next half inning, a Padre's batter "blooped" a hit about 50 feet past Alou's "Shot". In the next inning, another Padre "bloop" was caught ten feet shy of the warning track. All of these are forgivable, but in the middle of the fourth, Chip informed his viewers that they were watching a real "pitcher's duel." At the time, the score was tied at 2. Let me ask this Chip, when two pitchers have a 6.00 ERA and a 4.50 ERA in a game, is it really a pitcher's duel?
In a follow up to my last post, Ramon Martinez mis-played a ball at shortstop today that trickled into short left center field. Martinez tried to field the ball off to his side, instead of getting in front of the ball. Like I said, he looks a bit uncomfortable for some reason at short.
If the season ended today: The Cubs would be in the playoffs. They are currently one game behind the Astros and half a game ahead of the Marlins in the Wild-Card race. The Phillies are leading the NL East on winning percentage, despite being in a tie in the games back column. Even though Billy Wagner just went on the DL in Philly, I am still awefully concerned about the Phillies. I am sticking with my preseason claim that they are the best team in the National League.
Totally unrelalated:
Excerpt
Prep? Bonds? Sox Rue '85 Draft
Phil Rogers
Chicago Tribune
5-16-2004
Numbers: Entering the weekend, the Rockies were paying four players on the disabled list $30.8 million and the 25 on their active roster $30.1 million. The four sidelined were Larry Walker, Denny Neagle, Preston Wilson and Adam Bernero. . David Segui, who underwent another knee surgery last week, has played 188 games during his four years in Baltimore, for which he will be paid $28 million. .
Posted by Byron at 12:00 AM | | |
Friday, May 14, 2004
Today's game against the Padre's has me feeling a little better about the Cubs. The starting lineup returned from its collective day off yesterday and played well. The Cubs beat the Padres 6-1 on the strength of Greg Maddux' 8 innings of 1 run ball. He struck out four, allowed five hits, and no walks, lowering his ERA to 4.44.
In our Greg Maddux Bunt Watch, he butchered another sacrifice attempt that nearly got the lead runner forced out at third. However, Sean Burroughs misplayed the ball, and missed the bag in the play.
Moises Alou is quietly having an All-Star type season. He went 3 for 4, and raised his average to .313 with an OBP of .367 and a slugging percentage at an impressive .575. However, Alou is showing his age on the basepaths. He has begun turning doubles into long singles (at least three in the past week), and then getting doubled off.
Aramis Ramirez hit a pop-fly last night that reminded me why I like him. His swing is a pure power swing, and reminds me of Sammy Sosa. I hope the Cubs ink him long term.
Ramon Martinez filled in for Alex Gonzalez at shortstop. He fielded his position flawlessly, but I was a little concerned, he looks a bit shaky at shortstop. (Atlanta is 16-18, and three games back... still probably a bit early to get Rafael Furcal (whose thumb may be injured more seriously than the Braves are letting on.))
Dusty continued following my advice again today. Corey Patterson returned to the lineup, but hit in the seventh spot. He hit 2 for 4 with a homerun and a bunt single. He scored two runs, and got an RBI. Furthermore, its only been one game, but he looked relaxed.
Jose Macias started in place of day-to-day Todd Walker (sore shoulder). He had two triples, three hits, three RBI, and a run. Pretty good day for Macias. I should also drop in a note here that the Cubs signed Rey Ordonez to a minor league contract... you know just in case Todd Walker's shoulder is really serious and he becomes the fourth Cubs middle infielder to spend time on the DL this year. (Macias started the year on the DL, Grudz, and Walker.)
Joe Borowski may have turned the corner today. Ron Santo was telling the radio audience that Dusty had a chat with Borowski and told him that the closer's job was his. Borowski has apparently been concerned about the drop in his velocity, and thus trying to muscle the ball up to the plate for extra velocity, which has caused his pitches to go high, and caused him to lose his control. This story sounds very plausible. I don't know that a simple talkin to is going to completely "fix" Borowski, but he did record a 1-2-3 inning, which was his third of the year, and first in a non-save situation.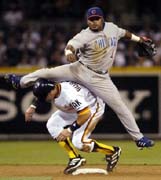 The Padres wore throwback uniforms from 1984, to commemorate the 20 year anniversary of beating the Cubs in the NLCS in 1984. Apparently, the Cubs were asked to wear '84 throwbacks too, which they declined to do. I am awefully glad they did, nothing like commemorating the 20th annivarsary of a momentous loss. You think the Red Sox will wear '86 throwback jersey's in two years? Somebody in San Diego ought to be shot. Anyhow, these jerseys are hideous brown, yellow, white, and red numbers, with some of the ugliest socks you have ever seen. By the way, the RAK on the sleeve stands for Ray Arther Kroc, the founder of McDonalds and San Diego owner who died in 1984.
Khalil Greene, the Padre's rookie shortstop had quite a game as well. He had three web-gems, including a glove shovel to turn a double play in the eighth inning. Wearing the throwback uniform, which was too big for him, Greene reminded me of another stellar defensive shortstop who wore ugly Padre uniforms in the early 80's. I did a quick check and found that Ozzie Smith was not on the Padres in 84 (he was traded in '81 to the Cards)... but watching Greene play defense reminded me of some Ozzie clips I have seen.
Finally, to wrap up a vintage, rambling, "Just Sayin..." entry, Scott Linebrink made it in to pitch against the Cubs. I have always rooted for Linebrink, since I had class with his sister about four years ago, but it looks like he might just stick around.
| | | | | | | | | | | | | | | | | |
| --- | --- | --- | --- | --- | --- | --- | --- | --- | --- | --- | --- | --- | --- | --- | --- | --- |
| Year | Team | W | L | ERA | G | GS | CG | SV | INN | H | R | ER | HR | HBP | BB | SO |
| 2000 | SF-HOU | 0 | 0 | 6.00 | 11 | 0 | 0 | 0 | 12.0 | 18 | 8 | 8 | 4 | 3 | 8 | 6 |
| 2001 | HOU | 0 | 0 | 2.61 | 9 | 0 | 0 | 0 | 10.1 | 6 | 4 | 3 | 0 | 2 | 6 | 9 |
| 2002 | HOU | 0 | 0 | 7.03 | 22 | 0 | 0 | 0 | 24.1 | 31 | 21 | 19 | 2 | 1 | 13 | 24 |
| 2003 | HOU-SD | 3 | 2 | 3.31 | 52 | 6 | 0 | 0 | 92.1 | 93 | 37 | 34 | 9 | 6 | 36 | 68 |
| 2004 | SD | 1 | 0 | 1.27 | 19 | 0 | 0 | 0 | 21.1 | 17 | 3 | 3 | 0 | 0 | 2 | 16 |
| TOTAL |   | 4 | 2 | 3.76 | 113 | 6 | 0 | 0 | 160.1 | 165 | 73 | 67 | 15 | 12 | 65 | 123 |
Posted by Byron at 12:00 AM | | |
Thursday, May 13, 2004
The Cubs finished up their nightmare series with the Dodgers by winning a laugher today, 7-3. Despite the fact that the Cubs looked more like the 2003 Tigers for the first two games, we only lost two games in LA. Dusty took my advice today and sat Corey Patterson, as well as Sammy Sosa, Todd Walker, and Michael Barrett. I typically don't like it when Baker gives a day off to half the lineup because I feel it is conceding a loss. However, the Cubs played so poorly Tuesday and Wednesday that I felt Dusty was justified in sitting virtually everyone.
Zambrano pitched another gem today, which helped the Cubs win the game. His final line was 8 innings pitched, 1 run, 0 earned, 2 hits, 11 strikeouts, and 2 walks. However, he wasn't as dominant as he has been in some of his previous starts. Between the two hits, two walks, two hit batsmen, and Aramis Ramirez error (thats what I get for praising his defense), the Baby Bull had seven base runners in eight innings. This start was impressive, but not like his last outing.
For the gullible observer, the Cubs offense seemed to break out of their funk today. However, a closer inspection of today's action reveals that the Cubs scored six runs due to horrible Hideo Nomo pitching in the second inning. Nomo couldn't get his breaking pitches over the plate (walking three in a row) and his fastball was about 83 MPH. Furthermore, Nomo has always been successful because it is difficult to pick up his pitches out of the wind-up. With runners on base all inning, pitching out of the stretch with no control sealed his fate. However, after escaping the second inning, Jose Lima shut the Cubs down for the next five innings. In the ninth, the Cubs strung together a couple of singles to score Jose Macias.
Joe Borowski pitched the ninth in what was supposed to be a warm up appearance. He proceeded to give up three hits, walk a batter, and allow two earned runs in two thirds of an inning. Dusty then pulled Borowski and brought in Hawkins who got a save and stranded both inherited runners. This of course began speculation from Chip Caray that Borowski may have lost the saver's job. I don't think he will lose the job until he blows at least two saves. Revisiting May 7th's comments, take a look at Borowski's statistics in save situations, vs. non-save situations. The bottom line on a closer is save conversion ratio, and Borowski is still perfect. However, his overall numbers are horrible.
| | | | | | | | | | |
| --- | --- | --- | --- | --- | --- | --- | --- | --- | --- |
| Joe Borowski | Innings Pitched | Earned Runs | Runs | Hits | BB | Strikeouts | WHIP | K/IP | K/BB |
| Save Situation | 6 | 1 | 1 | 3 | 5 | 8 | 1.33 | 1.33 | 1.60 |
| Non-Save Situation | 6.2 | 9 | 9 | 15 | 6 | 4 | 3.15 | 0.60 | .66 |
| Total | 12.2 | 10 | 10 | 18 | 11 | 12 | 2.38 | .98 | 1.09 |
Posted by Byron at 12:00 AM | | |
Wednesday, May 12, 2004
Yesterday, the Cubs became underdogs in the NL Central. The team appears to be near its breaking point as injuries are taking their toll. Kerry Wood left the game in the second inning with a tight triceps muscle, and all of The Cubdom is nervously awaiting word of how serious the injury will be. Mark Prior is out until at least June 3rd, which leaves the Cubs with a month where we may be starting Clement, Zambrano, Maddux, Mitre, and Glendon Rusch. Suddenly, baseball's best rotation looks pretty average.
In Los Angeles, the Cubs lost 3-7 to the Dodgers. Kerry Wood pitched 2 innings, letting in three runs, before leaving the game with his sore arm. Glendon Rusch came on in long relief and allowed 4 runs in three innings. The Cubs offense managed a run in the second when Michael Barrett scored from first on a Ramon Martinez single. In the sixth, Todd Walker led off with a double, and scored when Juan Encarnacion bobbled a Sammy Sosa single in right field. In the ninth inning, Moises Alou scored on an Aramis Ramirez double.
Meanwhile, Roger Clemens and the Houston Astros won again. The Rocket is now 7-0, and the Astros have opened up a three game lead over the Cubs.
The offense is continuing to struggle badly. Last night, Corey Patterson looked awful, hacking away at first pitches with seemingly no idea where the pitch was going, what it was going to be, or what he wanted to do with it. C-Pat has struggled lately and has a .209 average in May, with a .302 OBP. Furthermore, since going 5 for 6 on April 21, in a 12-1 win at Pittsburgh, Patterson is hitting an even .200 with a .307 OBP over a stretch of 17 games. This poor performance in the Cubs second spot is hampering the Cubs offense. In those 17 games, the Cubs are averaging 3.82 runs per game. Before April 21, the Cubs offense was scoring 6.47 runs per game and Corey was hitting .413 with a .456 OBP.
After watching last nights' game, I would do two things if I were Dusty. I would sit Corey Patterson for at least one night, and let Tom Goodwin start in center. Then, when Corey does come back to the lineup, I would move him down to the seven hole and bat Michael Barrett in the second spot for a while. Barrett currently has a .340 OBP, while batting .295. Also, Barrett has shown excellent ability in laying down the sacrifice bunt. Batting Barrett in the second spot would allow Dusty to play small ball if Todd Walker gets on, or put extra men on base in front of Sosa, Alou, Ramirez, and Lee.
Letting Corey hit in the seventh spot would also take some of the pressure to set the table off of Corey, and allow him to use his speed more effectively. Dusty has been cautious running Patterson in front of Sosa, Alou, and company. Letting Patterson steal bases in the seventh spot will generate some IBBs for Ramon Martinez in the eighth spot, and bring the pitcher to the plate with two strikes more often.
On a side note, Aramis Ramirez was charged an error in yesterday's game (Steve Stone and I both felt the error should have gone to Derrek Lee), but it was only his second error of the season! Aramis has really improved this year, especially with D. Lee scooping up a few errant throws. By contrast, "The Wizard II," to hear Chip Caray call the game, Alex Gonzalez has already made four errors this year, before hitting the DL. Beginnnig mid-season last year, Chip Caray decided to start telling his audiences what a wonderful defensive shortstop Alex Gonzalez had become, and this was justified. Alex had a wonderful year defensively in 2003, but that label has continued to be applied to Gonzalez, despite the fact that he is having a horrid year again this year. (Credit must be given to the Cardinal's broadcast team who correctly identified Gonzalez' defensive limitations during the series ten days ago.)
| | | | | | | |
| --- | --- | --- | --- | --- | --- | --- |
| Team | Year | FPCT - MLB Rank | Range Factor - MLB Rank | OBP - MLB Rank for SS | HR - MLB Rank for SS | Salary |
| TOR | 1995 | .957 | N/A | .322 | 10 | $130,000 |
| TOR | 1996 | .973 | N/A | .300 | 14 | $232,875 |
| TOR | 1997 | .986 | N/A | .302 | 12 | $500,000 |
| TOR | 1998 | .976 | 5.38 | .281 | 13 | $1,497,500 |
| TOR | 1999 | .980 | 4.56 | .370 | 2 | $2,275,000 |
| TOR | 2000 | .975 - 10th | 4.56 -15th | .313 - 14th | 15 - 8th | $3,025,000 |
| TOR | 2001 | .987 - 4th | 4.97 - 2nd | .303 - 14th | 17 - 6th | $4,250,000 |
| CHI | 2002 | .965 - 23rd | 4.22 - 22nd | .312 - 11th | 18 - 5th | $4,250,000 |
| CHI | 2003 | .989 - 2nd | 4.48 -12th | .295 - 19th | 20 - 5th | $5,750,000 |
| CHI | 2004 | .961 -24th | 4.41 - 18th | .261 - 24th | 3 - 6th | $5,750,000 |
In 1999, Gonzo played only 38 games before suffering a torn labrum and undergoing season ending shoulder surgery. 2004 statistics are through May 7th, when Gonzalez broke his hand, and will spend six to eight weeks on the disabled list.
Looking at Gonzalez' career fielding statistics is interesting, because it shows an inconsistent fielder from year to year. His 1997, 2001, and 2003 defensive statistics are impressive, gold-glove caliber work, while his 1995, 1996, 2002, and 2004 work have been poor.
Posted by Byron at 12:00 AM | | |
Monday, May 10, 2004
Cubs have the day off today, so time for a little reflection. Looking at the standings, the Angels have the best record in baseball at 22-10 (.688), while the Dodger's have a 20-10 (.667) record, which is best in the NL. (We are going to LA beginning Tuesday.) The Expos have started to play a little better, and have allowed the Devil Rays to become the worst team in baseball with a 9-21 (.300) record. I still think that the Expos aren't as good as the Devil Rays. You have to remember that the Devil Rays are playing in a division with the Yankees, Red Sox, and resurgent Orioles, while the Expos are playing in a fairly weak division.
The Cubs are two games behind the Astros, who have won eight of ten, and Andy Pettite is back from the DL. The Astros are completely healthy (they have a reliever named Chad Harville on the DL, but thats it.) On the otherhand, the Cubs are missing Prior, Grudzielanek, Gonzalez, and Remlinger. Furthermore, I am reading in the paper that Todd Hollandsworth sprained his wrist on Saturday and is day to day. (I was screaming at the TV yesterday when Baker pinch-hit Tom Goodwin instead of Hollandsworth, and now I know why.)
Some other teams of note are the Braves, Phillies, and Royals. The Braves are two games below .500 and and 3.5 games back of the Marlins, I don't think they are gonna pull it off this year.
Yesterday, the Phillies raised their record above .500 for the first time this year and now trail the Marlins by two games. Following their 1-6 start, the Phillies have gone 14-8. The Marlins meanwhile have cooled off and are 10-12 in their previous 22 games. It looks to me like the Phillies may be the only team over .500 in the NL East by the end of the season.
The Royals currently have one of the worst records in baseball at 9-20 (.310) and this is a bad thing. Cubs fans should want the Royals to contend all season so that Carlos Beltran stays in Kansas City for the remainder of this season.
My grand plan is for the Cubs to use the $9.5 million a year they are paying Moises Alou, add a few million more and sign Beltran (who currently makes $9 million) as a free-agent this winter. (This would mean moving C-Pat or Beltran to left, but would be worth it in the long haul.) However, with the Royals struggling, Kansas City will more than likely trade him to a team which will surely sign him to a long term deal. I don't think there is any way the Cubs would make that trade this year, unless Alou, Sosa, or Patterson got injured and even then, I doubt there is room in the budget for another ten million dollar player, without first clearing Alex Gonzalez ($5.75 million) and/or Moises Alou's contracts. (In my opinion these Cubs are the two most overpaid players on our roster. Alou's contract isn't bad either, its just that there should be no way he returns next year for over $5 million, he's getting old.)
If the season ended today: Angels, Red Sox, Twins or White Sox, and Rangers (Wild Card) make the playoffs from the American League. In the NL, the Dodgers, Astros, Marlins, and Padres (Wild Card) would make the NLDS. The Cubs are half a game back in the Wild Card Race, and two games back in the Central.
Posted by Byron at 12:00 AM | | |
Sunday, May 9, 2004
The Rockies series concluded on a high note today, following a Corey Patterson 13th inning RBI single.
The Rockies came to town on Friday and faced Carlos Zambrano who was electric. He threw a complete game, two-hit, shutout that was magnificent. He took a no-no into the fifth inning, gave up a single, and then another in the ninth. On the offensive side of the ball, the Cubs posted 11 runs, with Corey Patterson driving in four. Despite the RBI's Corey is still looking pretty bad at the plate recently.
On Saturday, Greg Maddux lost a tough one. The Cubs managed only three runs, but Maddux gave up four runs over seven. The Rockies pitcher, Jason Jennings took him deep for a two run homer. While the Cubs hit three home runs, but they were all solo shots (including mamoth back-to-back dingers by Sosa and Alou).
On Mother's Day Sunday, (I love you Mom), the Cubs played one of the most boring games I have seen in recent memory. The game had many dramatic moments, it was just boring. There were three rain-delays, lasting a total of 44 minutes, and the game went 13 innings. It was neither a pitcher's duel, nor a slugfest.
Sergio Mitre went six innings, allowing three earned runs on 10 hits, flirting with disaster most of the game. The Cubs' bullpen pitched well after Mitre left, allowing one run in seven innings (Joe Borowski gave up a solo shot in the 10th, in - you guessed it, a non-save situation.) For the offense, Aramis Ramirez was probably the hero of the game, hitting a solo homer in the bottom of the 10th, with two outs to tie it up. He took a game that was nearly over, and gave the Cubs a second chance.
In the 13th inning, Derrek Lee got a single to lead off the game, and the Cubs did something they haven't done well all year, they played small ball. Michael Barrett sacrificed Lee over to second. After an intentional walk to Ramon Martinez, Glendon Rusch sacrificed Lee to third. Following another intentional walk to Damian Jackson, Corey Patterson got a nice single to drive in the winning run.
Posted by Byron at 12:00 AM | | |
Friday, May 7, 2004
I must admit, I am letting my loyal following down this week. I have been awefully busy with finals, but I have managed to listen to the previous two games. The Cubs lost Tuesday 3-6 behind Sergio Mitre who gave up four runs in his four innings while the offense had a tough day. Aside from Sammy Sosa's three run jack in the eighth (when we were down by six), not much else doing.
On Wednesday, Kerry Wood threw another fantastic game, going seven innings of three hit ball, but allowing two to score. Although good enough for a quality start, Woody got shafted again by the Cubs anemic offense which got shut out for the second time in a week.
On Thursday, in danger of getting swept for the first time since Dusty Baker became manager, the Cubs offense awoke. An 11-3 drubbing of the D-Backs resulted in Matt Clement's fifth win. Clement has been outstanding this year: he has a 5-1 record with a 2.29 ERA, notching 41 strikeouts in 39.1 innings pitched. I would say he has been impressive, and frankly ought to be considered the Cubs ace right now.
We may have lost more than two games against the D-Backs though. During Wednesday night's game, Alex Gonzalez took an inside pitch that he said hit him, but the umpire didn't believe did. Well, the umpire is probably feeling a bit foolish right now, cause the pitch fractured Alex Gonzalez' wrist. Now, our starting shortstop will be joining the growing list of Cubs' DL buddies, and miss at least fifteen games. I am hoping Hendry uses this injury as an excuse to go out and get a top-notch shortstop, but I doubt that he will.
Alex Gonzalez' 2004 pre-injury stats

G

AB

R

H

2B

3B

HR

RBI

TB

BB

SO

SB

CS

OBP

SLG

AVG

E

FLD %

25

90

11

22

6

0

3

7

37

2

17

1

1

.261

.411

.244

4

.961
With Gonzalez out for at least two weeks, the Cubs are finding themselves in a bit of a crunch. Since Grudzielanek and Gonzalez are both injured, Todd Walker and Ramon Martinez are both starting, which has left the bench rather depleted. The Cubs also brought up a (huhhumm) cubdom.com favorite in Damian Jackson. (See March 28th)
Saw a couple of interesting things on the internet this morning. A Cubs fan site www.thecubsfan.com (May 3rd entry) broke down Joe Borowski's stats by save situation and non-save situation
Non Save Games
4 Games
4 IP
13.50 ERA (6/4*9)
.518 OBP (10+4/27)
Save Games
6 Games
6 IP
1.50 ERA (1/6*9)
.308 OBP (3+5/26)
Obviously, you would like to see the ERA low in all games, but I'll take the good with the bad if I must.
Saw an interesting article today, Are we the Other Half?, talking about the Cubs financial position in relation to other clubs.
Posted by Byron at 12:00 AM | | |
Monday, May 3, 2004
The Cubs finished up their first series of the season against the Cardinals today. It was exciting, devastating, and occasionnaly encouraging. We split the series, losing the first and third games on late inning bullpen meltdowns. The offense took a long weekend off and finally made it back to the office on Monday. We scored seven runs in the first three games of the series, and then seven today.
Friday's matchup pitted Kerry Wood against Woody Williams. Kerry pitched eight innings, giving up three runs (two earned although the error was Kerry's). After being lifted for a pinch hitter in the eigth, Kyle Farnsworth, and Kent Mercker, both walked batters to lead off the ninth. LaTroy Hawkins came in, got the first batter out on a sacrifice, intentionally walked the second batter, got the third batter he faced to pop-up, and then threw ball four with a full count to walk in the winning run. Friday's game was especially frustrating because the Cards won that game without the benefit of a hit.
On Saturday, Matt Clement threw eight innings of one run ball to shut down the Cardinals. Although Borowski gave up a run and had two men on with a two run lead when he struck out Reggie Sanders... he got his sixth save in six chances. Borowski has been 'flawless' so far this year, despite a 6.30 ERA.
Sunday's game was one for the ages, if you were a Cardinals fan. Phil Roger's article in the Chicago Tribune about the game was titled, "An Outcome to forget, A classic to treasure." I haven't even bothered reading the article, because the headline says it all. Carlos Zambrano threw seven innings of three hit, shutout ball, and LaTroy Hawkins also threw two heart stopping but scoreless innings. On a typical day, nine innings of shutout equals one win, but not Sunday. Matt Morris threw a gem as well, lasting nine innings and not giving up any runs. So, Kyle Farnsworth comes on to pitch the tenth and manages to walk three batters before giving up a lazy pop-fly to Scott Rolen. However, with the outfield playing in to throw out Tony Womack at the play, Rolen's flyball lands for a run scoring, game winning single.
Today's game was a little different. The Cardinal's pitching finally gave way and the Cubs won 7-3. Greg Maddux pitched seven innings giving up only two runs, and Todd Walker, Derek Lee, and Sammy Sosa all hit two run homers. However, Francis Beltran gave up a run in two thirds of an inning, and Joe Borowski had a rocky ninth.
Series Wrap-Up:
Cubs offense: 14 runs
Cardinals offense: 10 runs

Cubs starters': 1.50 ERA - 2 Wins
Cardinals starters': 2.77 ERA - 2 Losses

Cubs Bullpen ERA: 6.00 ERA - 2.833 WHIP
6 IP - 4 ER -11 BB - 6 hits - 2 Losses
Cards Bullpen ERA: 6.34 ERA - 2 Wins

Cubs (15 - 10) even with Houston for First Place.
Cardinals (13-13) fifth place in the Central, 2.5 games back.
Greg Maddux Bunt-watch: Greg Maddux successfully sacrificed Paul Bako from second to third in the seventh inning. Maddux also beat out an infield hit and stole a base today.
Posted by Byron at 12:00 AM | | |
---
Search
---
Recent Entries
---
Monthly Archives
---
---
Cubs Sale Articles