Welcome to the Cubdom.com
I began this site in March 2004 as a place to post some business essays I had written about the team. When I started, I imagined The Cubdom would be an out-of-the-way page on the internet serving the eclectic tastes of the few people that knew about my site. Well, I couldn't help myself. I started writing daily about the team and the site grew. It is now a major pit-stop on the information super-highway, serving up tons of juicy information about the Cubs and baseball in general.
Why the Cubdom?
If you are at all like me, you are an absolute Cubs-a-holic and you realize that everything that the Cubs do off the field also reflects on the field. There are lots of Cubs fan sites out there that talk about the players and the games, and I'll do a bit lot of that too. BUT, my main goal is to assemble and archive articles about Baseball business and then to try and show how that is reflected on the field of play.
Hope you keep coming back as we get off to a year that will be just as good as the Cubs!
Regards,
Byron Clarke - Cubs Fan,
thecubdom.com webmaster.
---
From the desk of:
Byron Clarke - Cubs Fan
Hello adoring fans,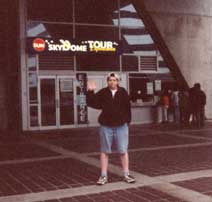 Welcome to my home on the Web, www.thecubdom.com (also www.cubdom.com) which was started in March 2004. In many ways The Cubdom is similar to most Cubs fan sites which rant and rave about the players, managers, and announcers affiliated with our beloved team. However, The Cubdom tries to differentiate itself by focusing on the business of baseball, and specifically the Cubs business practices.
I am currently 22 years of age, and attending Indiana University's Kelley School of Business where I am majoring in Finance, and Accounting. I spent two years at Purdue University, playing around at being a computer engineer, but I didn't like it, so I moved down-state to be a Hoosier (which I already was).
I have been a Cubs fan since I moved to northwest Indiana in 1989, and I don't expect that it will ever change. I was seven at the time, and watched about a quarter of the Cubs games on WGN that summer. I occasionally tell people that it is a miracle that I am not a White Sox fan, because we live much closer to Comiskey Park (now U.S. Cellular), and because as a family we went to Comiskey more often than Wrigley. However, because the Cubs were on TV and successful during the crucial year, I am a die-hard Chicago Cubs fan.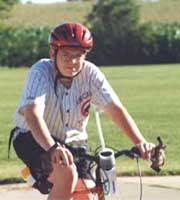 As a real youngster, my favorite player was Ryne Sandberg (see the fan page), followed closely by Shawon Dunston, Mark Grace, Andre "the Hawk" Dawson, Rick Sutcliffe, Doug "the center-fielder that pitched" Dascenzo, and of course Greg Maddux. As the 1989 team was gradually broken up, mostly by arch-villain Larry Himes, I entered a bit of a "dark period" in my Cubs fanhood around age 10. I watched the games through mid-July but found other things to do on summer days after the all-star break. The only thing that never wavered was by absolute devotion to being the best Ryno fan I could be.
During my dark period, Ryno retired in mid 1994, and the strike wiped out the rest of the season. In another cruel twist of fate for the White Sox, the season ended short of a likely playoff bid. Right at a time when my all-time hero had retired, and the White Sox had a first place team with super-stars like Black-Jack McDowell, and the Big Hurt, the strike wiped out a chance for conversion. Probably, because of the strike, they didn't capture my attention, thus sealing my Cubs fanhood forever.
In 1995, I didn't pay a lot more attention to the Cubs, but when they were still flirting with contention and weren't eliminated until about three days left at the end of the season, I was paying attention.
Soon afterward, Ryne Sandberg announced his return at the end of October, 1995. I was about a week shy of my 14th birthday, and squarely back on the Cubs bandwagon again.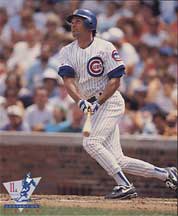 The 1996 season was essentially a Cubs re-birth for me. I had never fallen so far as to be classified as a casual fan, but beginning in '96 I was rabid. I read all the newspaper clippings in spring training, watched every Cubs game I could in the spring, and continued watching in the fall. The 1997 season was a tempered a bit more by reality as I was 15 and maturing enough to realize the Cubs didn't have much of a chance. However, with Ryno at second, I was content handing over my mostly undivided loyalty. (I have been a closet Braves fan since Maddux signed in Atlanta, and you could always root for the Braves in October.)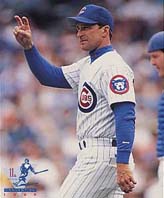 Like most Cubs fans, I was not expecting great things when the 1998 season began. Sammy Sosa had hit 40 home runs in an injury shortened 1996, but "only" 36 in a full season during '97. Ryno had retired and a guy from my home town, Mickey Morandini was taking over. Scott Servais was returning to catch, Grace was still at first, the Mick at second, we had Jeff Blauser starting at shortstop, and Joseeeh Herrrrrrrnandez (Jose Hernandez) at third base. (If you have never heard Jose Hernandez introducted by the announcer at a Cubs game, you're missing out.) In the offseason, we had acquired O-Henry Rodriguez, who was going to add some additional thump to our lineup, as well as Lance One-Dog Johnson in centerfield.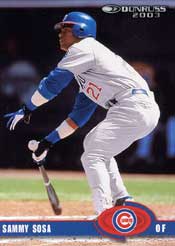 The season that ensued was one of the more unprobable events in baseball history. A young rookie named Kerry Wood was promoted in April and quickly made a name for himself when he struck out 20 Houston Astros on May 6, tieing Roger Clemens record for most strikeouts in a game. In June, Sammy Sosa hit 20 home runs, setting another record for most home runs in a calendar month.
As September wound to a close, the Cubs were in contention and played some of the most exciting games I have ever watched. At the same time, Sammy Sosa was battling with Mark "Big Mac" McGuire for the MLB all-time single season home run record.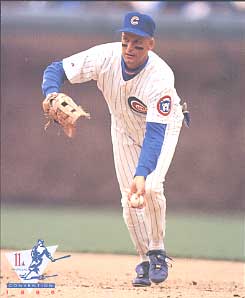 On the last day of the season, the Cubs lost a game in Houston that seemed to end their postseason hopes, as the Giants who were tied with the Cubs were beating the Rockies at Coors field. However, Neifi Perez hit a home run to beat the Giants and force a one game playoff at Wrigley. The Cubs won the game and made the playoffs for the first time in nine years.
Although the Cubs got swept in the NLDS by Greg Maddux' Braves, all Cubdom was excited for the 1999 season. However, when Kerry Wood underwent Tommy John surgery, I knew we were in for a long season. I had been devastated over the winter when managment insisted on bringing back aging veterans who had "career" years or months at the end of '98. Guys like Gary Gaetti and Rick Aguilera were likable and fan favorites, but it was painfully obvious to me that our '98 team had overachieved, and then barely made it into the playoffs.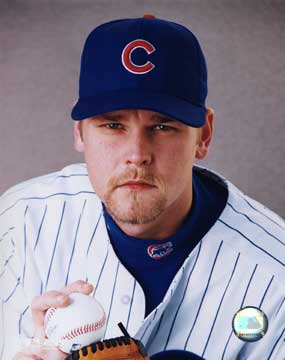 Although we started out well, the Cubs got swept by the White Sox in June, and the season went into a tailspin. The end result was a 66-96 team which had been 32-23 on June 8th (.582), and then lost 73 of their final 107 games (.318).
I was sad to see Jim Wriggleman get fired at the end of the '99 season, but it was a move made out of necessity. No manager, not even Dusty Baker, should be kept after overseeing the devastating turnaround which Cubdom witnessed in 1999.
The onset of the 2000 season seemed pretty bleak. I was excited about the Cubs new manager Don Baylor, because I thought he would do a good job of manufacturing runs and establishing better fundamentals. I turned out to be incredibly wrong, and was calling for Baylor's head by the end of 2000. The team finished 69-93, even with Kerry Wood returning May 2. On the plus side, some exciting Cubs farm products debuted in September. Corey Patterson saw his first big league game as did Kyle Farnsworth. After years of seeing relatively no decent minor league prospects (Kerry Wood was an anomaly), the Cubs were seeing the first-fruits of the improved scouting and development implemented by the Andy McPhail regime when he took over from Larry Himes.
After 93 losses, I wasn't too optimistic heading into 2001.