Thursday, November 3, 2016
What a season!
What a game!
What a feeling!!!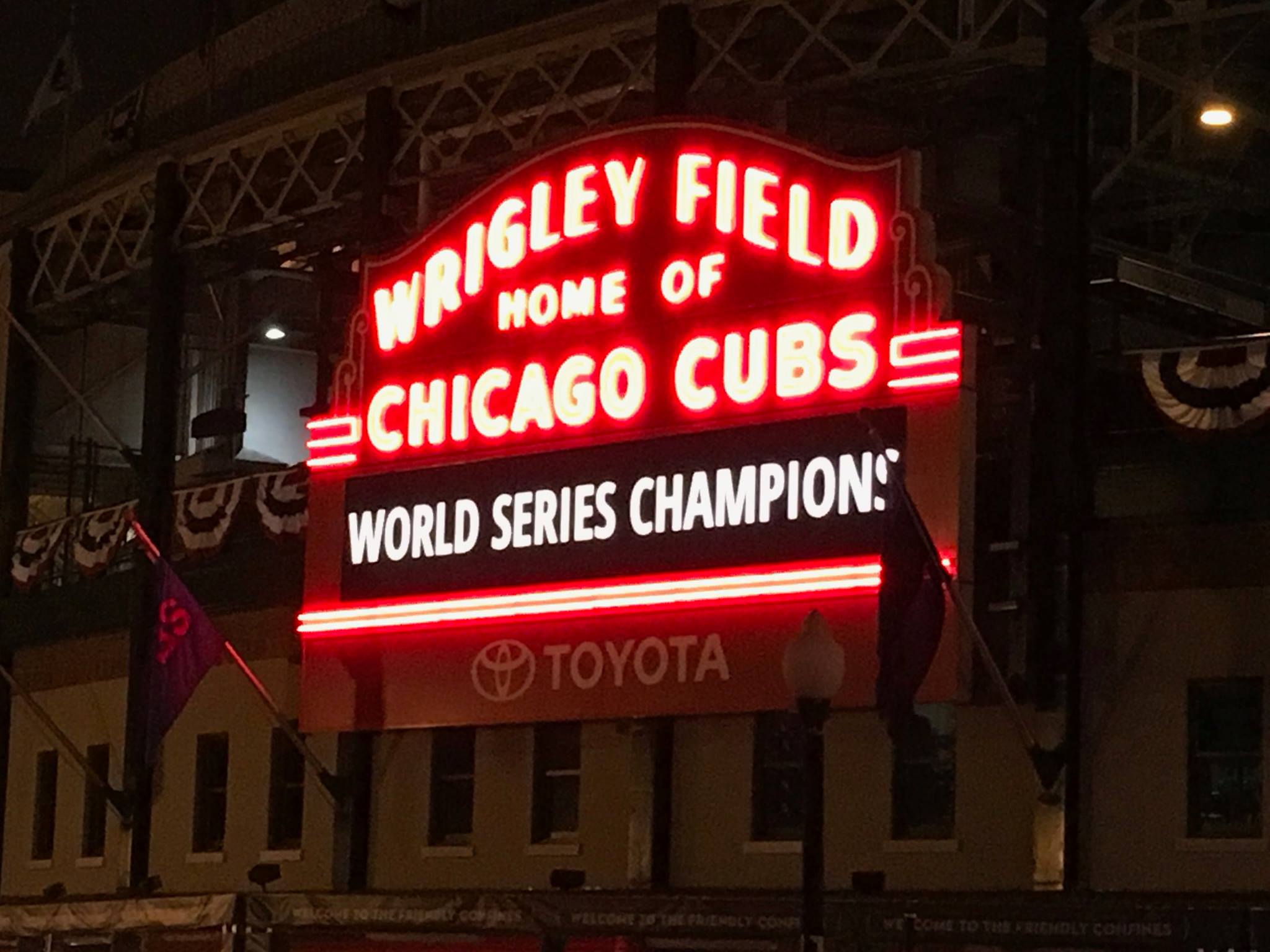 Posted by Byron at 11:43 AM | |
Subscribe to The Cubdom - get emails with the latest Cubs info and pictures
---
Sunday, September 22, 2013
It's been a long road in Cubdom. The club has struggled for the past few years as ownership and the front office have transitioned. I'm genuinely optimistic about the direction of the on-field team... while genuinely disappointed with the constant drive to squeeze every bit of revenue from the fans. For instance, the Ricketts have chosen to ban the Big-Gulp in an effort to boost in-park revenue concessions. I know it's standard practice at other parks, but as I told the ticket attendant while pouring out my soda: "These confines have become decidedly less friendly."
Anyhow, I'm breaking my silence because my childhood hero, Ryne Sandberg has been named the Phillies manager. Congratulations to Ryno. I was saddened that you didn't get the Cubs' gig, which isn't to say it was a poor decision, I don't think Ryno fit with Theo's plan for the club, but both reactions are valid.
Nonetheless, Ryno wanted to be a Big League manager and now he's accomplished the goal. Huzzah, and best of luck to you #23!
Posted by Byron at 2:14 PM | |
Friday, October 1, 2010
And this is all I have to say about this year.
Thursday, April 1, 2010
If you're on the Cubs Season Ticket waitlist, you probably received an email this morning from the Cubs with good news. According to the email, the Cubs offered 2,600 new season tickets this year, so we can expect our waitlist numbers to decrease by that many. Additionally, the email indicated our wait list number would be updated soon.
If you're a super-diligent reader of this blog, you may recall that I periodically update readers on my season ticket waiting list progress. (e.g. Here.)
Well, here's another update. If you're a season ticket holder, please feel free to add your info in the comments.
Date I joined the Cubs Season Ticket Waitlist: October 3, 2006. I believe my initial position was 15,029.
As of February 13, 2007, I was still 15,029.
As of June 12, 2008, I was #14,964 (+65 spots)
As of July 1, 2009 I was still #14,964
And today, April 1, 2010, I was #14,857 (+107 spots)
In total, I've moved up 172 spots in 4 offseasons, so it looks like the Cubs' non-renewal rate is about 43 season tickets/year. If you take a one-time 2,600 jump, I'd be at 12,257. At the current non-renewal rate, my lucky number should come up in 285 years.
Now, I'm no statistics whiz, but the odds of me living another 285 years are a little bit less than the Cubs chances of winning a World Series in the next 285 years.
What number are you on the list, do you think you'll ever get to have Cubs season tickets?
UPDATE: February 1, 2012
On October 21, 2011 - the Cubs emailed everyone on the list with their new waitlist spot. I had moved up to 10,449. If they offered 2,600 new seats, that means that I had moved up 1,758 spots due to cancellations/passes.
I checked again today (Feb 1, 2012) prompted by an email asking me to update my contact information - which was at least five years out of date - can't wait to start getting junk mail from the Cubs - maybe I'll get Darwin Barney to sign it. Anyhow, I'm now at 7,449 - so it sounds like I moved up another 3,000 spots.
If recent history is any suggestion, I'll get a chance to buy some season tickets probably by the end of the decade - but I suspect Theo Epstein will put a winner on the field before I get a chance to get non-bleacher season tickets.
Thursday, March 4, 2010
The sun is shining, the birds are tweeting (so are the Cubs bloggers for that matter), and it stays light until nearly 5:30 in Chicago... but the best news is that the Cubs are playing today!
Winter is dead. Spring is here... and the Cubs take the field, if only for a few innings at a time. God, I love Spring!
Thursday, February 11, 2010
Alderman Tom Tunney continues to devastate true Cubs fans at every opportunity. From today's Sun-Times, we learn that Elton John and Billy Joel will be playing concerts at Wrigley Field during the week of July 7, and then Dave Matthews will be playing in September.
We have now gone from one field-destroying concert week each year to two field-destroying concert weeks... all in the name of a few more bucks. Well, at least I like their music.
Some other zingers from Fran Spielman's article:
"It's great for business in the neighborhood. It also provides real, first-rate entertainment at the park." - Tom Tunney
Thanks Alderman, I couldn't help but notice the implication that the Cubs aren't "real, first rate entertainment." I'm sure the business owners in your ward are thrilled with the implication... even if I know for a fact that many of them agree with you... but are thrilled to take Cubs fans' money anyhow.
And one last interesting note from the article:
The motivation for the concert series for the Cubs is the chance to bring in money that wouldn't fall under Major League Baseball's revenue-sharing umbrella. For every dollar the Cubs make on game days, 34 cents must be shared with other teams. For every dollar from a concert, the Cubs get to keep 100 percent.
34% of baseball revenues to MLB's revenue-sharing? That's got to hurt the net payers' like the Cubs, Yankees, and Red Sox. Jeffrey Loria continues to be brilliant.
Posted by Byron at 9:39 AM | |
Wednesday, January 6, 2010
Sometimes, eight years are too much. Today, an interminable wait has ended for one of the greatest Cubs of all times. Andre Dawson, HOF.
His Cubby career only spanned six years, but it was marked by the almost unbelievable story of a free agent wanting to come to Chicago so badly, he signed a blank contract and single-handedly proved collusion among MLB owners during the 1986-1987 offseason. And how did he reward the club who he forced to take him on for half a million? How about 47 homers and an MVP season from a player on a last place club.
The legend of The Hawk is well chronicled elsewhere (Here and here for instance), so I won't go into tons of detail, but there really shouldn't have been any doubt about the Hawk, and his election was postponed by years because of the explosion in offensive stats brought about by the steroid era.
So let's ask ourselves this question: Is there any chance that Andre Dawson was 'enhanced' during his career? Sorry, I couldn't pass up the chance for such a ridiculous joke.
The easy answer is no. Hawk was as clean as they come, like his teammates Ryno and Maddog (both current/future HOFers), the late '80s/early '90s Cubs teams were full of guys that parents could feel 100% comfortable letting their kids idolize. With a few exceptions, Andre Dawson was the definition of a classy sportsman, and he was a terrific player. I'm thrilled he'll be going into Cooperstown this summer, and maybe I'll finally make it out there!