---
Editor's Pick:
Honorable Mention:
Newbies:
Soldiering On:
Cubs Sites:
Just Read 'em!
Conglomerates
NL Central
NL East
NL West
AL East
AL Central
AL West
Miscellany
Chicago Sports
News Sources
C-Pat moved to seventh spot
Friday, May 14, 2004
Today's game against the Padre's has me feeling a little better about the Cubs. The starting lineup returned from its collective day off yesterday and played well. The Cubs beat the Padres 6-1 on the strength of Greg Maddux' 8 innings of 1 run ball. He struck out four, allowed five hits, and no walks, lowering his ERA to 4.44.
In our Greg Maddux Bunt Watch, he butchered another sacrifice attempt that nearly got the lead runner forced out at third. However, Sean Burroughs misplayed the ball, and missed the bag in the play.
Moises Alou is quietly having an All-Star type season. He went 3 for 4, and raised his average to .313 with an OBP of .367 and a slugging percentage at an impressive .575. However, Alou is showing his age on the basepaths. He has begun turning doubles into long singles (at least three in the past week), and then getting doubled off.
Aramis Ramirez hit a pop-fly last night that reminded me why I like him. His swing is a pure power swing, and reminds me of Sammy Sosa. I hope the Cubs ink him long term.
Ramon Martinez filled in for Alex Gonzalez at shortstop. He fielded his position flawlessly, but I was a little concerned, he looks a bit shaky at shortstop. (Atlanta is 16-18, and three games back... still probably a bit early to get Rafael Furcal (whose thumb may be injured more seriously than the Braves are letting on.))
Dusty continued following my advice again today. Corey Patterson returned to the lineup, but hit in the seventh spot. He hit 2 for 4 with a homerun and a bunt single. He scored two runs, and got an RBI. Furthermore, its only been one game, but he looked relaxed.
Jose Macias started in place of day-to-day Todd Walker (sore shoulder). He had two triples, three hits, three RBI, and a run. Pretty good day for Macias. I should also drop in a note here that the Cubs signed Rey Ordonez to a minor league contract... you know just in case Todd Walker's shoulder is really serious and he becomes the fourth Cubs middle infielder to spend time on the DL this year. (Macias started the year on the DL, Grudz, and Walker.)
Joe Borowski may have turned the corner today. Ron Santo was telling the radio audience that Dusty had a chat with Borowski and told him that the closer's job was his. Borowski has apparently been concerned about the drop in his velocity, and thus trying to muscle the ball up to the plate for extra velocity, which has caused his pitches to go high, and caused him to lose his control. This story sounds very plausible. I don't know that a simple talkin to is going to completely "fix" Borowski, but he did record a 1-2-3 inning, which was his third of the year, and first in a non-save situation.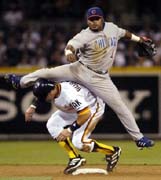 The Padres wore throwback uniforms from 1984, to commemorate the 20 year anniversary of beating the Cubs in the NLCS in 1984. Apparently, the Cubs were asked to wear '84 throwbacks too, which they declined to do. I am awefully glad they did, nothing like commemorating the 20th annivarsary of a momentous loss. You think the Red Sox will wear '86 throwback jersey's in two years? Somebody in San Diego ought to be shot. Anyhow, these jerseys are hideous brown, yellow, white, and red numbers, with some of the ugliest socks you have ever seen. By the way, the RAK on the sleeve stands for Ray Arther Kroc, the founder of McDonalds and San Diego owner who died in 1984.
Khalil Greene, the Padre's rookie shortstop had quite a game as well. He had three web-gems, including a glove shovel to turn a double play in the eighth inning. Wearing the throwback uniform, which was too big for him, Greene reminded me of another stellar defensive shortstop who wore ugly Padre uniforms in the early 80's. I did a quick check and found that Ozzie Smith was not on the Padres in 84 (he was traded in '81 to the Cards)... but watching Greene play defense reminded me of some Ozzie clips I have seen.
Finally, to wrap up a vintage, rambling, "Just Sayin..." entry, Scott Linebrink made it in to pitch against the Cubs. I have always rooted for Linebrink, since I had class with his sister about four years ago, but it looks like he might just stick around.
| | | | | | | | | | | | | | | | | |
| --- | --- | --- | --- | --- | --- | --- | --- | --- | --- | --- | --- | --- | --- | --- | --- | --- |
| Year | Team | W | L | ERA | G | GS | CG | SV | INN | H | R | ER | HR | HBP | BB | SO |
| 2000 | SF-HOU | 0 | 0 | 6.00 | 11 | 0 | 0 | 0 | 12.0 | 18 | 8 | 8 | 4 | 3 | 8 | 6 |
| 2001 | HOU | 0 | 0 | 2.61 | 9 | 0 | 0 | 0 | 10.1 | 6 | 4 | 3 | 0 | 2 | 6 | 9 |
| 2002 | HOU | 0 | 0 | 7.03 | 22 | 0 | 0 | 0 | 24.1 | 31 | 21 | 19 | 2 | 1 | 13 | 24 |
| 2003 | HOU-SD | 3 | 2 | 3.31 | 52 | 6 | 0 | 0 | 92.1 | 93 | 37 | 34 | 9 | 6 | 36 | 68 |
| 2004 | SD | 1 | 0 | 1.27 | 19 | 0 | 0 | 0 | 21.1 | 17 | 3 | 3 | 0 | 0 | 2 | 16 |
| TOTAL |   | 4 | 2 | 3.76 | 113 | 6 | 0 | 0 | 160.1 | 165 | 73 | 67 | 15 | 12 | 65 | 123 |
Posted by Byron at May 14, 2004 12:00 AM | |
Subscribe to The Cubdom - get emails with the latest Cubs info and pictures
---
| | |
| --- | --- |
| This post has been tagged: | |
---
Search
---
Recent Entries
---
Monthly Archives
---
---
Cubs Sale Articles