Friday, April 29, 2005
Two 300 game winners faced each other for the first time in over 100 NL seasons... yawdy yawdy yawdy...
Maddog pitched against Roger "the Rocket" Clemens, and the Cubs came out on top. Both pitchers turned in solid performances, both teams squandered scoring opportunities, but at the end of the night, the Cubs have hit their high-water mark for the year. +2. Two games over .500 on game #22. Frankly, thats about 18 games later than it should have happened, but I digress...
Anyhow, it was an enjoyable game that was fairly unremarkable. The Cubs scored two in the second against Roger Clemens, but then couldn't score again that inning despite having men on second and third with none out. In the eighth, after Jeromy Burnitz solo shot, Derrek Lee got thrown out at home on a fantastic play by Astros centerfielder Willy Tavares, and in the ninth Todd Hollandsworth reached third with one out, but didn't score. So, in my estimation the Cubs lost three to four runs they should have scored.
This isn't to say the Cubs didn't get their fair share of breaks. The Cubs got two Astros baserunners out between third and home early in the game.
Perhaps the most important personal performance of the night belonged to LaTroy Hawkins who came in with a one run lead in the ninth inning and shut down the Astros. There was no messing around with this save, 1-2-3. So after a successful save conversion, Maddux gets his first win of the year, and #306 on the career.
Today's Dusty Baker Criticism: Nothing that isn't a bit unfair, but... I'm would not have removed Michael Wuertz in the eighth inning. Dusty brought in Will Ohman to face Mike Lamb for the lefty-lefty matchup... but Wuertz was pitching terrifically. Ohman ended up walking Lamb and was then replaced by Roberto Novoa who got out of the inning unscathed.
Posted by Byron at 10:50 PM | | |
Thursday, April 28, 2005
Derrek Lee
|||Buzz|||
Who is... The Man?
That is correct!
As you may know, the Cubs did this little come-from-behind-thing yesterday to win 8-7. But, I wouldn't know as I have been studying and only saw the highlights on Baseball Tonight. I heard D-Lee and Corey did OK though. :-)
Today is an off-day, so I'm gonna pop my head up from this Cubs-only rut I've gotten myself into and look at the standings.
If the playoffs started today:

NL Central: St. Louis (14-5)
NL West: Arizona Diamondbacks (14-8)
NL Wildcard: Los Angeles Dodgers (13-8)
NL East: TIE, Marlins (12-8, .600) or Braves (13-8, .591)
Out of Luck: Cubs (11-10, 2 games out of WC, 4 out of Div)

AL Central: Chicago White Sox (16-6)
AL East: Baltimore Orioles (14-7)
AL Wildcard: Minnesota Twins (12-8)
AL West: Los Angeheim Angels (12-9)
Worst Record in Baseball: Kansas City Royals (5-16, 10.5 games behind the White Sox). Andy Sisco, we hardly knew ye.
Observations:
Boston has an identical record to the Cubs (11-10) and are 3 games in back of Baltimore. However, at this point they have three starting pitchers on the disabled list (Curt Schilling, David Wells, and Wade Miller). It will be tough for them to keep winning, but they probably will.


The Yankees have a 9-12 record and are in fourth place. 200 million reasons to laugh, 26 reasons not to.


The AL West is the most tightly packed division, all four teams are within two games of each other. The NL East has all five teams within three games of each other. Incidentally, I think both of these divisions are going to have incredible races this fall.


Baltimore is 9-2 on the road... that is going to be tough to keep up. The Royals are 2-11 at home. Houston is 1-10 on the road.


St. Louis and the White Sox each have 13-3 in-division records.


Personal Feelings: The season is still young. I'm not in panic mode yet, haven't felt that any games were must win, and am not afraid that St. Louis will run away with the division. Granted, I've been frustrated with our early season performance, but not too badly. I'm hopeful that we'll get JoeBo and Todd Walker back soon, and have been very happy with how well Prior has pitched since his return. The thing that frightens me the most is that Derrek Lee and Neifi! will cool down... then I panic.
Posted by Byron at 3:38 PM | | |
April 27, 2005
Record: 11-10, Box Wrigley Field - Chicago, IL
Reg #21
Chicago Cubs
8
Cincinnati Reds
7
April 26, 2005
Record: 10-10, Box Wrigley Field - Chicago, IL
Reg #20
Chicago Cubs
9
Cincinnati Reds
11
April 25, 2005
Record: 10-9, Box Wrigley Field - Chicago, IL
Reg #19
Chicago Cubs
10
Cincinnati Reds
6
Posted by Byron at 2:35 PM | | |
Wednesday, April 27, 2005
Its that time of the year again for me. My first final is tomorrow at 1, and the horror stretches a week. Fortunately, I'll only have this experience once more.
So what am I doing with 23 hours to go before my first exam that I'm not prepared for? Why, surfing the CBA of course. Anyhow, I just wanted to point out some of the excellent articles I've seen in the last few days, as well as serve notice that my posting will be spotty throughout this week.
Well, those should distract you for now as it looks like Felipe Lopez just hit a grand slam. Reds 6, Cubs 1. (I'm glad I left Ryan Dempster on my fantasy bench this morning... by the way, my predictions for this series were: Cubs win Monday, Cubs win Tuesday, Reds win Wednesday.)
Posted by Byron at 2:14 PM | | |
Tuesday, April 26, 2005
Jason Dubois is up and Javier Valentin Jason LaRue is setting up in his wheel house... and I says
"Just you watch, this one's going out to left field."
Thwack
The ball lands somewhere on Waveland a little to the left of Aramis'.
As I write, its 8-7 and the Cubs have scored all of their runs via the long ball.
I'll also mention, this is the second time this season that Zambrano has been tossed one out before he would have been eligible to rack up a win.
---
Update: 10:17 p.m. CST
Well, that excitement was short-lived. The final score was 11-9, and the Cubs are back to .500 again. This is the seventh time the Cubs have had an even record this year.
I'll just say this about the game: frustrating.
---
Update: 11:58 p.m. CST
The Attend-o-meter has been updated through today's game.
Posted by Byron at 8:48 PM | | |
Monday, April 25, 2005
This month's Vine Line came in the mail a while back. So, having had an opportunity to sit down and read it, it is time to extract the tid-bits.
Page 47: "He [Dusty Baker] is by far the best manager I've ever worked with as far as taking our young guys and giving them opportunities." - Oneri Fleita
This quote nearly resulted in dry heaves... but I managed to avoid getting sick. The article this quote appears in was written by Chris Gigley (free-lance writer) in a profile on some of the Cubs prospects training down the road from HoHoKam park at Fitch Park. Most of the article is about Eric Patterson, Corey's younger brother, but mentions some other prospects such as Grant Johnson and Sam Fuld.
Page 4: The Cubs published dates of Wrigley Field Tours this year. Tickets are $20, "with the proceeds benfiting Cubs Care." For details call (773) 404-CUBS.
April: 16, 30
May: 15
June: 3, 4, 17, 18, 24, 25
July: 8, 9, 22, 23
August: 5, 6, 19, 20
September: 9, 10, 30
October: 1
"Renovations Near," Page 4, April 2005 Vine Line
The Cubs and the administration of Chicago Mayor Richard M. Daley reached a tentative agreement Feb. 28 on proposed Wrigley Field campus improvements. With approval from the Chicago Plan Commission, the Commission on Chicago Landmarks and the Chicago City Council, construction could begin in October 2005.
Bleacher designs call for 1,790 new seats, a centerfield "batter's eye" restaurant, bathrooms, concessions stands, exits, ivy-covered exterior walls and a chain-link window on Sheffield Avenue.
Also, a five-story multipurpose building would be erected west of the historic ballpark, across a new open-air pedestrian parkway. The structure would include new batting cages and indoor pitching mounds for Cubs players, as well as a themed restaruant, 400 parking spaces and restrooms.
Page 5: In a side-bar, I learned that former Washington Senators turned Minnesota Twins owner Clark Griffith was a former Cubs player. He won 20 games seven times. The last time the Cubs played a Washington D.C. team was in 1935 in a pre-season exhibition game.
In another blurb, Dan Long interviews Shawon Dunston about his debut with the Cubs 20 years ago. Dunston credits John Vukovich with really helping him... "People come up to me all the time and say they appreciate the way I played the game." - Shawon Dunston
Page 9: Michael Huang writes a piece about Adam Greenberg, the Cubs outfield prospect. Greenberg's career stalled for two years in 'A' ball while playing in Daytona, but he is now heading to AAA and "is considered by Cubs minor-league instructors as the most polished outfielder in the farm system."
The second half of the article discusses Lukas McKnight who will give up his bid to play in the majors and become a scout for the Cubs: "'I realized I was at the end of the road,' McKnight said. 'So when Oneri [Fleita] and John [Stockstill] thought I'd make a good scout, I told them: "If you're offering, then I'm accepting.'"
pages 12-18: Gigantic fluff piece declaring the Cubs have 25 leaders.
The Spotlight, Pages 40-41: Carlos Zambrano is profiled by Rudy M. Vorkapic. The article is titled: "Pushing to be the best, Carlos Zambrano relies on the 'big guy' in the sky." It discusses Zambrano's childhood in Venezuela, when he wanted to be just like Roger Clemens. He was mentored by a former Venezuelan Olympic pitcher Julio Figueroa, and signed by Cubs scout Alberto Rondon when he was 16.
Although he now wears #38, Zambrano wanted to wear #33. However, when he was called up, Bill Mueller wore #33 and Zambrano didn't want to ask him for the number. Glendon Rusch now wears #33.
Zambrano and his family have a deep faith. Carlos is quoted as saying, "God is Great, I've got Him in my life. With Him, you can do anything." He has a wife, Ismary, and two daughters Carlis and Catherine, and a third child that was born in December 2004.
"Big Z? Big Z? He's legit, man. He's Legit," Maddux said.
Page 42: "On April 7, 1916 The Cubs became a million-dollar corporation, reorganized under a new board of directors following the January purchase of the team by Charles Weeghman. Previous club value: $500,000."
The Cubs board of Direcors in 1916 was comprised of : Charles Weeghman, Pres. William Walker, Al Plamondon, Adolph Schuttler, Adolph Spielman, William Wrigley Jr., Alber D. Lasker, R.A. Cavanagh, and Charles A. McCullough
You don't get too many Adolphs anymore.
---
More Vine-Line Tid-bits Please!
Posted by Byron at 1:14 AM | | |
Sunday, April 24, 2005
April 24, 2005
Record: 9-9, Box Wrigley Field - Chicago, IL
Reg #18
Chicago Cubs
5
Pittsburgh Pirates
2
April 23, 2005
Record: 8-9, Box Wrigley Field - Chicago, IL
Reg #17
Chicago Cubs
3
Pittsburgh Pirates
4
Posted by Byron at 11:09 PM | | |
Saturday, April 23, 2005
All-Star balloting opened up earlier this week, so I decided to cast my first of approximately 25 ballots today. Most of my votes are awarded based on statistical merit in 2005, but I'm a fan first and a stat-head second. I'm thrilled when the stats will support a vote for a guy like Torii Hunter, and Ichiro!, but I'll vote for a guy like Aramis Ramirez even if he isn't having the best season among NL third basemen.
| | | |
| --- | --- | --- |
| Position | American League | National League |
| First Base | Paul Konerko, CWS | Derrek Lee, CHC |
| Second Base | Brian Roberts, BAL | Jeff Kent, LAD |
| Third Base | Alex Rodriguez, NYY | Aramis Ramirez, CHC |
| Shortstop | Miguel Tejada, BAL | Clint Barmes, COL |
| Catcher | Ivan Rodriguez, DET | Paul Lo Duca, FLA |
| Outfielder | Ichiro!, SEA | Pat Burrell, PHI |
| Outfielder | Vladimir Guerrero, LAA | Miguel Cabrera, FLA |
| Outfielder | Torii Hunter, MIN | Jason Lane, HOU |
| Designated Hitter | Dimitri Young, DET | Our pitchers hit |
Teams with players receiving two votes: Cubs, Marlins, Orioles, Tigers.
Teams with players receiving one vote: Dodgers, Rockies, Phillies, Astros, White Sox, Yankees, Angels, Twins, Mariners.
Notes and discussion:
I gave Aramis Ramirez the hometown vote. At this point, I should have voted for Chipper Jones, but Aramis Ramirez is awesome, and he totally got jobbed last year. Aramis has all 25 of my votes locked up.
I can't believe I voted for Jeff Kent. He is one of my least favorite players, but so far he is having a heckuva season... and Todd Walker is hurt.
Alex Rodriguez has performed well so far, but probably wasn't the best pick at third base. In a purely statistical approach, I probably should have voted for Brandon Inge who is currently sporting a .369/.446/.569 (Avg/OBP/SLG) with 2 home runs, 16 runs, 11 RBI, and 37 total bases. In comparison, A-Rod has a .270/.325/.500 line with 4 home runs, 14 runs, 14 RBI, and 37 total bases. So, yeah A-Rod got the vote because of his prior-year performances... but I would rather see A-Rod start the All-Star game than Brandon Inge.
Ivan Rodriguez has had a stellar start, but hasn't necessarily distanced himself from the rest of the pack. I was sorely tempted to vote for Jason Varitek... but I-Rod is one of my favorite players in baseball. I still wish the Cubs had signed him last year... plus the game is being played in Detroit this year.
Other than Pat Burrell who is hitting .328/.403/.625 with 5 home runs, 8 runs, 20 RBI, and 40 total bases... there aren't any sure-fire picks in the NL outfield. This is a league that used to have Sammy and Barry with virtual locks on a starting spot... now its pretty much wide open. I feel very comfortable with Miguel Cabrera, but something tells me I probably won't be voting for Jason Lane for too much longer. (I was tempted to vote for Jeromy Burnitz, but figured I'd already given one home-town discount.)
At NL Shortsop, I voted for C. Barmes... wasn't even sure of what his first name was (Clint) but his stats indicate he is clearly head and shoulders above the rest of the field so far.
You too can vote for the All-Star starting lineups. I just ask that you keep my man Aramis Ramirez in mind.
Posted by Byron at 1:43 PM | | |
Friday, April 22, 2005
The commenters are getting sarcastic, I'd better bear down and get these ones right.
Disclaimer: The first game may have started already, but I haven't looked at the scores yet.
Friday: Maddux vs. Mark Redman
Saturday: Wood vs. Dave Williams
Sunday: Prior vs. Josh Fogg
Friday: Redman is 1-1 in three starts with a 2.33 ERA. He is matching up against Maddux who looked like he had turned the corner in his last start. At that time, I wrote "Its Maddux time again in 2005." So, the official prediction is a white flag today because the game is being played at Wrigley.
Saturday: Dave Williams starts for the Pirates. He has gone to the bump twice this year, and has a 1-1 record with a 2.31 ERA. He'll be opposed by Kerry Wood who is sporting a 6.38 ERA and an 0-1 record. The last time Wood pitched, I predicted he'd get it back on track. I audibled from my original prediction and called for a Cubs victory... it didn't happen and now Kerry Wood is going to have to prove himself before he gets the benefit of the doubt. So, on Saturday, Pirates win.
Sunday: I could waste your time and mine by reviewing Josh Fogg's body of work, but what is the point? Mark Prior and his 0.00 ERA are going to the mound. Just like Wood who automatically has a loss prediction until he proves otherwise, Prior is an automatic win. So, Cubs win on Sunday. (Just in case you were wondering, Fogg has a 1-1 record with a 2.45 ERA in his three starts this season. But, his WHIP stands at 1.25, his BAA is .233, and he is walking three batters per 9 innings. These rate stats (ERA vs. the others) won't all stay the same... and I'm guessing the ERA will balloon on Sunday.
---
Update: 9:37 p.m. CST Well, for all of my crystal ball gazing, I missed the storm for today. As you know, the Cubs didn't get in their game today, and it will be made up in July.
From what I can understand from Cubs.com, it doesn't look like the pitching matchups will change, so I'm not going to change my predictions.
Posted by Byron at 3:22 PM | | |
Thursday, April 21, 2005
Well, I tried being an oracle... haven't been doing so well. I predicted a series split with the Cardinals, but got both games wrong. I also missed on Monday, and last Friday. So, I guess that makes my predictive powers 3 for seven this week. Oh well, maybe I'll get better.
Its been a long time since I featured one of my trademark colorful charts which conveys fairly routine information. So I hammered one up for us today. Its a reverse ogive of the Cubs' pitcher's ERA so far this season. Most of our lefties are looking pretty good.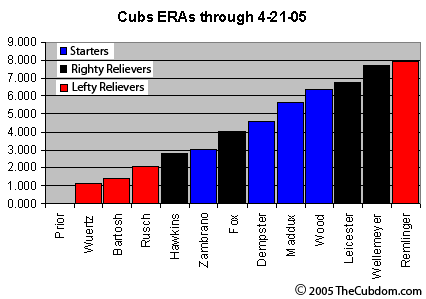 Looking Back: The Cubs just split a series with the Cardinals. I haven't had an opportunity to watch today's matinee yet, but hopefully I'll catch the repeat on Comcast later this evening.
Last night's game featured 8 and two-thirds innings of Cy Zambrano. Heckuva game. Carlos was "Cy quality" again this start... hopefully he'll stop doing the on-again, off-again routine with his next start.
Derrek Lee, unbelievably good. That Derrek Lee, he's sooo HHHHHHOT! He is 25/60 (.417 AVG), with 11 walks (.500 OBP) after today's game. He has also hit 4 Dingers, 17 RBI, and 43 Total Bases (.717 SLG) to give him an unbelievable 1.217 OPS.
He is also running well, having stolen 3 bases without being caught. This gives him an OPSS of 1.267! Unbelievable.
Will it never end? Nomar is injured... again. He hurt his groin last night trying to get out of the slightly soggy batters box at Busch (See TCR for complete coverage). This removes the second half of our middle infield... and gives Dusty the opportunity to play Neifi Perez some more.
Posted by Byron at 3:33 PM | | |
April 21, 2005
Record: 8-8, Box Busch Stadium - St. Louis, MO
Reg #16
Chicago Cubs
0
St. Louis Cardinals
4
April 20, 2005
Record: 8-7, Box Busch Stadium - St. Louis, MO
Reg #15
Chicago Cubs
3
St. Louis Cardinals
1
Posted by Byron at 3:06 PM | | |
Wednesday, April 20, 2005
I don't have much time, so I'll make this quick.
The Cardinals suck.
Wednesday: Zambrano vs. Suppan
Thursday: Dempster vs. Chris Carpenter
My predictions: Cubs lose Wednesday if the game is played. Cubs win Thursday.
My rationale: Zambrano has been spotty, the Cubs can't seem to get over .500, and the game will be played at Busch. For Thursday, Dempster has been pretty good, and staff ace or not, Chris Carpenter has never made me a believer.
Posted by Byron at 6:02 PM | | |
I made it to the game tonight (Tuesday). I drove a few hours across southern Indiana to go see the Cubs take on the Reds in Cincinnati... and what a game it was!
I pulled into Cincinnati about 5 Central for the 6 o'clock start... after getting turned around several times trying to find parking, I finally got a spot in an 'official Reds garage.' $12.00 bucks later, I walked across a concourse that connects the US Bank Arena and the Great American Ballpark. If you aren't familiar with Cincinnati, Paul Brown Stadium (football), Great American Ballpark (Baseball) and US Bank Arena (hockey) are all right next to each other.
At the ticket office, I waited in the line for 20 minutes and was able to get a ticket for $17 in the first row of section 413 (left field line). By the time I finally got to my seat, the Cubs were up by 1. Apparently, Corey Patterson had gone yard, but I missed it.
After the second inning, I got up to get a 'dugout dog.' The All Beef Hot Dog is $4.75, and pretty tasty. However, the bun was bad, and they only had mustard, ketchup, and onions as fixins. What about the Mayo and Pickle Relish?
In the third, Prior singled and Hairston doubled. Then, Corey Patterson hit a dribbler down the third base line. Prior took his time getting back to the base and should have been out... sort of. From my vantage point, it looked like the ball was foul when it was fielded, and Prior was tagged before getting back to the bag. The umpire ruled the ball was fair and that Prior got back to third safely.
The Reds argued, but the play ended with the bases loaded and none out. After Nomar popped out, Aramis singled to center scoring Prior and Hairston. Corey tried to advance to third and Jr. Griffey tried to nail him at third, but the throw got away and the ball went out of play. The play ended with three runs in and Ramirez standing on third.
The Prior call at third was one of a half dozen calls that went the Cubs way tonight... but all of the breaks in the world for the Cubs didn't negate the fact that the Cubs hit three home runs (Patterson, Lee, and Barrett), while Prior only allowed one.
Prior almost had a rough first inning. He allowed Ryan Freel to get on to start the inning. Three fly balls later, all of which would have been extra base-hits, save some excellent defensive plays, and Prior was out of the inning unscathed.
Corey Patterson may as well send Rawlings his glove measurements because he locked up a gold glove with this catch (at right). Jason Dubois, who started in left also made an excellent catch.
In fact, excellent defense was a hallmark of the day. Aramis Ramirez made several spectacular picks at third base, Nomar flashed some serious range and a strong arm, and Derrek Lee stretched, scooped, and snagged several errant throws. He also started/finished a 3-6-3 double play that was pretty nifty.
Of course, in a game where the Cubs defense easily saved three runs, the only run the Reds scored was unearned. After Wily Mo Pena reached base with a two-out-double in the fourth, Prior induced a groundball out of Rich Aurillia. It was a fairly routine ball, but Nomar didn't take the time to set himself and the ball ended up in the stands. Pena scored and Aurillia went to second. That was it for the Reds.
Otherwise, Prior was spectacular lasting seven innings, allowing 4 hits, walking 2, and striking out 6. His ERA this season is still a pristine 0.00. Cliff Bartosh pitched the 8th and 9th, allowing only a walk. Good stuff.
Great American observations

Judging by the crowd reaction, Cincinnati's favorite player is Wily Mo Pena.
When I was a kid, I always tried to take a bite of a Chips Ahoy cookie without getting a chocolate chip. The bag said you couldn't, so I tried... never did succeed. Well, I challenge you to sit anywhere in the Great American Ballpark and not see advertising... it can't be done.
The sound effects played over the PA system on foul balls absolutely ruin the atmosphere.
Cubs fans cannot catch foul balls.
The view over the Ohio River into Kentucky is quite delightful.
The weather tonight was perfect.
Pictures will possibly be posted eventually... although the pictures I took at Dodger Stadium last August still haven't been developed.
Posted by Byron at 2:37 AM | | |
Tuesday, April 19, 2005
April 19, 2005
Record: 7-7, Box Great American Park - Cincinnati, OH
Reg #14
Chicago Cubs
7
Cincinnati Reds
1
April 18, 2005
Record: 6-7, Box Great American Park - Cincinnati, OH
Reg #13
Chicago Cubs
6
Cincinnati Reds
7
Posted by Byron at 11:51 PM | | |
Monday, April 18, 2005
Well, the Cubs went to PNC Park this weekend to play the Pirates. They won two of three and are back at .500. Until the next time he pitches, I've got some questions about Carlos Zambrano who has sandwiched a Cy Young caliber start in between two fairly mediocre performances.
But, its still early. Or at least that is what I keep telling myself 7.4% of the way through the season. But... nobody told Derrek Lee it is still April.
I had this to say over at Cub-Town last Friday.
Don't kill me... but is Derrek Lee really having that great of an April?
The 11 RBI's look MVP worthy, except that 10 of them have come in two outstanding games. If you take away opening day and the second game of Wednesday's doubleheader, Lee's line looks a bit more like April.
NOW:
12 hits, 33 AB, 9 BB, 4 SO, 1 SF, 3 2B, 2 HR, 11 RBI, .364/.488/.636/1.125
MINUS TWO GAMES:
06 hits, 24 AB, 8 BB, 3 SO, 0 SF, 1 2B, 0 HR, 01 RBI, .250/.438/.291/0.729
I guess what I'm saying is that D-Lee has had two MONSTER games, and otherwise he has struggled with his power (although not his OBP). I wouldn't claim Lee has been cured of his April problems... but I sure hope he has.
Of course, Derek (Smart) came back at me with the sample size argument (he's right), and told me I can't remove 22% of Lee's games without seriously hurting my argument.
The point became moot on Sunday though as D-Lee went three for four with another three RBI. So, I'll eat my words again... Lee is having a monster April, and I'm thrilled.
OK, lets see... the rest of the series? Zambrano mediocre, Cubs lose on Friday. Dempster pretty good, Cubs win on Saturday. Greg Maddux, April Start, uh-oh... what's that you say? 6 IP, 5 Hits, 0 Walks, 2 Earned that shouldn't have been earned runs? WooHoo! Its Maddux time again in 2005. Cubs win Sunday.
---
After Sunday's matinee, The Cubs came a bit further west and stopped in Cincinnati for two games. (But first, I have a question: How can I spell Albuquerque, but still can't spell Cincinnati without looking it up?)
Monday, Monday, Its just that way: Kerry Wood vs. Matt Belisle
Tuesday: Mark Prior vs. Brandon Claussen
Hmmm... not going to pretend I've heard of Matt Belisle (he has a career ERA of 3.52 in 7.2 IP). But, it is his second career start and so he'll probably beat us. I'm not being fatalistic here... its just that history tends to repeat itself. Still, Kerry Wood is on the mound and I think/hope he'll turn it around. Byron's prediction: Cubs Win.
On Tuesday: I hated on Mark Prior last week... he came out and proved me an unpleasant jerk. So, I'd better right the wrong. Byron's Prediction: Cubs Win.
This will make this my second consecutive series in which I've predicted a Cubs sweep. I hope we do, because I'm itching to break out the Nimbus 2000.
Finally, a bolder predictions says that if the Cubs sweep this series... they can wave .500 goodbye for the year. I've got 'em winning 94.
Posted by Byron at 5:22 PM | | |
April 17, 2005
Record: 6-6, Box PNC Park - Pittsburgh, PA
Reg #12
Chicago Cubs
4
Pittsburgh Pirates
2
April 16, 2005
Record: 5-6, Box PNC Park - Pittsburgh, PA
Reg #11
Chicago Cubs
4
Pittsburgh Pirates
3
April 15, 2005
Record: 4-6, Box PNC Park - Pittsburgh, PA
Reg #10
Chicago Cubs
5
Pittsburgh Pirates
8
Posted by Byron at 5:14 PM | | |
Friday, April 15, 2005
Major League Baseball has the most ridiculous blackout rules!
I live 5+ hours from Wrigley Field.
I live even farther away from Pittsburgh.
I paid for MLB Extra innings.
I can't watch the Cubs tonight.
The Cubs play the Pirates tonight at 6 P.M. It will be televised on Comcast Sports Plus... and despite the fact that I live over five hours from Wrigley Field, I am considered 'in-market'. However, neither Dish Network (my TV folks), Insight (the local cable TV provider), or anyone else provides Comcast Sports Plus down here in Bloomington.
Last year, I bought the MLB.tv package. Same story, I'm in-market and was blacked out for the Cubs' live tv feeds.
MLB has got to change its black out rules so that its fans can watch the games. I should not have to live in Chicago, or on the Coasts to be able to watch all 162 games. Its not like I'm asking for the games for free. I'm paying about $180 to get Baseball content this year. Why can't I watch this game?
End Rant
---
The Cubs played the Padres in a three game series this week. Here is what you need to know:
Monday: Dempster very good. Adam Eaton, even better. Cubs offense very bad. Loss 1-0.
Tuesday: Rain
Wednesday: Doubleheader. Game One: Kerry Wood, horrible. Jake Peavy, very good. Cubs Lose 3-8. Game Two: Mark Prior, excellent. Brian Lawrence, tough outing. Cubs offense, good. Cubs Win 8-3.
As I mentioned earlier. The Cubs are now in Pittsburgh preparing for a three game series against the Bucs. The matchups are as follows:
Friday: Zambrano vs. Oliver Perez
Saturday: Maddux vs. Kip Wells
Sunday: Dempster vs. Mark Redman
Oliver Perez: In two outings so far this year, Perez is 0-2 in 9 innings pitched. His ERA is 11.00. He has walked 8 (8 BB/9), he has given up 11 hits (2.11 WHIP). But, he has struckout 10 in 9 innings.
Despite a horrendous start, Perez is a good pitcher. He went 12-10 for a team that was 17 games under .500 last year. His '04 ERA was an impressive 2.98, with a 1.15 WHIP, a 10.97 K/9, and a 3.7 BB/9. He is also a southpaw.
Still, I'm pretty confident that even if Perez begins pitching like he did last year, we'll beat him. We've got Cy Zambrano going against him, and I'll take Zambrano against any other pitcher in the NL. (With the possible exception of Schmidt.) Byron's Predictive Powers declare this game for the Cubs.
Kip Wells became a Pirate through one of Kenny Williams' horrible trades. Like Perez, he has started twice and lost twice this season. His ERA stands at 8.03, with a WHIP of 1.73. He has had slightly better command than Perez, walking 8 in his 12.1 innings. However, he isn't going to strikeout as many batters. His career K/9 is 6.68.
Looking at a bigger sample size, Wells sported a 4.55 ERA and a 5-7 record in 2004. He had a WHIP of 1.52, walked 4.3 batters per 9, while striking out 7.5 per 9. In other words, Wells is your prototypical fifth starter.
However, Wells will be matched up against Maddux on Saturday. As we all know, Maddux doesn't do well early in the season... but I'm going to predict a Cubs win on Saturday.
Mark Redman is a southpaw who has had a good start so far. He's 1-0 with a 1.5 ERA and a .83 WHIP. In two outings, he has lasted 12 innings while only allowing two (earned) runs, 9 hits, one walk, and striking out 8.
Despite the fast start, he does have a 4.33 career ERA with a WHIP of 1.37. He doesn't strike out too many, about 5.8/9 IP. So, as much as Perez has underachieved early, Redman has overachieved.
He will face Dempster on Sunday and I think the game will be a toss-up. I'm going to call this game for the Cubs, based on the strength of Ryan Dempster's last outing and my un-dying Cubs-fan-optimism.
So, my predictive powers indicate that this will be a sweep for the Cubs. Woohoo. Well, the game starts in 35 minutes... and I won't be watching.
Posted by Byron at 5:26 PM | | |
Thursday, April 14, 2005
April 13, 2005
Record: 4-5, Box Wrigley Field - Chicago, IL
Reg #9
#2 DH
Chicago Cubs
8
San Diego Padres
3
April 13, 2005
Record: 3-5, Box Wrigley Field - Chicago, IL
Reg #8
#1 DH
Chicago Cubs
3
San Diego Padres
8
April 11, 2005
Record: 3-4, Box Wrigley Field - Chicago, IL
Reg #7
Chicago Cubs
0
San Diego Padres
1
Posted by Byron at 11:35 PM | | |
Wednesday, April 13, 2005
Dusty Baker has decided to flip-flop the pitching rotation for today's twinbill. Although Prior was slated to pitch yesterday, he will be pitching in the second game this afternoon... and I'm not sure that I understand the rationale.
Originally, I thought it would be beneficial to have Prior start first. That way, if he got into trouble early, Dusty could make better informed pitching decisions in both games. However, with Wood going first, Dusty has no choice but to try and get an extra inning or two out of him. Chances are, Prior isn't going to be able to go all that long. But, with Prior slated to go second, what do we do if Wood runs into problems early? Can Dusty pull him without forcing his hand on Prior? What if Prior struggles? You certainly can't leave Prior out there for long if he has trouble getting through innings.
Looking at the matchups, I see that Wood is slated to go against Peavy. It must be that Dusty feels Wood gives the Cubs a better chance than Prior. However, since we all know that Neifi Perez, Henry Blanco, and Jose Macias will be getting at least one start today... we'll surely lose one game. If I were managing, I'd take my chances by running out the scrubs for the first game against Peavy, and then hoping to beat Lawrence in the afternoon. This would also give the Cubs the benefit of throwing Prior first.
Another thought I had was that it might be to line up the pitching rotation for the next time through the rotation, but a quick look at the calendar tells me that the Cubs have an off-day tomorrow. Therefore, neither Wood nor Prior will have to throw on short rest for their next start.
I guess that is one positive note in an otherwise chicken little post.
Posted by Byron at 12:00 PM | | |
Tuesday, April 12, 2005
As you might know, I get a little too excited about financial information in baseball. Well, a few folks who have that same crazy obsession, Team Marketing Report, have started a blog appropriately titled Team Marketing Blog. I encourage you to check them out.
Due to my unhealthy obsession and rabid interest in their Fan Cost Index, I got a mention in one of their first posts. I'll be adding a link to their blog the next time I update my sidebar.
Plug finished
Since I last wrote about the Cubs:
Todd Walker has been placed on the 15 day DL with a sprained knee. I've also heard that Dusty is planning to give Neifi the majority of the playing time in Todd's place. Exactly why is Jerry Hairston Jr. on this team again? Come on Dusty. The Barbarians are at the gate, and they'll have you fired. Let's use some common sense. OK?
Mike Fontenot, acquired in the Sammy Sosa trade has been brought up to the big-league club to fill Todd Walker's spot.
Todd Wellemeyer was optioned to AAA to make room for the re-activated Mark Prior.
Today's game against the Padres has been rained out. Mark Prior will start tomorrow in the Cubs first double header of the season.
Posted by Byron at 4:28 PM | | |
Forbes Magazine has released its 2005 Major League Baseball Team Valuations.
The 2005 Forbes estimate of MLB Franchise Values.
The Cubs come in at number 6 this year, valued at $398 million. This represents a 14% increase from last year.
The Yankees are estimated to have the highest value at $950 million. The Red Sox are next at $563 million. The Mets, Dodgers, and Mariners round out the top 5.
The largest increase in value belongs to the Washington Nationals. Their move to Washington from Montreal resulted in a 114% increase in franchise value. The Phillies had the next largest increase, 39%, and are now ranked as the seventh most valuable franchise.
Of the top ten franchises by value, the National League ranks seven teams while the AL only has three. The ten franchises valued lowest includes six AL teams and four NL teams. The AL secured the bottom four spots in Kansas City ($187 M), Oakland ($185 M), Minnesota ($178 M), and Tampa Bay ($176 M).
Across the boards, franchise values are up. The only team that Forbes estimates lost value is the Oakland Athletics (-1%). This is probably due in part to tax depreciation changes over the offseason.
In addition to valuing the franchises, Forbes also assigns debt/value ratios. The Diamondbacks supposedly have 103% of their value in debt, and the Dodgers are almost as highly leveraged at 99%. Forbes reports that the Blue Jays have no debt, which makes me wonder what Forbes considers debt? Other teams with low levels of debt include the Braves (8%), Cubs (10%), Los Angeles Angels of Anaheim (10%), and the White Sox (11%). It is interesting to me that the three teams with the least debt are the three teams with corporate ownership (Jays, Braves, and Cubs).
The revenue numbers Forbes reports range from $80 M (Montreal/Washington) to $264 M (Yankees). The Yankees had $53 M more in revenues than the next closest team, the Red Sox. The Cubs came in sixth by extracting $170 million from their fan base.
Finally, the most controversial numbers are the profit figures. According to Forbes, 20 teams turned operating profits last year, led by the Orioles who supposedly earned $34 M. Additionally, The Indians, Devil Rays, Brewers, and Reds are all said to have earned over $20 M.
The Cubs are estimated to have earned $11.4 million in operating profit during 2004.
Ten teams lost money due to operations. This group was led by the Yankees who lost $37.1 M. The Angels also are estimated to have lost $30 M in Arte Moreno's first year as owner.
Of the ten teams who reportedly lost money, 6 of those teams made the playoffs in 2004. Only the Astros ($9.6 M) and Braves (15.4 M) made both the playoffs and a profit.
In contrast, four of the six last placed teams turned a profit, although the Diamondbacks sustained heavy losses (-$18.7 M).
These numbers are all estimates by Forbes. As best I know, they have not seen the teams' books or attempted to uncover accounting shenanigans, which I guarantee are being played. In essence, these numbers are meaningfully meaningless.
Posted by Byron at 1:03 AM | | |
Monday, April 11, 2005
Its been a good weekend of baseball. As I'm sure you know, the Cubs won two of three over the Brew Crew. Kerry Wood took the mound on Friday, pitched well, but was wild. He went five and two thirds before leaving due to a high pitch count. The game eventually went 12 innings with the Brewers scoring 3 in the twelth.
On Saturday, Carlos Zambrano earned his nickname, 'Cy'. He threw seven and a third, allowing one hit, two walks, striking out six, and winning the game. He became the first Cubs starter to register a win in 2005. On the offensive side of the ball, Jason Dubois got his first start of the year. He went 1 for 3, knocked in two runs, but struck out twice.
On Sunday, Greg Maddux started. He did not pitch well. His line reads 5 IP, 4 runs, 3 ER, 1 BB, 1 SO, and 2 HR. However, the offense performed well enough today. They scored 3 runs in the sixth to tie the game, and then Todd Hollandsworth pushed across a run in the twelth to seal the win. The win gives the Cubs their first winning streak of the year (2), and brings them back to .500.
Cubs vs. Padres preview
The San Diego Padres come knocking for a three game series Monday, Tuesday, and Wednesday. As best I can tell, the matchups will be:

Monday: Ryan Dempster vs. Adam Eaton?
Tuesday: Mark Prior? vs. Jake Peavy
Wednesday: Kerry Wood vs. Brian Lawrence
Monday's expected starter is Adam Eaton. However, ESPN is reporting that Eaton is questionable for the start due to a stomach illness. In his only start this year, Eaton pitched 4.1 innings, struck out 7, walked 2, gave up 6 hits, and 5 runs. If Eaton can't start, the nod might go to Dennys Reyes, but I'm not sure.
Jake Peavy, the Padres ace, will start on Tuesday. His first start lasted 6.2 innings. He allowed 4 hits, 2 walks, struck out 10, and didn't allow a run.
Brian Lawrence's first outing of the year lasted seven innings. He allowed seven hits, two walks, struckout five, and permitted two runs. However, the Padres offense failed him and he took the loss.
The Padres enter the series with an identical record as the Cubs. They are 3-3 after splitting a two game series to open the season in Colorado, and then a four game series at PetCo Park vs. the Pirates.
Due in part to the opening series in Colorado, the Padres have scored ten or more runs in half their games so far. However, in the other three games the offense has posted 1, 2, and 3 runs. So my conclusion is that their offense is probably similar to the Cubs, lots of potential, but not so much consistency.
Series Prediction: I think the Cubs will be fortunate to win this series... and might get swept. I am not a big Ryan Dempster fan, so I expect the Padres to win Monday. Normally a Prior vs. Peavy start would ensure a 3-2 nail-biter, but Prior hasn't had a quality outing yet this year. I expect he'll start because Glendon Rusch pitched today and proabably wouldn't be able to pitch long on Tuesday. So, I'm giving the Padres the nod on Tuesday. For Wednesday I think its a coin-flip. I'm still not sure that Kerry Wood is really ready yet. I'm an optimist, so I say the Cubs win on Wednesday. Series goes 2-1 in favor of San Diego. As always, my predictions only guarantee one thing: they'll be wrong.
End on a high point: Padres closer Trevor Hoffman enters the series with the following line:

2 Games, 1.2 IP, 6 H, 4 Runs, 0 BB, 0 SO, 0 K/9, 0 W, 1 L, 0 Sv, 1 BS, .545 BAA, 3.6 WHIP, 21.6 ERA.
---
Finally, something I couldn't help but notice this weekend.
Joey Gladstone of Full House (played by Dave Coulier) and Todd Hollandsworth of the Chicago Cubs.
Posted by Byron at 12:12 AM | | |
Sunday, April 10, 2005
April 10, 2005
Record: 3-3, Box Wrigley Field - Chicago, IL
Reg #6
Chicago Cubs
6
Milwaukee Brewers
5
April 9, 2005
Record: 2-3, Box Wrigley Field - Chicago, IL
Reg #5
Chicago Cubs
4
Milwaukee Brewers
0
April 8, 2005
Record: 1-3, Box Wrigley Field - Chicago, IL
Reg #4
Chicago Cubs
3
Milwaukee Brewers
6
Posted by Byron at 11:37 PM | | |
Friday, April 8, 2005
The Cubs start their home schedule tomorrow against the Brewers. So, to get prepared and know what to expect, I had a friendly chat with Jeff of Brew Crew Ball, the excellent Brewers blog on the Sportsblog network.
Cubdom: Well, I saw you guys destroyed the bucs in two games so far. What keyed your offense?
Brew Crew Ball: Heck if I know! Actually, contributions from everybody. Hardy came through with a clutch hit opening day; Cirillo and Branyan are both making like Mike Schmidt...the way the games have been going, I wouldn't have been surprised to see Sheets or Davis go 2 for 3, and you know what great hitters those guys are.
Cubdom: I seem to remember Sheets hitting well against the Cubs.
BCB: Really? Last year he cracked .100 for what I believe was the first time.
Cubdom: I checked out Ben Sheets batting record against the Cubs (using Baseball Musings Day by Day Database)... not too good. He is 0 for 30 with 2 walks. Thats a .000/.062/.000 (Avg/OBP/SLG) line.
BCB: That's probably better than Doug Davis's line :-).
Cubdom: Doug Davis is 1 for 13 so a .077/.077/.077 line against the Cubs. He is .033/.043/.033 lifetime. That is 3 for 91. You miss the DH?
Who all is starting for you this series?
BCB: Looks like it will be Capuano, Sheets, and Santos. Sheets going again because of the off days.
And for the Cubs we'll be seeing?
Cubdom: Wood, in his first start of the season. He's been hurt and hasn't faced major league hitters in about 10 days. Then we'll probably see Zambrano and Maddux.
BCB: What do you predict for [Wood's] first outing?
Cubdom: I think Wood will pitch well but use too many pitches. He's always had a problem with pitch count, so he'll be lucky to go six. He'll probably give up about three runs, strike out eight and walk four.
Zambrano will be looking to go deeper in the game, and so will try to get the Brewers to put balls into play [as opposed to trying to strikeout batters]. Maddux [has been] pretty bad in April, so we'll see what we get.
BCB: I really like Maddux, so I'll be conflicted in that game. I guess I'll root for your bullpen to melt down.
Cubdom: What does your bullpen look like? I know you traded Kolb to Atlanta.
BCB: Yep, Kolb is gone. And Vizcaino, who has been an on-again-off-again reliable set-up guy, was traded to the White Sox in the Carlos Lee trade.
That leaves Mike Adams as the presumptive closer, but he was quite shaky in spring training, and hardly has a proven track record--he's only been in the bigs since last June or so, though he was pretty reliable as a set-up man last year.
I've been saying that whatever the bullpen looks like now, it isn't going to look that way in a few months. Derrick Turnbow may get a look as closer, as might Ricky Bottalico, as he has the history, and thus super-closer-mojo.
The rest of the 'pen is a mix of interesting guys who might be able to step up: Wes Obermueller, who will be the 2005 edition of Brooks Kieschnick; Matt Wise, a handy swing man and a much better pitcher than most people realize; Tommy Phelps, our LOOGY [Lefty One Out GuY], who inexplicably pitched in both of the first two games, including a 1/3 inning appearance yesterday, and Jorge de la Rosa, another lefty who's probably only on the roster because he's out of options.
And there are a handful of guys in AAA who have some potential and we'll probably see in Milwaukee at some point. The Milwaukee pen is filled with guys who could break out.
Cubdom: How is Carlos Lee working out for you? Did he have a good spring? He has a lengthy record of doing severe damage against the Cubs.
Lookin' good so far! Solid spring, couple of good games so far. I think many Brewers fans think it's Lee's presence in the middle of the lineup that has spurred the rest of our guys to the pair of blowouts.
Cubdom: Do you remember the game in 1998 when Brant Brown dropped the flyball that cost the Cubs a game in late September?
BCB: I don't. I wasn't actively following the Brewers in the late 90s. What makes you think of it?
Cubdom: Just wondering. That was one of the most traumatic games of my life (and probably many other Cubs fans) I was interested to see if Brewers fans even remembered the game.
We were in a late season push to win the wild-card. We were up by one in a game that had see-sawed. There were men on second and third and who ever was closing, probably Rod Beck, induced a pop fly [with two outs in the ninth] which Brant Brown dropped and the guys on second and third scored and the game was over like that.
BCB: And you won the wild card anyway...
Cubdom: Yeah, but it took 163 games... and we had to be bailed out by Neifi Perez... and now we're saddled with him on our bench.
BCB: That's almost as bad as waking up in 2005 and finding Jeff Cirillo back on your team!
(Well, okay, it's worse.)
Cubdom: What do you think of the new owner, Attanasio? Are you happy to see Bud/The Selig Family Trust gone, or what?
BCB: Everything looks good so far. [It] Resulted in an immediate payroll boost, which allowed the Carlos Lee trade to happen, and may make possible a long-term extension for Sheets. Whether or not you like those deals, it's great to have ownership that's committed to getting the Brewers out of small-market purgatory [down the road]. I've heard him interviewed a couple of times, and he seems genuinely interested--his wife has turned into the most rabid Brewers fan in the few months since the deal went down.
We may never have a payroll like you guys do, but we have a shot to be more competitive, especially when the current wave of prospects start to contribute.
Speaking of payroll, how do you feel about the Ramirez extension?
Cubdom: I personally am thrilled.
There has been some discussion though that the Ramirez deal leaves the Cubs holding the bag as far as risk is concerned. Ramirez can walk away after two years, but the Cubs have to guarantee four. Plus, there is a vesting option that depends on games played, and not performance levels.
Provided Ramirez continues to perform as well as he has, it'll be a great deal. We have him inked for at least two more years, so I like it.
BCB: Have the results of the opening series in Arizona worried you at all about the 2005 season?
Cubdom: A bit. You're pitching staff has allowed only four runs in the two games you've played. Our staff wasn't able to keep the D-Backs to less than five in any of those games.
The offense was incredibly inconsistent last year, and has looked so again in Arizona. But, I think it will be better this year. I also think the Cubs would have been better served to get out of Arizona for their first few games. I wonder if the proximity to Mesa had them feeling like the games were spring training games.
What is your opinion on Ned Yost?
BCB: Seems like he's done a good job of motivating the team, and the Yost/Maddux team has done wonders with some retread pitchers, like Davis and Victor Santos.
Yost came to Milwaukee from the Atlanta coaching staff, and apparently he still talks with Bobby Cox very frequently. There are a lot of similarities there. I'll be more confident in Yost as soon as he makes a decision to ditch either Helms or Cirillo.
Carrying three third baseman, none of whom have much value anywhere else on the diamond, and two of whom will probably be way below-average offensively, is a massive waste of a roster spot. Especially when you could see that decision as the one that caused Kieschnick's release.
Cubdom: Brooks was released? I missed that.
BCB: Yes, before the Crew broke camp. He signed a minor-league deal with Houston that was announced today and will report to AA Corpus Christi.
How do you feel about Dusty?
Cubdom: Oh goodness don't ask me that. I don't know. I think he is a bad in game manager. I just don't understand his decisions. But the fact is the man wins... and he wins a lot. So, I'm not looking to have him fired. I just bellyache a lot.
BCB: Do you think the way the Sosa situation shook out will be better for the Cubs in the long run?
Cubdom: The Sosa situation was badly mishandled by the club. They should not have publicized his early leave from the clubhouse. They destroyed his value and then had to trade him.
I mean we traded a first ballot hall of famer who will hit 40+ HRs next season for a utility player and two minor leaguers who will probably never make the show... and we payed about $18 million too. That is the definitition of a bad trade.
How big is the Milwaukee payroll this year?
BCB: It's up around $45 million, up about $10 mil from last year. Could increase a bit more, as any Sheets extension would probably replace the current deal, meaning he'd make $9-10 mil this year instead of the $6 he got in the one-year deal.
Carlos Lee accounts for almost all of the increase (Podsednik wasn't making much) and Damian Miller makes up the rest.
BCB: What's your prediction for the weekend series?
Cubdom: Cubs win 2 - the Wood and Zambrano starts.
BCB: I've got the Brewers down for a sweep. The bats are on fire, and while I'm sure the Cubs will do fine this year, all of these tired and half-injured starters will begin the season slowly.
---
Well, that was pretty much our chat. I've edited it to remove my lengthy discussion of our bullpen, and a few other things. Jeff's post is a much truer version of the discussion than mine, so I encourage you to head over to Brew Crew Ball and read the complete transcript if you are interested.
Also, in the comments, let me know if you like this kind of post or not? I'm thinking about doing numerous chats like this before various series this year, but if you don't like 'em I'll stick to rambling about ticket prices, attendance figures, and the cost of beer at various ballparks :-).
Posted by Byron at 12:34 AM | | |
Thursday, April 7, 2005
From the AP, via ESPN.
SAN FRANCISCO -- Los Angeles closer Eric Gagne was ejected in the fifth inning of the Dodgers' game against the Giants on Wednesday night -- even though he's on the disabled list.
Gagne apparently had been heckling home plate umpire Bill Hohn from the Dodgers' dugout about balls and strikes. A moment after Odalis Perez's low pitch to Deivi Cruz was called a ball, Hohn pointed at the dugout and ejected Gagne.
Exactly why isn't Gagne a Cub? He's taken the arguing with umpires thing to a whole new level.
Posted by Byron at 11:01 AM | | |
April 6, 2005
Record: 1-2, Box Bank One Ballpark Phoeniz, AZ
Reg #3
Chicago Cubs
3
Arizona Diamondbacks
8
April 5, 2005
Record: 1-1, Box Bank One Ballpark Phoeniz, AZ
Reg #2
Chicago Cubs
4
Arizona Diamondbacks
5
April 4, 2005
Record: 1-0, Box Bank One Ballpark Phoeniz, AZ
Reg #1
Chicago Cubs
16
Arizona Diamondbacks
6
Posted by Byron at 10:59 AM | | |
Tuesday, April 5, 2005
Team Marketing Report released the results of the 2005 Fan Cost Index today. The results aren't necessarily a suprise, but some signficant changes are noticable.
Before I get into the results, I want to provide some of my newer readers with links as background reading. I first got interested in the FCI results last year when I tried to come up with a model predicting Cubs ticket price increases. Then, after the Cubs released ticket prices last year, I crunched the numbers and arrived at the Cubs average ticket price.
So lets review: the ticket price model predicts Cubs would have an average ticket price of:

Cubs Ticket Price = -$0.53 + ($0.15 x Cubs Payroll in Millions) + ($0.62 x White Sox average Ticket Price)
Cubs Ticket Price (Model) = -$0.53 + ($0.15 * 105) + ($0.62 * $25.89) = -$0.53 + $15.72 + $16.05 = $31.24
After the ticket prices came out, the weighted average of the announced tickets (does not include mezzanine and dugout seats) was $31.83 (These two statements combined could indicate the Cubs have about $4 million in their budget that they have not yet spent).
Including a guesstimate of Mezzanine and Dugout Level seats, I think the real average ticket costs more like $35.35.
Knowing that TMR doesn't include luxury box ticket prices, I guessed TMR would come in at $32.60 per ticket.
The Verdict TMR says the Cubs average ticket price is $32.00 per ticket (a 12.50% increase). Although I doubt they covered all the bases, they've been doing this since '91 and I since 2004. They win.
Other mildly interesting results:
The Cubs have the second most expensive ticket for the second consecutive year. The Red Sox are first again with a $44.56 average ticket.
The Yankees are third at $27.34.
The White Sox are sixth at $25.89. That moves them up 5 spots from #11 last year.
The South Side bunch had the third largest increase by percentage (14.0%). The Marlins increased ticket prices by an astounding 30.3%, while the Giants bumped up tickets 21.4%. (Methinks the Giants were trying to kill the fatted calf by charging extra for what was going to be Barry Bonds' run at Hank Aaron and the Babe. They might have overdone it though, since Bonds status is questionable.)
Four teams decreased ticket prices: San Diego, Toronto, Tampa Bay, and Colorado.

Toronto's team management (Rogers Communications) just purchased their stadium (the SkyDome), ensuring that they will now capture vending revenues as well as ticket revenues. Therefore, the Blue Jays are now much more interested in getting fans in the seats and then selling them beer and other concessions. Their ticket prices decreased 2.5% in U.S. Dollars, but exchange rates moved in favor of our Canadian cousins.

Using TMR's numbers and exchange rates, the average Blue Jays ticket cost 26.95 Canadian last year, and 22.55 Canadian this year. That is a 16.33% decrease in tickets using Toronto's home currency. (Of Course Toronto pays their players in U.S. $, so the actual effect is still more along the lines of a 2.5% decrease in tickets. (This is consistent with reports from bandwagon-Cubs-fan Kurt :) who has been writing about the $162 season ticket package being offered by the Blue Jays organization... and that is two for one.)
The cheapest average ticket is being offered by the Kansas City Royals, $13.71.
The Brewers, Pirates, Reds, Braves, Orioles, Mariners, and Yankees haven't changed their ticket prices. The Mets had an increase of .4%
Montreal Expos tickets cost $7.34 on average in 2004. The Washington Nationals are charging $21.43. That is a 191% increase. TMR is kind however and shows it as a 0% increase since venues/cities/countries are different. Of course MLB and Montreal Expos GP is probably smiling. (Singular use of the verb is correct in this situation.)
The Astros, Cardinals, Dodgers, Marlins, and Angels are the only organizations offering special ticket prices for children.
The most expensive serving of Beer is in Los Angeles at Dodger Stadium. It will cost you $7.00 for 20 oz. It also costs $7.00 for a Beer at Busch stadium, but the Morans get 24 oz.
The most expensive beer in ounces can be found in Seattle and Boston. Each stadium offers 12 oz. for $5.50, coming to $0.46 per oz.
The cheapest beer is $0.24 per oz and can be found in Minnesota, Philadelphia, and Baltimore. According to TMR, the Cubs will charge $5.00 for 16 oz. of beer... coming to $0.31 per ounce.
The average MLB team charges $0.31 per ounce of beer.
The most expensive soda pop is $3.75 for 16 ounces. Both Tampa Bay and San Diego charge this amount. That comes out to $0.23 per ounce, which is also tops.
The cheapest park for soda pop (by the ounce) is SkyDome where you can get 24 oz. of soda for $2.84 (U.S.) ($0.12/oz.) or 3.25 (Canadian). However, you can get $2.00 sodas in Baltimore (16 oz.), Kansas City (14 oz.), Anaheim (14 oz.), and Milwaukee (12 oz.)
The Cubs will be charging $2.50 for a 15 ounce Soda ($0.17/oz.)
The league averages $0.18/oz. of Soda sold.
The most expensive Hot Dog can be found in Shea Stadium and will run you $4.50.
The cheapest Hot Dogs are in Pittsburgh and Texas. They cost $2.25.
The Cubs will be charging $2.75 for their Hot Dogs. The league average is $3.23.
I'm hungry... and thirsty.
Posted by Byron at 3:35 PM | | |
Monday, April 4, 2005
From MLB.com:
"The Chicago Cubs today agreed to terms with infielder Aramis Ramirez on a four-year deal for the 2005-08 campaigns with a mutual option for the 2009 season. Financial terms of the contract were not disclosed."
I've got a tune in my head and it goes a little like this: "You're my Cubs (do do do do do) You're my Cubs (do do do do do do) Come on Chicago Let's play Two... you're a winner through and through hmmmm... hmmm.... hmmm. You're my Cubs!
Cubs Opening Day + Aramis Ramirez = smiling me!
Updates may follow.
Update: 4:02 p.m. CST
$42 million, for 4 years, 2005, 2006, 2007, 2008.
Mutual Option for 2009
Player Option for $11 million in 2010 which vests only if Ramirez appears in 270 games for 2008 and 2009. (135 games on average)
What do I think? The above knee-jerk reaction aside, I am very happy with the signing. Ramirez is 26, going on 27. When his contract runs out, he could be 31, 32, or 33. So, it looks like the Cubs will have him for most of his peak... and at $10.5 million per year, thats a good deal now, and will probably be an excellent deal come 2008.
With this contract, Aramis becomes another one of the young core guys the Cubs have locked up for below market value (see Wood, Lee, sort of Nomar, Prior). In other words, Jim Hendry just pulled off another fantastic move validating him as one of the better GMs in baseball.
Furthermore, he is exactly the kind of player to build a team around. A slugger who doesn't strike out a lot, has a pretty good OBP, and isn't starved for media attention. Quite frankly, Ramirez could end up drawing a lot of comparisons between himself and Sandberg by the time things are all said and done.
OK, its time to go watch the game now!
Posted by Byron at 4:05 PM | | |
How good did that feel to watch meaningful baseball again? This has been one of the longest off-season's in recent memory... and even if opening night treated us to the awful Joe Morgan & Jon Miller botch job... this game counted. The Yankees stomped the Red Sox, which was only fair after all the hours of Red Sox lovin on ESPN this afternoon.
Of note, Alex Sanchez, centerfielder for the Tampa Bay Devil Rays has made a little history. Suspended, 10 days for violating Major League Baseball's substance abuse program (a.k.a. Steroids). When I saw this announcement on the tele this afternoon, my jaw dropped. I guess I didn't expect that anybody would actually be named under this new policy. Seeing is believing. I also wondered if there was a false positive involved. Sanchez doesn't seem to be suspect #1 when Byron Poirot goes out to investigate. Then again, its not like I'm an expert (I initially thought Alex Sanchez was the D-Rays SS).
Anyhow, it will be interesting to watch this steroid stuff playout over the next ten days. It will be interesting to see how an appeal will be handled, and whether Mr. Sanchez has a job when he returns... or if his teammates will welcome him back. Potentially unchartered waters.
The Cubs? Oh yeah! They play in a hair under 15 hours. I'm hoping I'll be able to see some of it before Tuesday, but not likely. Unfortunately, school is acting up during opening week... but I have tools this year: A DVR (basically Tivo), and MLB Extra Innings, plus Dish Network finally got around to picking up Comcast Sports Chicago. I think this will have me covered for all of the Cubs games this year, save the ones on WCIU.
Finally, as Jason Dubois' most vocal fan, I am super-thrilled to see that he has made the roster. However, if he doesn't get some serious playing time... well, you'll hear from me.
Go Cubs, This is the year: AC000000.
Posted by Byron at 1:27 AM | | |
Saturday, April 2, 2005
After working last night, I came home and turned on the TV to watch the Cubs play the Mariners in Las Vegas. The game felt like a regular season baseball game. The crowd was buzzing, the starting lineup contained a full compliment of Major League caliber talent, and the announcers weren't interviewing players and managers between innings.
Speaking of the announcers: I had been on record, quite vociferously, that I wanted Brenly & O'Brien LLP to be calling the games. I stand corrected. After watching a handful of games this season called by Len Kasper, I am his #1 fan. Kasper is excellent. He doesn't sound like an ass... he isn't boring... he doesn't lecture... he doesn't try to sound like a TV commentator... he just calls the game... and he does it well. Something the Cubs haven't had in their booth since several years before Harry Caray died.
Bob Brenly is still growing on me. That is partially because he is taking over for Steve Stone. I have a feeling that if he was following Joe Carter, I would have equally high praise for Brenly as I do Kasper... but he isn't following Joe Carter. He is following Steve Stone.
At a few moments in the game last night, Bob said some boneheaded remarks, but overall did a very good job. I am still getting used to the fact that he doesn't talk nearly as much as Stone did. At times you forget he is in the booth. I especially enjoyed his anecjoke about betting his believe bracelet at the blackjack table. Any humor that doesn't revolve around who picked up the check at dinner last night is better than what we've been treated to for the last seven years.
April 2, 2005
Spring Record: 14-17, Box Las Vegas, NV
Ex #1
Chicago Cubs
4
Seattle Mariners
5
On the field: I saw some things that impressed, and some things that didn't. The good first. Both Corey and Aramis hit round trippers last night. The difference for me was that Corey just sort of hooked his while Aramis crushed his. I didn't think Corey got real solid contact, but it is good to see a little pop out of his bat. Aramis? Jim Hendry - sign him.
Although the game outcome didn't matter, the Cubs lost two opportunities to score some extra runs. The first occured when Nomar Garciappara hit into a double play, removing Corey Patterson from the basepaths. Aramis Ramirez then followed up with the aforementioned blast.
Later in the game, Michael Barrett was caught stealing on what appeared to be a botched hit-and-run. Barrett was looking back at the plate, but Scott McClain didn't swing. Later that at-bat, McClain hit a long double that may have scored Barrett.
While the double play was just unfortunate, the caught stealing was a mental mistake. These are the little things that must be corrected if the Cubs are going to win enough games this year to make the playoffs. We've been told that the Cubs were working specifically on baserunning, but that didn't appear evident last night.
Swing mechanics: A camera shot last night showed Aramis sitting on the bench next to Nomar. This is good. However, I would like to ensure that Corey Patterson and Jeromy Burnitz stay as far away from each other as possible. Burnitz' swing is scary. I don't even want Corey watching Burnitz hit unless he has a counselor telling him that Burnitz is an example of how not to hit. If these guy's swings start looking any more similar... uh oh.
Pitching Observations: Dempster looked servicable last night. A bit like a fifth starter. He gave up a few dingers, but otherwise pitched well. I think we could play .500 ball when he pitches.
Micahel Wuertz did something last night that he has never done before. He impressed me. His outing looked like he knew what he was doing... impressive.
Chad Fox? Bad. Really Bad.
Todd Wellemeyer did well last night too. If you didn't see the game, here is what happened. The defense decided they would take the ninth inning off. To begin, Angel Echevarria, playing at first, botched a routine groundball to his right. Next, Jose Macias (3B) fielded a bunt but decided not to throw the ball for some reason. Then, Todd Wellemeyer fielded a second bunt and paniced. He made a stupid decision and tried to get the runner at third... only to load the bases with no outs, with the ball having not left the infield.
Ichiro Suzuki then proceeded to swing at the first pitch thrown to him in an obvious attempt at a sacrifice fly. However, David Kelton caught the ball 45 feet off the infield dirt in shallow right field and threw a strike home. The runner did not attempt to score. Wellemeyer then induced a GIDP to end the inning. Wellemeyer's stuff was impressive, and the fact that he escaped the inning without letting a run score (and the 2.45 ERA this spring) probably should ensure him a spot on the active roster.
Finally, since we played him last night, and Ichiro didn't get a hit for the first time this spring, its time for me to sing the praises of Ichiro. He is the best contact hitter in baseball and I predict one of two things will happen this season:
He will break Joe Dimaggio's consecutive games hit streak of 56.
He will bat .400
And finally, I think he will be the AL MVP this year. Go Ichiro!
---
March 31, 2005
Record: 14-16, Box HoHoKam Park Mesa, AZ
ST#30
Chicago Cubs
6
Arizona Diamondbacks
8
Posted by Byron at 1:57 PM | | |