---
Editor's Pick:
Honorable Mention:
Newbies:
Soldiering On:
Cubs Sites:
Just Read 'em!
Conglomerates
NL Central
NL East
NL West
AL East
AL Central
AL West
Miscellany
Chicago Sports
News Sources
Friday, August 15, 2008
Tired of paying for parking at the Cubs game? Need some extra funds to afford those Cubs tickets? Dating someone with 'Green Peace' tattooed on their ass? Then, the Wrigley Field Bike Check is your answer.
For Cubs fans, there is a wide variety of transportation options for arriving at the Friendly Confines. I've traveled to Wrigley Field in a Hummer stretch-limousine, a taxi, in my car, on the Clark Bus (#22), and on the Red Line — but the two cheapest options are on foot, and via a two wheeled contraption known as a bicycle.
The Bike check, for those who are unfamiliar, is located where the old car wash used to be (across from the McDonalds). It's just outside of the park on the third base line, and can be easily seen from Clark street. (Check out the map.)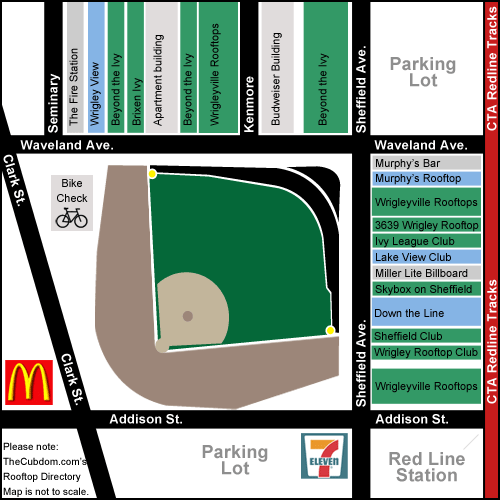 How does the Wrigley Bike Check work?
It's simple. When you arrive at the bike check, you show your game ticket to one of the friendly attendants. They will give you a numbered claim check and find your bike a safe spot, nestled in with hundreds of other bikes. (You don't need a lock.) While the bikes are making friends, you are free to go enjoy the game.
After the game, return to the bike check area, show the attendants your claim check, and wait patiently while they retrieve your bike. It's as easy as that.
Wrigley Field Bicycle Check Tips
• You don't need to bring a lock as the attendants won't lock up your bike, but they watch over the bikes during the game, so there won't be any theft.

• Leave your bike helmet with your bike. You can't bring your helmet into the ballpark (I was told mine was a weapon, no joke). It's possible to check your helmet inside of the park, but all the cool kids just leave their helmets with their bike.

• Pick up your bike immediately after the game. You only get one hour, but the friendly attendants become less friendly if they're waiting around only for you. (I've never witnessed this, just guessing.)

• Make sure to tip! The bike check is free, but the attendants' rent is not. Recommended tip is $1/bike.

• Say hello to the attendants. They're really nice and like to have fun.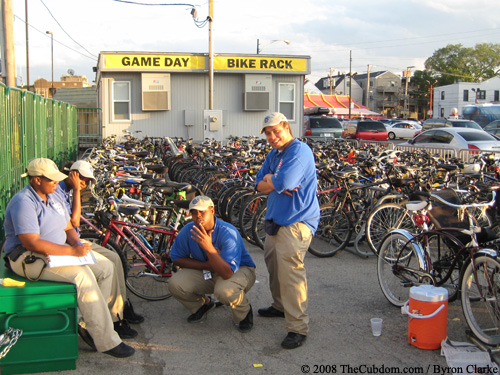 The Wrigley Field Bike check attendants pose for a picture.
Image courtesy of The Cubdom Photo Gallery
Posted by Byron at 8:00 AM | | |
---
Search
---
Recent Entries
---
Monthly Archives
---
---
Cubs Sale Articles