Thursday, July 31, 2008
Gordon Wittenmeyer is reporting that the Cubs are interested in Raul Ibanez, but are balking at the Mariners high expectations for the left handed hitting outfielder.
I am happy to see the Cubs exploring this option. Ibanez would most likely move from left field (where he has appeared 105 times so far this year for the Mariners) to right field. Kozuke Fukudome would move to center, and the platoon of Reed Johnson and Jim Edmonds would slot down the bench another step. The pickup would be a good one as Ibanez has some pop and would give the bench some added depth.
If Jim Hendry does pull the trigger, it would be their first trade with the M's since 1987 when they sent outfielder Gary Matthews to the Mariners in exchange for pitcher Dave Hartnett.
• Cubs Media Guide Trivia tid-bit: The last Cub to hit an inside-the-park Grand slam was Chico Walker on August 21, 1991 in San Francisco.
Cubdom Photo Gallery Update: I attended the Peoria Chiefs vs. Kane County Cougars game on Tuesday night. Here are some pictures.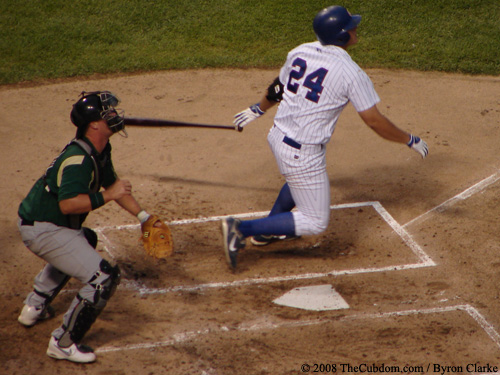 Rebel Ridling drives a ball over the wall in center field at Wrigley Field in a game pitting the Peoria Chiefs against the Kane County Cougars.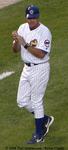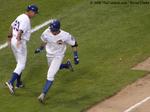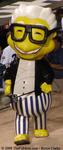 Images courtesy of The Cubdom Photo Gallery
Posted by Byron at 12:38 PM | | |
Sunday, July 27, 2008
While I was in Brazil, prospective bidders for the Cubs submitted their bids for the franchise, the ballpark, and a portion of Comcast Sports Net. It's been widely reported that there were 10 groups that submitted bids, and the Cubs have now whittled that down to 6 (or 3) groups (reports haven't been the most consistent).
There have been two large surprises so far. The first surprise is that the group led by John Canning Jr. has apparently been eliminated. (Canning's group was supposedly favored by MLB.) The other major surprise is that Mark Cuban's bid came in at a whopping $1.3 billion!
Details are still sketchy, and I can't wait to read John Helyar's tell all book, Barbarians at the Bat. (Barbarians at the Gate: The Fall of RJR Nabisco), but here's what we know so far:
• Mark Cuban's first round bid was the highest at $1.3 billion.
• The Cubs have eliminated all bids that came in below $1 billion
• The remaining groups are Cuban's and:
Others cleared to get a closer look at the Cubs' finances include Thomas Ricketts, who runs a Chicago bond-trading business and whose family founded Ameritrade; Sports Acquisition Holding Corp., a publicly traded company formed this year expressly to buy a sports team and whose board includes Hank Aaron and Jack Kemp; and Michael Tokarz, chairman of Purchase, N.Y.-based investment fund MVC Capital Inc. Tribune's investment bankers urged Mr. Tokarz to team up with Sports Acquisition to make a single bid. Real estate exec Hersch Klaff and investor Leo Hindery also made the cut, a published report says.
Source: Crains Chicago Business
• Canning's bid was rejected, but he's being encouraged to submit a much higher bid if he's interested in staying in contention.
• Sam Zell and Crane Kenney are still considering selling the park separately from the team.
• The general conclusion that Mark Cuban would be unpalatable to other owners is being re-thought.
Finally, I went to the game yesterday. Cubs pictures from the Marlins game are in the photo gallery.
• Cubs Media Guide Trivia tid-bit: Jim Hendry turns 53 today. He was born on July 27, 1955. He happens to share a birthday with my father. Happy Birthday, Dad!
Posted by Byron at 12:01 PM | | |
Thursday, July 17, 2008
I am still in Rio, but in my limited internet time, I found a link to this story which extensively quotes some of the Chicago dailies with regard to the Blackhawks game that will be played at Wrigley Field this winter. More on this later, obviously. LINK
Posted by Byron at 4:59 PM | | |
Tuesday, July 15, 2008
Well, I am in Brazil at a youth hostel. I took a few days away from the Cubs pennant race to broaden my horizons, eat strange food, and watch girls kiss with live Samba music blaring in the club.
Pretty sweet. Anyhow, I wanted to check in so the blog doesn't get too stale. So here are some of my observations from Brazil.
The NFL has failed to penetrate the Brazilian market, the NBA has some exposure, including a #80 Dallas Mavericks jersey I saw hanging in one of the shops. The only trace I've seen of MLB is a Yankees hat I saw a guy wearing in a market in Sao Paulo. Never fear, I've been broadcasting my love for the Cubs by wearing by Cubs hat around both Sao Paulo (Sampa) and Rio de Janeiro. In Sao Paulo, the hat and the wearer proved to be something of a reverse tourist draw. Everyone looked at me strangely. In Rio, I'm just looking at everyone else strangely.
The big draw down here is soccer. (Foocheball) as they pronounce it. My brother and I took in a super-classico in Sao Paulo the other night. A Super-classico is when two rival teams play each other, typically from the same city. Sao Paulo defeated Palmeiras 2-1 in a thrilling match.
Gotta go, the hostel just turned out the lights.
Posted by Byron at 10:22 PM | | |
Thursday, July 10, 2008
I've had some time to digest the Rich Harden deal, and I think you can prematurely put this one in the win column for both teams. Cop out? you bet. Here's why. The Cubs are focused short term, the A's are focused longer term.
One of the unfortunate by-products of the Cubs sale is that no one in the organization has incentives to keep the franchise's long term prospects in mind. Any move that can maximize short term value for the Cubs is a positive with the current owner (the usual advocate of long term outcomes), the President, the General manager, the manager, and even most of the players.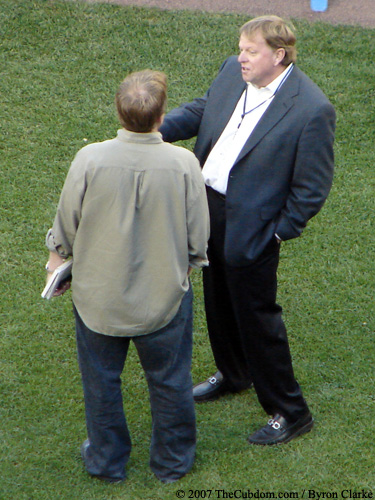 It's a unique situation in Chicago. Sam Zell just wants every red cent he can scrape together via a sale. Crane Kenney and Jim Hendry are primarily concerned about next year's paycheck. In order to ensure they remain with the club through the coming ownership transition (See my Cubs Ownership Page), the team must reach the playoffs and go very deep. Even then, it's not ensured that they will both call Chicago home, but both become eminently more employable as baseball executives if the Cubs go deep in the playoffs this year. Kenney is also focused on maximizing the sale value of the Cubs as he's likely to try and stay with TribCo after the sale.
Lou Piniella, the manager, has already placed a time-frame on his retirement, so worrying about the Cubs' system depth is not on his radar. All Lou cares about is winning another ring or two in his last two remaining years. And finally, most all of the players have tremendous short term incentives because their contracts expire in the next few months to years.)
Now don't get me wrong, it's not bad that all of these short term incentives line up, and possibly it's what this club needs to overcome a century of losing, but viewing the team from this perspective answers the question of how both teams look so good coming away from this trade.
The Athletics, on the other hand, have a more typical short/long term incentive structure. They have a new/steady ownership group in place, they're working on a move to a new stadium, and their General Manager is not in danger of losing his job, and probably has 29 covert offers under the table if he ever gets fed up with Oakland's ridiculously low payroll framework. (I always get the feeling he finds the challenge of that restraint the most exciting part of his job.)
So, that brings us to the trade. For those who haven't heard, here's the deal. The Cubs get Rich Harden (RHP Starter) and Chad Gaudin (RHP Start/Relief) for Matt Murton (Righty Corner Outfielder), Sean Gallagher (RHP Starter), Eric Patterson (lefty 2B/OF), and Josh Donaldson (Catcher with a nose for OBP, but struggling in A Ball.)
The financial implications of the deal are a fairly sizable shift in payroll to the Cubs. Harden is owed approximately $2 mm for the remainder of this season (he's earning $4.5 mm this year) and the Cubs have a team option for $7 mm for next year. Contract details. The rest of the guys involved in this trade all make approximately the league minimum. The difference is that Gaudin is eligible for arbitration next year while Murton is the closest to arbitration among those headed to the A's. He's eligible following the 2009 season, and Gallagher and Patterson each have three complete years before becoming arbitration eligible.
Now, lets evaluate talent for talent. Who got the better end of this deal based solely on talent? You've got to go with the Cubs. Rich Harden is unquestionably one of the best pitchers in baseball, and Chad Gaudin becomes the sixth pitcher on the roster who should be starting ahead of Jason Marquis. Sean Gallagher is likely to be better than Gaudin in a year or two, but neither Murton nor Patterson project as stars and I'm ignoring Donaldson for now. Based purely on talent, I'd take the basket with the two guys the Cubs got over the basket with the three guys who are moving to Oakland.
Now, for the wild card, there's the pesky little problem that Rich Harden has a slightly better health history than Mark Prior. If Harden stays healthy, there's no question about who won this trade, but the real question is how healthy does Harden have to be for the Cubs to win? Well, the answer is pretty easy. He needs to be healthy from October 1, 2008 through November 1, 2008. If this is the case, the Cubs end 100 years of frustration, and Jim Hendry can officially claim he got the better of Billy Beane.
Long term: This deal has the potential to be phenomenal for the Cubs. If Harden can solve the health question, the Cubs have shown they will sign him to a long term contract at the end of 2009 (think Derrek Lee, Aramis Ramirez, Carlos Zambrano, and Alfonso Soriano), and the Cubs will be trotting out a 1-2 combination of Carlos Zambrano and Rich Harden for the next five or six years. Talent wise, Zambrano and Harden are Johnson & Schilling circa 2001, except Johnson & Schilling were old in 2001 while Zambrano and Harden are both well shy of their 30th birthdays.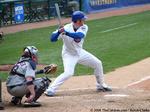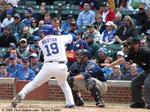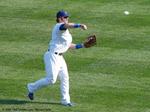 See all of the Matt Murton photos in the Cubdom Photo Gallery.
Posted by Byron at 8:00 AM | | |
Sunday, July 6, 2008
Your favorite Cub is in all likelihood going to represent the National League in the all-star game on July 15. Alfonso Soriano, Kosuke Fukudome, and Geovany Soto were all voted in by the fans as starters for the game. Ryan Dempster, Kerry Wood, and Aramis Ramirez were all selected by their fellow players, and Carlos Zambrano was tabbed by Rockies manager Clint Hurdle.
That's seven Cubs who will take part in the All-Star game. (I do think it's curious that Carlos Zambrano was not voted in by his fellow players. Perhaps they feel like his mound antics are too much.) Seven Cubs... that's nearly a third of the active roster. Pretty spectacular. The only Cubs that might have received consideration, but didn't make it were Derrek Lee and Carlos Marmol.
In other news, ticket sales are apparently doing quite well for the Ryne Sandberg Peoria Cubs game to be played at Wrigley Field on July 29th. I had reported earlier that the Cubs were only selling tickets for the bottom deck at Wrigley, but this week they announced that they were beginning to sell tickets in the upper deck. Consequently, you can now get in the gates of Wrigley Field for only $5.
Posted by Byron at 4:24 PM | | |
Friday, July 4, 2008
The Cubs and Anheuser Busch have extended their marketing agreement through 2013. Very little has changed, except that A-B has purchased the naming rights to the Batter's Eye suite in centerfield. (No announcement has been made whether it will be the Bud-Lite batter's eye, the Budweiser batter's eye, or the Natty Ice corporate hangout.)
The five year extension will also apply to A-B's relationship with WGN radio.
The full announcement is available on Just-Drinks.com.
Alright, have a happy Fourth everyone!
Posted by Byron at 4:08 PM | | |
Wednesday, July 2, 2008
In other news, man bites dog.
Ron Cook of the Pittsburgh Post-Gazette writes a column bashing new Pirates President Frank Coonelly for being satisfied with progress outside of the win-column. At the end of the column, he points out that the Pirates 'progress' hasn't made it as far as the gate.
The paying customers know the truth even if Coonelly doesn't want to admit it publicly. July is a long way from April and Pirates attendance is way off from the same point last season, down more than 2,300 a game after 43 home dates. Despite the two sellouts against the Yankees, the team's average attendance of 18,528 ranks next-to-last in the big leagues. Only the Florida Marlins, playing in a lousy stadium, are drawing worse.
For Cubs fans, who are intimately familiar with the struggle just to land Cubs tickets, the situation can seem surreal. Imagine showing up on game day and having your choice of good seats or cheap seats, not just standing room only... but the impact to the franchise is even more devastating. Let's whip out our calculators.
Ticket Prices: Source – TMR FCI:
Pirates average ticket Price for 2008: $17.07 (2nd least expensive in MLB ahead of the Braves)
Cubs average ticket Price for 2008: $42.49 (2nd most expensive in MLB behind the Yankees)
Attendance: Source – ESPN:
Pirates average attendance per home game: 18,529
Cubs average attendance per home game: 40,462
Estimated ticket revenue per game:
Pirates: $316,290
Cubs: $1,719,230
That's an astounding difference of over $1.4 million per game, which adds up to $113.6 million over the course of a complete season... enough to pay the salaries of every single Cubs player making over $1 million this year, and still have enough to pay Adam LaRoche (the Pirates 4th highest paid player.) (2008 Cubs Payroll)
And there you have it, the price of losing Barry Bonds, the price of incompetent management compounded over nearly two decades, and the price of playing too many night games. (Yeah, I had to throw that last one in there.)
Posted by Byron at 2:08 PM | | |