---
Editor's Pick:
Honorable Mention:
Newbies:
Soldiering On:
Cubs Sites:
Just Read 'em!
Conglomerates
NL Central
NL East
NL West
AL East
AL Central
AL West
Miscellany
Chicago Sports
News Sources
Cubs interested in Raul Ibanez
Thursday, July 31, 2008
Gordon Wittenmeyer is reporting that the Cubs are interested in Raul Ibanez, but are balking at the Mariners high expectations for the left handed hitting outfielder.
I am happy to see the Cubs exploring this option. Ibanez would most likely move from left field (where he has appeared 105 times so far this year for the Mariners) to right field. Kozuke Fukudome would move to center, and the platoon of Reed Johnson and Jim Edmonds would slot down the bench another step. The pickup would be a good one as Ibanez has some pop and would give the bench some added depth.
If Jim Hendry does pull the trigger, it would be their first trade with the M's since 1987 when they sent outfielder Gary Matthews to the Mariners in exchange for pitcher Dave Hartnett.
• Cubs Media Guide Trivia tid-bit: The last Cub to hit an inside-the-park Grand slam was Chico Walker on August 21, 1991 in San Francisco.
Cubdom Photo Gallery Update: I attended the Peoria Chiefs vs. Kane County Cougars game on Tuesday night. Here are some pictures.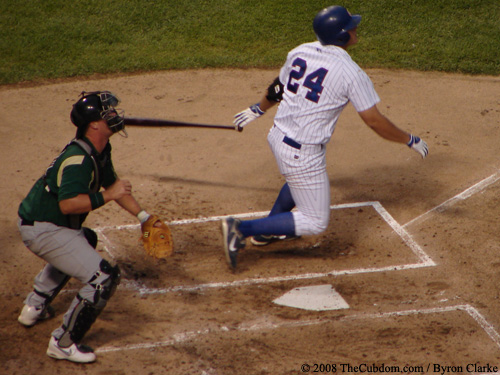 Rebel Ridling drives a ball over the wall in center field at Wrigley Field in a game pitting the Peoria Chiefs against the Kane County Cougars.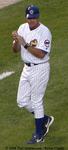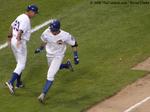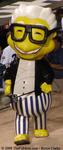 Images courtesy of The Cubdom Photo Gallery
Posted by Byron at July 31, 2008 12:38 PM | |
Subscribe to The Cubdom - get emails with the latest Cubs info and pictures
---
| | |
| --- | --- |
| This post has been tagged: | |
---
Search
---
Recent Entries
---
Monthly Archives
---
---
Cubs Sale Articles