Sunday, February 27, 2005
I wanted to do something a little different for my look at Greg Maddux. So rather than charting progressive statistics for the last three years, I figured we would look at Maddux' key stats over the course of his career.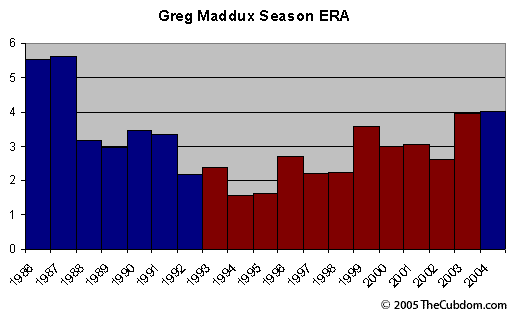 First, the blue bars are the seasons he played with the Cubs, the red seasons represent his time in Atlanta. I guess it looks like Maddux just got worse the longer he was in Atlanta...

Check out the axis labels. Maddux' ERA was below 4.00 each season from 1988 - 2003. From '92 - '99 he finished below 3.00 each year.
So, where do I see Maddux finishing this year? I *hope* he finishes with a 3.75, I wouldn't be suprised if he finished with a 4.25 ERA. Reasons? Eh? I don't know.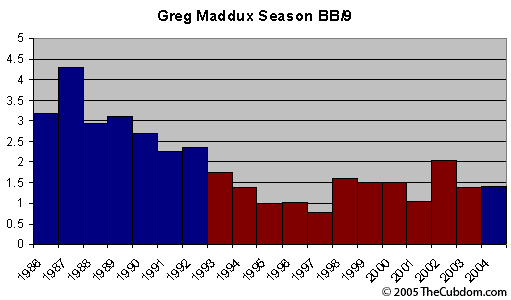 This chart suprised me a bit. First, because Maddux was still gaining his control from 1992 - 1995 while he was busy winning his four consecutive Cy Young awards. Second, I am suprised that his walk totals are as low as they are this late in his career. His walk totals for each of the last two years are approximately what they have been for the last decade.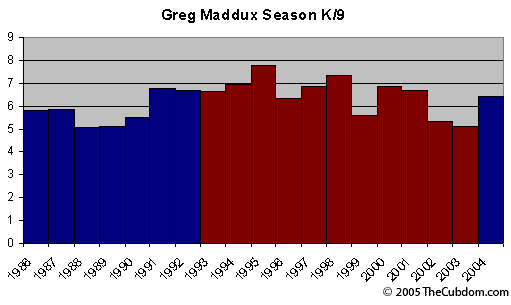 Sitting on the bench with Kerry Wood, Mark Prior, and Carlos Zambrano seemed to make a difference last year. Maddux K/9 rate jumped a strikeout per inning last year. My guess? The clubhouse pitcher's pool included strikeouts as one of the categories.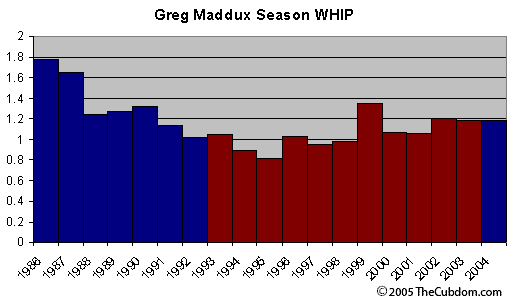 This chart is pretty much what I would have expected given the other charts we have seen. However, combined with Maddux continued low Walks per nine stat, we can correctly realize that the Professor's batting average against stat has been rising since the mid '90s.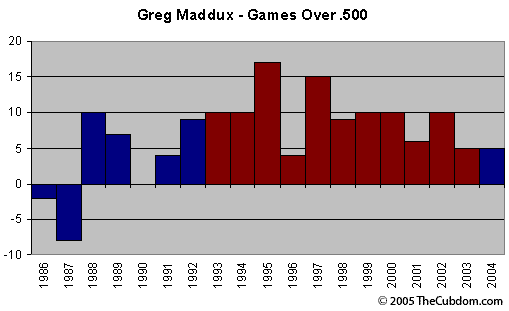 In view of the Cubs 89-73 finish in 2004. Maddux accounted for five of the 16 games above .500. Cover your ears statistical critics... this guy knows how to win. However of note, Zambrano finished 8 games over .500 and Prior 2. Is this stat worth anything really? Glendon Rusch and Jon Leicester both finished 4 games over .500.
So, maybe games over .500 in any given year aren't the best indicator of success, but lets look long term. For his career, Maddux comes in at a stellar 305-174. The bad news? Of those 131 career games over .500 only 25 were in a Cubs uniform. Thanks Larry Himes... that sure was a good call!
Greg the Cub, 111 - 86, +25, .563 winning %
Greg the Brave, 194 - 88, +106, .688 winning %
Greg the Maddux, 305 - 174, +131, .637 winning %
Posted by Byron at 5:56 PM | | |
Friday, February 25, 2005
Greetings from the virtual waiting room. Unlike most waiting rooms, this one doesn't have three month old copies of Sports Illustrated and Good Housekeeping.
Pop open another browser and you have today's edition of any webpage that interests you, including mine.
So, without a cute receptionist to distract you, lets discuss the purchases you wish you were making right now. If you are like most Americans, you'll be purchasing your tickets with a credit card, and then not paying off the total bill before you have to start paying interest. So, as an exercise in curiousity, lets find out how much these Cubs tickets are really going to cost us?
| | | | | | | | | |
| --- | --- | --- | --- | --- | --- | --- | --- | --- |
| Months | 2% | 7.99% | 9.99% | 12.99% | 15.99% | 17.99% | 19.99% | 21.99% |
| 1 | 1.0017 | 1.0067 | 1.0083 | 1.0108 | 1.0133 | 1.0150 | 1.0167 | 1.0183 |
| 2 | 1.0033 | 1.0134 | 1.0167 | 1.0218 | 1.0268 | 1.0302 | 1.0336 | 1.0370 |
| 3 | 1.0050 | 1.0201 | 1.0252 | 1.0328 | 1.0405 | 1.0457 | 1.0508 | 1.0560 |
| 4 | 1.0067 | 1.0269 | 1.0337 | 1.0440 | 1.0544 | 1.0613 | 1.0683 | 1.0753 |
| 5 | 1.0084 | 1.0337 | 1.0423 | 1.0553 | 1.0684 | 1.0772 | 1.0861 | 1.0950 |
| 6 | 1.0100 | 1.0406 | 1.0510 | 1.0667 | 1.0827 | 1.0934 | 1.1042 | 1.1151 |
| 7 | 1.0117 | 1.0475 | 1.0598 | 1.0783 | 1.0971 | 1.1098 | 1.1226 | 1.1355 |
Along the top of the table, you have the interest rate. Pick the column your credit card company currently charges. If you are responsible and wealthy enough to pay for your tickets right away, pick the 2% column. This is the interest rate you are foregoing because the Cubs have your money and not you.
The rows are the number of months for which you'll have to pay interest. This should be calculated as the number of months between your first interest payment and the day of the game. Even if you don't pay until after the game. If thats the case, then that is the credit charge that you are absorbing to use the money in advance. Today's exercise is to see how much you are paying the Cubs so you can get those tickets now, and not on the day of the game.
Example: Batman buys tickets to the July 16th game against the Pirates. His current credit card rate is 12.99% and his current billing cycle ends March 20. Therefore, Batman has to pay interest for four months. Mar 20 -> Apr. 20 -> May 20. -> June 20. Since he gets to go to the game before July 20, he won't calculate interest for the last month.
So, Batman looks at this page finds the 12.99% column, the '4 months' row, and finds that he is paying $1.044 for every dollar he spends on tickets to that game.
Having become extremely lucky in the last three minutes, Batman lands 6 bleacher tickets to the game. So, he puts 6 X $38 = $228 on his Chicago Cubs Mastercard. However, Alfred doesn't pay the bill (at this point I realize that Batman, while my favorite comic book hero, wasn't a good choice for this example because he's super-rich and wouldn't be paying the money right away... anyhow) until Master Bruce attends the game on July 16, you know BatPolicy.
So, to find Batman's real cost of taking Superman, Robin, Catwoman, Spiderman, and Byron to the game is: $228 * 1.044 = $238.03
Thats not too bad, but if Alfred had ignored the BatPolicy and just paid the Mastercard bill when he got it, or used a debit card, the BatBudget would have taken less of a hit. Here, we get to use five months because the bank pays you interest as soon as you deposit money and doesn't wait a month. So, Alfred pays the $228 right away, but then they don't have the money and have lost its use until July 16. So $228 * 1.0084 = $229.91. In otherwords if Batman could have bought the tickets at the gate with cash on the day of the game, he could have left the $228 in his bank account and had an extra $1.91. Scoff now, but thats nearly half a beer!
Whats more important is that by paying with cash now, Batman doesn't have to pay with his credit card. He ends up $238.03 - $229.91 = $8.12 better off. And that really is two beers! (I think.)
OK, I have to go to work across campus now, but I'll update with part II in a bit.
Posted by Byron at 1:09 PM | | |
Wednesday, February 23, 2005
UPDATE: Thursday, 11:39 P.M. EST: I Think everything on this site has been correctly switched over to the new server. Please shoot me an email (byron @ thecubdom DOT com) if things are acting a little funky.
now, re-posting what I did while the database was out of commission...
From the old e-mail bag!: I got a letter from someone claiming to be close to Raul Valdes, the Cubs prospect.
... Raul Valdes is at spring training in Arizona. The thing is that everyone is misspelling his last name. In all the articles I have found it has been misspelled. It is Valdes, not Valdez. This is a true fact. I'm not sure why Raul has not told anyone yet, except maybe he feels uncomfortable in saying anything. Or maybe he just doesn't know yet. My husband spoke with him last week before he went to Arizona, but we didn't realize at the time it was being misspelled. If you could help spread the word it would be greatly appreciated. ...and be watching him, he's got a mean curve ball!"
Beats me if this is true or not, Vine-Line went with the Z, but if anyone gets to the bottom of this, let me know.
p.s. MT install is still down.
Server Switch II
Tuesday, February 22, 2005
The server switch has been completed. All three sites (TheCubdom, CubsBlogArmy, and Goat Riders of the Apocalypse) are being served off their new homes. Unfortunately however, the movable type installation didn't switch over well. Furthermore, this couldn't have happened at a worse time for me as I have more mid-terms and papers than I can shake a stick at.
Rest assured I'm working hard to get the sites working properly again, but it might still be a few more days. You'll know things are back to normal as soon as this message disappears.
Go Cubs,
Byron
Posted by Byron at 7:30 PM | | |
Saturday, February 19, 2005
I am in the process of changing web servers as I approach my one year anniversary. My old server company had absolutely lousy customer service and I have been experiencing a fair amount of down time the past few months.
This post is just to give a bit of fair-warning that all of my sites may be acting a little crazy in the upcoming week. (I also may have inadvertently switched the DNS server for thecubom.com already so I expect this site may be down by Sunday morning.)
So, bear with me for a week or two and we'll have things switched over to my new server company.
Posted by Byron at 9:50 PM | | |
Scott Lange of The Northside Lounge, one of my favorite blogs, and a daily read, is running his second annual CBA Predictions contest. There is a reader's division, and a blogger's division, and it's gonna require some windex and a crystal ball to win this thing. So go check it out and make your entry. I'll be getting whooped this year, maybe by you if you go do it.
Posted by Byron at 6:15 PM | | |
Friday, February 18, 2005
In one week, the Chicago Cubs will be putting individual tickets on sale for the 2005 season. Most of Cubdom is excited and planning to take sick days or vacation days on the 25th, so they can stand outside of Wrigley Field waiting in line to buy tickets, while simultaneously trying to buy them on their wireless enabled laptops, and calling the Cubs on the phone.
In fact, there are three ways to purchase Cubs tickets on that day.
In line at Wrigley, where they have devised a complicated number system to keep people from pitching tents outside the hallowed grounds.
on the internet... www.cubs.com and follow the links...
or on the phone. 1-800-THE-CUBS (1-800-843-2827) or (1-866-652-2827)
For more complete info, visit this page
---
I was directed to an excellent Q&A session with Oneri Fleita over at NorthSideBaseball.com by new Cubs blogger, Dave of Goodbye 1908, Hello 2005. You should check it out.
Posted by Byron at 9:30 AM | | |
Wednesday, February 16, 2005
Pitchers and Catchers Report! Hope Springs Eternal! YEEEEHAAAW!
Its pretty much a beautiful day in my locale, only its cold out. I imagine the weather in Mesa, Arizona is just like it is in Bloomington, Indiana... only 70 degrees instead of 40. The sky is blue, the grass is sort of green, and the sun is out with only a few puffy clouds. Oh, I can't wait for baseball.
Anyhow, on this site I try to avoid the cliche. There are lots of other blogs and many of them cover the news of the day, and they do it well. So I try to be different. However, its time for me to weigh in on Jim Hendry's purging of the 2004 Cubs. It is not terribly original, but it is significant.
I remember a few articles sprinkled over the last two years that went to this tune: "The Cubs used to be lovable losers. Well, to get rid of the loser, they got rid of the lovable. Its not lovable when your team beats the other team, and so now when teams come to Chicago they have to worry about beating the Cubs, not where they are going to eat dinner... etc."
Despite the rhetoric, the 2003 Cubs were pretty lovable. The 2004 season on the other hand was difficult to watch. Our team trotted guys out there everyday whom I didn't like. I didn't like Moises Alou last year because he was mailing it in. I didn't like Alex Gonzalez because he cost me a World Series. I didn't like Damian 'TABLE SCRAPS!' Jackson because he was a greedy ---. I didn't like Rey Ordonez, or Jose Macias... cause they sucked. I didn't like Kent Mercker, I didn't like Mike Remlinger, I didn't like Joe Borowski, I didn't like LaTroy Hawkins, you get the drift?
The 2004 Cubs performed so far below their ability, I was almost relieved at the end of the season when they choked and missed the playoffs. Put aside for a moment that the team wore Cubs uniforms. Did you want last year's team to win a World Series? Heck no. Of course, if you put them back into Cubs uniforms, I am cheering there right next to you. But uniformless, that team may as well have been a Cardinals or Astros team.
So, during this offseason, Jim Hendry who is some form of a deity overhauled the organization.
He got rid of guys I didn't like, and only one or two that I did... I liked Matt Clement, and now wished we had kept him since we failed to sign a big free agent... sorry Henry Blanco.
OK, I'm rambling. I'll cut this short. I am glad that I can wholeheartedly root for this team. I want to see guys hustling, playing fundamentals, and trying to win games without relying on the long-ball.
I just don't think this team has the talent. We have a chunck of cash we can spend, and I expect a prominent mid-season acquisition, but I don't think we have the talent to make the post season just now. What do we need? We need to overachieve. We need to be lovable winners, or just winners. I just don't know.
I guess that is why pitchers & catchers report. You've got to play out the string, because all the statistics on paper only amount to half of a dead rainforest. Its spring, its cold up north and warm down south. Lets get out the bats, balls, and gloves and get to work.
Posted by Byron at 1:59 PM | | |
Monday, February 14, 2005
According to this article, Reggie Jackson and four investors were willing to pay $25 million more for the Oakland Atheltics than Lewis Wolff, who is slated to purchase the A's by the start of the season.
There are two reasons given why Jackson's group lost out.
Excerpt from: Jackson's group offered $25M more than accepted offer
February 10, 2005. Associated press via ESPN.com
"A's co-owner Steve Schott said that the bid came after he and partner Ken Hofmann already had an agreement to sell the team to Wolff, the team's vice president for venue development."
"Reggie told me he'd buy the team for $25 million more. But I don't go chasing the last dollar, Schott said. "I have an obligation to the contract."
I'm not alleging impropriety or anything, but the article gave me the impression that Schott wanted to sell the team to Wolff.
I also get a laugh out of the 'chasing the last dollar' quote. It's not like Jackson's group offered to match Wolff and pay for lunch. $25 million isn't exactly chump change. Still, a contract is a contract, and I find it honorable that Schott's not trying to torpedo this sale for the extra dough.
My guess is MLB is sending Reggie a 'complimentary' one-way ticket to Washington D.C.
Posted by Byron at 1:23 AM | | |
Friday, February 11, 2005
We're all intimately familiar with what happened this offseason for the Cubs, but even a quiet off-season contains lots of news. So with pitchers and catchers reporting next week, a quick Cliff's notes recap of the Cubs offseason transactions from this year.
The Cliffs Notes - Players
October 30: Exercised Ryan Dempster's 2005 option
November 5: Re-signed Neifi Perez.
November 20: Re-signed Glendon Rusch.
December 8: Re-signed Nomar Garciappara, Todd Walker. Signed free agent Henry Blanco.
December 13: Lost Andy Sisco and Luke Haggerty in the Rule 5 Draft. Selected Travis Ezi, Brad Stiles, and Jonathan Searles in the Triple-A draft.
December 21: Re-signed Jose Macias.
December 28: Re-signed Todd Hollandsworth.
January 10: Traded for Stephen Randolph. The Cubs will send a player to be named later to the Arizona Diamondbacks.
January 15: Signed free agent Chad Fox to a minor league deal.
January 18: Re-signed Corey Patterson, Kyle Farnsworth, and Michael Barrett. Signed free agent Scott Williamson to a minor league deal.
February 2: Traded Sammy Sosa to the Baltimore Orioles. The Cubs received Jerry Hairston Jr., Mike Fontenot, and Dave Crouthers. Signed free agent Jeromy Burnitz.
February 5: Re-signed Aramis Ramirez and Carlos Zambrano. Signed free agent Dave Hansen to a minor league deal.
February 9: Traded Kyle Farnsworth to the Detroit Tigers. The Cubs received Robert Novoa, Bo Flowers, and Scott Moore. Farnsworth will be accompanied by a player to be named later.
The Cliffs Notes - Personnel
October 3: Chip Caray announced he will leave the Cubs to join the Braves as their play-by-play announcer.
October 9: Fired Dave Groeschner and Sandy Krum, the trainer and assistant trainer.
October 10: Fired Wendell Kim. Switched Gene Clines (to hitting coach) and Gary Matthews (to first base coach).
October 21: Hired Chris Speier. Speier will be the new third base coach.
October 28: Steve Stone announces he won't be back with the team in 2005.
November 9: Bob Brenly is named as the Cubs color analyst.
November 19: Len Kasper is named as the Cubs play-by-play man.
December 7: Cubs hire Mark O'Neal as the trainer.
December 22: Cubs sued by ex-assistant trainer Sandy Krum.
New Cubs

Henry Blanco
Stephen Randolph
Chad Fox
Scott Williamson
Jerry Hairston Jr.
Mike Fontenot
David Crouthers
Jeromy Burnitz
Dave Hansen
Robert Novoa
Bo Flowers
Scott Moore
Travis Ezi
Brad Stiles
Jonathan Searles

Bob Brenly
Len Kasper
Chris Speier
Mark O'Neal

Ex-Cubs

Mark Grudzielanek
Moises Alou
Paul Bako
Matt Clement
Tom Goodwin
Ben Grieve
Ramon Martinez
Kent Mercker
Kyle Farnsworth
Sammy Sosa
Andy Sisco
Luke Haggerty
PTBNL #1
PTBNL #1

Steve Stone
Chip Caray
Wendell Kim
Sandy Krum
Dave Groeschner
Posted by Byron at 9:23 PM | | |
Wednesday, February 9, 2005
Yes, the Farns was traded today. He'll be a Tiger next year, and the Cubs will receive Roberto Novoa, Scott Moore, and Bo Flowers. If these names don't mean anything to you, you're not alone. However, I have it on good information that these individuals are a reliever, a third baseman, and an outfielder. That said, we now return to our regularly scheduled programming: Kerry Wood.
Kerry Wood, the great Cubs hope has had an on-again-off-again career with the Cubs. He has been slowed by injuries during his career and has always shown tremendous potential. Well, a quick peak at some of his most important rate stats over the past three years indicate that he has settled down and gives us a good idea of what we can probably expect for the next few years.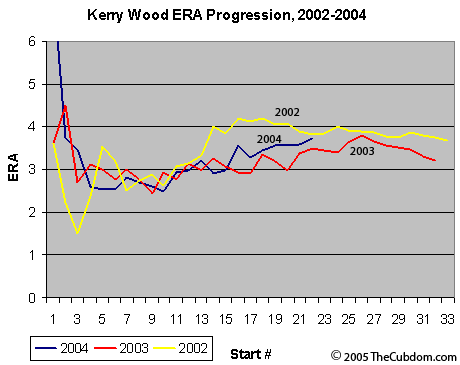 This ERA chart shows three very similar years. Although 2002 started well, 2003 and 2004 saw ERA spikes at the beginning of the seasons. However, after a few games, the numbers are all virtually identical by the eighth start. After that, Wood's seasons have all played out pretty similarly. He was noticably better in 2003 than he was in 2002, and his 2004 season 'seams' to lie in the middle :)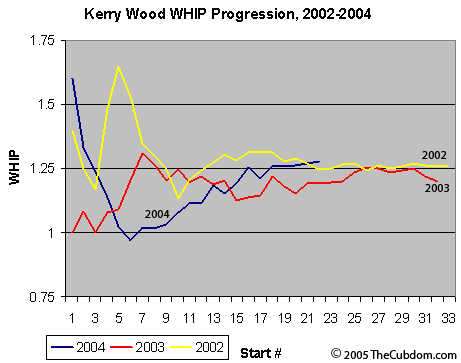 The WHIP progression shows a suprising amount of variance early in each of Wood's previous three seasons. His 2002 and 2004 seasons show some early season inconsistencies. In '02 Wood had some very good games, and some very bad games, making his line look more like a heart beat than a curve. In 2003, Wood was fairly consistent throughout the season after a strong start. In 2004, Wood had the same strong start but had consistent trouble keeping men off the bases after his sixth start. However, he ended all three seasons with virtually identical WHIPS of about 1.25.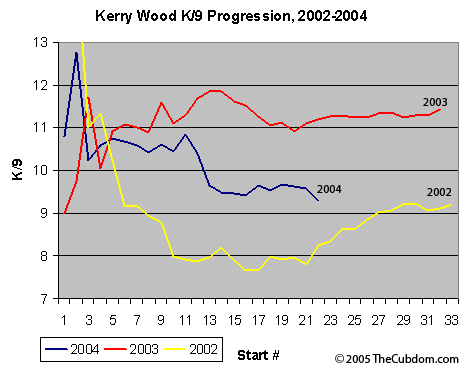 Wow! After the first couple of graphs looked like a rope of three cords, this chart has got a significant amount of seperation. In 2002, Wood 'struggled' to strike guys out, 'only' striking out about one batter per inning. His final total was helped by a late season push, but he spent a third of '02 below 8 K/9.
In 2003, Wood started striking out opponents at an amazing clip of 11 K/9. He was above this threshold nearly the entire season and showed a rather consistent rate throughout the year.
In 2004, this rate declined a bit and he finished the season at about 9.5 K/9. However, he suffered a pretty significant decline half way through the season. This decline coincides with his return from injury in 2004.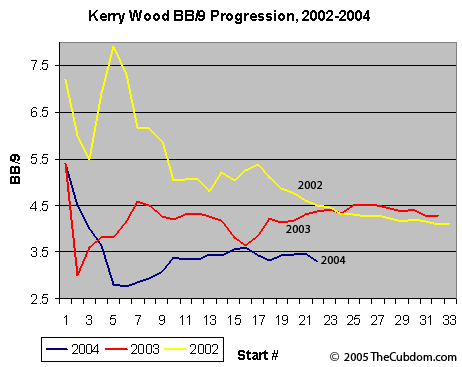 This last chart shows Wood's BB/9 rates from the past three years. Although there is some significant seperation between the three years, Wood finished 2002 and 2003 with similar numbers. In each of these seasons he walked about 4.5 men per 9 innings. However, he dropped that ratio by a walk per game down to 3.5 in 2004.
On the surface, this looks promising as Wood has always struggled with his control. Indeed for a pitcher with a 1.25 WHIP and 4.5 BB/9, two fifths of his runners are allowed via the free pass. So, if a pitcher suddenly starts walking a batter less per game, his WHIP should fall about a tenth of a point.
Wood's 2004 WHIP, as we already saw was virtually identical to his WHIP from 2002 and 2003. So, Wood is giving back that extra tenth of a point in WHIP to opponents hits.
Indeed, a quick check of the numbers shows that opposing batters hit .244 against Wood in 2004. In 2003, batters only achieved a .203 BAA, which was down from .221 in 2002. Wood's career BAA is .214, so his 2004 season was a full 30 points over his career mark.
Needless to say, this increase in opponent's batting average is quite concerning. I wonder if Wood eased up in three ball count situations attempting to avoid walks, and instead allowed hits.
Posted by Byron at 11:12 PM | | |
Saturday, February 5, 2005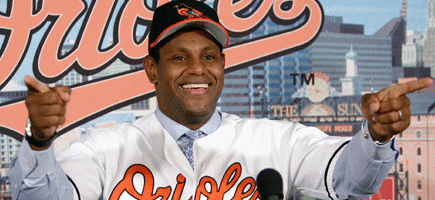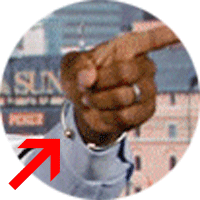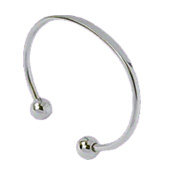 Pain relief for: Arthritis of the wrist and hands, carpal tunnel syndrome, RSI.
Magnetic bracelets, rings or wrist straps. They will give pain relief to arthritis in the hands and wrist, also RSI and carpal tunnel syndrome. Magnetic bracelets will also aid your general health.
Today's post brought to you by idle hands doing the Devil's work. Sammy, please don't sue me.
Posted by Byron at 3:17 PM | | |
Friday, February 4, 2005
I haven't been real thrilled with the moves that have been made in the last week or so, but I'm wondering if these moves have made us a better team?
Last year, our offense was a little lobsided. Among the 16 NL teams, we finished:
First in Homeruns with 235, 20 more than second place Philly
First in total bases
First in extra base hits
Second in At-Bats
Second in Slugging Percentage with a .458 SLG
Fourth in Hits
Fourth in Doubles
Fifth in On-base plus slugging with a .786 OPS
Sixth in Batting Average with a .268 AVG
Seventh in RBI
Seventh in Runs
Seventh in Total Plate Appearances
Ninth in Strikeouts
Eleventh in On-base percentage with a .328 OBP
Eleventh in Bases on Balls per K (BB/K)
Eleventh in Triples
Eleventh in Stolen Bases
Fourteenth in Bases on Balls
Fourteenth in Bases on Balls per Plate Appearance (BB/PA)
Fourteenth in Groundball Flyball Ratio with a 1.12 GB/FB
Fourteenth in Ground into Double Plays
Fifteenth in Pitches per Plate Appearance
The next logical question is: How do the guys we have acquired this winter figure to change the offense?
Jerry Hairston Jr.
JHJ is projected as the Cubs new leadoff man. His primary strength appears to be a high on-base percentage. In four of his six (partial) years in the Majors JHJ has had an OBP above the Cubs .328 mark in 2004. While his career on-base is only .334, he has been trending upward, posting OBP's of .329, .353, and .378 in his last three years. If Hairston continues to perform at his 2004 levels, he'll help to significantly raise the Cubs' OBP.
Another area JHJ can help the Cubs is with his feet. He stole 13 bases for the Orioles last season in 86 games, so with increased playing time he'll probably steal 20-25 bases for the Cubs next year. His speed may also help him in the outfield next year. Although he is a natural second baseman, he is likely to see the majority of his playing time in left field and as a super-utility player.
Hairston's biggest deficiency is in the power categories. He managed only two homeruns in 287 at-bats last year. In fact, this guy is a veritable Rey 'boom-boom' Sanchez with the bat. He has 26 career round trippers in 1825 AB. This would be one home run every 70.2 AB. Ouch.
Jeromy Burnitz
The much maligned Burnitz has a shot at being being servicable in right field. Unfortunately, his best characteristic may be that he swings the bat from the left hand side of the plate. The guy has some power, but he isn't too consistent. The chart below shows his career rate stats from year to year.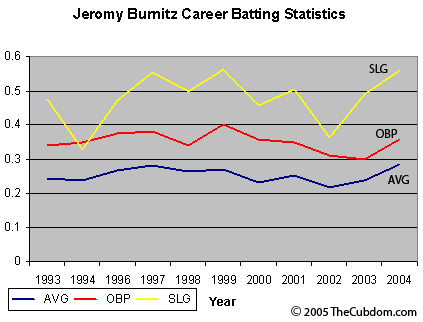 The next two charts show that Burnitz plate discipline has eroded over the past few years. He is taking far fewer bases on balls per plate appearance, and more strikeouts per walk.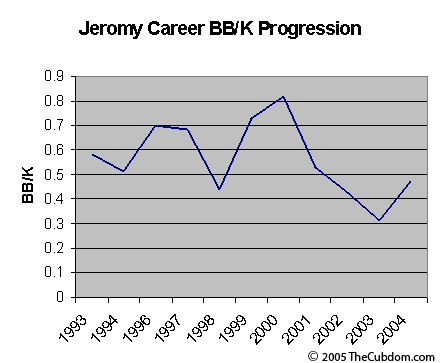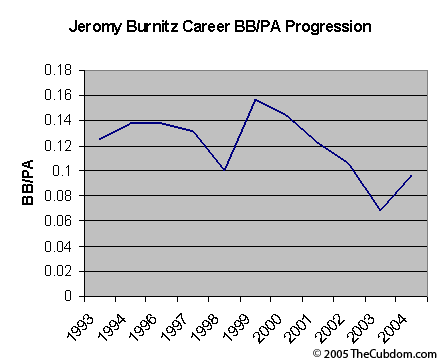 Posted by Byron at 2:53 PM | | |
Tuesday, February 1, 2005
This month's Vine Line came in the mail last Tuesday. So, having had an opportunity to sit down and read it this weekend, it is time to extract the tid-bits.
The cover this month has a smiling Ryne Sandberg wearing a blue shirt, tie, sportcoat, and Hall of Fame hat. The headline says "Call from Cooperstown, Ryne Sandberg, Class of '05," It also has something that is supposed to look like Ryno's HOF plaque.
The Roster Tracker on page 4 makes note of the fact that Jose Macias signed for $825 K and Todd Hollandsworth for $900 K. Otherwise, there are no changes except that the 'Arbitration Eligible' category was re-titled 'Offered Arbitration.' The list still includes Barrett Patterson, Farnsworth, (who have since signed) Ramirez, and Zambrano.
The rest of the 'ShortStops' spread on pages 4 and 5 have several useful nuggets of info.
There are a few paragraphs about a time when Herman Franks let a few sportswriters set the starting lineup one day in 1979.
"The Cubs have hired Ed Halbur as their assistant athletic trainer. Previously, Halbur was the trainer at the Cubs' Class-AAA affiliate in Des Moines, Iowa."
The headline reads "12 invited to camp" for Spring Training: Adam Greenberg, Casey Kopitzke, Jose Reyes, Raul Valdez, and Jermaine Van Buren from the minors. Danny Klassen, Eddie Oropesa, Chad Fox, Peter Bergeron, Angel Echevarria, and Rene Reyes are minor league free agents. Jimmy Anderson and Calvin Murray are also invited... OK, count the names. That would be thirteen.
If your child is born at Northwestern Memorial Hospital, St. Joseph's Hospital, or Illinois Masonic Hospital in 2005, they will get a newborn Cubs cap courtesy of the Cubs. The Cubs think they will add 13,000 Cubs fans this year.
Official word that the names won't be on the back of the Cubs home uniforms in 2005.
Chuck Wasserstrom, the Cubs former media relations guy is the club's new 'stat guru' ala Bill James.
572,705 tickets were sold on Feb 27, 2004... the most ever in a single day.
The Letters to the editor section informs us that the Cubs had seven consecutive weather related postponements in 1935. There is also a great picture of a little kid, Lane Hanzel, with his horse. Both are completely decked out in Cubs gear. The horse, Bonnie, is even sporting a glove.
On page 9, Jim McArdle gives a brief history of the Cubs farm system, some well deserved praise for Oneri Fleita, and a rationale for how the top Cubs prospects were chosen for the 'Minor League Prospectus.'
Page 12-13 has a spread titled "Ryno" Gets in!. I read the article... there was absolutely nothing new in the article. Completely rehashed.
Page 16-17 is 'The Spotlight' spread. This month's player under the beam is Jason Dubois. Not only do we learn that his name is correctly pronounced do-BOYCE, but we also learn that he is from Baltimore and grew up admiring Cal Ripken Jr. He likes to play golf, and he played in Comiskey Park when he was 14 for a youth league tournament. Otherwise, there are a few boyhood pictures and a paragraph about his brother Kyle who pitches for Old Dominion. Furthermore, we find out that Dubois was drafted in the 14th round by the Cubs. This fact is turned into its own article, which among other things lists numerous other late round picks who went on to successful careers. The list includes Mark Grace, Mike Piazza, Ryne Sandberg, Kenny Lofton, Richie Sexson, and Paul LoDuca.
In this month's edition of 'The Inside Pitch,' Bruce Levine and Joel Bierig drop some numbers which I have been interested in for a while. An excerpt:
Excerpt from: "The dog days for Hendry, GM remains patient as hot-stove action plays itself out."
by: Bruce Levine and Joel Bierig
Vine Line Magazine, February 2005, Vol. 20, No. 2
"Sources say the board will net $5 million in new revenue this year. Because Wrigley is the majors' only ballpark without a wide-screen electronic video board, advertising dollars are lost. (The Red Sox, with a similar plant dating to 1912, reap $25 million in ad sales from their video board.)
The Cubs plan to add 1,800 new bleacher seats by 2006 or '07, pushing Wrigley Field's capacity up from 39,547 to between 41,000 and 42,000. With the average ticket price at $30 and the average per capita another $30 (money spent on ancillary items such as food and merchandise), the Cubs could realize another $10 million to $12 million annually from the new seating.
Revenue from local TV and radio advertising for Cubs games is at an all-time high. Moreover, sources said Comcast Cable will pay the Cubs in excess of $20 million for a 75-game package - $5 million more than they received last year from Fox Sports."
The Centerspread this month is an ode to Ryno titled 'Class Act' that is pretty light on info. Its got pictures of a bunch of Ryno's baseball cards, the nine gold gloves in a row, some historic dates in Ryno's career, and his places on various leaderboards.
Other than the second installment of the 'Fade to black series' (which wasn't very good), the rest of the magazine is the minor league prospectus with short blurbs on interesting prospects from the minors. I might give this section its own post later this month, but you ought to go get the magazine if you can.
---
More Vine-Line Tid-bits Please!
Posted by Byron at 8:37 PM | | |