Is this balance?
Friday, February 4, 2005
I haven't been real thrilled with the moves that have been made in the last week or so, but I'm wondering if these moves have made us a better team?
Last year, our offense was a little lobsided. Among the 16 NL teams, we finished:
First in Homeruns with 235, 20 more than second place Philly
First in total bases
First in extra base hits
Second in At-Bats
Second in Slugging Percentage with a .458 SLG
Fourth in Hits
Fourth in Doubles
Fifth in On-base plus slugging with a .786 OPS
Sixth in Batting Average with a .268 AVG
Seventh in RBI
Seventh in Runs
Seventh in Total Plate Appearances
Ninth in Strikeouts
Eleventh in On-base percentage with a .328 OBP
Eleventh in Bases on Balls per K (BB/K)
Eleventh in Triples
Eleventh in Stolen Bases
Fourteenth in Bases on Balls
Fourteenth in Bases on Balls per Plate Appearance (BB/PA)
Fourteenth in Groundball Flyball Ratio with a 1.12 GB/FB
Fourteenth in Ground into Double Plays
Fifteenth in Pitches per Plate Appearance
The next logical question is: How do the guys we have acquired this winter figure to change the offense?
Jerry Hairston Jr.
JHJ is projected as the Cubs new leadoff man. His primary strength appears to be a high on-base percentage. In four of his six (partial) years in the Majors JHJ has had an OBP above the Cubs .328 mark in 2004. While his career on-base is only .334, he has been trending upward, posting OBP's of .329, .353, and .378 in his last three years. If Hairston continues to perform at his 2004 levels, he'll help to significantly raise the Cubs' OBP.
Another area JHJ can help the Cubs is with his feet. He stole 13 bases for the Orioles last season in 86 games, so with increased playing time he'll probably steal 20-25 bases for the Cubs next year. His speed may also help him in the outfield next year. Although he is a natural second baseman, he is likely to see the majority of his playing time in left field and as a super-utility player.
Hairston's biggest deficiency is in the power categories. He managed only two homeruns in 287 at-bats last year. In fact, this guy is a veritable Rey 'boom-boom' Sanchez with the bat. He has 26 career round trippers in 1825 AB. This would be one home run every 70.2 AB. Ouch.
Jeromy Burnitz
The much maligned Burnitz has a shot at being being servicable in right field. Unfortunately, his best characteristic may be that he swings the bat from the left hand side of the plate. The guy has some power, but he isn't too consistent. The chart below shows his career rate stats from year to year.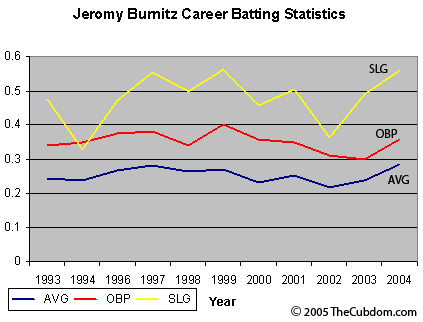 The next two charts show that Burnitz plate discipline has eroded over the past few years. He is taking far fewer bases on balls per plate appearance, and more strikeouts per walk.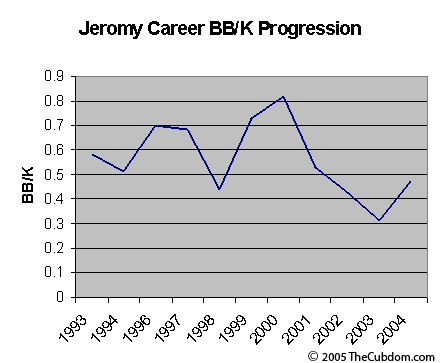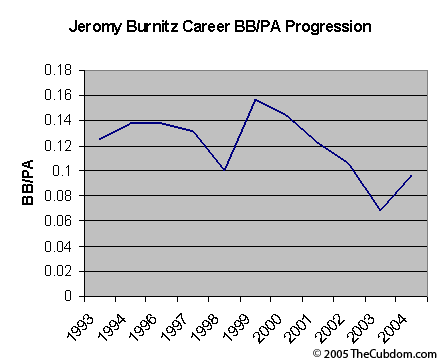 Posted by Byron at February 4, 2005 2:53 PM | |
Subscribe to The Cubdom - get emails with the latest Cubs info and pictures
---
| | |
| --- | --- |
| This post has been tagged: | |