Monday, June 29, 2009
This Cubs team is doing a whole lot of nothing this year. They've been cruising at or around .500 for about two months and my patience is running thin. Don't get me wrong, they could turn it around, play solid baseball, and cruise to the NL Central title, but there's little as frustrating as an under performing team with big expectations. I know the talent is there, but they're doing jack squat with it.
In related news, I had to buy my co-worker a king-size snickers bar after the Sox won the weekend series. Suck!
Posted by Byron at 3:51 PM | | |
Wednesday, June 17, 2009
One of the things I like about my blog is watching my site log to see how people find The Cubdom. Often times, people are looking for information that is readily available on one of my pages, but occasionally Google or another search engine will direct a reader to my site, but the answer isn't there. In this regularly recurring feature, I will answer 'The Google'.
Q: What day did Ryne Sandberg hit a grand slam against the twins?
A: I don't believe Ryne Sandberg ever hit a grannie against the Twins. Interleague play started in 1997, the last year of Ryno's career. The Cubs played the Twins on September 1, 2, and 3 of 1997. Sandberg started all three games, played well, but did not hit any home-runs (or grand slams) during that series. He did smack a two-run double in the final game of the series. He also drove in one run during each of the first two games.
Q: Did the Cubs fire Steve Stone?
A: Technically no. Stoney "resigned" at the end of the 2004 season (see Steve Stone's resignation letter). However, Stone resigned because the Cubs brass chose to back players (including Kent Mercker and Moises Alou) who were unhappy with Stone's honest assessment of their play rather than their long-time honest broadcaster. It was a severe disappointment to most Cubs fans. Stone still remains a folk-hero as far as I'm concerned, and I've immortalized his summary of the 2004 season as the "site quote" of The Cubdom. "At the end of the day, boys, you don't tell me how rough the water is, you bring in the ship."
Posted by Byron at 9:52 PM | | |
Tuesday, June 16, 2009
Despite an overwhelming suspicion by Cubs fans, the fans that knew him best, Sammy Sosa had never been linked to performance enhancing drugs (steroids), and so his defenders wound constantly point to this 'fact'. But today, the New York Times, citing an attorney who has seen the infamous list of the 104 players that tested positive for PEDs in 2003, ran an article indicating that Slammin' Sammy's name is on that list.
Of course I am disappointed that Sammy used PEDs, but I'm not surprised, nor am I disappointed that his name came out. (See caveat below.) Additionally, I am in favor of sunlight passing over the accomplishments of players in the steroid era so that fans have a clearer means of making up their own minds. That said, I still don't believe PED use should disqualify Sammy, Mark McGwire, Roger Clemens, or Barry Bonds from the Hall of Fame. Unless you can assure me that no player is inducted into the hall who ever cheated, then I think you need to recognize the on-field performances of the players. Yes, their plaques should indicate their steroid usage, but I'm not in favor of leaving 600+ HR hitters out of the Hall.
Caveat: I am upset that names from the supposedly secret 2003 tests continue to be leaked. If you tell a man that test results will be kept secret so that they take part in the test, there is a responsibility to keep those results secret.
Posted by Byron at 4:03 PM | | |
Wrigley Done Right has plenty of tickets available for the Cubs/Sox games and Cubs/Indians games this week. They are partnering with the My Wrigleyville.com store to offer discounted Rooftop tickets. So, if you're thinking about going to the game, click on the link below, and make sure to use coupon code: CUBDOM.
Current Deals:
• Wed, 6/17 @ 1:20pm ... Cubs/Sox ... $75 (was $250)
• Thu, 6/18 @ 1:20pm ... Cubs/Sox ... $75 (was $250)
• Fri, 6/19 @ 1:20pm ... Cubs/Cleveland ... $75 (was $225)
• Sun 6/21 @ 1:20pm ... Cubs/Cleveland ... $75 (was $200)
Get Cheap Cubs Rooftop tickets
Posted by Byron at 10:37 AM | | |
Sunday, June 14, 2009
There was an interesting tid-bit in Phil Rogers' latest article.
The Marlins allowed pitcher David Davidson to throw 54 pitches in one inning on May 22. They then released him and the Orioles tried to claim him, but he failed the entrance physical, meaning he had to be returned to the Marlins and placed on their 60 day disabled list. In what seems like an unbelievable stroke of good luck, Davidson must be compensated at the big-league minimum salary while he is on the 60 day DL. So how big is Davidson's windfall? $133,333. As Rogers pointed out, that's $2,564 per pitch in his fateful inning.
Posted by Byron at 1:06 PM | | |
Saturday, June 13, 2009
I played hooky from work yesterday and went to watch the Cubs game at Wrigley Done Right. (See my review of Wrigley Done Right.) My friend, a Twins fan and a teacher, had not been up to a rooftop yet, so we celebrated the end of his school year with a trip to the ballpark to watch the interleague match up against the Twinkies. Unfortunately, he walked away a happy patron, and I had to watch Milton Bradley.
Even though the Twins won 7-4, I would say the teams were pretty evenly matched, except that the Cubs and more specifically Milton Bradley, took a couple of mental breaks at inopportune times. Just yesterday, Milton Bradley:
• Hit a two-run double
• Subsequently tried to advance to third on a ground ball to the shortstop and was easily tagged out
• Lost a flyball in the sun that began a scoring sequence for the Twins
• Dove for a Texas-Leaguer that he missed allowing the ball to get behind him and allow more Twins runs
• Caught a flyball for the second out of the inning, then did some weird showboating pose before flipping the ball up into the bleachers as the Twins baserunners scurried around the bases to take advantage of Christmas in June.
We'll just say it was a weird game, a justified loss, and move along. That said, I've decreed that after 58 games (more than 1/3 of the season), it's open season for Milton Bradley criticism. He's had his trial period, he's had enough time to just be in a normal slump... but 1/3 of the season and he's batting .224... well, he's just not playing very well now, is he?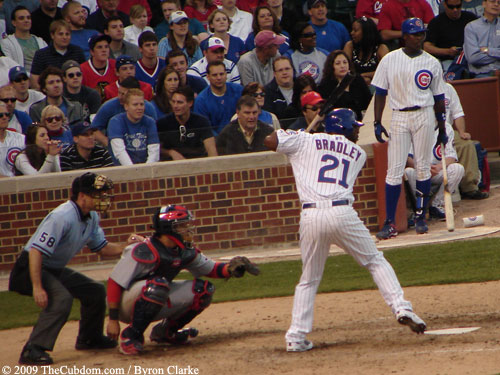 Milton Bradley bats against the Cardinals at Wrigley Field on April 18, 2009.
Image courtesy of The Cubdom Photo Gallery
Posted by Byron at 11:38 AM | | |
Saturday, June 6, 2009
The US Mens' National Team played Honduras today at Soldier Field, so I hopped on my bike and pedaled over to watch the World Cup qualifying match. (I do love living in downtown Chicago!)
I was hesitant to go watch the game as tickets were fairly expensive and the USMNT had played horrifically on Wednesday in Costa Rica, but I've never been inside of Soldier Field, plus how often does Chicago get a World Cup qualifying match? (Answer: Tonight was Chicago's first WC qualifier, and the attendance was over 55,000, so I hope we'll get a few more.)
As mentioned above, I rode my bike over because I didn't want to walk from the Roosevelt Red Line stop (my guess is it's 3/4 mile), and Soldier Field is just off the lakefront path (about 2 miles from my Condo). The bike ended up being a terrific idea, even though it was rather chilly and I was cold on the ride over and back.
On the way there, I got to listen to the tunes coming from the Gospel Music festival going on in Millennium Park. I rode right up to the box office, locked by bike up to the rack (free parking! and 100 feet from the door!) and bought a ticket from a guy who had too many (for about 52% of a ridiculously high $115 face (considering the view, I can't imagine ever paying $115 for those tickets unless they were actual World Cup Tickets). This ended up being a fun choice because he sold the other tickets to a Chinese family who rooted for the USA with me, so we were all friends by the end of the night.
As for the game, it started the way all soccer games have started for me recently. My team - down early. In this instance, Honduras scored in the 5th minute when Carlos Costly exploited a gap in the defense and drilled the ball into the back of the net, past a diving Tim Howard.
However, unlike the game against Costa Rica, the US stayed focused and played solid defense the rest of the match, only giving Honduras one really great scoring opportunity very late in the second half, but Tim Howard proved his mettle with a tremendous save.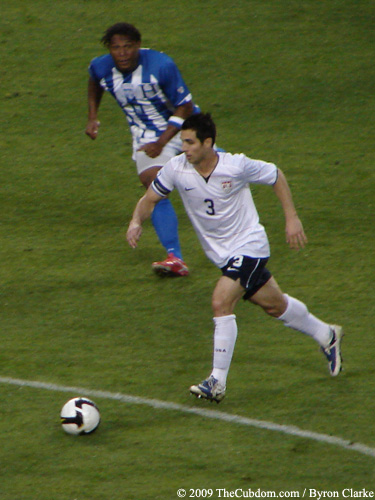 Carlos Bocanegra pushes the ball upfield against Honduras. He is pursued by Carlos Costly. Both Bocanegra and Costly scored in the World Cup qualifier.
Image courtesy of The Cubdom Photo Gallery
For the U.S. the first goal came after a Honduran handball in the penalty box, sending Landon Donovan to the line. He struck the ball cleanly, and even though Noel Valladares, the Honduran Keeper, guessed correctly, he was unable to make the stop.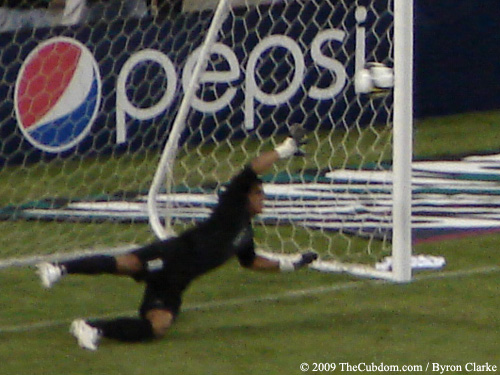 Honduran keeper Noel Valladares dives but can't stop Landon Donovan's penalty kick. US 1 - Honduras 1 in the 37th minute.
Image courtesy of The Cubdom Photo Gallery
In the second half, the USMNT scored on a corner kick. With the ball loose within the six, Carlos Bocanegra dove to get his dome on the ball and the US fans at Soldier Field went crazy.
This post has been sponsored by 1st4footballtickets.com.
Posted by Byron at 11:59 PM | | |