---
Editor's Pick:
Honorable Mention:
Newbies:
Soldiering On:
Cubs Sites:
Just Read 'em!
Conglomerates
NL Central
NL East
NL West
AL East
AL Central
AL West
Miscellany
Chicago Sports
News Sources
Oh, that crazy Milton Bradley!
Saturday, June 13, 2009
I played hooky from work yesterday and went to watch the Cubs game at Wrigley Done Right. (See my review of Wrigley Done Right.) My friend, a Twins fan and a teacher, had not been up to a rooftop yet, so we celebrated the end of his school year with a trip to the ballpark to watch the interleague match up against the Twinkies. Unfortunately, he walked away a happy patron, and I had to watch Milton Bradley.
Even though the Twins won 7-4, I would say the teams were pretty evenly matched, except that the Cubs and more specifically Milton Bradley, took a couple of mental breaks at inopportune times. Just yesterday, Milton Bradley:
• Hit a two-run double
• Subsequently tried to advance to third on a ground ball to the shortstop and was easily tagged out
• Lost a flyball in the sun that began a scoring sequence for the Twins
• Dove for a Texas-Leaguer that he missed allowing the ball to get behind him and allow more Twins runs
• Caught a flyball for the second out of the inning, then did some weird showboating pose before flipping the ball up into the bleachers as the Twins baserunners scurried around the bases to take advantage of Christmas in June.
We'll just say it was a weird game, a justified loss, and move along. That said, I've decreed that after 58 games (more than 1/3 of the season), it's open season for Milton Bradley criticism. He's had his trial period, he's had enough time to just be in a normal slump... but 1/3 of the season and he's batting .224... well, he's just not playing very well now, is he?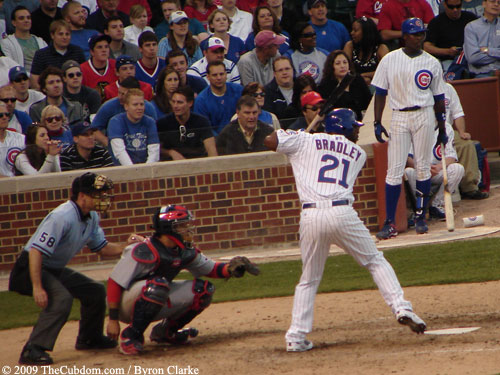 Milton Bradley bats against the Cardinals at Wrigley Field on April 18, 2009.
Image courtesy of The Cubdom Photo Gallery
Posted by Byron at June 13, 2009 11:38 AM | |
Subscribe to The Cubdom - get emails with the latest Cubs info and pictures
---
---
Search
---
Recent Entries
---
Monthly Archives
---
---
Cubs Sale Articles