---
Editor's Pick:
Honorable Mention:
Newbies:
Soldiering On:
Cubs Sites:
Just Read 'em!
Conglomerates
NL Central
NL East
NL West
AL East
AL Central
AL West
Miscellany
Chicago Sports
News Sources
Tuesday, October 14, 2008
Well, that sucked! An entire season for naught in three games, just like last year. On the trauma scale, this falls behind 2003, but certainly ahead of 2007 and 2004.
In other news, the economy is tanking, which would have little bearing on this blog, except that the Cubs are owned by a highly leveraged company and are likely to be sold to an ownership group that planned to use debt financing as part of the new capital structure. Since the credit markets are largely frozen, it will slow the franchise sale process and likely lower the sale price of the team. (This is a good thing in the long run for Cubs fans!)
Despite all of this, I'm still in denial and haven't watched more than two innings of baseball since the Cubs were eliminated. Soon enough, we'll get into the swing of covering the offseason.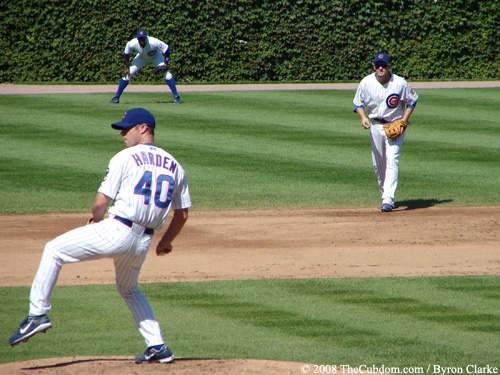 Rich Harden in the windup as Ryan Theriot and Alfonso Soriano prepare to play phenomenal defense.
Image courtesy of The Cubdom Photo Gallery
• Cubs Media Guide Trivia tid-bit: Mike Morgan won the 'Pitcher of the Month' award in May 1992.
Posted by Byron at 10:26 PM | | |
Friday, October 3, 2008
I'm not sure why I can't muster any coherent thoughts about the Cubs playoff run so far. They've played two games, and lost two games... badly. And, the only thing I can think about is this: But we're so much better than last year, it can't possibly end the same way, can it?
Posted by Byron at 1:26 PM | | |
---
Search
---
Recent Entries
---
Monthly Archives
---
---
Cubs Sale Articles