---
Editor's Pick:
Honorable Mention:
Newbies:
Soldiering On:
Cubs Sites:
Just Read 'em!
Conglomerates
NL Central
NL East
NL West
AL East
AL Central
AL West
Miscellany
Chicago Sports
News Sources
Thursday, September 30, 2004
I have a sinking feeling in the pit of my stomache and I don't want to talk about it.



Posted by Byron at 4:55 PM | | |
Monday, September 27, 2004

Mets 3, Cubs 2

Mets 4, Cubs 3, 11 innings
Cubs 2, Mets 1, 10 innings
---
1. At least the Marlins were eliminated yesterday.
2. Go Cubs!
3. Go Padres!
4. Go Cardinals!
Posted by Byron at 10:35 AM | | |
Friday, September 24, 2004
I don't really have anything original, insightful, or interesting to say right now, but I did just finish reading a great post on 'and another thing!' that was well worth my time. I wanted to say 'props' to Al for another great post, and point some of my readers over there if they don't regularly read him.
Original Stuff: A quick check of the attend-o-meter indicates that the Cubs will probably surpass the 2003 season attendance of 2,962,630 on Tuesday against the Reds, and then pass the 3,000,000 mark on Wednesday, in what will be home game #77.
Although the attend-o-meter is predicting a 3,174,208 total, I think Cubs fans are going to pack out Wrigley for the final seven games, and we might see the season total go over 3.18 million fans... thats a lot of Hebrew National Hot Dogs, and Old Style Beer! Go Cubs, demolish the hated Metropolitans!
The Unoriginal Stuff: With the Cubs victory last night, and the Giants' loss to the Astros, the Cubs move into first place in the Wild Card, and now must win 8 games out of 10 to be assured a spot in the October brackets. The Cub Reporter has an interesting link on their site to a Baseball Prospectus page with a simulation indicating post-season probabilities. Check it out. Its awesome!
Also, I wanted to congratulate Greg Maddux, and Jim Hendry on Mr. Maddux' 304th career victory. For Greg, it is his 15th, which he has accomplished 17 years running. For Mr. Hendry, Maddux' performance is further proof that Hendry knows what he is doing.
Posted by Byron at 3:07 PM | | |
Thursday, September 23, 2004
Last night's game was one of the most exciting games we have had all year. This game defined a high stakes pitchers duel (except the Pirates don't exactly have 'high stakes'.)
Carlos Zambrano pitched 7.1 innings, allowing 6 hits, 3 walks, but no runs. He owes a victory to Kent Mercker and Sammy Sosa. Mercker for getting two outs with the bases juiced, and Sammy Sosa for making the second out on a diving catch in right field that was simply spectacular (my guess is he saved about 3 runs). Walking away with a 1-0 Cubs victory... I am starting to believe that we will make the postseason, despite the Giants inability to lose.
Sammy's catch was such an excellent play, that I have named today's post for he and LaTroy Hawkins. Sammy, horrible year and all, came up with a game saving defensive play to rescue a win from the clutches of the loss monster. I watched the play, replayed it, again, and again, and again... and said to myself... "much is forgiven Sammy... not all, but much.
Hawkins also is partially responsible for today's post heading as well. Last week, when I was writing about Aramis Ramirez, I almost included a paragraph detailing Hawkins resurgence as the closer. However, I decided to put off the praise for another week, because I wanted a bit more evidence of the invincible Hawk. Well, its a good thing I did because Hawkins blew another save on Tuesday... but as with most of his blown saves, (5 out of 7 I believe) the Cubs still won the game. (After not being brought in last night in a 1 run save situation, LaTroy picked up his 23rd save this afternoon on a 3 run lead. Still, given a 1 run lead, I don't know that LaTroy will be getting the call in the future.)
---

Swept the Pirates!
Cubs 6, Pirates 3
Cubs 1, Pirates 0
Cubs 5, Pirates 4, 10 innings
---
Split a doubleheader with the Marlins on Monday.

Posted by Byron at 2:19 PM | | |
Sunday, September 19, 2004

---
The Cubs finished a four game series against the Reds this afternoon with a 5-1 win. Although the score indicates an easy win, the Cubs were down 1-0 heading into the eighth, and won the game off Danny Graves with a 4 run ninth.
Due to MLB's sensational blackout rules, I wasn't able to watch this afternoon's game... or the Bears game (but we beat the Packers!). Anyhow, despite losing a game on Saturday I would have liked to have won, the Cubs have kept pace with the Giants, and remain .5 a game back.
Tommorrow, the Cubs get off to an early start with a double header against the Marlins in Florida, before heading to Pittsburgh for a three game series.
In other news, Ron Santo has had another medical scare... and will miss the trips to Florida and Pittsburgh while he visits his cardiologist at Northwestern's Hospital. The official word is an irregular heartbeat which caused his implanted defibrillator to go off... thecubdom.com wants to wish Ron Santo a quick recovery and to let him know that Cubdom is praying for him.
Well, I have a tax class exam coming up in a week, so tonight's weekend recap is going to be short... but know this: Barry Bonds hit #700 off Jake Peavy on Saturday, but the Cubs still control their own destiny.
Magic Number: 15 Cubs wins or Giants losses... 15 games remain.
Also, today's win was #82, guaranteeing a second winning season in two years... amazing!

Posted by Byron at 9:15 PM | | |
Friday, September 17, 2004
Since I have taken to naming games this season, we'll name last night as The Ramirez Game Part II.
Last night, the best Cubs third baseman since Ron Santo hit three home runs, with 5 RBIs, and 14 total bases... and considering that the final score was 5-4, it is fair to say that A-Ram single-handedly won the game for us.
PA #1: With Neifi Perez on 1st, Ramirez notches his first homer. Cubs 2, Reds 0, 1st inning.
PA #2: Aramis Doubles with one out, but doesn't score when Sammy GIDP to end the third inning with the bases loaded.
PA #3: Aramis goes yard, solo, in the 5th inning. Cubs 3, Reds 1.
PA #4: After C-Pat reaches 1st on another Reds error in the 7th, A-Rambo doinks another one over the wall. Cubs 5, Reds 4.
PA #5: Ramirez makes his first out of the day in the ninth. C-pat and Neifi Perez were on, and Ramirez hit a sinking line drive that was caught by Austin Kearns in right.
Since the Groinjury: After injuring his groin right before the all-star break, and being snubbed by Jack McKeon and the rest of the NL, Aramis has returned with vigor.
Aramis Ramirez 2004 stats thru Sept 16

Split
AB
HR
SO
AVG
OBP
OPS
Pre All-Star
307
15
40
.326
.374
.924
Post All-Star
172
18
16
.297
.344
1.007
18 Home Runs, 16 Strikeouts, 172 AB!!! Although his average has fallen about 30 points following the injury, the numbers Ramirez is putting up are incredible. What's even more amazing is that fivr of those strikeouts occured within his first week back from a 15 day injury layoff. Thus, Ramirez has struck out only 11 times in his last 149 At bats (~165 PA). When considering his much improved, if not stellar defense, I think A-Ram merits some MVP consideration... although the MVP should probably be renamed 'The Barry Bonds Award.'
If the season ended today: The Cubs would be out of the picture. The NL contingent would feature a Cardinals vs. Giants matchup, along with a Braves vs. Dodgers NLDS. In the AL, the Yanks and Red Sox both appear to have a solid grasp on a playoff spot. The Twins are running away with the Central (+13.5 over the White Sox), and the Oaklanders are leading the West again by two over the Angels (who are 2.5 back of the Red Sox in the WC), and the Rangers are 5 and 5.5 in back of the A's and Red Sox respectively.
Despite being behind the Giants by .5 a game, the Cubs still control their own destiny, as the Giants have played 3 more games than the Cubs. Additionally, the Giants have a much more difficult schedule remaining than the Cubs. (Although, I don't put a lot of faith in that though.)
Thus, The Moral of the Story is: hang on to your hats folks, its gonna be another wild ride!
Magic Number: 18 Cubs wins, or Giants losses... 18 games remain.
Posted by Byron at 1:42 PM | | |
Thursday, September 16, 2004

Just when you start to despair, when your very fanhood is being challenged, you always need to remember why you are a fan. As the media, and my fellow blogs (including The View from the Bleachers, which has moved) have repeated numberous times already... the Cubs have been done in more by sky-high expectations than opponents this year.
However, with last Friday's surrender of higher than high expectations by this Cubs fan, I am really starting to enjoy the pennant race now. It isn't the same pure unbridled joy of last year, but it is at least enjoyable to watch the Cubs again.
All that said, since I wrote on Tuesday, the Cubs have pulled off another two incredible wins. On Wednesday, Corey Patterson hit two home runs, to win a game started by Matt Clement. The final score was 3-2, and the game lasted 12 innings... but credit needs to go the goateed one who kept the game close. All that said, I still believe that we should refer to Wednesday's game as "The C-Pat game."
On Wednesday, the Cubs got Long Ball Happy again, and did in Oliver Perez and the Bucs 13-5. It marked another Cubs sweep, and also included Sammy's 8th Grand Slam of his career, as well as another solo shot.
The Cubs now have 4 guys with 30+ home runs, and C-Pat has 23 to go with his 30 steals.
Greg Maddux: Deity I want to finish up this brief post by revisiting a graph I have been running off and on all year for the Professor.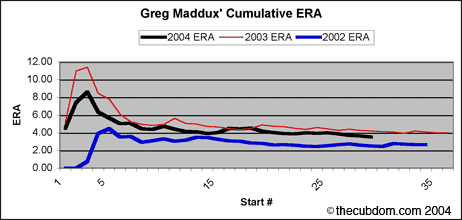 Mad-Dog Notes:
Maddux has issued 30 walks in 29 starts... and a number of those were intentional.
Maddux ERA now stands at 3.51, third best among the Cubs starters, Carlos Zambrano, and Matt Clement both have better ERAs.
Maddux is tops on the staff with 14 wins. If he wins one more, 2004 will mark the 17th consecutive year Maddux has had 15 wins or more, tops in MLB history.
Maddux is averaging 6.5 innings per start.
His WHIP is currently 1.155, which isn't Earth shattering, but good nonetheless.
The Cubs are 18-11 in games started by the crafty righty.
Maddux lost to the Cardinals on July 9th. Up til that game, the Cubs were 9-9 in games he started, and he was 7-7. Since that game, the Cubs are 9-2 in his last 11 starts, and Maddux own record has been 7-2.
His ERA for his first 18 starts (up through and including July 9) was 4.51. Since that game, Maddux ERA is 2.08, and his season ERA has dropped a full point.
Posted by Byron at 4:25 PM | | |
Tuesday, September 14, 2004
I will begin by telling the whole world how horrible Airimba Wireless is. My apartment complex is supposed to have Airimba Wirless, so that I can access the internet etc from my new apartment. Its been over three weeks now, and I still can't log on... anybody else want to chime in. I'm thinking of starting an Airimba bashing webpage.
OK, I got that out of my system. I never realized just how much I needed the internet at my apartment until the past three weeks. I can't even check my email, much less make use of my Total Access subscription to watch/listen to Cubs games, or update this page. I am currently working in the computer lab, and probably won't have time again till this Saturday.
I went home last weekend, specifically to make it to a Cubs game. I bought tickets about two months ago to the only September Friday afternoon homegame of the year, and thus got to watch my first game of the year that didn't involve standing in line at Wrigley when the ticket office opened, and standing throughout the game.
As my extraordinary luck would have it, Friday's game turned into a doubleheader thanks to Hurricane Frances, which sent the Marlins on a long road trip.
The first game was the most frustrating game I have seen all year, in person, or on TV, or on the radio, or on the internet (that covers about 100 of the 130 played so far... which is low by my standards.) Carl Pavano shut down the Cubs, making their bats look impotent, and their fielding appear atrocious. Ramon Martinez, who started in place of Aramis Ramirez for some unknown reason committed two consecutive errors in the third inning, allowing two unearned runs. Sammy Sosa made an error in the fourth, that didn't lead to a run being scored, but set the tone for the 6th inning.
The 6th inning of Friday's first game was possibly the worst inning since last October against the Fish. With the game still winnable (score was 3-0), Woody got Paul Lo Duca to pop up. There were two outs, and it looked like Wood had stranded men at 2nd and 3rd. Only, Sammy Sosa comes running in on a ball that was Corey Patterson's the whole way. He called off Corey, and then ducked out of the way as if to avoid a collision. Unforgivably, Sosa was not given an error on the play, and another three runs scored during the inning. When the dust finally settled, the Cubs were down 6-0, 5 of which should have been unearned... and Carl Pavano was mowing down the offense.
Following the top of the 6th, Wrigley Field was full of 38,992 poison spewing fans. Sammy Sosa got a booing I hope he never forgets. Ramon Martinez is lucky to have escaped alive, and the Cubs took the loss with barely a fight.
Luckily, Dusty Baker apparently told his team how disgraceful they were between games, because the second game was a pleasant 11-2 whipping of the Fish. Granted, we were teeing off against Logan Kensing, an A ball pitcher who had been sitting on his couch for a week before being told to report to the big league club. Still, the Cubs came out and won the game on what turned out to be a pleasant September evening.
Other than the game 2 win last Friday, the only good thing to come out of Game 1 was that I have finally stopped expecting this team to win. The loss in Game 1 was so horrendous, that I don't think our team is a playoff caliber team, and so I will just sit back the rest of the season... enjoying wins, and saying... "I told you so" on the losses.
Please don't get me wrong: I am not jumping off the bandwagon. I haven't stopped rooting for the Cubs, I don't want losses... I just don't expect the Cubs to make the playoffs. It would be cool if they did, but I won't be astonished if they don't. This team just hasn't clicked.
---



Posted by Byron at 5:33 PM | | |
Wednesday, September 8, 2004
Much of the news surrounding the Cubs in July and August involved the bickering between Chicago's city hall and the Tribune company. It seems that concrete fell from the ole ballpark on three separate occasions, resulting in several inspections, and preventive nets being installed to protect fans.
During this melee, Mayor Daley and Cubs President Andy McPhail exchanged barbs through the press on several occasions. Because of the overt political shenanigans being played by both sides, thecubdom.com studiously avoided commenting on either the falling cement chunks, or the Mayor's vendetta against the best baseball team in town, which happens to be rivals with his favorite team. However, with cement largely out of the news now, I want to weigh in on some of the 'smoke-filled backroom' business that helped deflect attention from the team.
The reason I have decided to break my silence is that the Cubs are making headlines again because of their attempts to alter Wrigley Field.
Concrete falling both inside and outside of the stadium, combined with requests from City Hall to spruce up the outsides of the ballpark (while keeping the scoreboard and marquee intact) will almost certainly result in a major 'face-lift' for Wrigley Field during the offseason.

The Cubs are still trying to expand the bleachers. Although they are no longer looking for the 2,600 seats they initially wanted, the Cubs are still hoping for 1,980 additional bleacher seats. City Hall responded today by suggesting the Cubs ensure that 70% of the grandstand seats be able to see the third floor of the apartment buildings across the street (read: expanding the bleachers shouldn't block rooftop views). The Cubs, who have hired HOK (the best sports architecture firm out there) indicate that the 70% metric will force the team well below the 1,980 level.

Thomas Tunney, Alderman for the 44th Ward in Chicago (Alderman for the Cubs' Ward), wants the Cubs to commit to rebuilding the entire bleacher section if they are given permission to add the extra bleacher seats.

The Cubs are pushing hard to get permission from the landmarking commission to hang an electronic sign behind homeplate to show rotating advertisements, like in most other ballparks. However, the brick wall behind homeplate was one of the historic features specifically protected by the landmarking process. The Cubs claim they can generate more revenue from the rotating advertisements than the White Sox earned by renaming Comiskey park to U.S. Cellular park.

Most of these facts came from this Sun-Times article by Fran Spielman.
Although I oppose most changes to Wrigley on principle, I was really disappointed when I heard that the Cubs were pushing to add the electronic 'rotating ad' board behind the plate. Like most Cubs fans, I am enamored by the 'pristine' character of Wrigley Field. For instance, having an outfielder nearly put their eye out catching a ball against the ivy is more intriguing than the 'Hit it Here' and Pepsi will give some fan a million dollars style billboards all around baseball. However, if the Cubs are being honest when they estimate an additional $3-$5 million in revenues from the rotating ads, then I have no choice to support it.
Yes, I like Wrigley Field, but I like Cub wins even more... and with Jim Hendry and Andy McPhail running things, more revenue means a higher payroll, which translates into more wins.
Besides, if the Cubs could get the same amount of money as the Sox, who now play in the Cell, while ridding themselves of the nasty green board currently behind the plate for national games, I'm all in favor of it. Please, just don't make it Tribune Field, or Verizon Stadium...
Some suggestions: The Cubs should look into a way to make the sign look like it is a part of the brick. The advertising would be a lot more palatable if it were built into the brick, rather than a huge piece of black plastic and metal, as in most parks. Also, if the Cubs wanted, they could then design a faux-brick panel to place in front of the ad-board when it is not in use, giving the illusion that the advertisement was not present.
---

The Cubs lost 7-6 in 12 innings... the game was ugly, the bullpen imploded, and I don't want to talk about it anymore.
Posted by Byron at 5:29 PM | | |
Tuesday, September 7, 2004
Resume: I have always been a fan of the word resume. Multiple meanings, one word... you know the drill. For instance:

The Cubs resume their schedule this week after taking four days off for a Hurricane.

Or... I prepared my resume while waiting for the Cubs to resume their schedule... both of which are true sentences.
Ah, the joys of returning for another semester of school. I am back, and I am busy. Not only are the computer labs (where I work) busy again, but I am also spending most of the time I spent blogging this summer, studying the intricate details of the Federal tax code, or learning the various manifestations of 'the matching principal.' All in all, its a return to normality that I don't really relish, and my time for obsessing about the Cubs is drastically curtailed.
Anyhow, now that the Cubs are playing again, I get to start watching most of the games, since I now have TV in the apartment, although the internet connection isn't working for some reason.
---
Returning to action on Monday, yesterday, the Cubs looked like they made the most of their time off. The offense did what it was capable of (9 runs), and the starting pitching was what we have come to expect (8 innings, 1 run).
Notes:
Bottom of the First:The Cubs offense came out strong with A-Ram, and D-Lee both going yard, to give Carlos Zambrano a 3-0 lead.
Top of the Second: Zambrano loses command of his pitches, loading the bases via walk, and hit batsmen. However, unlike mid-90s Cubs pitchers, our rotation typically gets out of these predicaments... and yesterday was no different. Carlos escapes the inning, 3 run lead intact.
Bottom of the Second: Mark Grudzielanek connects with a pitch and deposits the 194th Cubs home run of the season into left center. For Grudz, its #5. However, following the dinger, Michael Barrett is thrown out at 2nd base, trying to stretch a single into a double. Half an inning, a microcosm of the offensive season... home runs and base running gaffes.
Bottom of the Third: Derrek Lee takes his 50th walk of the season (he finished yesterday with a .900 OPS), followed by a Moises Alou double, that should have been a triple. Aramis Ramirez follows up with his second home run of the day. Cubs 7, Expos 0.
Top of the Fourth: Corey Patterson was playing out of position (or Juan Rivera hit a ball where the scouting report said he wouldn't), allowing Juan Rivera a double to lead off the inning. Rivera later scores, the only Expo to cross the plate. Cubs 7, Expos 1.
Top of the Fifth: There were two interesting plays this inning. In the first play, Carlos Zambrano lost a shoe trying to field a dribbler. He ended up throwing the ball away at first, although it did not result in the runner taking an extra base. This play (poor decision by Z to even throw the ball) was in stark contrast to Ben Grieve making a fine catch against the Ivy in his Cubs debut. However, Grieve emerged from the greenery with a bloody eye, and had to leave the game. (Grieve was playing in right field due to Sammy's sore hip.)
Bottom of the Fifth: Aramis Ramirez nearly hits his 3rd home run of the day, and Moises Alou nearly gets thrown out at first following the catch... further prooving that Alou has no idea what he is doing on the basepaths. Do you think we could bring Nomar back next spring just to teach his teammates how to run the bases?
Bottom of the Eighth: Mark Grudzielanek proves that he has the ugliest swing in baseball. I don't know how he manages to hit .300 when he flails at pitches... ugly swing... decent results. Also, Michael Barrett continues his quest to get Jim Hendry a ginormous pay increase. Barrett hits dinger #14 off Rocky Biddle, scoring Tom Goodwin, and running the score to 9-1.
Top of the Ninth: Ryan Dempster throws a 1-2-3 ninth inning. In 10 appearances, Dempster has not allowed baserunners to reach only 3 times, and has a WHIP of 1.67 complementing a 4.00 ERA. However, remembering the fact that he is returning from Tommy John, he looked pretty good yesterday.
Posted by Byron at 4:09 PM | | |
Thursday, September 2, 2004
Editors Note: This box is important to understanding this post, so if you don't want to re-read OPSS, just remember that OPSS is essentially the same as OPS.
The (widely used) statistic with the best correlation to runs scored is On-Base plus Slugging (OPS). In the last few months, I have written a fair amount about On-Base Plus Slugging and Speed (OPSS), a statistic I created to factor in the running game into OPS. Because OPSS is actually a better predictor of runs scored than OPS, I use OPSS below.
As you may (or may not) know, I am a finance student at the Kelley School of Business at Indiana University. For the past few months, I have been mulling over an idea in my head about how to evaluate (non-pitching) ballplayers in view of their batting abilities and salary. To do so, I am going to apply some techniques used in evaluating stocks. We begin...
In Finance, a stock is evaluated on two key factors, its return (stock price change) and its risk (standard deviation of stock price change). Likewise, I believe ballplayers should be evaluated on their ability to produce runs (OPSS) and their consistency in doing so (standard deviation of OPSS).
Essentially, I would rather have a ball player (player A) with a .200 OBP (I am using OBP for simplicity) who gets on base 1 out of 5 plate appearances per game, rather than a ball player who goes 5 for 5 one day, and 0 for 5 the next four days (player B). Although these players may have identical OPSS, the player who consistently produces every game will give your team a better chance to win more games.
If you are like most people, and aren't in-touch with your inner standard deviation, let me give you a quick explanation: A standard deviation measures consistency. The smaller a standard deviation, the more consistent the result. In the above example, player A has a standard deviation of 0, because every game he does the same thing (there is no deviation of his daily OBP from his average OBP). Player B has a standard deviation of .8 because in the first game his OBP is .800 higher than his average, and in games 2, 3, 4, and 5 his OBP deviates .200 from his average OBP. (These deviations are squared, added together, and then square rooted for mathematical reasons.)
Returning to our stock analogy, would you rather purchase a stock that has grown by 20% every year without fail, or one that averages 20%, but booms and busts its way there?
Of course, no stocks (or ballplayers) fit the above model, and things become more complicated when you start changing some of the numbers. For instance, would you rather have a stock that swings wildly, but earns 20% returns, or one that earns 15% every year? There is no right answer. Similarly, would you rather have ballplayer with a .900 OPSS who is wildly inconsistent, or one with an .850 OPSS who is very consistent?
So, before I lose all of you, lets see the obligatory picture.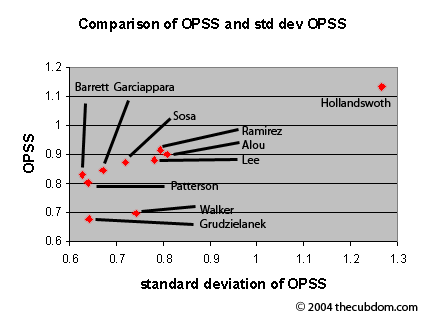 What does this tell us? The way to interpret this picture is this: If you can draw a line up, and a line to the left from a players point, any other data points falling in the box are better hitters than the first player. For example, Sosa, Garciappara, Patterson, and Barrett are all better hitters than Todd Walker because they are both more consistent (smaller standard deviations), and have higher OPSS. Likewise, Aramis Ramirez is a better hitter than Moises Alou, but not necessarily better than Sammy Sosa. (Believe it or not, Sosa has been more consistent this year than Ramirez.)
Anyhow, its getting late, almost past my bedtime, so I will continue this post later and incorporate some other ways of evaluating a ballplayer like a stock.
---
Cubs beat the Expos 2-1 in 11 innings.

'Spos trounce the Cubs 8-0.
Posted by Byron at 10:13 PM | | |
---
Search
---
Recent Entries
---
Monthly Archives
---
---
Cubs Sale Articles