---
Editor's Pick:
Honorable Mention:
Newbies:
Soldiering On:
Cubs Sites:
Just Read 'em!
Conglomerates
NL Central
NL East
NL West
AL East
AL Central
AL West
Miscellany
Chicago Sports
News Sources
Just when you despair
Thursday, September 16, 2004

Just when you start to despair, when your very fanhood is being challenged, you always need to remember why you are a fan. As the media, and my fellow blogs (including The View from the Bleachers, which has moved) have repeated numberous times already... the Cubs have been done in more by sky-high expectations than opponents this year.
However, with last Friday's surrender of higher than high expectations by this Cubs fan, I am really starting to enjoy the pennant race now. It isn't the same pure unbridled joy of last year, but it is at least enjoyable to watch the Cubs again.
All that said, since I wrote on Tuesday, the Cubs have pulled off another two incredible wins. On Wednesday, Corey Patterson hit two home runs, to win a game started by Matt Clement. The final score was 3-2, and the game lasted 12 innings... but credit needs to go the goateed one who kept the game close. All that said, I still believe that we should refer to Wednesday's game as "The C-Pat game."
On Wednesday, the Cubs got Long Ball Happy again, and did in Oliver Perez and the Bucs 13-5. It marked another Cubs sweep, and also included Sammy's 8th Grand Slam of his career, as well as another solo shot.
The Cubs now have 4 guys with 30+ home runs, and C-Pat has 23 to go with his 30 steals.
Greg Maddux: Deity I want to finish up this brief post by revisiting a graph I have been running off and on all year for the Professor.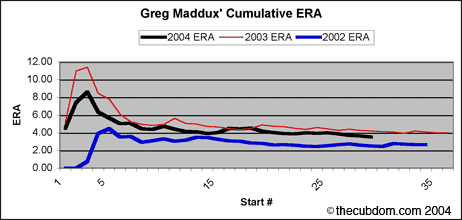 Mad-Dog Notes:
Maddux has issued 30 walks in 29 starts... and a number of those were intentional.
Maddux ERA now stands at 3.51, third best among the Cubs starters, Carlos Zambrano, and Matt Clement both have better ERAs.
Maddux is tops on the staff with 14 wins. If he wins one more, 2004 will mark the 17th consecutive year Maddux has had 15 wins or more, tops in MLB history.
Maddux is averaging 6.5 innings per start.
His WHIP is currently 1.155, which isn't Earth shattering, but good nonetheless.
The Cubs are 18-11 in games started by the crafty righty.
Maddux lost to the Cardinals on July 9th. Up til that game, the Cubs were 9-9 in games he started, and he was 7-7. Since that game, the Cubs are 9-2 in his last 11 starts, and Maddux own record has been 7-2.
His ERA for his first 18 starts (up through and including July 9) was 4.51. Since that game, Maddux ERA is 2.08, and his season ERA has dropped a full point.
Posted by Byron at September 16, 2004 4:25 PM | |
Subscribe to The Cubdom - get emails with the latest Cubs info and pictures
---
| | |
| --- | --- |
| This post has been tagged: | |
---
Search
---
Recent Entries
---
Monthly Archives
---
---
Cubs Sale Articles