---
Editor's Pick:
Honorable Mention:
Newbies:
Soldiering On:
Cubs Sites:
Just Read 'em!
Conglomerates
NL Central
NL East
NL West
AL East
AL Central
AL West
Miscellany
Chicago Sports
News Sources
Monday, May 30, 2005
There have been times this season when I seriously doubted whether this team would ever get above .500 again. Well, I'm proud to report that its May 30, and this team is one game above .500.
Of course, that last sentence should depress you a bit. Honestly, if someone had asked you at the beginning of the season whether you would be satisfied with our record at this point in the season, nobody but a Cardinals fan would have answered affirmatively. But, circumstances change and I feel a bit optimistic about our new-found winning ways.
At the Bat: I caught the last seven innings of today's game on Comcast, and it was a sound victory. Jerry Hairston Jr. apparently lead off the game with his first home run of the year. Later in the first inning, Neifi Perez, Aramis Ramirez, and Jason Dubois combined to push a run across.
In the fourth inning, Corey Patterson lead off the frame with a double, and Michael Barrett hit his fifth home run of the year to give the Cubs a 4-0 lead.
In the bottom of the fourth, Greg Maddux committed a throwing error allowing JD Drew to reach first. Jeff Kent then singled and Olmedo Saenz hit a double driving in both runners when Corey Patterson had a little trouble locating the ball.
In the fifth inning, Aramis Ramirez went yard to give the Cubs their fifth run, but in the ninth inning, Olmedo Saenz returned the favor to give the Dodger's their third run of the night. The final score was 5-3.
Ground Outs
Active Career Leaders

Greg Maddux
6,186
Tom Glavine
4,771
Kevin Brown
4,763
Roger Clemens
4,714
Scott Erickson
3,670
On the bump: Greg Maddux had a 'Maddux' outing. His stuff didn't seem real impressive, but he went six innings, allowed two runs (one earned), five hits, and didn't walk a batter. He struck out three while getting several ground ball outs. (Comcast showed this table during the game... incidentally Erickson and Maddux both pitched.)
At one point in the game, all Cubdom had their hearts skip a beat as Cezar Izturis lined one back out of the box that nearly hit Maddux in the head. In fact, when they played back the hit in slow motion, it looked like it grazed off of Maddux' hat. So, the Cubs were about an inch away from losing the third member of their starting rotation.
Notes:
Neifi Perez: Coming into tonight, Perez has hit .381 in his last ten games. After his hot start, and subsequent cool-down, Neifi! seems to be back.
Corey Patterson: Saw 6 pitches tonight in 4 at-bats. Granted, he went 2-4 with a run scored... but still.
Aramis Ramirez: His new nickname should be "triple shy." Ramirez has been a triple shy of the cycle each of his last two games. Woo! Ramirez is getting hot.
Posted by Byron at 11:25 PM | | |
Sunday, May 29, 2005
May 29, 2005
Record: 24-24, Box Wrigley Field - Chicago, IL
Reg #48
Chicago Cubs
11
Colorado Rockies
6
May 28, 2005
Record: 23-24, Box Wrigley Field - Chicago, IL
Reg #47
Chicago Cubs
5
Colorado Rockies
1
May 27, 2005
Record: 22-24, Box Wrigley Field - Chicago, IL
Reg #46
Chicago Cubs
10
Colorado Rockies
3
May 26, 2005
Record: 21-24, Box Wrigley Field - Chicago, IL
Reg #45
Chicago Cubs
2
Colorado Rockies
5
Posted by Byron at 10:25 PM | | |
Saturday, May 28, 2005
Bruce Levine of ESPN 1000 has just reported that LaTroy Hawkins has been traded to the San Francisco Giants for Jerome Williams and David Aardsma.
Updates to follow.
---
Update I: 11:45 A.M. I am not too familiar with either player the Cubs are receiving in return, but it looks like the Cubs are the early leaders "on-paper" with this trade. While Hawkins is a good pitcher, he needed a change of scenery. This trade should almost be filed under humanitarian acts for Jim Hendry.
Popping over to BBRef, Williams, age 23, has a 17-12 career record with a 3.77 ERA. He is a right handed starter that I'm penciling in to start for Prior while he's hurt, and then could take over Rusch's spot in the rotation.
David Aardsma, also 23 years old, made appearances in 11 games for the Giants last year, while posting a 6.75 ERA. Looking at his Baseball Cube page, Aardsma is a reliever with a 2.81 ERA in his 62 pre-2005 minor league appearances. In 2005, he has been converted to a starter and is pitching for the Norwich Navigators. He has a 6-2 record in 9 appearances (8 starts) with a 2.93 ERA. (David Aardsma on MinorLeagueBaseball.com)
Finally, looking at salary, USA Today lists Hawkins at $4.5 million... but I'm pretty sure that number includes a lot of bonus incentives. Jerome Williams is making $336,000, nearly the league minimum. Aardsma will also probably make about the same amount of money if he is placed on the major league roster (which I don't expect he will.)
Mostly Unrelated, Roberto Novoa is taking Prior's roster spot as Prior has been placed on the 15 day DL.
Posted by Byron at 11:38 AM | | |
Friday, May 27, 2005
I'm at home (away from school) and enjoying a long weekend. I saw the game today on a widescreen HDTV... amazing. The picture was unbelievable, and the game was very enjoyable. 10-3 Cubs with lots of power, and a little shoddy Colorado defense. Anyhow, I wrote this post Wednesday evening before leaving for the weekend, enjoy.
Update 12:37 A.M. Saturday: Oh Crap! Like I said, I'm at home where we don't believe in things like technology. (No cable TV... and really bad reception over the airwaves.) After posting my short note above, I went strolling through the CBA and found out that Prior's elbow has been fractured. When I was watching the game, we saw the play and I kept repeating "The season is over, the season is over." However, later I had the radio on for a few minutes and had heard about the negative X-Rays, so I didn't think he would miss more than a start or two... wrong. Possibly season ending? Oh goodness.
Well, since you're tired of reading about Mark Prior... here's something different. Read below and forget "the Franchise" if only for a few minutes.
---
It has been awhile since I've voted for the All-Star team, so I decided to look around the league and decide who should get my vote. My criteria could be characterized as something approaching a meritocracy, but I'm sure to give some extra love to my favorite players if they are close. Players in italics were added to my ballot.
| | | |
| --- | --- | --- |
| Position | American League | National League |
| First Base | Mike Sweeney, KC | Derrek Lee, CHC |
| Second Base | Brian Roberts, BAL | Craig Counsell, ARI |
| Third Base | Alex Rodriguez, NYY | Chipper Jones, ATL |
| Shortstop | Miguel Tejada, BAL | Clint Barmes, COL |
| Catcher | Jason Varitek, BOS | Ramon Hernandez, SD |
| Outfielder | Ichiro!, SEA | Adam Dunn, CIN |
| Outfielder | Scott Podsednick, CHW | Bobby Abreu, PHI |
| Outfielder | Trot Nixon, BOS | Miguel Cabrera, FLA |
| Designated Hitter | David Dellucci, TEX | Our pitchers hit |
Teams with players receiving two votes: Orioles and Red Sox.
Teams with players receiving one vote: Cubs, Diamondbacks, Rockies, Padres, Reds, Phillies, Marlins, Royals, Yankees, Mariners, White Sox, Rangers.
Notes and discussion:
Players leaving my ballot were Vladimir Guerrero, Jeff Kent, Troy Glaus, Paul Lo Duca, and Jacque Jones
I've been looking for a reason to excuse Jeff Kent from my ballot all season... and he's finally gone. Up until this time around, Kent was heads and tails above the other second sackers. But, he's faltered in May (.195/.238/.312) (AVG/OBP/SLG) and several second basemen have surged ahead. I went with Craig Counsell because I like him and because he's got the second highest OPS among NL second basemen. I almost voted for Mark Grudzielanek who is doing well... but he is a Cardinal and so he doesn't get any undue consideration.
Clint Barmes has captured each of my NL shortstop picks this year... and he did again. He's slowed down a bit, but still has an OPS above .900, and that is more than 100 basis points above Cesar Izturis who definitely got some consideration. I wouldn't be surprised if Izturis makes it onto my next ballot.
Derrek Lee is also in the same boat. After a red-hot start, he's come down to earth a bit and isn't as much of a no-brainer as he was in April... but again, his stats are still the best among NL first basemen. (Even if they weren't the best... he'd get my vote.)
After much upheaval in earlier ballots, the NL outfield stays unchanged for the first time this year. Dunn, Abreu, and Cabrera all have OPS above 1.000 and were thus pretty clear picks. Abreu has stolen 13 bases, and his numbers are MVP good.
Compared to the NL outfield, the AL outfield has been pretty consistent so far. Vlad, Ichiro, and a Minnesota Twin have been on nearly every one of my ballots... until this one. Vlad's stats took a downturn before he hurt himself. I didn't leave him off the ballot because of the injury, but I probably would have if he had deserved the vote. In his place, I voted for Scott Podsednick who is stealing bases like he's Rickey Henderson or Vince Coleman. The high OBP was a big consideration, as was the fact that he's the spark for the team with the best record in baseball.
Trot Nixon is having a good season, and he took Jacque Jones' spot.
I finally put Chipper Jones on the ballot. He's one of my favorite players, and you can't ignore the 1.000+ OPS. I just wish I could have voted for Aramis Ramirez.
You too can vote for the All-Star starting lineups. I just ask that you keep my man D-Lee in mind.
Posted by Byron at 11:50 PM | | |
Thursday, May 26, 2005
Today was glorious. Perfect weather for a game, and fortune smiled down upon me. In February, I bought tickets to a game in May. It was one of the only games that still had bleacher seats available, and so I snapped them up with no guarantee that I would actually be able to attend the game.
With a little creative schedule engineering, I managed to come up to Chicago today and catch my first game in the bleachers. I've been to Wrigley field probably 30 or 40 times over the years, but never in the bleachers. Did I mention the weather was perfect?
My friend Chris and I sat next to Al Yellon of Bleed Cubbie Blue and Scott Lange of Northside Lounge. Both guys are really nice and enjoyable to be around. We had some great discussions throughout the day. It really was one of the best experiences I've ever had in the stands.
The game on the field was a different story. Carlos Zambrano pitched well but had trouble getting the third out in a few innings, and so he had his pitch count up early. He left after seven innings, having allowed three runs. Although Cliff Bartosh and Joe Borowski each gave up solo shots, it wouldn't have made a difference if they had hemmoraged 20 runs apiece.
The Cubs offense was not all that interested in playing today, and that manifested itself in 'aggressive' hitting. Lots of first pitch swinging, infield pop-flys, and ground balls to Todd Helton later, the Cubs made Jason Jennings look like a Cy Young candidate. This team needs some patience.
On the way back, I was on the Red-Line discussing the Cubs season with a friendly fellow, and he made a comment that struck a nerve. He said the Cubs were playing "Dumb Ball."
In contrasting the two sides of town, we cast our eyes to the south and see Ozzie Guillen's squad playing small-ball... or "smart ball" as Ozzie likes to call it. The Cubs? "Dumb Ball" is about the best way I could describe it.
Posted by Byron at 10:10 PM | | |
Wednesday, May 25, 2005
May 25, 2005
Record: 21-23, Box Wrigley Field - Chicago, IL
Reg #44
Chicago Cubs
1
Houston Astros
5
May 24, 2005
Record: 21-22, Box Wrigley Field - Chicago, IL
Reg #43
Chicago Cubs
4
Houston Astros
2
May 23, 2005
Record: 20-22, Box Wrigley Field - Chicago, IL
Reg #42
Chicago Cubs
4
Houston Astros
1
Posted by Byron at 9:59 PM | | |
With the recent trade rumors swirling, many in the CBA have turned their lecherous eyes to the south. In Tampa, there sits a "left fielder" whom many of us desire. Forgetting God's commandment that we not covet our neighbor's left fielder, we have become enthralled with the idea of bring Aubrey Huff to the northside... to play in "Wrigley Stadium."
Although I admit I have been occasionally weak-willed when the discussion turns to Huff, I'm still trying to figure out what we find so alluring about the guy? Below are career OPS percentages for four players. One belongs to Huff and the others belong to our current crop of starting outfielders.
.841 - Burnitz
.830 - Huff
.819 - Dubois
.735 - Patterson (.765 OPSS)
Clearly, Patterson is underperforming the rest of this group... but makes up some value with his glove. Dubois' OPS numbers are from an admittedly small sample size, but his history in the minor leagues suggests that he'll continue hitting with this kind of power, and eventually increase his OBP.
Aubrey Huff's Career Statistics thru 5/24/05

Year

AB

AVG

OBP

SLG

HR

RBI

R

H

2B

BB

SO

TB

2000

122

.287

.318

.443

4

14

12

35

7

5

18

54

2001

411

.248

.288

.372

8

45

42

102

25

23

72

153

2002

454

.313

.364

.520

23

59

67

142

25

37

55

236

2003

636

.311

.367

.555

34

107

91

198

47

53

80

353

2004

600

.297

.360

.493

29

104

92

178

27

56

74

296

2005

158

.253

.341

.361

2

26

16

40

7

19

27

57

Career

2381

.292

.347

.483

100

355

320

695

138

193

326

1149
In the field: First, lets get this straight... Huff is not really an outfielder. Coming into 2004, Huff had played 111 games in the outfield, 103 of which were in right field. He had played 219 games at third, 124 at first, and DH'ed another 140. He is a man without a position. With Derrek Lee putting up MVP numbers at first, and Ramirez and Lee both inked to long-term deals, Huff probably won't be seeing too much corner infield action if he were traded to the Cubs. Moreover, as we play in the superior league, Huff wouldn't be doing too much work as a designated hitter for the boys in Blue.
As an outfielder, Huff is not exactly a gold glover, so I don't think he'd be that signicant of an upgrade over Dubois or Burnitz. Furthermore, he lacks the speed necessary to play centerfield. So he couldn't replace Patterson without doing more harm than good defensively.
Age is one factor in Huff's favor. He's 28 and entering the prime of his career... but he's also entering free agency at the end of this year. With a nearly $5 million dollar salary in 2005, he costs a little more than 15 times what Dubois is making. Furthermore, Dubois has another two years before he's even eligible for arbitration.
Batting: Another factor favoring Huff is his left handedness. However, with Patterson, Burnitz, Walker (he's back from the DL as of today), and the ability to spot start Todd Hollandsworth, the Cubs already have a number of lefty bats.
Looking at this year's stats, it also appears that Huff is struggling a bit. His OBP is down slightly from his career numbers, and about 20 basis points from the last three years. In the power department, Huff is having his worst big-league season. His SLG so far is 122 basis points below his career average, and 150 to 250 points below his last three years. Not that I've seen him play at all this year, but I'm wondering if he's struggling with the pressure of his contract year?
So in summary, Huff is a good player, but not great. He doesn't bring any skills to this team that we don't already have, and he isn't a significant upgrade for any of the positions he can play. He's also much more expensive than Dubois, and in my opinion has a lower ceiling. In addition, he's struggling this year and probably wouldn't supply the Cubs with the proverbial 'shot-in-the-arm.'
If the Cubs were set at the other eight positions and were in a dogfight for a pennant, I could understand mortgaging the future to win a championship. But for the Cubs, a team that is struggling to play .500 ball, with more pressing questions at two or three other positions, we shouldn't be looking to make a trade for Huff.
I'll close by saying this: As Cubs fans, we need to recognize the value that Jason Dubois represents for our franchise, and not be too hasty to give him away or cut short his playing time.
Posted by Byron at 6:51 PM | | |
Tuesday, May 24, 2005
I watched the game this evening in an ex post manner. After the game was over, I went back and watched the top of the fourth, the bottom of the eighth and the bottom of the ninth.
What I watched was pretty good... but I'm betting that if I had the time to watch the other 15 frames I would have seen some excellent pitching and a fair amount of offensive frustration.
Regardless, its good to see the Cubs picked up their third straight victory... we're now only one game below .500 Woo!
From the boxscore, it looks like Sergio Mitre had a good outing. He went seven innings, allowed two (earned) runs, walked one, struck out five, and allowed five hits.
Despite his strong outing, Mitre didn't take the win — largely because Roger "The Rocket" Clemens pitched five innings of two hit baseball while allowing no runs. This outing lowered the Rocket's ERA to 1.19, but his record is still only 3-2. If I were Roger, I'd be thinking about walking into Drayton McLane's office tomorrow and asking to be moved.
Jason Dubois: My favorite Cubs rookie this year continues his mixed play. In the fourth, he botched a play in left field when a flyball was hit into the well and he didn't follow the ball into the leftfield corner. His miscue on the ball directly led to both Astros runs in the inning. However, in the eighth, Dubois led off the inning with a double and scored on Todd Hollandsworth's pinch hit single. Dubois' average now stands at .261, his OBP at .301, and his SLG at .565. Meanwhile, he has struck out 28 times in 72 AB (38.8%), while mustering only 2 bases on balls. So, while he's struggling in some aspects of the game, "The Face" has an .866 OPS, which is definitely respectable. ("The Face" is not my nickname for Dubois... but I certainly like it. "The Face" was proposed by another member of the CBA, but I can't find the post. If its your's, please leave the URL in the comments and I'll link to you.)
Todd Hollandsworth: He's back to pinch-hitting... and back to getting huge pinch hits. Last Wednesday, Holly singled in the game tieing run against Pittsburgh in the Cubs win. Today, Hollandsworth drove in Dubois with a pinch hit single to centerfield. That run got the Cubs on the board and was hugely important in the win.
Aramis Ramirez: Aramis made the final out of the eighth inning. Last year, if Ramirez came up in the late innings of a close game with men on base, the ball was likely to end up on Waveland Avenue. This year, A-Ram is struggling mightily. While he's hit seven home runs (on pace for about 28), the rest of his game is suffering. He's currently hitting .238/.317/.456 (AVG/OBP/SLG) with 18 RBI in 147 AB. Furthermore, the strikeouts are up a bit too (although I believe his K/AB rate has decreased since April). Ramirez is on track to strike out 82 times this year as compared to 62 last year. On the other hand, the walks are up. He's on pace for 68 walks versus 49 last year.
Aramis Ramirez rate stats decline
Avg: -.080 from 2004 to YTD 2005.
OBP: -.060 from 2004 to YTD 2005.
SLG: -.122 from 2004 to YTD 2005.
---
The Attend-O-Meter is up to date.
Posted by Byron at 11:46 PM | | |
Monday, May 23, 2005
Danny Graves has been designated for assignment by the Cincinnati Reds. According to ESPN, there was a hand gesture involved, but the real reason he was designated is that he hasn't been very good this year.
So now, I want to make a case for the Cubs to strongly pursue Graves. Below is a table of blown saves rates. By looking at the numbers, one can compare the average blown saves rate for MLB, the Cubs, Danny Graves, and Mariano Rivera from 1999 - 2004.
Blown Save Rates 1999 - 2004

Year
MLB Avg
Cubs
Graves
Rivera
1999

32.7%

43.9%

25.0%

8.2%

2000

34.6%

42.7%

14.3%

12.2%

2001

32.2%

31.7%

17.9%

12.3%

2002

31.6%

52.1%

17.9%

12.5%

2003

32.0%

29.4%

---

13.0%

2004

33.8%

36.4%

18.0%

7.0%
After inspecting the table we learn several things such as:
The MLB average is between 30-33% blown saves
In general, the Cubs bullpen has been worse than the MLB average over that six year span.
Danny Graves has been consistently better than the MLB average.
Mariano Rivera is really, really good.
Like most Cubs fans, I long to have the security of a Closer... with a capital C. But Danny Graves is not a capital C kind of guy. In fact, despite posting some impressive saves totals, Graves isn't lights out... but he's a lot better than what we've had recently.
To stand on the sidelines, with no real knowledge of what is going on, while advocating a particular move is a luxury afforded to fans... and that is what I am doing. I may be ignorant of facts that are important, but I would go after Graves. While I certainly understand Chuck's position (in the comments) that the Cubs could wait ten days and get him on the cheap... I think the Cubs should move now. Graves may well be the best closer to move this offseason, and he would definitely improve a struggling bullpen.
Posted by Byron at 6:14 PM | | |
Sunday, May 22, 2005
It turns out Carlos Zambrano's 'tennis elbow' was a result of using his computer too much. Well, I'm figuring if Carlos spends all that time surfing, he must be visiting here or GROTA on a regular basis. Afterall, I/we are his biggest fans!
Anyhow, this story is the very definition of bull----. Granted, I'm not a finely tuned professional athlete who goes out and throws 110 pitches every five days... but I do know what it is to spend too much time on the computer... and trust me, Carlos arm isn't injured because of too much point-and-clicking.
Well, the Cubs played the Sox this weekend and it was a tough weekend. I'm happy to report that due to a complete game gem by Mark Prior and a three run home run off of Jason Dubois' bat, the Cubs managed to avoid being swept by the White Sox. Otherwise, it was awfully difficult to watch this team over the last three days.
Friday's game featured about sixteen instances of Cubs infielders diving for balls and missing them. Meanwhile, the Sox pounded the ball into the ground all afternoon en route to beating the Cubs soundly.
On Saturday, Carlos Zambrano went out and had a no-hitter going through 5.2 innings until Jeff Torborg (Fox' color commentator) had the audacity to mention the no-hitter. Sure enough the White Sox got a hit. It was the only hit Zambrano allowed in the seven innings he pitched, but the Cubs bullpen imploded and the White Sox scored 5 runs in the eighth and ninth.
Today, Mark Prior took care to keep his pitch count down (somewhat) and went the full nine innings in a 4-3 victory (126 pitches). As opposed to the first two games, the long-ball ruled the day. All seven runs were scored on the home run. Prior allowed solo shots to Jermaine Dye, Tadahito Iguchi, and Paul Konerko. For the Cubs, Henry Blanco went deep with the bases empty, and Jason Dubois hit a three run shot in the sixth.
On the whole, it was a disappointing weekend of baseball. The Cubs continued to play sub .500 baseball without any indications that things might be turning around. We essentially crossed the 25% mark this season, and the Cubs are sitting seven games behind the Cardinals. As it is currently constituted, I don't think this roster is capable of winning the division... but I'll continue to watch and hope. I'm expecting to see a trade soon if Hendry and Baker think they can make the postseason, but until then: Let's go Cub-bies.
Posted by Byron at 9:18 PM | | |
May 22, 2005
Record: 19-22, Box Wrigley Field - Chicago, IL
Reg #41
Chicago Cubs
4
Chicago White Sox
3
May 21, 2005
Record: 18-22, Box Wrigley Field - Chicago, IL
Reg #40
Chicago Cubs
3
Chicago White Sox
5
May 20, 2005
Record: 18-21, Box Wrigley Field - Chicago, IL
Reg #39
Chicago Cubs
1
Chicago White Sox
5
Posted by Byron at 8:45 PM | | |
Friday, May 20, 2005
I'm so very original! (But this post has nothing to do with the game.)
A few weeks ago, the Sportsblogs network expanded again and added Beyond the Boxscore. The blog is sabermetrically inclined and an awesome read. Today, they got Al Yellon and Will Carroll to sit down and have a Cubs Roundtable discussion. You might want to stop on by.
---
While doing some research for an upcoming feature, I stumbled across some old Doug Pappas articles over at BP. If you're interested in the finances of MLB teams, you MUST READ this series of articles. Unfortunately the numbers are dated, but the trends and tendencies Doug discussed are still quite relevant.
The Numbers (Part One): Gate Receipts
The Numbers (Part Two): Local Media Revenues
The Numbers (Part Three): More Revenue
The Numbers (Part Four): Player Compensation
The Numbers (Part Five): National and other local expenses
The Numbers (Part Six): Profits and Revenue Sharing
The Numbers (Part Seven): Interest-ing
The Numbers (Part Eight): MLB vs. Forbes

Posted by Byron at 10:01 AM | | |
Thursday, May 19, 2005
Well, today's game was certainly exciting, but its time to start preparing ourselves as Cubs fans for the upcoming civil war. The North vs. the South. The lovable losers vs. the only franchise to ever intentionally lose a World Series. 1908 vs. 1917.
With this in mind, I have decided to answer a question posed by Tom of A Season with the Cubs (a mighty fine Cubs blog). In fact, this post originated as a comment on Tom's site.
Why would anyone ever be a White Sox fan?
First, the league (AL) didn't always suck. Before there was the DH, two leagues actually played 'real' baseball. So, I'm guessing there are some holdovers.
Second, the Sox have been good on a few occasions. If you were coming of baseball age in '83, '95, or '00 you might be tempted to be a White Sox fan.
Third, this team used to employ Bo Jackson... and Shoeless Joe
Fourth, Comiskey Park is really easy to get to if your primary mode of transportation is a car. In my case, I grew up in NW Indiana. It takes about 45 minutes less to get to Comiskey than to Wrigley.
Fifth, its much less expensive to be a White Sox fan. In years past a can of Coke got you half-priced tickets, and a Wendy's value meal could get you into a game for free.
Sixth, even if you have some money, its too hard to get tickets to a Cubs game. For years now, Cubs fans have been unable to buy walk-up tickets on game days to most home games. If you love baseball and want to see it regularly, but can't get tickets, then that might drive you into Jerry Reinsdorf's arms.
Seventh, some people just like to be different.
Posted by Byron at 12:01 AM | | |
Wednesday, May 18, 2005
I didn't get to see most of the game today, but I got home in-time to watch the eighth and ninth innings. And despite the totally awesome second straight come-from-behind win over the Pirates, I definitely was frustrated with some of the managerial decisions in the ninth inning.
Top of the Ninth:
Jeromy Burnitz: walks, but is then caught stealing second base on a 1-0 count. The decision to send Burnitz was pure folly. First, we're talking about Jeromy Burnitz here, he's not exactly a speedster. Sure, if he made it, the tying run is standing on second base... but if he gets caught you have one out and no one on base in the event something happens like oh say a double.
Michael Barrett: with the bases newly cleared, Michael Barrett doubles to right field. Had Burnitz been on first, he probably would have been held up at third.
Corey Patterson: Intentional Walk. I wouldn't have done this if I were Lloyd McClendon because it puts a guy who hits .250 with a lot of speed on first base representing the winning run.
Todd Hollandsworth pinch-hitting for Jason Dubois This move had me muttering at the TV. Hollandsworth was 0 for 15 and Dubois has been fairly clutch. Plus I was very concerned about a double play ball, and Hollandsworth at bat certainly doesn't decrease this possibility. Well, in a stroke of cosmic luck, Todd Hollandsworth smoked a ball right at Daryle Ward who managed to not only let the ball hit off his glove, but also avoided an error while he was at it. Michael Barrett scored from second, and Corey Patterson advanced to third on Hollandsworth's single.
Jose Macias: I really couldn't believe he was hitting with Aramis Ramirez left on the bench... but this decision again turned out for the better as Macias hit a sac fly to right field that drove in Patterson.
Aramis Ramirez: struck out... proving that an honest second-guesser is really no better off than a big-league manager.
Bottom of the Ninth: I could barely watch
Tike Redman doubles
Rob Mackowiak pinch hitting for Humberto Cota walks
Freddy Sanchez pinch hitting for Jose Mesa attempted sacrifice bunt that ended with Tike Redman getting thrown out at third.
Matt Lawton groundball to second baseman Jerry Hairston Jr. who promptly commits an error.
Jack Wilson GIDP!!!!
With the double play, the Cubs won their second straight and fifth of seven. Ryan Dempster got his second save, Michael Wuertz his second win, and Glendon Rusch just got jobbed. He went six innings and only allowed two runs.
Oh yeah, and the series was a sweep! Things **could** be looking up.
Posted by Byron at 2:47 PM | | |

May 18, 2005
Record: 18-20, Box PNC Park - Pittsburgh, PA
Reg #38
Chicago Cubs
3
Pittsburgh Pirates
2
May 17, 2005
Record: 17-20, Box PNC Park - Pittsburgh, PA
Reg #37
Chicago Cubs
4
Pittsburgh Pirates
3
Posted by Byron at 2:31 PM | | |
Tuesday, May 17, 2005
The Cubs are killing me and I'm having a tough time translating my mental anguish and emotional uncertainty into some kind of unique post. I could rant and rave about Zambrano or Enrique Wilson, or whatever, but I'll leave that up to the other 70-odd CBA blogs. Instead, we're going with some pictures today.
I took some film over to the drugstore this week to be developed and have finally gotten my pictures from some of my more recent ballpark travels.
I went to Dodger Stadium last August, the post is here. Pictures below.
---
I went to the Great American Ballpark in April, the post is here. Pictures below.
This is the coolest picture. You can see out of the Great American Ballpark into Kentucky... this is an awesome view.
---
I went to Victory Field last week, the post is here. Picture below.
---
Oh yeah, this one's kind of cool too.
End of Post Check of the Score: D-LEE!!!!!! Cubs seize the lead on a two run dinger by Derrek Lee in the ninth. Now lets hope Ryan Dempster can hold it... 1-2-3 Cubs Win! Cubs Win! Holy Cow!
Posted by Byron at 8:36 PM | | |
Monday, May 16, 2005
Last year in about July, the collective Cubs Blog Army started whining about the number of solo home runs the cubs had hit, and so I attempted to gather some statistics... it didn't happen. Well, this year I decided to get started a bit earlier so that the catch-up wouldn't be too bad.
So, I am unveiling the "Hey-Hey!-Holy-Cow!-Belted!-Outta-Here!!!!-O-Meter" as one of the o-meters I'll be regularly updating throughout the season. I encourage you to go check it out as it has some truly cool (read: obscure) information.
For instance:
Derrek Lee and Jeromy Burnitz lead the team in occasions where they were on base when a home run was hit. They've each been driven in 6 times.
The Cubs have hit the most home runs (eight apiece) in the fourth and sixth innings. The first inning is close behind with seven.
The Cubs have hit 33% of their homeruns with 0 outs, 39% with 1 out, and 28% with two outs.
52% of the Cubs home runs this year have been solo shots.
28% of the Cubs home runs have come with a man on first base. 30% of the time, they had a runner at second base prior to a blast. 8.5% of the time, they had a runner at third.
These trivialties and many more in the "Hey-Hey!-Holy-Cow!-Belted!-Outta-Here!!!!-O-Meter"
I'm working on the "Oh-geeeeeeezzz-O-meter" to track the home runs given up by our pitchers. That might be up later this week.
Finally, the attend-o-meter has been updated to correct an error where I transposed two numbers in the attendance for April 23.
Well, I'm O-metered out.
Posted by Byron at 10:15 PM | | |
Today we take a pictorial look at Neifi's production over the course of the season. The first chart is a five day trailing average of Neifi's OBP* (OBP without accounting for sacrifice flies which will slightly inflate his OBP).
The second chart is the same treatment with his slugging percentage. The same pattern is evident.
Looks like Neifi! is now just Neifi.
---
For a good read, I direct you towards Derek Smart's review of Jim Hendry in the Goat Riders' GM series.
Posted by Byron at 1:12 PM | | |
Sunday, May 15, 2005
May 15, 2005
Record: 16-20, Box RFK Stadium - Washington, DC
Reg #365
Chicago Cubs
4
Washington Nationals
5
May 14, 2005
Record: 16-19, Box RFK Stadium - Washington, DC
Reg #35
Chicago Cubs
3
Washington Nationals
4
May 13, 2005
Record: 16-18, Box RFK Stadium - Washington, DC
Reg #34
Chicago Cubs
6
Washington Nationals
3
Posted by Byron at 11:15 PM | | |
Saturday, May 14, 2005
For most teams in baseball, we are 20-25% of the way through the season and so I decided to capture a snap-shot of the ticket revenues per home date for each of the thirty teams. So, in true Cubdom fashion, I present these charts of team revenue per home date (in millions) for each MLB team. If I do any analysis, it will be in an update, otherwise feel free to comment about what you see.
The numbers below are estimates formed by multiplying the announced attendance by the average ticket price per team as determined by Team Marketing Report in their annual Fan Cost Index. These estimates don't take into account variable ticket pricing, childrens tickets, or other special ticket prices aside from those that have already been factored into the FCI.
The colors on the charts are determined by division:
blue = central
green = east
yellow = west
National League
| | | | | | | |
| --- | --- | --- | --- | --- | --- | --- |
| TEAM | Games | Total Attendance | Average Attendance | Pct Attendance | Avg. Ticket Price | Rev/Game |
| Cubs | 16 | 614,495 | 38,405 | 97.1 | 32.00 | 1.229 |
| Cardinals | 21 | 825,255 | 39,297 | 78.1 | 25.29 | 0.994 |
| Dodgers | 15 | 700,632 | 46,708 | 83.4 | 18.94 | 0.885 |
| Giants | 20 | 758,618 | 37,930 | 91.3 | 23.22 | 0.881 |
| Astros | 17 | 559,231 | 32,895 | 80.3 | 24.83 | 0.817 |
| Phillies | 15 | 442,864 | 29,524 | 67.9 | 26.58 | 0.785 |
| Mets | 17 | 557,056 | 32,768 | 57.1 | 23.66 | 0.775 |
| Padres | 15 | 520,408 | 34,693 | 81.6 | 20.83 | 0.723 |
| Nationals | 14 | 435,326 | 31,094 | 54.8 | 21.43 | 0.666 |
| Braves | 18 | 536,946 | 29,830 | 59.6 | 17.51 | 0.522 |
| Dbacks | 22 | 574,082 | 26,094 | 53.2 | 19.24 | 0.502 |
| Reds | 19 | 425,641 | 22,402 | 53.3 | 17.90 | 0.401 |
| Brewers | 20 | 431,797 | 21,589 | 50.9 | 16.86 | 0.364 |
| Marlins | 20 | 463,668 | 23,183 | 63.8 | 15.55 | 0.361 |
| Pirates | 13 | 274,018 | 21,078 | 54.9 | 17.08 | 0.360 |
| Rockies | 16 | 374,612 | 23,413 | 46.4 | 14.92 | 0.349 |
American League
| | | | | | | |
| --- | --- | --- | --- | --- | --- | --- |
| TEAM | GMS | TOTAL | AVG | PCT | Tick Price | Rev/Game |
| Red Sox | 16 | 561,710 | 35,106 | 97.1 | 44.56 | 1.564 |
| Yankees | 23 | 1,058,916 | 46,039 | 80.1 | 27.34 | 1.259 |
| Mariners | 15 | 473,656 | 31,577 | 66.1 | 24.01 | 0.758 |
| Angels | 19 | 769,889 | 40,520 | 89.9 | 17.36 | 0.703 |
| Orioles | 22 | 633,863 | 28,811 | 59.8 | 22.53 | 0.649 |
| White Sox | 16 | 337,839 | 21,114 | 44.8 | 25.89 | 0.547 |
| Rangers | 21 | 637,975 | 30,379 | 61.9 | 16.91 | 0.514 |
| Blue Jays | 17 | 388,681 | 22,863 | 45.3 | 19.61 | 0.448 |
| Twins | 15 | 375,778 | 25,051 | 51.5 | 16.25 | 0.407 |
| Tigers | 14 | 298,678 | 21,334 | 53.2 | 18.48 | 0.394 |
| Indians | 12 | 218,138 | 18,178 | 41.9 | 21.17 | 0.385 |
| Athletics | 16 | 347,753 | 21,734 | 49.8 | 17.66 | 0.384 |
| Royals | 16 | 265,617 | 16,601 | 40.7 | 13.71 | 0.228 |
| Drays | 24 | 340,856 | 14,202 | 32.4 | 13.7 | 0.195 |
Posted by Byron at 6:32 PM | | |
Friday, May 13, 2005
With yesterday being an off day and all, I decided to take a long overdue trip up to Indianapolis to see the Indians play. The Indy Indians are the Pittsburgh AAA afiliate and they play in the international league. Their opponent for the night was the Richmond Braves, who are the Atlanta AAA affiliate.
First, a few words about Victory Field. It is billed as the best Minor League stadium in the United States. Although I don't have much to compare it with... it was much nicer than Marinelli Field, I don't disbelieve the claim... although it may be a bit of hyperbole.
The stadium is very close to downtown Indianapolis, within walking distance of the statehouse, RCA (Hoosier) Dome, and the Conseco Fieldhouse. It has two levels of seating, although the vast majority of tickets are on the first level, with luxury boxes taking up most of the upper deck.
The centerfield area did not have seating, but was basically a picnic berm where people brought blankets and sat on the ground watching the game. There was also some kind of a kids zone where the youngins could go to have their fastball measured with a radar gun and several other assorted baseball related distractions.
As I was leaving the park, I also noticed that there is a gate in rightfield that allows passerbys to watch the game from outside the stadium... that was cool.
Parking was pretty good. I paid $3 to park right across from the park. I drove by one lot charging $6, but am sure I could have parked for free in the area if I had wanted to walk a little, or knew where I was.
I got to the park about 25 minutes early and didn't have to wait in line at the ticket office. I plopped down top dollar ($12) for my tickets and got a seat in the second row right behind home plate. I definitely could have paid $8 for my ticket and snuck up... but I didn't mind paying $12.
The game itself was very enjoyable. The Richmond Braves started a guy named Dan Curtis who looked really sharp for the first four innings. The only problem was that all he was throwing were pitches between 86 and 88 MPH. (Probably a fastball and a hard slider without much movement). I didn't check the radar gun on the scoreboard after every pitch, but I didn't see a single pitch out of that range the whole night. This prompted me to tell the guy sitting next to me that he would get shelled his third time through the order. Sure enough, Curtis only got one batter out on the Indians third trip through the batting order, and that was on a hard hit ball to right field that advanced the runner from second to third.
To be fair, not all of this was Curtis' fault. Jason Bourgeois, the Braves second baseman made three errors in the game, and two of them were botched double plays where the Braves didn't get one out, much less two. (Incidentally, the botched GIDP in the fifth ended in an error being assigned to both Bourgeois and the first baseman. I think this might have been a scoring error. Although both players deserved an error, you cannot assume the double play and so there should only be one error for one out.)
So after the Indianapolis Indians timed Curtis, and Bourgeois botched a double play, the Indians plated seven in the fifth inning, and then two more in each of the sixth and eigth innings.
For the Braves offense, they only mustered two runs. The first run came in the first inning on about the fifth pitch of the game. The Braves shortstop Kelly Johnson hit the first pitch he saw 375 feet over the wall in right center field. Their second run came in the fifth inning when Esix Snead, the Braves leadoff man and centerfielder drew a walk. He proceeded to swipe second and score on a single by J. J. Jurries. (Yes his initials are JJJ).
As for scouting, none of the Indians players particularly stood out to me. Their starter, Justin Reid pitched well and changed speeds effectively (either 77 MPH or 84-86 MPH), but had suspect command that manifested itself in missing some spots and just not looking very crisp.
The first baseman, Graham Koonce hit a home run in the eighth, but didn't look good in his other at-bats. The one batter that distinguished himself was left fielder Nate McClouth, who looked pretty good in several of his at-bats. He went 2 for 3 with a double, 2 runs, an RBI, and a walk, but more than the boxscore line, his at-bats were impressive.
Finally, I would be remiss to not mention Kirk Bullinger, Jim's little brother. He pitched three innings for the save and looked real good in the seventh and eighth, but then dropped down to pitch about 3/4 to sidearm in the ninth. I got the impression he was tired, because he had been predominantly pitching over the top in innings seven and eight. Either way, Bully allowed only one hit in his three innings while striking out three. He was impressive.
Despite the team's poor showing, I thought three Braves looked really good. The most impressive player to me was Alex Herrera. He is a lefty who came out of the pen and into the game with the bases loaded in the sixth. He induced a double play and got out of the inning without allowing any runs. He was throwing about 89 or 90 MPH with a lot of movement... but not much control. Having seen him for one game, I would say that he could be a Major League LOOGY if he can learn to control his stuff... because it looked mighty impressive tonight.
In the batting order, the Braves top two hitters were the most impressive. Esix Snead reminded me of Tom Goodwin. He has a lot of speed and hits the ball squarely. He had a double, a walk, stole 2 bases, and scored a run. Although his average is below the Mendoza line, he impressed me...
But not as much as Kelly Johnson who pounded the ball all night. He only got one hit (the homer) but the other outs were hard hit balls.
Hot Dog Review: As is my custom, I bought myself a hot-dog after the bottom of the fourth. I was sorely disappointed. The dog itself wasn't bad (it was all beef and the meat was tasty), but its presentation was horrid. First, the hot dog cost $3.25 which is a bit steep (IMHO) for a minor league hot-dog. Second, it wasn't on one of those hot dog rollers, or a grill or anything. When I ordered it the guy reached under the counter and pulled out a foil wrapped hot dog and bun. I got the impression it had probably been warmed up in a microwave. Of course the bun was soggy because it was in the foil wrapper, and the hot dog was only warm, not hot. The condiments were better than in Cincinnati, but still not up to par. The choices included ketchup, one kind of mustard, pickle relish and onions. It was the worst ballpark hot dog I have ever had. Oh well.
Posted by Byron at 10:15 AM | | |
Thursday, May 12, 2005
Dodger Thoughts points out an article about Dodger's Owner Frank McCourt who recently refinanced the debt that he took on to purchase the team.
According to the LA Times article, the debt indenture requires that the Dodgers continue to play in Dodger Stadium for the next 25 years, and that there will be no change in control of the team for the term of the loan.
Furthermore, the article says the loan was a 5.66% fixed loan for 25 years. Assuming that the loan requires quarterly interest payments, McCourt will need to generate $3.855 million each quarter to meet the payments, or $15.42 million per year. Then at the end of 25 years, he will need to pony up $250 million.
On the other hand, if McCourt were to treat the loan as a home mortgage, he would set aside an additional 1.065 million per quarter (4.92 M total per quarter/$19.68 M annually) so that he would have the $250 million in 25 years.
Depending on the rate of reinvestment, McCourt could ease off that number slightly. (Over the last 25 years, the S&P 500 has averaged a 10.09% annual return. Using this growth rate, McCourt would need $4.779 million per quarter or $19.1 M annually.)
Posted by Byron at 11:27 PM | | |
Off days are a great time to step back, look around the league, and fill out my third all-star ballot of this season.
| | | |
| --- | --- | --- |
| Position | American League | National League |
| First Base | Mike Sweeney, KC | Derrek Lee, CHC |
| Second Base | Brian Roberts, BAL | Jeff Kent, LAD |
| Third Base | Alex Rodriguez, NYY | Troy Glaus, ARI |
| Shortstop | Miguel Tejada, BAL | Clint Barmes, COL |
| Catcher | Jason Varitek, BOS | Paul Lo Duca, FLA |
| Outfielder | Ichiro!, SEA | Adam Dunn, CIN |
| Outfielder | Vladimir Guerrero, LAA | Bobby Abreu, PHI |
| Outfielder | Jacque Jones, MIN | Miguel Cabrera, FLA |
| Designated Hitter | David Dellucci, TEX | Our pitchers hit |
Teams with players receiving two votes: Marlins and Orioles.
Teams with players receiving one vote: Cubs, Dodgers, Diamondbacks, Rockies, Reds, Phillies, Royals, Yankees, Red Sox, Mariners, Angels, Twins, Rangers.
Notes and discussion:
Players leaving my ballot were Richie Sexson, Chipper Jones, Cliff Floyd, Willy Taveras, and Dimitri Young
Despite looking for any reason to not vote for Jeff Kent, he received my third consecutive all-star vote.
My hardest decision was the AL Designated Hitter. David Ortiz and Shea Hillenbrand are both on the ballot and nearly deserving, but Dellucci's numbers were better.
Ichiro! has been a borderline pick on most of my ballots, but continues to get my vote because of his speed, defensive ability, and awesome arm... but it was tough to leave Manny Ramirez off my ballot.
The ever-changing NL outfield ballot stabilized a little. Adam Dunn and his monstrous OPS made his second consecutive appearance on my ballot. Miguel Cabrera has been playing well again and has regained the spot he lost to to Cliff Floyd last time. Finally, Bobby Abreu captured the third spot on the ballot because of a tremendous balance of speed and power.
Clint Barmes continues to be the most deserving shortstop in the N.L. even over Neifi!
You too can vote for the All-Star starting lineups. I just ask that you keep my man D-Lee in mind.
Posted by Byron at 4:57 PM | | |
Wednesday, May 11, 2005
Disappearing Note: The Attend-O-Meter has been updated.
May 11, 2005
Record: 15-18, Box Wrigley Field - Chicago, IL
Reg #33
Chicago Cubs
4
New York Mets
3
May 10, 2005
Record: 14-18, Box Wrigley Field - Chicago, IL
Reg #32
Chicago Cubs
7
New York Mets
0
May 9, 2005
Record: 13-18, Box Wrigley Field - Chicago, IL
Reg #31
Chicago Cubs
4
New York Mets
7
Posted by Byron at 9:45 PM | | |
How many times have you heard that the Cubs 'lost' 74 home runs over the offseason? If I were Antonio Alfonseca, I would have run out of fingers and toes to count on a long time ago, even with the 20% bonus.
| | |
| --- | --- |
| Player Name | "Lost" Home Runs |
| Moises Alou | 39 |
| Sammy Sosa | 35 |
| Mark Grudzielanek | 6 |
| Ramon Martinez | 3 |
| Alex Gonzalez | 3 |
| Rey Ordonez | 1 |
| Paul Bako | 1 |
| Damian Jackson | 1 |
| Total | 89 |
Well, somebody had the audacity to mention this "fact" to me again yesterday, and I'm tired of hearing about it. For one, its completely stupid from a mathematical viewpoint, and second, it assumes that Moises Alou and Sammy Sosa, a year older, would have continued at the same pace as they played last year.
Let's first look at the 74 in the above offending statement. 74 = 35 + 39 = # of home runs hit by Sammy and Moises. But what about Mark Grudzielanek, Alex Gonzalez, Ramon Martinez, et al? Looking at the table at right, we see a listing of all the players who hit a home run for the Cubs in 2004 that are no longer on the roster. So, if we are going to define "lost" home runs as dingers hit by players no longer on the team, then the Cubs "lost" 89 round-trippers over the offseason.
But, any fair representation of the decline in power the Cubs suffered due to roster changes ought to include the number of home runs hit last year by players who are now on the roster this year.
Over the offseason, Jim Hendry was pretty quiet in the free agent market. Instead, he chose to bring back several players who had served partial stints with the Cubs last year (Nomar, Neifi, Ben Grieve, etc.) He also decided to go with some farm hands, such as Jason Dubois. All of these players are excluded from the list of "found home runs."
| | |
| --- | --- |
| Player Name | "Found" Home Runs |
| Jeromy Burnitz | 37 |
| Henry Blanco | 10 |
| Jerry Hairston Jr. | 2 |
| Total | 49 |
In fact, Hendry only added three position players who did not play for the Cubs last year: Jeromy Burnitz, Henry Blanco, and Jerry Hairston Jr. These three players combined for 49 home runs in 2004.
Therefore, a fair statement would be this: Due to roster changes, the Cubs current roster hit 40 fewer home runs in 2004 than the team actually did in 2004.
However, even this interpretation is inherently false. For instance, Jason Dubois hit 1 home run in 23 at-bats during his September call-up. Although he's been relegated to the bench for much of 2005, Dubois has already hit 4 home runs in only 35 at-bats. Its quite possible that Dubois could end up hitting about 20 home runs this year.
So, to wind up, the Cubs did not lose 74 home runs in the offseason. They "lost" 40. Secondly, you can expect certain players to hit more home runs in 2005 than they did in 2004... and some players will hit fewer. In my opinion, the Cubs will probably hit about 20 fewer dingers in 2005 than they did in 2004... but 20 is a far cry from 74, 89, or even 40.
Posted by Byron at 1:04 PM | | |
Tuesday, May 10, 2005
Over the last ten games prior to tonight, the Cubs had scored an average of 2.9 runs/game. Tonight, the Cubs offense flexed their muscles and posted seven runs on the scoreboard.
Fortunately, the Cubs pitching was also stellar. Greg Maddux was completely in control for 6.2 innings, allowing 0 runs, 3 hits, 3 walks, and striking out 10.
The only moment of concern occurred in the top of the seventh when Maddux loaded the bases. At that point, Dusty Baker pulled Maddux, much to the crowds' displeasure (and mine). However, Michael Wuertz got the out and escaped the inning without allowing a Metropolitan to cross the plate.
Final Score: Cubs 7, Mets 0. This was the Cubs' pitchers second shutout of the season. They previously blanked the Brewers on April 9.
This was a huge win for the Cubs, a laugher of sorts that will hopefully relax the Cubs offense, and give them some momentum to continue their winning ways. (We've won 2 of 3!).
Posted by Byron at 9:52 PM | | |
Afternoon bullet-points
The weather is beautiful in Bloomington today.
While watching Baseball Tonight yesterday, they showed a replay of Luis Gonzalez being ejected by home plate umpire Jeff Nelson. Nelson called a pitch that appeared to be about 8 inches inside, a strike. When Gonzalez, and subsequently Bob Melvin argued, they were both ejected.

The reason I'm mentioning it here is what you might have missed. Peter Gammons, softly, almost under his breath, could be heard saying, "Please, Sandy Alderson, please come back."

Before recently taking the position of CEO of the San Diego Padres, Sandy Alderson was responsible for disciplining MLB umpires.
While we are discussing balls and strikes, I'd be remiss if I didn't point you towards Sabernomics where JC has been trying to find a statistical method of determining how questec is affecting ball and strikes, and whether the manager in the dugout has anything to do with it. If I have interpreted his findings correctly, Dusty Baker sees an increase in K/BB when his teams play in questec parks. This would suggest that umpires are less likely to give hitters on a Dusty Baker managed team the benefit of the doubt if there is no questec system installed. However, the results with regard to Dusty Baker are not statistically significant.
Fellow Goat Rider Jason has a post that gets my academic underwear in a twist. He pulls out his statistics textbook and examines the effect/non-effect of steroids on offensive production this year. Worth a look-see.
Posted by Byron at 5:29 PM | | |
Well, its time to take a step back and try to find something positive to grasp onto until we start winning again. But, the best I can do is this: We aren't Reds fans.
The colors denote division, Orange = NL East, Red = NL Central, Gray = NL West
The Cubs' bullpen ranks 8th in the NL in ERA, the Marlins pen has been the strongest, while the Rockies pen has been the worst.
The Cubs rank 10th of 16 in starting pitcher ERA so far in the National League. Considering this team was built with the idea of being top in the top three or four teams, its pretty evident where the problem is. The Marlins, who also have the best bullpen are tops in starting pitcher ERA. The Reds are the worst so far.
In case you are curious, the Marlins overall ERA is 2.75. The Reds are 15th (unadjusted) at 5.71. The Rockies have the worst ERA at 6.02, but they have a 5.40 away from Coors.
The Cubs overall team ERA is 4.43 4.99.
Update: Jason brings up a good point in the comments, the team ERA is 4.43, not 4.99. The team's away ERA is 4.99, while its home ERA is 3.89
Posted by Byron at 11:40 AM | | |
Monday, May 9, 2005
Rickey Henderson is back in baseball! Granted, its the A-level San Diego Surf-Dawgs... but the man of steal is back doing what he loves.
Excerpt from: Henderson signs contract to play in Class-A level
by: ESPN.com News Services, May 9, 2005
Henderson, a future Hall of Famer, has signed a contract to play for the Dawgs in the inaugural season of the Golden Baseball League, the San Diego Union-Tribune reports. An announcement is expected Monday.
"He still just wants to play," Surf Dawgs manager Terry Kennedy said. "I think he wants to be the first one to hit a home run, cross home plate and collect his salary check, pension and social security all at the same time."
Henderson, 46, will earn $3,000 a month as a member of the Class-A level independent team's roster. He is expected to play left field for the Surf Dawgs when the season opens on May 26 and has a lucrative marketing agreement with the league -- including a Rickey Henderson bobblehead night.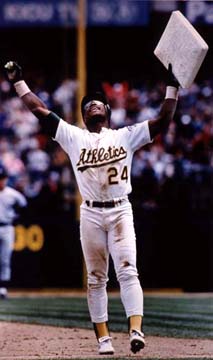 Rickey Henderson and Terry Kennedy on the same A-ball team? It sounds like the Surf-Dawgs are aiming to be the Newark Bears West.
On a more tragic note, ESPN reports that the Red Sox' clubhouse chef died after falling six floors from a public parking garage following the Celtics loss on Saturday.
Apparently, he had attended the Pacers, Celtics game with many of the Red Sox players. Although the case is being ruled an accident (I'm not alleging anything here), I'll put money on the fact that this gets turned into a Law And Order, Ripped from the Headlines TV show.
Cubs stuff: Jason Dubois gets to start! Woo! Ryan Dempster is the new closer. Woo? Jon Leicester is starting tonight... boo?
Well, at least the attend-o-meter is up-to-date!
Posted by Byron at 1:46 PM | | |
I'm watching the MLB productions recap of the 1999 World Series on ESPN classic. I had forgotten that Darryl Strawberry played on that Yankees team... and it got me thinking, life ain't fair.
World Series Rings
Darryl Strawberry (4) 1986, 1996, 1998, 1999
Ryne Sandberg, Ron Santo, Ernie Banks, Billy Williams, Andre Dawson (0)
Posted by Byron at 12:32 AM | | |
Sunday, May 8, 2005
May 8, 2005
Record: 13-17, Box Wrigley Field - Chicago, IL
Reg #30
Chicago Cubs
2
Philadelphia Phillies
1
May 7, 2005
Record: 12-17, Box Wrigley Field - Chicago, IL
Reg #29
Chicago Cubs
1
Philadelphia Phillies
4
May 6, 2005
Record: 12-16, Box Wrigley Field - Chicago, IL
Reg #28
Chicago Cubs
2
Philadelphia Phillies
3
Posted by Byron at 8:12 PM | | |
Friday, May 6, 2005
This week has been rough. Not only did I have to take finals, but the Cubs couldn't win if their lives depended on it!
I was running errands all day today getting ready to have my parents down this weekend for graduation. As I was pulling into Wal-Mart I heard Derrek Lee's home run on WGN (yeah, I can get a very staticy WGN 720 down here in Bloomington). I figured: "Yeah! The Cubs will finally win one."
But no, I checked the score when I get home and LaTroy lost another one! You've got to be kidding me! What is it with this team?
Anyhow, as I'll be wearing a gown tomorrow (and accompanying cap) I won't be able to watch/hear the game again. That will make it 6 straight games where I haven't been able to follow it live. Perhaps I should be a little superstitious.
Anyhow, I was invited to take part in an open game thread tomorrow at Balls, Sticks & Stuff. So, if you wanted to swing over there and represent, that would be cool.
Posted by Byron at 11:53 PM | | |
Thursday, May 5, 2005
May 5, 2005
Record: 12-15, Box Miller Park - Milwaukee, WI
Reg #27
Chicago Cubs
5
Milwaukee Brewers
6
May 4, 2005
Record: 12-14, Box Miller Park - Milwaukee, WI
Reg #26
Chicago Cubs
3
Milwaukee Brewers
4
May 3, 2005
Record: 12-13, Box Miller Park - Milwaukee, WI
Reg #25
Chicago Cubs
1
Milwaukee Brewers
4
Posted by Byron at 11:52 PM | | |
Wednesday, May 4, 2005
Barry Bonds has undergone a third surgery and is now displaying this picture on his website. LINK
Was the surgery an amputation?
So, while I continue to study for my financial accounting exam, I'll leave it at this:
Barry's going to be losing his spot on my fantasy disabled list. I doubt he'll be able to give me a late season push.


Barry is at 703. How many surgery's do you think he'll undergo before deciding to give it up?


He's still 53 dingers shy of Hank Aaron... thats probably two more seasons. And if he doesn't come back from his surgery as he was before, that could prove to be a three year quest.


Barry Bonds: "Where's Julio Franco's phone number?"
I also heard that Craig Biggio stole his 400th career SB last night. I'm not an Astros fan, but I do think Biggio's a hall of fame caliber player. Not as good as Sandberg, but still HOF material.
As for Robby Alomar, I don't know, there's definitely a question of What have you done for me lately? When a player's production is so heavily weighted to the front end of his career, its difficult to say. (That means you Junior.)
Jim Thome and Kenny Lofton are on the DL for the Phils? Ouch, I think I had said they were going to win the wild card this year... probably not going to happen.
Bud Selig wants to toughen the steroid policy to a three-strikes-you're-out method. The first offense would be 50 games, the second 100, and the third would be a lifetime suspension.
I like the tougher policy, but I'm still worried about false positives. I wish baseball would disclose more information as to why guys are being caught. 50 games is fine on a first time offense if the guy is juicing... its not fine if he takes something over the counter that he didn't know violated the policy.
OK, thats all for now. Actual substance promised by Friday. Now, its time to get back to pension accounting... ugghh.
Posted by Byron at 2:03 PM | | |
Tuesday, May 3, 2005
Seriously, just some tech stuff.
No Need to Click Here - I'm just claiming my feed at Feedster
Posted by Byron at 2:48 AM | | |
Monday, May 2, 2005
This story, saying Wood will be out three weeks, came across the AP wires about 17 minutes ago:
AP Wire Story: "Wood out at least 3 weeks"
Associated Press, May 2, 2005
Cubs ace Kerry Wood will miss at least three weeks after tests Monday showed he has a muscle strain in his right shoulder.
Wood underwent an MRI exam that revealed the problem, the team said.
Wood will not be able to throw for three weeks and then will be reevaluated by team doctors to devise a strengthening program.
Bothered by bursitis in his shoulder during spring training, Wood's last two outings have been cut short.
He left Saturday's game against the Astros after just three innings. In his previous start against Pittsburgh on April 24, he lasted just five innings. He is 1-1 in five starts with a 6.15 ERA.
"It feels good when I'm not throwing and it doesn't feel good when I'm throwing," Wood said. He had been scheduled to pitch against the Brewers on Thursday.
---
Update 6:38 p.m. CST
This news was not unexpected, and I expect Cubdom will actually be a little relieved as we know have something concrete to blame for our troubles. However, it still leaves us with a hole in our rotation that will be there for at least five weeks.
According to the article, Wood won't even throw for another three weeks, and then he'll undoubtably be asked to:
throw off flat ground,
throw off the mound
throw a simulated game
start in Iowa/West Tennesee
start with a pitch count of 80 pitches
So, I defintitely believe any notions of sending Ryan Dempster to the bullpen will be put on hold indefinitely. Glendon Rusch will be slotted up into the rotation, and Jon Leicester will probably be recalled from Iowa.
Until then, lets review last year, specifically May 27, 2004 when the Cubs had eight players and $37,560,000 on the disabled list.
At this point, we have six players on the disabled list, although Scott Williamson doesn't really count since he was signed with full knowledge that he was hurt. So, that gives the Cubs just about $23 million sitting on the disabled list. Thats about $14 million less than last year, but still a considerable sum.
Cubs players currently hurt
Players Name
Salary
Kerry Wood
$9,500,000
Nomar Garciaparra
$8,250,000
Todd Walker
$2,500,000
Joe Borowski
$2,300,000
Chad Fox
$575,000
Scott Williamson
$500,000
Total
$23,625,000
Posted by Byron at 6:30 PM | | |
With another off-day, and another frustrating defeat, I've decided to head back to the All-Star balloting booth. This time, I used ESPN's stats to evaluate my picks, so many of my votes are a bit more sabermetrically kosher. Rather than being limited to Avg, HR, RBI, and SB, I was able to evaluate my votes using OBP/SLG/OPS BB and SO. So, my picks have changed a bit. (The picks in italics have changed since my last ballot.)
| | | |
| --- | --- | --- |
| Position | American League | National League |
| First Base | Richie Sexson, SEA | Derrek Lee, CHC |
| Second Base | Brian Roberts, BAL | Jeff Kent, LAD |
| Third Base | Alex Rodriguez, NYY | Chipper Jones, ATL |
| Shortstop | Miguel Tejada, BAL | Clint Barmes, COL |
| Catcher | Jason Varitek, BOS | Paul Lo Duca, FLA |
| Outfielder | Ichiro!, SEA | Adam Dunn, CIN |
| Outfielder | Vladimir Guerrero, LAA | Cliff Floyd, NYM |
| Outfielder | Jacque Jones, MIN | Willy Taveras, HOU |
| Designated Hitter | Dmitri Young, DET | Our pitchers hit |
Teams with players receiving two votes: Mariners, Orioles.
Teams with players receiving one vote: Cubs, Dodgers, Braves, Rockies, Marlins, Reds, Mets, Astros, Yankees, Red Sox, Angels, Twins, Tigers.
Notes and discussion:
Players leaving my ballot were Paul Konerko, Ivan Rodriguez, Torii Hunter, Aramis Ramirez, Pat Burrell, Jason Lane, and Miguel Cabrera
Despite looking for any reason to not vote for Jeff Kent, he received my second consecutive all-star vote.
Alex Rodriguez got a borderline vote from me on my last ballot, but proved he was worth it this past week. Huge week, A-Rod is absolutely deserving this time around.
I almost voted for Jason Varitek last week, but in a muddled race, I gave the nod to my favorite catcher, Pudge Rodriguez. Well, Varitek has really improved his stats and he got the vote this week.
Pat Burrell was on-fire before my last ballot, so I voted for him. At that time, I wrote that "there aren't any sure-fire picks in the NL outfield [other than Burrell]." Well, now, there really aren't any. So, I went with some hot hands. Adam Dunn and Cliff Floyd both have OPS above 1.000, so they got my votes. Willy Taveras got the final vote on my ballot because of the three Cubs he gunned down at home plate over the weekend... and because he has 8 stolen bases in 80 AB.
At NL Shortsop, I voted for Clint Barmes... This will probably get me death threats from other members of the CBA who have decided that Neifi Perez deserves your All-Star vote.

In fact, I'll quote Billy Kelly who wrote: "Neifi is batting a robust: .366/.408/.549 and ranks 2nd among NL shortstops in the following categories: BA, OBP, HR, SLG, OPS, and RCAA, is 3rd in RBI's, and 4th in VORP."

To which I reply: Clint Barmes is batting a robust: .417/.473/.643 and ranks 1st among NL shortstops in the following categoreis: BA, OBP, HR, SLG, OPS, Runs, RBI, VORP, and is 2nd in Hits.

Did you see what I did there? I used a parallel structure, but plugged in Clint Barmes' numbers instead of Neifi Perez'... and Clint's numbers were all better.

OK, I'll cut out the sarcasm. The thing is, while I would love to see Neifi Perez be elected to the all-star team, I don't want it to be at the expense of Clint Barmes. Barmes is having one of the best seasons in baseball, and it isn't fair to deny him a starting spot because a career scrub is having an outstanding season in a major media market.
But, I only voted once.
OK, I lied, I actually voted twice, but the second time around I did vote for Neifi! and Aramis! and Corey! and the Burnitzalypse!
You too can vote for the All-Star starting lineups. I just ask that you keep my man Aramis Ramirez (and Neifi!) in mind.
Posted by Byron at 5:20 PM | | |
Sunday, May 1, 2005
May 1, 2005
Record: 12-12, Box MinuteMaid Park - Houston, TX
Reg #24
Chicago Cubs
3
Houston Astros
9
April 30, 2005
Record: 12-11, Box MinuteMaid Park - Houston, TX
Reg #23
Chicago Cubs
5
Houston Astros
7
April 29, 2005
Record: 12-10, Box MinuteMaid Park - Houston, TX
Reg #22
Chicago Cubs
3
Houston Astros
2
Posted by Byron at 4:17 PM | | |
---
Search
---
Recent Entries
---
Monthly Archives
---
---
Cubs Sale Articles