---
Editor's Pick:
Honorable Mention:
Newbies:
Soldiering On:
Cubs Sites:
Just Read 'em!
Conglomerates
NL Central
NL East
NL West
AL East
AL Central
AL West
Miscellany
Chicago Sports
News Sources
Rickey!
Monday, May 9, 2005
Rickey Henderson is back in baseball! Granted, its the A-level San Diego Surf-Dawgs... but the man of steal is back doing what he loves.
Excerpt from: Henderson signs contract to play in Class-A level
by: ESPN.com News Services, May 9, 2005
Henderson, a future Hall of Famer, has signed a contract to play for the Dawgs in the inaugural season of the Golden Baseball League, the San Diego Union-Tribune reports. An announcement is expected Monday.
"He still just wants to play," Surf Dawgs manager Terry Kennedy said. "I think he wants to be the first one to hit a home run, cross home plate and collect his salary check, pension and social security all at the same time."
Henderson, 46, will earn $3,000 a month as a member of the Class-A level independent team's roster. He is expected to play left field for the Surf Dawgs when the season opens on May 26 and has a lucrative marketing agreement with the league -- including a Rickey Henderson bobblehead night.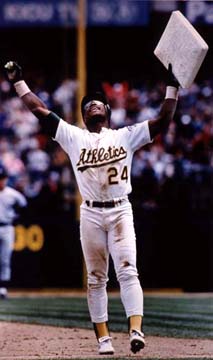 Rickey Henderson and Terry Kennedy on the same A-ball team? It sounds like the Surf-Dawgs are aiming to be the Newark Bears West.
On a more tragic note, ESPN reports that the Red Sox' clubhouse chef died after falling six floors from a public parking garage following the Celtics loss on Saturday.
Apparently, he had attended the Pacers, Celtics game with many of the Red Sox players. Although the case is being ruled an accident (I'm not alleging anything here), I'll put money on the fact that this gets turned into a Law And Order, Ripped from the Headlines TV show.
Cubs stuff: Jason Dubois gets to start! Woo! Ryan Dempster is the new closer. Woo? Jon Leicester is starting tonight... boo?
Well, at least the attend-o-meter is up-to-date!
Posted by Byron at May 9, 2005 1:46 PM | |
Subscribe to The Cubdom - get emails with the latest Cubs info and pictures
---
| | |
| --- | --- |
| This post has been tagged: | |
---
Search
---
Recent Entries
---
Monthly Archives
---
---
Cubs Sale Articles