A graphical look at Maddux' Career
Sunday, February 27, 2005
I wanted to do something a little different for my look at Greg Maddux. So rather than charting progressive statistics for the last three years, I figured we would look at Maddux' key stats over the course of his career.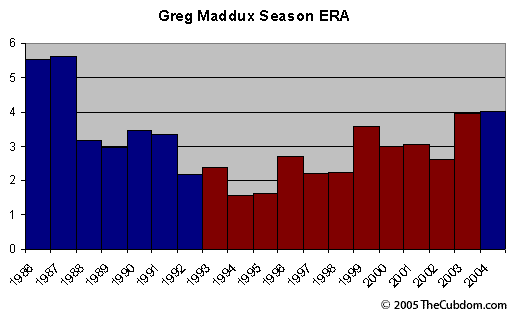 First, the blue bars are the seasons he played with the Cubs, the red seasons represent his time in Atlanta. I guess it looks like Maddux just got worse the longer he was in Atlanta...

Check out the axis labels. Maddux' ERA was below 4.00 each season from 1988 - 2003. From '92 - '99 he finished below 3.00 each year.
So, where do I see Maddux finishing this year? I *hope* he finishes with a 3.75, I wouldn't be suprised if he finished with a 4.25 ERA. Reasons? Eh? I don't know.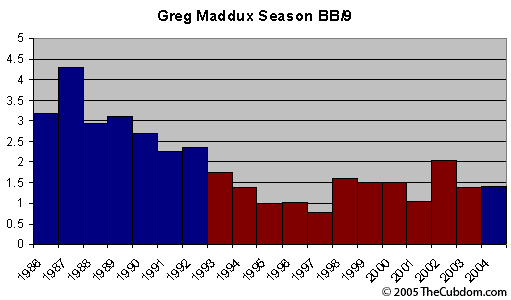 This chart suprised me a bit. First, because Maddux was still gaining his control from 1992 - 1995 while he was busy winning his four consecutive Cy Young awards. Second, I am suprised that his walk totals are as low as they are this late in his career. His walk totals for each of the last two years are approximately what they have been for the last decade.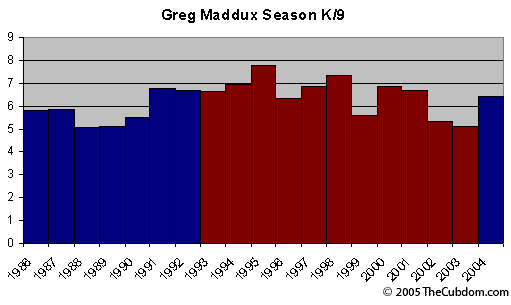 Sitting on the bench with Kerry Wood, Mark Prior, and Carlos Zambrano seemed to make a difference last year. Maddux K/9 rate jumped a strikeout per inning last year. My guess? The clubhouse pitcher's pool included strikeouts as one of the categories.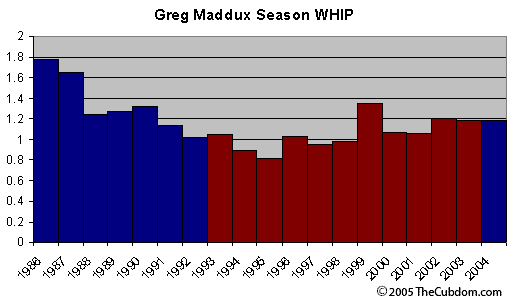 This chart is pretty much what I would have expected given the other charts we have seen. However, combined with Maddux continued low Walks per nine stat, we can correctly realize that the Professor's batting average against stat has been rising since the mid '90s.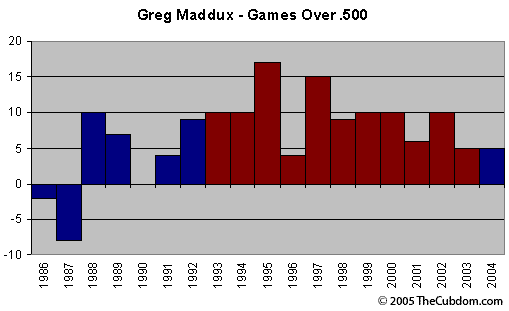 In view of the Cubs 89-73 finish in 2004. Maddux accounted for five of the 16 games above .500. Cover your ears statistical critics... this guy knows how to win. However of note, Zambrano finished 8 games over .500 and Prior 2. Is this stat worth anything really? Glendon Rusch and Jon Leicester both finished 4 games over .500.
So, maybe games over .500 in any given year aren't the best indicator of success, but lets look long term. For his career, Maddux comes in at a stellar 305-174. The bad news? Of those 131 career games over .500 only 25 were in a Cubs uniform. Thanks Larry Himes... that sure was a good call!
Greg the Cub, 111 - 86, +25, .563 winning %
Greg the Brave, 194 - 88, +106, .688 winning %
Greg the Maddux, 305 - 174, +131, .637 winning %
Posted by Byron at February 27, 2005 5:56 PM | |
Subscribe to The Cubdom - get emails with the latest Cubs info and pictures
---
| | |
| --- | --- |
| This post has been tagged: | |