---
Editor's Pick:
Honorable Mention:
Newbies:
Soldiering On:
Cubs Sites:
Just Read 'em!
Conglomerates
NL Central
NL East
NL West
AL East
AL Central
AL West
Miscellany
Chicago Sports
News Sources
Cubbie Koolaid - The Movie
Wednesday, March 2, 2005
I needed a break today, and its absolutely freezing... so I made an epic motion picture! Presenting, "I drank the Cubbie Kool-aid!"
Starring: Byron Clarke
Directed by: Byron Clarke
Screen play by: Byron Clarke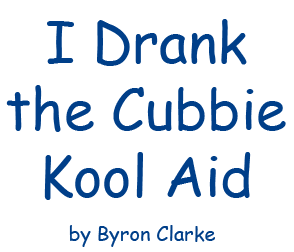 Click to View in New Window. (105K)
Disclaimer: By following this link, you are consenting to me wasting your time.
Posted by Byron at March 2, 2005 5:02 PM | |
Subscribe to The Cubdom - get emails with the latest Cubs info and pictures
---
| | |
| --- | --- |
| This post has been tagged: | |
---
Search
---
Recent Entries
---
Monthly Archives
---
---
Cubs Sale Articles