Oracle smoracle
Thursday, April 21, 2005
Well, I tried being an oracle... haven't been doing so well. I predicted a series split with the Cardinals, but got both games wrong. I also missed on Monday, and last Friday. So, I guess that makes my predictive powers 3 for seven this week. Oh well, maybe I'll get better.
Its been a long time since I featured one of my trademark colorful charts which conveys fairly routine information. So I hammered one up for us today. Its a reverse ogive of the Cubs' pitcher's ERA so far this season. Most of our lefties are looking pretty good.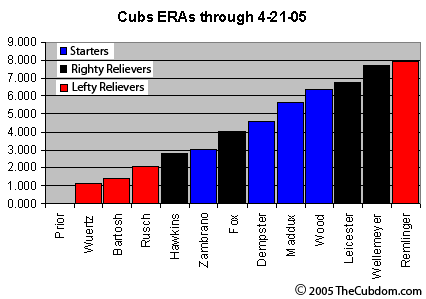 Looking Back: The Cubs just split a series with the Cardinals. I haven't had an opportunity to watch today's matinee yet, but hopefully I'll catch the repeat on Comcast later this evening.
Last night's game featured 8 and two-thirds innings of Cy Zambrano. Heckuva game. Carlos was "Cy quality" again this start... hopefully he'll stop doing the on-again, off-again routine with his next start.
Derrek Lee, unbelievably good. That Derrek Lee, he's sooo HHHHHHOT! He is 25/60 (.417 AVG), with 11 walks (.500 OBP) after today's game. He has also hit 4 Dingers, 17 RBI, and 43 Total Bases (.717 SLG) to give him an unbelievable 1.217 OPS.
He is also running well, having stolen 3 bases without being caught. This gives him an OPSS of 1.267! Unbelievable.
Will it never end? Nomar is injured... again. He hurt his groin last night trying to get out of the slightly soggy batters box at Busch (See TCR for complete coverage). This removes the second half of our middle infield... and gives Dusty the opportunity to play Neifi Perez some more.
Posted by Byron at April 21, 2005 3:33 PM | |
Subscribe to The Cubdom - get emails with the latest Cubs info and pictures
---
| | |
| --- | --- |
| This post has been tagged: | |