---
Editor's Pick:
Honorable Mention:
Newbies:
Soldiering On:
Cubs Sites:
Just Read 'em!
Conglomerates
NL Central
NL East
NL West
AL East
AL Central
AL West
Miscellany
Chicago Sports
News Sources
Cubs reach agreement with Tom Gramatis, no obstructions planned
Sunday, May 4, 2008
Fran Spielman reports in the Sun-Times that the Cubs have reached an agreement with Tom Gramatis, the owner of the Ivy League Baseball Club (3637 N. Sheffield Ave), the Sheffield Baseball Club (3619 N. Sheffield Ave), and the Wrigley Field Rooftop Club (3617 N. Sheffield Ave).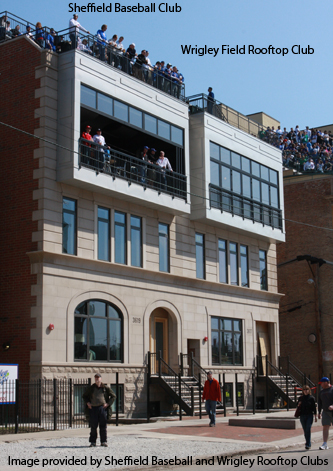 The new agreement seems to be fair. It exempts the Ivy League Baseball Club from the 17% revenue sharing agreement the other rooftops have in favor of a flat fee. This is because the Ivy League Baseball Club has a lower roof than the surrounding rooftops, so it's view was obstructed by the 2006 bleacher expansion. In return for the concession on the Ivy League club, Gramatis agreed to submit his new rooftops to the standard revenue sharing program.
Here's a picture I took last month (below). You can clearly see 3639 Wrigley Rooftop and the Ivy League Baseball Club are under construction. 3639 Wrigley Rooftop has a new hulking bleacher on top, but I'm not sure what the plan is to improve the view from the Ivy League Club.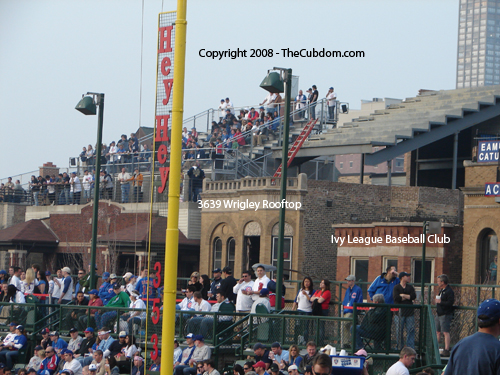 The other interesting nugget in the article is an estimate that the total revenues of all the rooftops are around $18 million, making the Cubs' take $3 million.
For more information on the Cubs Rooftops, check out the Wrigley Field Rooftop Directory.
Posted by Byron at May 4, 2008 2:25 PM | |
Subscribe to The Cubdom - get emails with the latest Cubs info and pictures
---
| | |
| --- | --- |
| This post has been tagged: | |
---
Search
---
Recent Entries
---
Monthly Archives
---
---
Cubs Sale Articles