---
Editor's Pick:
Honorable Mention:
Newbies:
Soldiering On:
Cubs Sites:
Just Read 'em!
Conglomerates
NL Central
NL East
NL West
AL East
AL Central
AL West
Miscellany
Chicago Sports
News Sources
Chicago Fire vs. Houston Dynamo, May 17, 2008
Sunday, May 18, 2008
The Fire faced off against the Houston Dynamo last night at Toyota Park, and as usual, I was in attendance.
The weather yesterday afternoon was a beautiful 70 degrees and sunny, so Toyota Park was idyllic right before kickoff.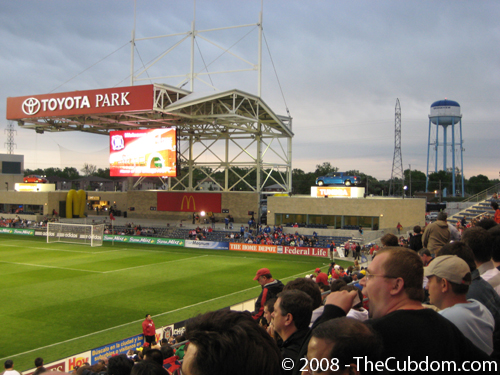 Toyota Park at dusk
Section 8 was in full throat and apparently decided it was a good time to honor Peter Wilt, I'm assuming they want him back as the team Presidency is currently vacant. On a side note, they were very loud last night and could be clearly heard, trumpet and all, at mid-field where I was sitting.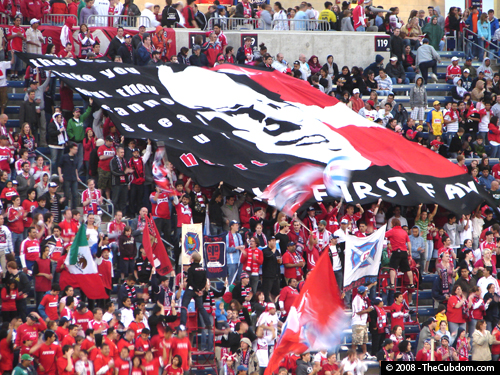 Section 8 unfurls their Peter Wilt 'First Fan' banner
The great weather, and my great mood wouldn't last long however. God soon began to pour water down from the heavens, which made the pitch wet. In the 17th minute, Ricardo Clark (Houston) had a great look from the top of the penalty area, as he approached the ball, I had fear flash before my eyes, but Chris Rolfe sacrificed his body and dove in front of the smash. With relief, I watched as the ball deflected high into the air, but John Busch was slipping on the turf and the ball bounced into the back of the net just out of reach of the best goalkeeper in MLS.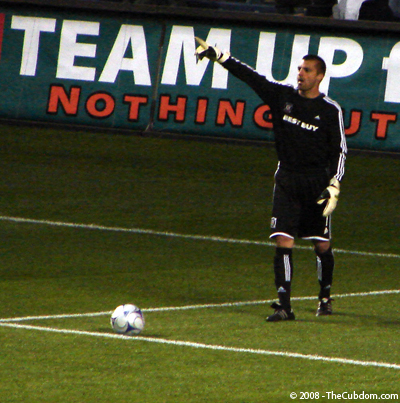 Jon Busch is the best goalkeeper in MLS.
Later, in the 28th minute, someone fouled a Fire player (the details are irrelevant), and a free kick was awarded to the Fire. There's no reason to describe Cuauhtemoc Blanco's assist or Calen Carr's goal, because I happened to have caught it on video.

Cuauhtemoc Blanco takes a free kick and Calen Carr heads it in. Toyota Park erupts in joy!
In the second half, Wilman Conde was subbed in. I think it was only his second time seeing action this year... and you didn't believe me when I said it was pouring.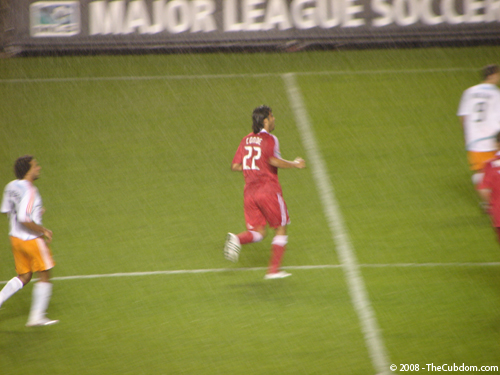 Wilman Conde, playing in the rain.
Anyhow, in the 84th minute, Conde fouled someone and the referee pulled him aside to lecture him, all the while allowing Houston to take the free kick. Surprise, surprise, with Conde out of position, the Dynamo scored, giving them the 2-1 victory. While I'm busy complaining about the referee, I've got to say, he was atrocious last night.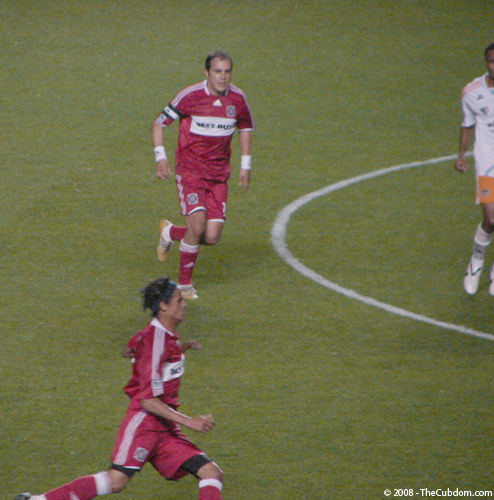 Cuauhtemoc Blanco and Calen Carr
Posted by Byron at May 18, 2008 1:36 PM | |
Subscribe to The Cubdom - get emails with the latest Cubs info and pictures
---
| | |
| --- | --- |
| This post has been tagged: | |
---
Search
---
Recent Entries
---
Monthly Archives
---
---
Cubs Sale Articles