---
Editor's Pick:
Honorable Mention:
Newbies:
Soldiering On:
Cubs Sites:
Just Read 'em!
Conglomerates
NL Central
NL East
NL West
AL East
AL Central
AL West
Miscellany
Chicago Sports
News Sources
What happened to the Budweiser Building?
Tuesday, April 14, 2009
If you're like me, opening day is always terrific. This year, I played hooky from work and spent mine watching the game from the Wrigley Done Right rooftop across the street. In between burgers, brats, beer, and women (who am I kidding?), my friend and I watched Ted Lilly take a no-no deep into the sixth. Sure, the weather was miserable, but we had a blast regardless.
Anyhow, as I was taking in the majesty that is Wrigleyville, I noticed a massive new advertisement for the Horseshoe Casino where the old Budweiser building used to be. I had heard rumors last year that their 20 year deal was up, but the sight of black and gold urging me to throw my money away at a gaming table was not nearly as pleasant as the red and white urging me to throw my money away on beer.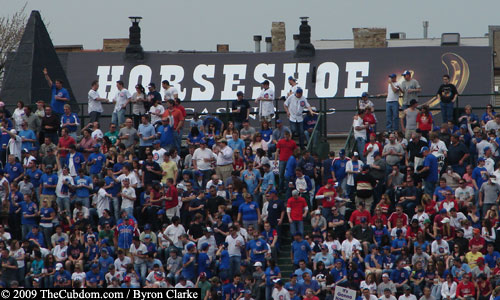 In 2009, the old Budweiser advertisement on top of this apartment building was replaced with a new advertisement for Jack Binion's Horseshoe Casino.
Image courtesy of The Cubdom Photo Gallery
So, like the seasoned journalist I'm not, I googled the ad change and here's what I found.
Keith Levy, vice president of marketing for Anheuser-Busch, said the brewer decided to stop paying for the signage because A-B continued to have a strong presence in the stadium without it and because the building owner's asking price "far exceeded" what A-B was willing to pay for it. He declined to specify the dollar amount.
But it turns out that's only half the story. Sure, the rooftop owner jacked up the price during the middle of the recession (and apparently found a buyer)... but possibly not everything was so rosy between the rooftop owner and Budweiser.
In September, Anheuser-Busch sued the building's owner, Tom Gramatis, after he covered up the sign with a tarp. Gramatis said he covered the sign because the brewer was allegedly late in paying him, a claim A-B denied. A judge ordered the tarp's removal.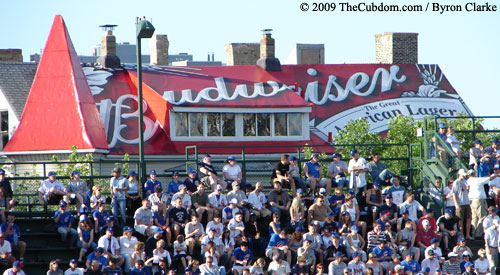 The Budweiser Building photographed June 10, 2008.
Image courtesy of The Cubdom Photo Gallery
Posted by Byron at April 14, 2009 12:51 PM | |
Subscribe to The Cubdom - get emails with the latest Cubs info and pictures
---
---
Search
---
Recent Entries
---
Monthly Archives
---
---
Cubs Sale Articles