---
Editor's Pick:
Honorable Mention:
Newbies:
Soldiering On:
Cubs Sites:
Just Read 'em!
Conglomerates
NL Central
NL East
NL West
AL East
AL Central
AL West
Miscellany
Chicago Sports
News Sources
Cubs beat Cardinals with Aramis Ramirez walk-off home run
Saturday, April 18, 2009
I had the good fortune to attend today's game with three of my friends. We had sweet seats and the weather was phenomenal, considering it is April 18th. The game itself was riveting. Ryan Dempster pitched poorly, and the Cubs were in come-from-behind mode early on... then they got the lead, lost it, tied it up, and finally won the game with a walk-off home run by Aramis Ramirez. Wrigley shook as he rounded the bases and leapt into his teammates arms at home plate.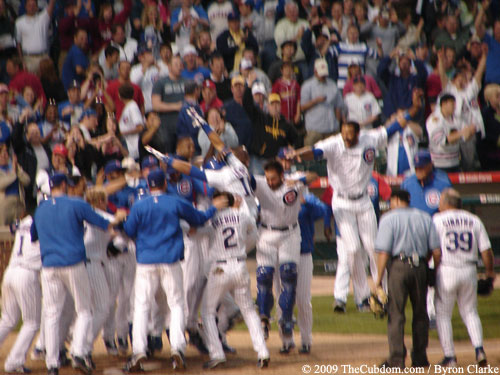 Aramis Ramirez leaps toward home plate as his teammates celebrate his 11th inning walk-off home run to beat the Cardinals 7-5.
Image courtesy of The Cubdom Photo Gallery
Posted by Byron at April 18, 2009 11:53 PM | |
Subscribe to The Cubdom - get emails with the latest Cubs info and pictures
---
---
Search
---
Recent Entries
---
Monthly Archives
---
---
Cubs Sale Articles