---
Editor's Pick:
Honorable Mention:
Newbies:
Soldiering On:
Cubs Sites:
Just Read 'em!
Conglomerates
NL Central
NL East
NL West
AL East
AL Central
AL West
Miscellany
Chicago Sports
News Sources
Geovany Soto to miss a few games
Thursday, April 9, 2009
Comcast SportsNet Chicago is reporting that Geovany Soto will miss the next two or three games. He strained his shoulder on Tuesday, sat out Wednesday, and saw the team doctor in Chicago today.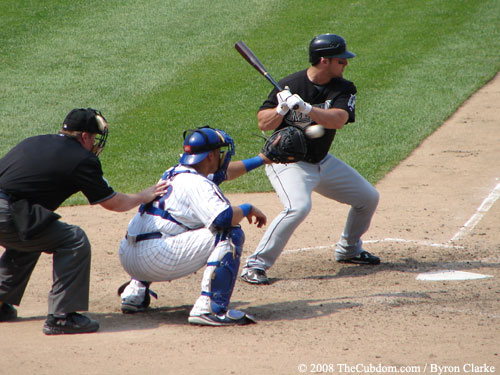 As a follow-up, the Pirates lost today leaving the Cubs in sole possession of the NL Central division lead.
Posted by Byron at April 9, 2009 7:08 PM | |
Subscribe to The Cubdom - get emails with the latest Cubs info and pictures
---
---
Search
---
Recent Entries
---
Monthly Archives
---
---
Cubs Sale Articles