---
Editor's Pick:
Honorable Mention:
Newbies:
Soldiering On:
Cubs Sites:
Just Read 'em!
Conglomerates
NL Central
NL East
NL West
AL East
AL Central
AL West
Miscellany
Chicago Sports
News Sources
Cubs Sox coincidence, 10 years later
Friday, June 20, 2008
As the Cubs and Sox get underway this weekend, it's a bizarre coincidence that both managers from the 1998 showdown have recently found their first managerial jobs since the last time they were with their respective clubs.
Earlier this week, the Mets fired Willie Randolph and have replaced him on an interim basis with Jerry Manuel. Manuel has not been a Major League manager since the White Sox let him go in 2003.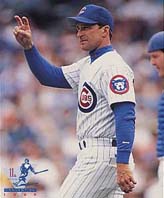 In a freaky coincidence, former Cubs manager Jim Riggleman finds himself in the mirror reflection of Manuel once more. The Mariners fired Bill Bavasi on Monday and interim GM Lee Pelekoudas relieved manager John McLaren of his duties. Who replaced McLaren? Not former Cubs hitting coach Jeff Pentland, who was also fired, but Riggleman. Like Manuel, Riggleman hasn't managed in the majors since he was replaced by Don Baylor after a disappointing 1999 season.
Despite each receiving interim tags, neither former Chicago manager may be there long. In Seattle, they're apparently considering anyone who's been affiliated with Major League Baseball in the last two decades... including the Peoria Chiefs manager, Ryne Sandberg.
From the Seattle Times
One more intriguing wild-card name: Ryne Sandberg, Hall of Famer and pride of Spokane, now managing, and reportedly well, in the Midwest League with the Peoria Chiefs, a Cubs Class A team.
What do you think, should Ryno take the job in Seattle if it's offered to him? Would he?
Posted by Byron at June 20, 2008 1:29 PM | |
Subscribe to The Cubdom - get emails with the latest Cubs info and pictures
---
---
Search
---
Recent Entries
---
Monthly Archives
---
---
Cubs Sale Articles