Cy Zambrano
Thursday, January 27, 2005
I am so tired of Sammy Sosa rumors, I could... (this from the guy who dreamed up 28 trade scenarios... yeah, I know I'm part of the problem.)
Anyhow, with pitchers and catchers drinking their last off-season YooHoo's, its time to start reviewing some personnel profiles. For those of you breathlessly awaiting the final installment of my Cubs Convention reporting, I'll probably get to it this weekend.
In the mean time, I'll post some charts of Carlos Zambrano's rate stats over the past three years.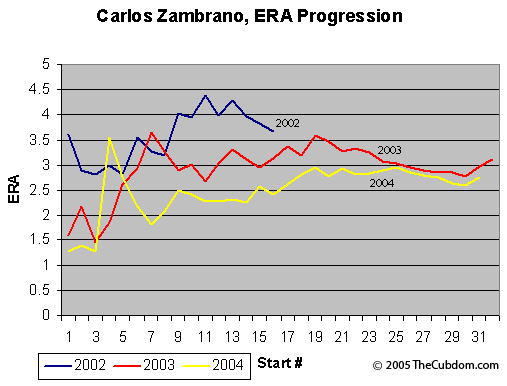 Zambrano's ERA progression over the past three years is impressive and indicates a pretty good career path at this point. Even in his first season as a starter (Zambrano started 16 in 2002) he had an ERA below 4.00. In each season he has lowered that ERA and has been consistent throughout the year (i.e. not a great start and lousy finish or vice versa).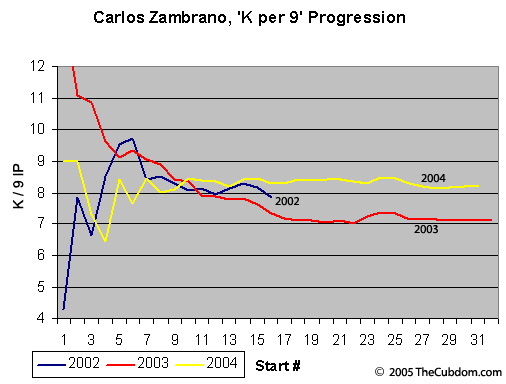 Again, Z's strikeouts per nine ratio is also indicative of good things. Although it declined in 2003, he lifted it nearly a full K/9 in 2004. Furthermore, Zambrano's ratio is so high that quibbling over a half point isn't worth your time.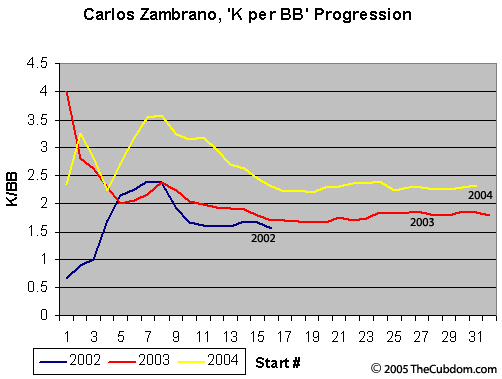 Like the other rate stats, the K/BB shows improvment each year. Carlos is improving his control.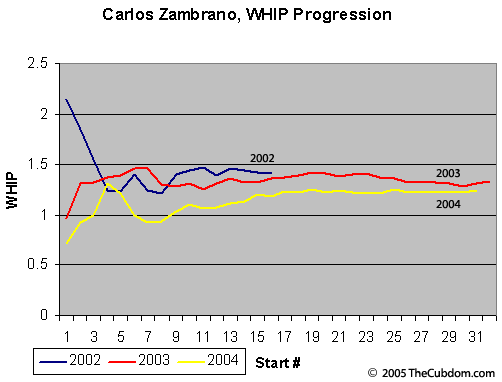 And finally, a quick peak at WHIP reveals the same steady progression over his three years as a starter.
Posted by Byron at January 27, 2005 9:47 PM | |
Subscribe to The Cubdom - get emails with the latest Cubs info and pictures
---
| | |
| --- | --- |
| This post has been tagged: | |