Cubs Convention 2005: Unique Memorabilia
Wednesday, January 26, 2005
On Friday of the convention, I went strolling through the exhibition halls full of Cubs memorabilia. Of course, there was your standard fare, but there were also some truly unique pieces of memorabilia available for sale. So, I snapped some photos and took some notes, and now I present them here for your enjoyment.

Item #1: The coolest thing I saw at the convention?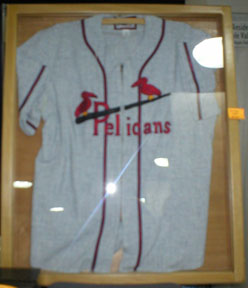 Of course the Pelicans jersey wasn't for sale, but the display case was. Yeah, I know it looks like a Cardinals jersey, but I still think its awesome. The vendor selling the display case had a good selection of cases, most for baseballs. His store is called Lakeside Sports and he is located in Apple Valley, MN (952)-270-5591. If you call him up, ask him to give me that jersey!
---
Item #2: Some incredibly beautiful large format Cubs images.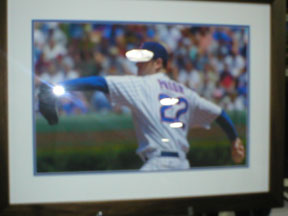 This is a picture of the Prior photograph that was on display. I talked to the gentleman running this booth and he explained that he had started taking photos at games as a hobby. After several friends told him he was really good, he applied to the MLBPA (players association) to get a license to sell the images. After a year, he got the paperwork cleared up and now travels around the bigs taking pictures and selling them. He currently does it part-time. You can find his website at: www.baseballphotos.com.
The images are taken with a digital camera and printed out using an Epson printer. It is unbelievable how clear and bright these photos are. Oh yeah, the prices were listed as: $85 for a 13x19 photo, and $125 for a 17x22.
---
Item #3: A bat and base chair.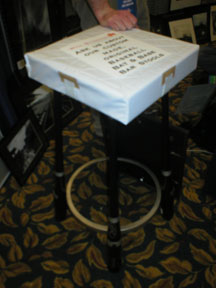 This chair has a base for its seat, and bats for its legs. Aside from looking really cool, I thought it would be a bit more comfortable than your standard stool... but I didn't have enough courage to ask the guy if I could sit on it.
Although I chose the stool to feature, the booth was mainly selling some excellent Cubs photography. Check them out at www.willbyington.com
---
Item #4: Cubs mural type paintings.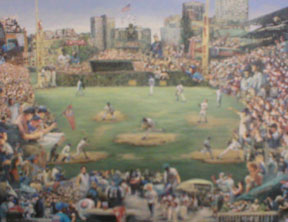 Melanie Moore, an artist from Chicago had several paintings on display. The one pictured above is a mural-type painting of fans and goings-on at Wrigley Field. I'm certainly no art critic, but I wouldn't have minded having one of these hang on my wall. This website is her 'virtual gallery'.
---
Item #5: An awesome Ryno Montage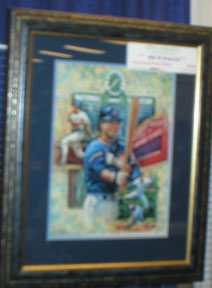 This montage of the greatest second baseman to ever play was done by an artist named John Hanley. Check out his website: www.johnhanleyartist.com. As for price, I couldn't believe the $100 'Cubs Convention Special Price.' When you consider a jersey will run you $120 or so, I would have plunked down the money for this picture if I weren't an impoverished college student.
---
Item #6: Ryne Sandberg, Andre Dawson Throwback Jerseys, and 1992 All-Star Game Flag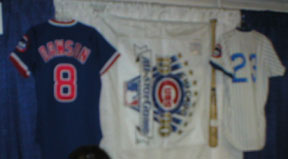 The booth where these jerseys were for sale said their website was www.thebestofyesterday.com, but there is no site. Still, thats probably my favorite Ryno jersey, so although its not terribly unique, its still unique. Confused? Moving on...
---
Item #7: Chicago Cubs Bath Mat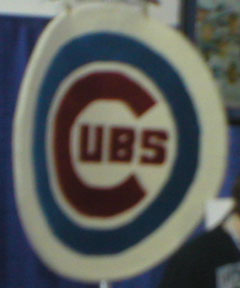 I think the point of this photo is: Anything with a Cubs logo on it will sell. The bath mat is available at www.fascollectibles.com.
---
Item #8: Chicago Cubs Pez Dispenser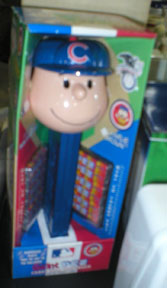 Again... anything with a Cubs logo will sell. This lovely Cubs Pez dispenser, and a foot-and-a-half porcelain Cubby bear are brought to you by David and Dads Sportscards Memorabilia out of Glencoe, IL. 847-835-1120.
---
Item #9: Chicago Cubs Magnets
Sorry, no picture, but I seriously thought about buying one of these. The company, www.premiermagnets.com, takes photos and sticks them on magnets. Its pretty cool, and they had a huge selection of Cubs stuff at the convention.
---
Item #10: Wrigley Field, the unauthorized biography
Again, no picture, but its a book. This book was written by a fellow named Stuart Shea and might be worth a look-see. He has a website at www.wrigleybook.com.
Posted by Byron at January 26, 2005 1:59 AM | |
Subscribe to The Cubdom - get emails with the latest Cubs info and pictures
---
| | |
| --- | --- |
| This post has been tagged: | |