---
Editor's Pick:
Honorable Mention:
Newbies:
Soldiering On:
Cubs Sites:
Just Read 'em!
Conglomerates
NL Central
NL East
NL West
AL East
AL Central
AL West
Miscellany
Chicago Sports
News Sources
A Chink in the Armor
Wednesday, January 12, 2005
Much has been written to chronicle the Cubs efforts to acquire a left fielder for next year, but I have a persistent concern about the pitching rotation.
Although I agreed mostheartedly with the decision to allow Matt Clement for leave to Boston (for budgetary considerations), I am worried about Glendon Rusch as the #5 starter. I believe the Cubs are putting too much faith in one year of excellent performance, rather than heeding a sizable body of mediocre to bad work.
Rusch is the definition of a journeyman, a good guy yes, but a journeyman nonetheless. Rusch' career ERA is 4.97 with a 48-78 record. Although he posted a 3.47 ERA in 2004, I have seen nothing to suggest that he will continue performing a point and a half below his career ERA. I think its much more likely Rusch will post a 4.50 ERA in 2005 and lose more games than he wins.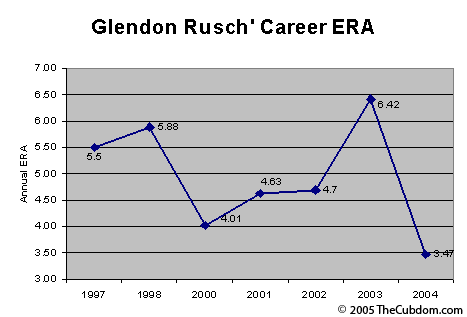 A look at Rusch' career stats also raises the question of durability. In the years when he was primarily a starting pitcher, Rusch averaged 5.2, 6.1, 6.1, 5.2, and 6.1 innings per appearance. This average is slightly below the 6.1 innings per appearance the rest of the Cubs starters logged in 2004. However, in only one year has Rusch pitched 200+ innings.
Is there a fix?
Not necessarily, but opportunities will present themselves. I would have loved to see the Cubs make a push for Wade Miller, but that ship has sailed, so I won't cry over spilt milk.
Some of the Prospects
Andy Ashby is available. Although he is 37 and will turn 38 in July, Ashby has had a good career and could probably be signed to a minor league deal. Ashby had an ERA of 3.86 in 2001, 3.91 in 2002, and 5.18 in limited action in 2003 before undergoing Tommy John surgery that caused him to miss the rest of '03, and all but 2 innings in 2004. The risk is minimal if you can sign him to a minor league deal, and the payoff could be excellent.
Omar Daal is another player who could possibly sign a 1 year or minor league deal. Daal had a 4.46 ERA in 2001, a 3.91 ERA in 2002, and a 6.34 ERA before being sidelined with shoulder problems midway through 2003. Like Ashby he is attempting a comeback. Unlike Ashby, he is only 32 and throws using his left arm... a career extender if there ever was one.
Anyhow, I'd like to see Hendry bring in another established veteran to camp and give Rusch a run for his money. I liked having Rusch come out of the pen as the long reliever/spot starter in 2004. I just don't think he's gonna do it as the #5 starter.
Posted by Byron at January 12, 2005 9:10 AM | |
Subscribe to The Cubdom - get emails with the latest Cubs info and pictures
---
| | |
| --- | --- |
| This post has been tagged: | |
---
Search
---
Recent Entries
---
Monthly Archives
---
---
Cubs Sale Articles