---
Editor's Pick:
Honorable Mention:
Newbies:
Soldiering On:
Cubs Sites:
Just Read 'em!
Conglomerates
NL Central
NL East
NL West
AL East
AL Central
AL West
Miscellany
Chicago Sports
News Sources
Cubs Win #54, Maddux gets #299
Tuesday, July 27, 2004
Back up in Milwaukee, for another game tonight. The Cubs made it easy, posting 2 runs in the first, 2 in the third, and 3 more in the 9th. With an early lead, Greg Maddux pitched excellently for his third straight start, picking up his 10th win this season and 299th career win. The Cubs finished the game with a 7-1 lead.
Maddux' line tonight was 6 innings pitched, 1 run on 4 hits, including a solo home run to Russel Branyan in the 6th inning. He struck out 6 and walked 1, running his record to 10-7 and dropping his season ERA to 3.91. Also of note, Maddux pitched only 79 pitches before being pulled for pinch hitter Tom Goodwin in the top of the seventh.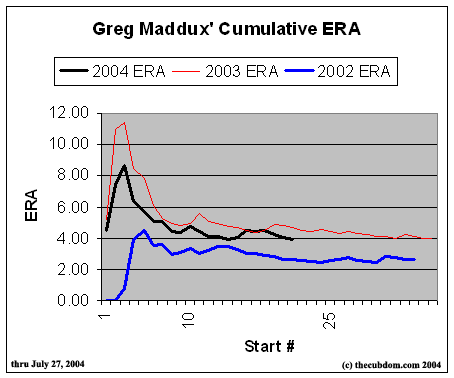 On the offensive side, Todd Walker, Sammy Sosa, and Derrek Lee all went 2 for 4, with at least one RBI.
Wrigley Field North... The Brewers have had 8 games this season with home attendance of 40,000+. Opening day, Saturday games in June and July, and 5 games against the Cubs. The Cubs by contrast have had fourteen 40,000+ crowds at Wrigley with official capacity of 39,558.
---
I wanted to add these two charts to yestereday's post. The first chart is a bar chart (histogram) showing frequency of the Cubs runs scored per game. (For example, the Cubs have scored 0 runs 9 times... etc.)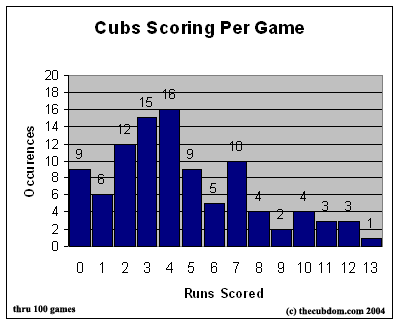 This second graph is the same as the first, except it depicts runs allowed per game by the pitchers and defense.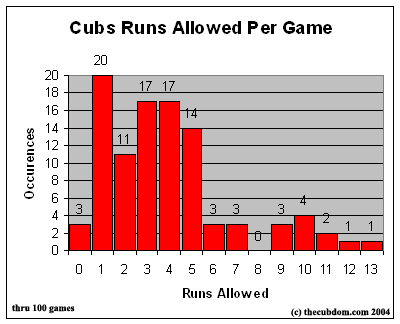 Looking at the two together, its obvious to see the Cubs have outscored their opponents, and it also shows that the Cubs pitching has been more consistent than the offense. (In 83% of all games, the Cubs pitching has limited opponents to 5 runs or less.)
---
After watching Baseball Tonight yesterday, I went back and watched the highlights of the White Sox vs. Twins game yesterday. The Twins lost their second baseman to a broken collarbone when he was trying to field a Willie Harris bunt.
Later in the game, one of my favorite players, Torii Hunter, sent White Sox catcher Jaime Burke to the hospital on a collision at the plate. Only, it looked pretty clear to me that Hunter took a cheap shot and went out of his way to hit Burke... tsk, tsk, tsk Torii.
Posted by Byron at July 27, 2004 10:38 PM | |
Subscribe to The Cubdom - get emails with the latest Cubs info and pictures
---
| | |
| --- | --- |
| This post has been tagged: | |
---
Search
---
Recent Entries
---
Monthly Archives
---
---
Cubs Sale Articles