Mike Quade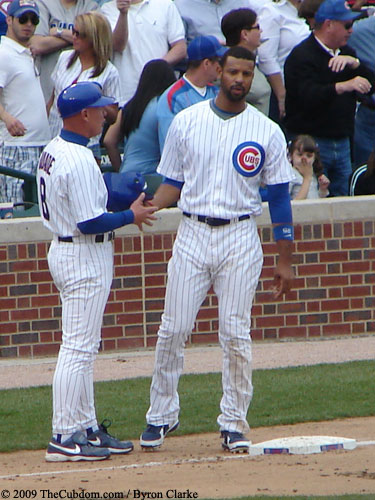 Cubs thirdbase coach Mike Quade offers Derrek Lee a few words of encouragement after Lee was thrown out trying to stretch a double into a triple... he probably said something like, "Cheer up Derrek, you just drove in two runs."
See more
Mike Quade photos
in the Cubdom Photo Gallery
Third Base Coach Chicago Cubs
Cubs AAA Manager Mike Quade was promoted to Third Base Coach for the Cubs 2007 season. Since being promoted, Quade has consistently shown good judgement in sending runners. He tends to be less aggressive, but will throw caution to the wind occassionally when games are tight.
Quade has seventeen years of minor league managing experience, and three years of experience as first base coach for the Oakland Athletics. In his managerial career, he has compiled a 1,213-1,165 (a .510 winning percentage) record. Quade has also led his teams to 6 (full or partial season) first place finishes. His teams have reached their League Championship Series four times, and he has two League titles, including a 1999 AAA World Series Title with the Vancouver Canadians.
2003 - 2006
Quade, who is relatively unknown to most Cubs fans, has managed the Iowa Cubs for the past four years. This year, the AAA affiliate went 76-68 (.529) en route to a first-place tie in the American Conference of the Pacific Coast League. During his tenure in Iowa, Quade has had a winning record twice (2004 and 2006) and an overall record of (.508).
1996 - 2002
Before being hired into the Cubs organization, Quade worked for seven years in the Oakland A's organization. He started in 1996 as the manager of the West Michigan Whitecaps in the Midwest League (A). They finished with a record of 77-61 (.558 winning percentage) and won the League Championship Series.
The followying year, Quade was promoted to manager of the Huntsville Stars of the Southern League (AA). The Stars finished the 1997 season with a 77-62 (.554) record, but lost the League Championship series.
In 1998, Quade managed the Edmonton Trappers of the Pacific Coast League (AAA). That club finished in third place with a 76-67 record (.531).
In 1999, Quade managed the Vancouver Canadians in the PCL. There, he returned to his winning ways, leading the Canadians to an 84-58 (.592) first place finish. In the post-season, the Canadians won the Pacific Coast League title.
Following four consecutive winning seasons, Quade became the A's first base coach under Art Howe. During the following three seasons, the A's won two AL West Division titles and won a wild card. In 2002, Art Howe was fired and Quade moved on from the A's organization to the Cubs.
1994 - 1995
Quade managed the AAA Scranton Wilkes-Barre Red Barons of the International League. Finished 1994 with a 62-80 (.437) record. In 1995, the Red Barons improved, finishing 70-72 (.493).