---
Editor's Pick:
Honorable Mention:
Newbies:
Soldiering On:
Cubs Sites:
Just Read 'em!
Conglomerates
NL Central
NL East
NL West
AL East
AL Central
AL West
Miscellany
Chicago Sports
News Sources
Let's all pile on Milton!
Friday, May 15, 2009
Torii Hunter, one of my favorite players, won't even consider playing for the Cubs. He's heard the stories from former teammates LaTroy Hawkins and Jacque Jones. The Wrigley faithful are racist, you'll get hate mail, it's almost as bad as Boston, etc., etc. The thing that never gets reported is that the mistreatment extends to the local media. I've always felt LaTroy and Jacque were given unnecessarily harsh treatment, especially by some of the sports talk-jocks in this town.
Now, along comes Milton Bradley. He gets in an argument with an umpire, and according to Bradley, the umpire initiates contact with him during the argument. MLB suspends Bradley for two games, and he thinks it's patently unfair, so he appeals the suspension. When the suspension is reduced to one game, Bradley complains that he still didn't get a fair shake... and here's the shocker to no one, especially Torii Hunter, LaTroy Hawkins, Jacque Jones, and your's truly: The Chicago media starts harping on why Milton Bradley is selfish.
These are the kinds of articles that are really quite unfair. I normally like Steve Rosenbloom, but today's comments are wrong. If Milton Bradley thinks he has been wronged, he has every right to appeal his suspension.
Sure, I would have preferred Milton take his two game suspension while he was hurt and would otherwise have missed the game, but that's like agreeing to an unfair suspension from work while you would otherwise be on vacation. Yeah, you weren't going to come in anyhow, but if the suspension is unfair, then you fight it. We don't stand for injustice in our every day lives, but we demand it from our sports stars?
If Milton's sense of personal integrity demands that he not get pushed around by MLB, then let him exercise his right of due process, even if it causes him to miss an extra game. (Because we were certainly expecting him to start all 162 games this year.)
Alright /rant. I disagree with Steve. I'm sure some will disagree with me. The important part is that we let MB have a day off, and we close that .5 game gap with the Brewardinals and reclaim our rightful place atop the central.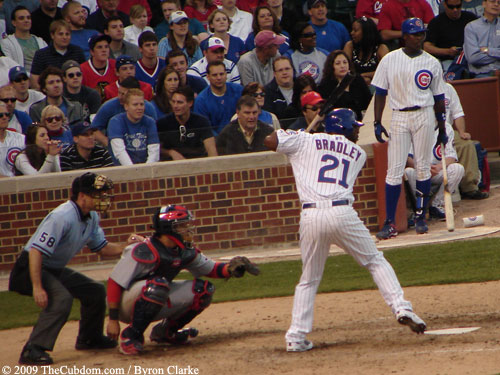 Milton Bradley bats against the Cardinals at Wrigley Field.
Image courtesy of The Cubdom Photo Gallery
Posted by Byron at May 15, 2009 8:00 AM | |
Subscribe to The Cubdom - get emails with the latest Cubs info and pictures
---
---
Search
---
Recent Entries
---
Monthly Archives
---
---
Cubs Sale Articles