---
Editor's Pick:
Honorable Mention:
Newbies:
Soldiering On:
Cubs Sites:
Just Read 'em!
Conglomerates
NL Central
NL East
NL West
AL East
AL Central
AL West
Miscellany
Chicago Sports
News Sources
Chicago Fire 1, NY Red Bulls 0
Sunday, April 5, 2009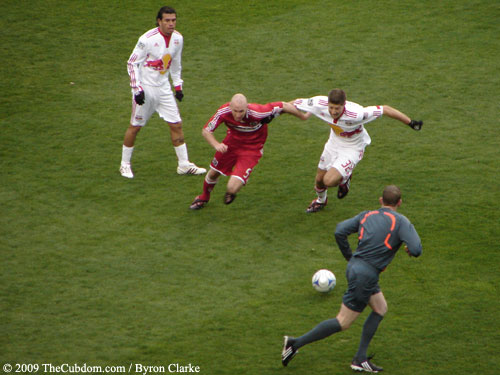 April 5, 2009 - The Chicago Fire take on the New York Red Bulls at Toyota Park.
The Fire opened their home schedule against the Red Bulls today. It was freezing at Toyota Park, but the teams played with enough energy to keep the game flowing well. (Restarts were a little sluggish, but that's to be expected in the rain/sleet, wind, and cold.)
The match got off to a poor start when John Thorrington was given a red card in the 14th minute for a hard tackle from behind on Macoumba Kandji. The tackle definitely deserved a card, but the color was wrong... and to add insult to injury, referred Tim Weyland had missed a clear hand-ball seconds before the play (which incidentally sprung the attack that forced Thorrington's tackle).
Anyhow, with the Fire playing short-handed, I was thinking about last year when the Fire went to NY, the Red Bulls were red-carded early in the match, and the Fire went on to win 4-0. Fortunately, the Fire's defense was solid, and John Busch recorded his first clean sheet of the season.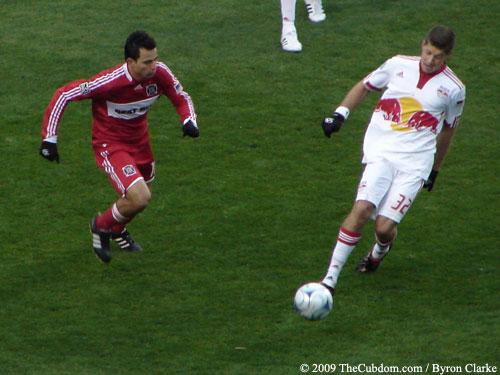 The Fire scored when Marco Pappa was able to get off a clear shot from approximately 17 yards out. The ball hit off the left post, ricocheted to the right post, and barely tucked into the net before bouncing out of the goal.
The other thing to be said is that the wind was blowing (to the south and west) viciously all day. I didn't expect either team to be able to put the ball in the North net, but that's just where Pappa's goal went. (I also think this is Pappa's first goal as a member of the Fire.)
Of note, Chris Rolfe was again subbed in during the 70th minute. Cuauhtemoc Blanco did not play... and I don't believe he's injured. Austin Washington also saw time as a late sub for Pappa.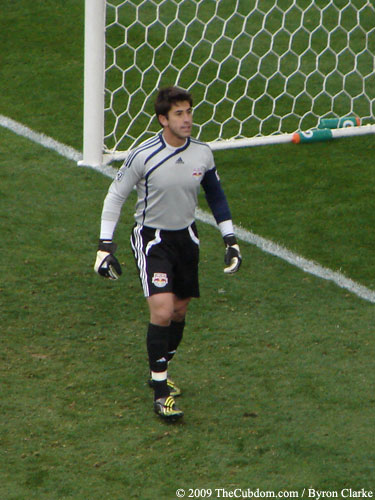 Posted by Byron at April 5, 2009 8:21 PM | |
Subscribe to The Cubdom - get emails with the latest Cubs info and pictures
---
---
Search
---
Recent Entries
---
Monthly Archives
---
---
Cubs Sale Articles