---
Editor's Pick:
Honorable Mention:
Newbies:
Soldiering On:
Cubs Sites:
Just Read 'em!
Conglomerates
NL Central
NL East
NL West
AL East
AL Central
AL West
Miscellany
Chicago Sports
News Sources
Sandberg movin' on up
Wednesday, December 17, 2008
Ryne Sandberg will coach the AA Tennessee Smokies in 2009. After two successful seasons as the Peoria Chiefs A-Ball manager, Sandberg's desire to move closer to the bigs was granted by the Cubs organization. Sandberg had asked for the promotion following the 2007 season, but was asked to stay in Peoria for one more year.
Writeups from Cubs.com and Paul Sullivan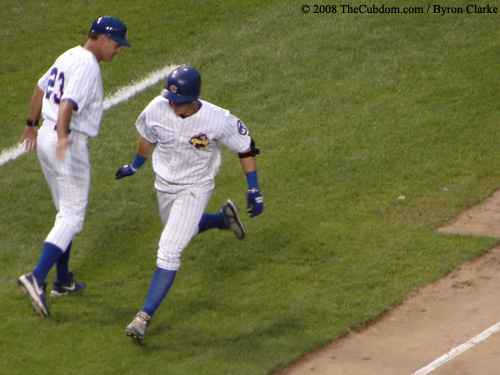 Ryne Sandberg congratulates Brandon Guyer after the left fielder's home run in the second inning against the Kane County Cougars at Wrigley Field.
Image courtesy of The Cubdom Photo Gallery
Posted by Byron at December 17, 2008 4:53 PM | |
Subscribe to The Cubdom - get emails with the latest Cubs info and pictures
---
---
Search
---
Recent Entries
---
Monthly Archives
---
---
Cubs Sale Articles