---
Editor's Pick:
Honorable Mention:
Newbies:
Soldiering On:
Cubs Sites:
Just Read 'em!
Conglomerates
NL Central
NL East
NL West
AL East
AL Central
AL West
Miscellany
Chicago Sports
News Sources
Injuries piling up for Cubs
Thursday, June 26, 2008
As the Cubs roared through the early part of the schedule, amassing the best record in baseball, I've been smiling at our good fortune and relative health. However, with the injuries to Alfonso Soriano and Carlos Zambrano, the team is beginning to feel the effect of over one fourth of their payroll on the disabled list. (I would argue that yesterday's game would have been a victory if Zambrano had started.)
As an exercise, I compiled a list of the 2008 Cubs Payroll, (thanks to the USA Today Salary Database), assuming league minimum salaries for players not listed. I then recreated the active roster for each game of the 79 games the Cubs have played to date. (I used the Cubs official transactions log. What follows are two charts. The first shows the Cubs payroll amount on an annual basis for each game played for both the active roster (25 man) and the disabled list. The second chart is a pie chart showing the income allocated to the active roster, the disabled list, and the minor leagues where the minor league amount only represents those players who have seen active roster time at one point this year.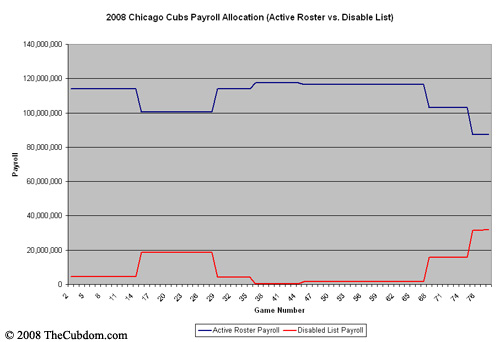 2008 Cubs payroll allocated to the active roster vs. the disabled list by game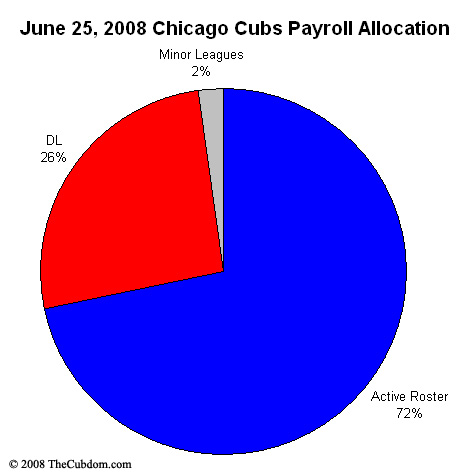 June 25, 2008 Cubs payroll allocation
Yes, you can file this under elaborate explanations of things we already knew intuitively, but that's what I do here.
Cubs players currently on the disabled list: Carlos Zambrano ($16 mm), Alfonso Soriano ($14 mm), Reed Johnson ($1.3 mm), Angel Guzman ($401K).
Even with 26% of the payroll injured, we're nowhere near where we were in May 2004.
Posted by Byron at June 26, 2008 8:00 AM | |
Subscribe to The Cubdom - get emails with the latest Cubs info and pictures
---
---
Search
---
Recent Entries
---
Monthly Archives
---
---
Cubs Sale Articles