---
Editor's Pick:
Honorable Mention:
Newbies:
Soldiering On:
Cubs Sites:
Just Read 'em!
Conglomerates
NL Central
NL East
NL West
AL East
AL Central
AL West
Miscellany
Chicago Sports
News Sources
Ryne Sandberg, Hall of Fame Second Baseman
Tuesday, January 4, 2005
ESPNews is reporting that Ryno has received enough votes to be inducted into the Baseball Hall of Fame! I am thrilled.
Updates to follow.
---
Update: 2:15 p.m. ET
From MLB.com: "The third time was the charm for Sandberg, who was elected into the Baseball Hall of Fame in his third year on the ballot. He received 393 votes (76.2%) in the balloting by the Baseball Writers Association of America, announced Tuesday. There were 516 votes cast, with 387 (75%) necessary for election."
Voting Results
(516 ballots, 387 to gain election, 26 to remain on ballot)
Player
Votes
%
Wade Boggs
474
91.9%
Ryne Sandberg
393
76.2%
Bruce Sutter
344
66.7%
Jim Rice
307
59.5%
"Goose" Gossage
285
55.2%
Andre Dawson
270
52.3%
Bert Blyleven
211
40.9%
Lee Smith
200
38.8%
Jack Morris
172
33.3%
Tommy John
123
23.8%
---
Update: 8:09 p.m. ET
Getting Personal
The news is starting to sink in, its been about six hours since the announcement was made, elevating Ryno to 'immortal baseball icon' rather than 'Byron's childhood idol.'
I am actually at work now, and have been for four hours, but it is still Christmas break at IU, and so the computer labs are very quiet. In the meantime, I have surfed the entire Cubs Blog Army and have found several tributes to Ryno. My favorite was over at Desipio:
Excerpt from: From now on it's "Hall of Famer, Ryne Sandberg"
Desipio.com - January 4, 2005
He had a Hall of Fame baseball career, and today, it all became official. I knew it when I saw it, and in July in Cooperstown, so will everybody else. Ryne Sandberg's a Hall of Famer.
Anyhow, rather than recapping Ryne Sandberg's career and his hall of fame qualifications, as I have already done rather voluminously, I just want to speak to what this means to me, personally.
When Ryno was first on the ballot in 2002 (for the class of 2003), I was a little disappointed and confused to hear talk of Eddie Murray as a sure-fire first-ballot inductee, without a general consensus that Sandberg was also worthy of being a first-ballot legend. After all, Ozzie Smith, a defensive wizard, but an offensive liability was easily elected in 2001. If Smith was a first-ballot Hall of Famer, then Sandberg ought to have been as well. I didn't see a ton of "The Wizard of Oz" growing up, but I saw enough games to know that the two players were roughly equivalent. Ozzie won his Hall of Fame credentials with excellent defense, Sandberg should have been in on his blend of defense, offense, and power.
When the voting came in for 2002, I was disturbed by his lack of support. Sandberg didn't even get 50%! How the hell did Ryne Sandberg fail to get named on over half of the hall of fame ballots?
This slight was hurtful. It made me question whether I was an objective fan at all. I saw Sandberg play (on TV or the Radio, and occasionally in person) roughly three fourths of his games from 1989 through the end of his career. I saw the stats, I could compare them to other Hall of Famer's and it just didn't add up to this outcome. How could half of the writers fail to see Sandberg's greatness?
Last year, I was a little bit more realistic. I believed he deserved election, but I also doubted he would pick up 25% in one year. Although I'm not experienced enough watching this process, I knew a fourth of the writers wouldn't decide they were wrong in one year, so I knew 2003 wasn't going to result in a Ryno coronation.
After a strong uptick in 2003, when Sandberg finished with 61% of the vote, jumping guys like Bruce Sutter, Andre Dawson, and Jim Rice, I was happy, but not overly optimistic. I can understand (but certainly not agree) if a number of writers had believed that Sandberg was worthy of induction, but not first-ballot status. If I were voting, I'd abstain from voting for some guys during their first year, but after you aren't a first-ballot honoree, its not like there is a lot of status as a 'second ballot inductee.' Pretty much, after the first time around, you should either be in or out.
Anyhow, after a sizable jump in 2003, I figured the media would toy with Sandberg for several years as he gradually gained or lost votes depending on whose toast got burnt the day they decided to send in their ballots. However, I was scared. I was afraid Sandberg would get jobbed like Santo, I was concerned that Sandberg might never make it. I never doubted his qualifications, but if a guy like Santo can't get in, then its possible that Sandberg could get a cosmic screwing too.
I really wasn't feeling optimistic about this year until I saw the Dale Bowman piece in the Sun-Times. His attack on Sandberg was so ill-informed (VFTB, Cubs Pundit, And Another Thing) and laughable that I just knew this moron had to be on the wrong side of the fence on this one. I was encouraged by the nine of nine Sandberg got at both the Tribune and ESPN.com, even if that includes double counting Phil Rogers.
So when ESPNews brought me the announcement that Sandberg was in, I was relieved. I am so happy for Ryno, but also happy for myself and all Cubdom. We knew he deserved it, but we also knew Santo deserved it. To me, this is a disaster averted, rather than a momentous occasion.
One of the 'knocks' against Sandberg I think is that he has fans disproportionate to his ability as a ball player. While certainly a Hall of Famer, Sandberg probably has a more devoted fan base than someone like, say Barry Bonds. His character, and his demeanor convinced fans that it was OK to make him your hero.
Growing up, I knew Ryno would never be like some sports stars who got in trouble with the law, or who might have 'bad character.' Even standouts like Andre Dawson occasionally had a bad day and would empty a bat rack onto the field. Thats part of the competitive nature of sport, but it also keeps kids from idolizing you. With Sandberg, you knew he would control himself, you knew your childhood idol wouldn't get pulled over with a prostitute in the car (Denny Neagle), or an illegal handgun (Scottie Pippen). He wasn't about to throw a chair at fans (Frankie Francisco), or choke his manager/coach (LaTrell Sprewell).
If Ryno ever came over to your house for dinner, he would be the greatest guy in the world... his demeanor said so, and so it was easy to embrace him as a fan.
Anyhow, I am just tickled pink to have my childhood idol be recognized as a baseball immortal. I am planning to finally take a trip to Cooperstown this year (a place I swore I would never visit until Sandberg was enshrined), and am looking forward to the last weekend of the season when the Cubs will undoubtably retire Sandberg's number. I'll be there, and so will 40,000 other die-hard fans of the greatest second basemen to ever walk the earth.
Congratulations Ryne Dee Sandberg - Byron's Childhood Idol, Immortal Baseball Icon, Hall of Famer.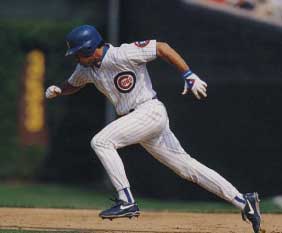 Posted by Byron at January 4, 2005 2:04 PM | |
Subscribe to The Cubdom - get emails with the latest Cubs info and pictures
---
| | |
| --- | --- |
| This post has been tagged: | |
---
Search
---
Recent Entries
---
Monthly Archives
---
---
Cubs Sale Articles