---
Editor's Pick:
Honorable Mention:
Newbies:
Soldiering On:
Cubs Sites:
Just Read 'em!
Conglomerates
NL Central
NL East
NL West
AL East
AL Central
AL West
Miscellany
Chicago Sports
News Sources
MoneyBall: Data Dump
Sunday, January 16, 2005
Today's post is a data dump and is presented (nearly) without comment.
All Major League Baseball Forbes Franchise Values 2000 - 2004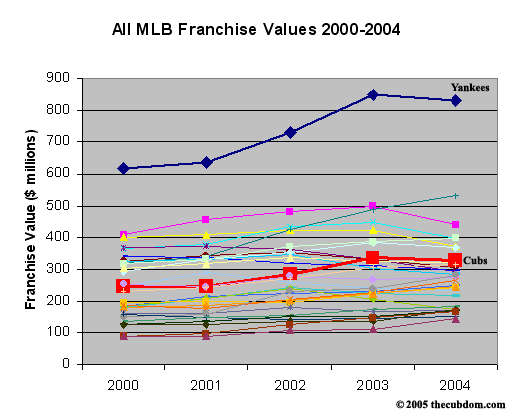 One of these is not like the other... one of these does not belong.
OK, OK, I know you can't see anything with all thirty teams together so we'll do it by division. The charts below are almost exactly proportional to each other, so you can compare the six below.
---
American League Eastern Division Forbes Franchise Values 2000 - 2004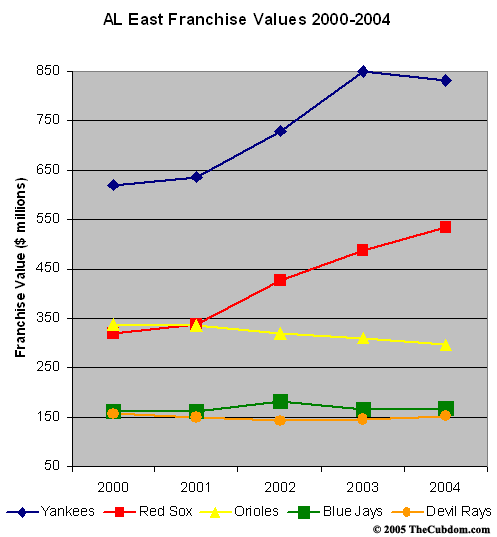 American League East - Forbes Franchise Values 2000-2004
Team
2000
2001
2002
2003
2004
Yankees
619
635
730
849
832
Red Sox
319
339
426
488
533
Orioles
338
335
319
310
296
BlueJays
162
161
182
166
169
DevilRays
158
150
142
145
152
---
American League Central Division Forbes Franchise Values 2000 - 2004
American League Central - Forbes Franchise Values 2000-2004
Team
2000
2001
2002
2003
2004
Indians
370
372
360
331
292
Tigers
245
290
262
237
235
White Sox
185
213
223
233
248
Royals
125
138
152
153
171
Twins
90
99
127
148
168
---
American League Western Division Forbes Franchise Values 2000 - 2004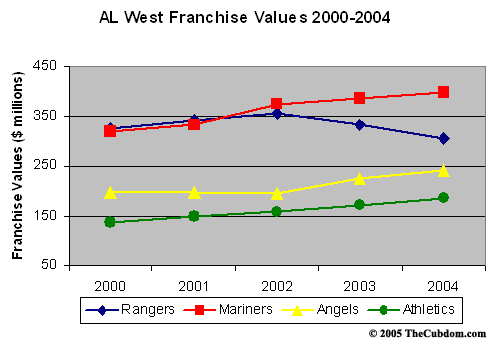 American League West - Forbes Franchise Values 2000-2004
Team
2000
2001
2002
2003
2004
Rangers
326
342
356
332
306
Mariners
318
332
373
385
396
Angels
196
198
195
225
241
Athletics
138
149
157
172
186
---
National League Eastern Division Forbes Franchise Values 2000 - 2004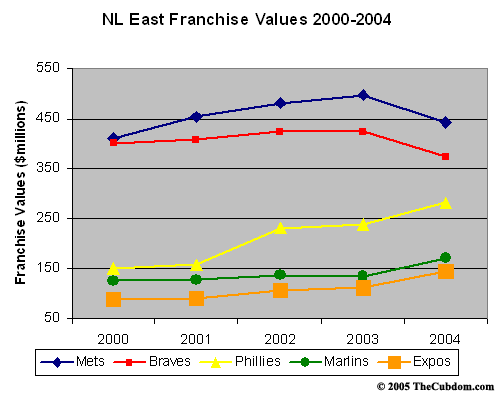 National League East - Forbes Franchise Values 2000-2004
Team
2000
2001
2002
2003
2004
Mets
410
454
482
498
442
Braves
402
407
424
423
374
Phillies
152
158
231
239
281
Marlins
125
128
137
136
172
Expos
89
92
108
113
145
---
National League Central Division Forbes Franchise Values 2000 - 2004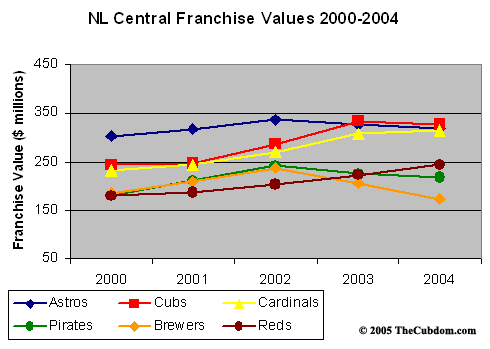 National League Central - Forbes Franchise Values 2000-2004
Team
2000
2001
2002
2003
2004
Astros
304
318
337
327
320
Cubs
245
247
287
335
328
Cardinals
232
243
271
308
314
Pirates
180
211
242
224
217
Brewers
184
209
238
206
174
Reds
180
187
204
223
245
---
National League Western Division Forbes Franchise Values 2000 - 2004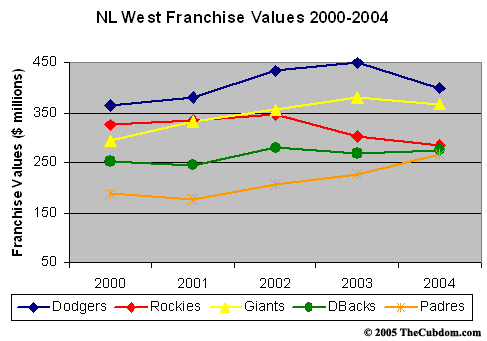 National League West - Forbes Franchise Values 2000-2004
Team
2000
2001
2002
2003
2004
Dodgers
364
381
435
449
399
Rockies
325
334
347
304
285
Giants
293
333
355
382
368
DiamondBacks
253
245
280
269
276
Padres
187
176
207
226
265
Posted by Byron at January 16, 2005 11:16 PM | |
Subscribe to The Cubdom - get emails with the latest Cubs info and pictures
---
| | |
| --- | --- |
| This post has been tagged: | |
---
Search
---
Recent Entries
---
Monthly Archives
---
---
Cubs Sale Articles