Cubs Convention Remembrances - Part One
Tuesday, January 18, 2005
The Cubs Convention starts this Friday, and I will be attending for the first time in several years. As best I can remember, I think this will be my fifth convention.
What follows is the first in a four part series of my personal Cubs Convention recollections.
My first convention was in 1992... at least I think it was (I had to look back at baseballreference.com and match up players I remembered at the convention with the roster). My brother's best friend at the time was named Paul. Paul's step-dad was a cool Dad and took him to ball games, Cubs conventions, and the like. On a few occasions my older brother and I tagged along to a few games (including an old-timers game that I really enjoyed.)
Anyhow in 1992, Paul's step-dad couldn't make it to the convention so he gave the tickets to my family and I went on Sunday with my Dad. We rode the train (the SouthShore Line) into Chicago and wandered around the Hilton all day. On the return trip, we took the train back and I remember being extremely excited for awhile, and then falling asleep from exhaustion. My Dad took a picture of me on the train putting my newly acquired baseball cards into a binder, and that picture still hangs on their wall today. (I might try to scan it in later and share the love.) It includes one little kid smiling with about as wide a gap tooth grin as you can get.
In 1992, I would have just turned ten and was enthralled by the amount of memorabilia available at the convention. Prior to this trip, I just figured souvenirs included hats, pennants, uniforms, and those Dairy Queen ice cream batters helmets. Boy was I wrong.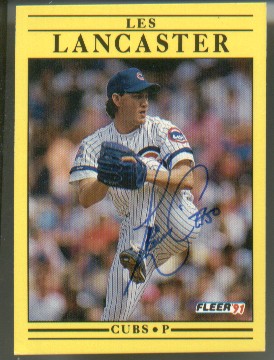 Unlike later conventions, I made my Dad alternate between standing in long autograph lines and milling about the hundreds of vendor booths while I drooled over ever trinket for sale. One of my purchases was a complete team set of 1991 fleer baseball cards. After that, we stood in more autograph lines and I got signatures on the cards from Paul Assenmacher, Les Lancaster, and Chico Walker.
I also bought a baseball, which I subsequently had signed by Assenmacher. I still have the ball from that convention.
That year, I also got to see Ryne Sandberg and Rick Sutcliffe at the convention. Since these were two of my favorite players, I was thrilled. Unfortunately, I wasn't able to secure either of their autographs.
Although my first trip to the convention was only a day long, and I don't remember a ton, I have some very fond memories. As an impressionable young kid, that trip to the Hilton in Chicago went a long way to making me a life-long True Blue Cubs fan.
Tomorrow: Cubs Convention Remembrances - Part Two: The Second Coming of Ryne Sandberg.
Posted by Byron at January 18, 2005 9:52 PM | |
Subscribe to The Cubdom - get emails with the latest Cubs info and pictures
---
| | |
| --- | --- |
| This post has been tagged: | |