---
Editor's Pick:
Honorable Mention:
Newbies:
Soldiering On:
Cubs Sites:
Just Read 'em!
Conglomerates
NL Central
NL East
NL West
AL East
AL Central
AL West
Miscellany
Chicago Sports
News Sources
Rodan vs. Big Choi
Sunday, October 17, 2004
Earlier this year, I started each month with a recurring post comparing the Hee Seop Choi for Derrek Lee trade. I believe I stopped in August, due to my vacation... and never revisited the subject. Well, its time to go again... in the right corner Derrek Lee (a.k.a. Rodan) and in the left corner Hee Seop Choi (a.k.a. Big Choi). You can credit Dusty Baker for the Rodan reference, and Darren Baker for the 'Big Choi.'
From April 30, 2004 Just Sayin
... I doubt Hee Seop Choi is going to keep on hitting as well as he has (this month). Choi had a fantastic April last year too, earning the NL Rookie of the month award, but soon cooled off. I frankly expect the same thing this year from Choi too. He still has gaping holes in his swing that pitchers will start finding again.
It looks like I was right in April... here are some graphs.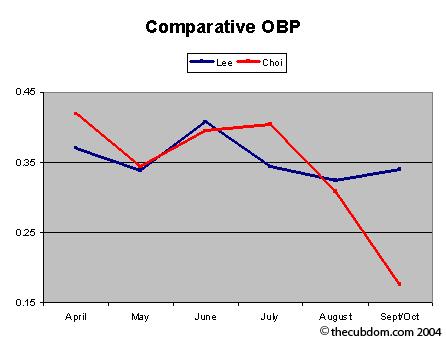 Both players had very similar on-base percentages through July. However, after Choi was traded to the Dodgers in a deadline deal (Choi and Brad Penny to LA for Paul LoDuca and Juan Encarnacion), Choi's production and playing time took a nosedive. Choi finished the seaon with a .370 OBP, while Lee had a .356 OBP. However, Lee had 605 AB to Choi's 343. Also of note, the OBP composition from Choi was .251 in Avg and .119 in Walks etc. Lee's OBP included a .278 Avg.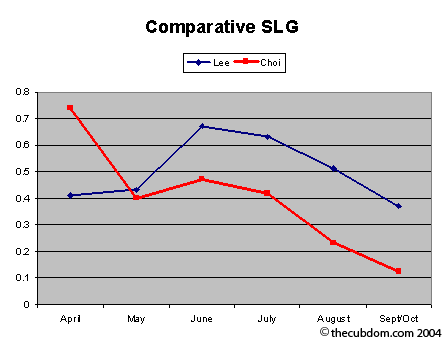 As is becoming typical of Choi's career, Hee Seop started out red-hot as a slugger in April, but quickly cooled off for the rest of the season (as in frozen stiff... with no real power.
Conversely, Lee started out fairly slow in April and May, but started to sizzle in June and the middle of the season. He finished the season down, but well ahead of Choi. Lee finished with a .474 SLG (.827 OPS), while Choi finished with a .429 SLG and .784 OPS.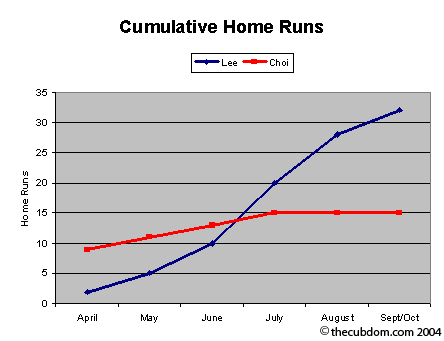 This chart just shows the number of home runs at the end of each month for each player. While Choi had 9 in April, he finished with just 6 more the rest of the season. Lee on the other hand had 2 in April, and 30 the rest of the season.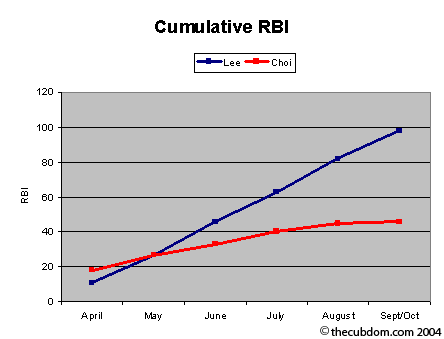 Similar to the home run chart, this chart shows cumulative RBI's over the course of the season. Once again, the majority of Choi's production was in April, while Lee got hot in the summer months.
When you simply look at the averages, Choi and Lee are somewhat comparable. Lee appears to be a better hitter, while Choi is more proficient at taking walks. However, once April is over, Choi is spent and becomes a liability to his club. (This is not to say Choi will never overcome this pattern... but in 2 big league seasons, Choi has taken a suprisingly similar path.)
However, before finishing... there is (at least) one more relevant chart: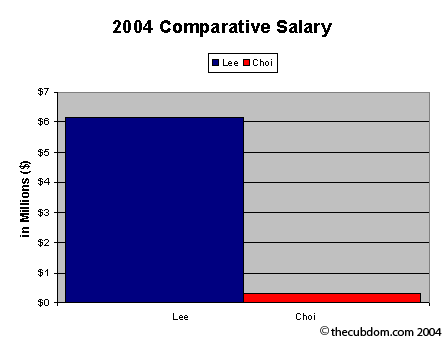 Discuss
Posted by Byron at October 17, 2004 4:57 PM | |
Subscribe to The Cubdom - get emails with the latest Cubs info and pictures
---
| | |
| --- | --- |
| This post has been tagged: | |
---
Search
---
Recent Entries
---
Monthly Archives
---
---
Cubs Sale Articles