---
Editor's Pick:
Honorable Mention:
Newbies:
Soldiering On:
Cubs Sites:
Just Read 'em!
Conglomerates
NL Central
NL East
NL West
AL East
AL Central
AL West
Miscellany
Chicago Sports
News Sources
Short Notes from Left Field
Saturday, July 10, 2004
The Cubs got schelacked again last night. For all of us panicked Cubs fans, our four game losing streak is murdering us. However, perusing some blogs, I was comforted by the optimism over at Desipio Media Ventures - so check Friday July 9th's post.
Watching the game yesterday, Paul Bako caught a pop-up behind the plate. In doing so, he removed his mask and threw it away as a catcher is supposed to do. It reminded me that I have seen Michael Barrett forget to remove his mask several times in the past couple of weeks, two of those occasions resulted in Barrett droping the ball... one of them ended with Barrett sitting on his bum.
Moises Alou misplayed a ball off the left field wall AGAIN yesterday. While I like Alou, there is no way he should be brought back next year. I am not qualifying this statement at all. I frankly don't care if Moises signs for the minimum. Unless he is signed as only a backup, bench player, for almost no money, Mo should go. His fielding is atrocious more often than not. His lack of speed consistently turns doubles into singles, and his bat will likely never be up to par for a full season again.
Sorry Mo, I really do like you, but there are too many excellent outfielders available on the market this winter to pass up the opportunity.
Apologies to demi-god Jim Hendry, but John Schuerholz is the best GM in the game. He has built 12 consecutive division winning teams and might make it 13 this year (I still am picking the Phillies who beat the Braves in a come from behind extra inning game last night.) Anyhow, the reason I bring up the GM angle is that Schuerholz has had an uncanny ability to let star players leave Atlanta right before serious diminishment of baseball skills sets in. Although everybody thought Maddux was allowed to leave for financial reasons, Maddux doesn't look like he's gonna turn it around soon, perhaps John Schuerholz strikes again.
Last month, I posted a chart of Maddog's ERA progression by start... and now its time for a revisit.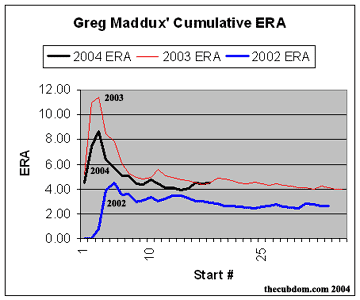 Posted by Byron at July 10, 2004 4:28 AM | |
Subscribe to The Cubdom - get emails with the latest Cubs info and pictures
---
| | |
| --- | --- |
| This post has been tagged: | |
---
Search
---
Recent Entries
---
Monthly Archives
---
---
Cubs Sale Articles