Power Surge & Expansion
Wednesday, July 7, 2004
Last night, ESPN's OTL (Outside the Lines Nightly), their 17 minute feature piece each night between SportsCenter and Baseball Tonight, discussed Fred McGriff's chances of making the Hall of Fame (he's at 493 HR's and about the 5th man on Tampa Bay's 1st base depth chart).
Anyhow, as always happens, there was some discussion of the Home Run inflation of recent years, and so I wanted to see just how much "home run" inflation we have witnessed. This first chart shows the number of Home Runs hit in the American and National Leagues from 1901-2003. (These numbers came from Baseball-Almanac.)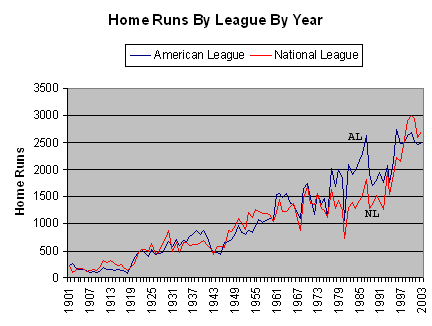 Wow! The lines go up pretty quickly. However, a quick study of this chart and a little thinking goes a long way towards saying... woah, wait a minute.
From 1901 - 1960, there were 16 Major League Teams. In 1961, the old Washington Senators moved to the Twin Cities and became the Minnesota Twins. At the same time, an expansion team was granted to Washington D.C and the new Washington Senators began play in 1961 (they lasted 10 years before becoming the Texas Rangers). Additionally, the Los Angeles Angels (now from Anaheim) joined the AL. In 1962, the Metropolitans of New York and the Colt .45s from Houston (now the Astros) began play. Having added four teams in two years, MLB now had 20 teams.
Seven years later, in 1969, the Montreal Expos, San Diego Padres, Kansas City Royals, and Seattle Pilots joined the league, bringing baseball to 24 teams. Although the Pilots left Seattle for Milwaukee after only one year, the '69 expansion teams have been fairly stable.
Still not satisfied with 24 teams, MLB added a second Canadian team, the Toronto Blue Jays, and the Seattle Mariners in 1977. This was the first expansion which did not add an even number of teams to both leagues. From 1977 - 1993, the AL had 14 teams and the NL 12.
In '93, the Colorado Rockies, and Florida Marlins began play as baseball's 27th and 28th franchises. Since both teams were added to the National League, both leagues were even again at 28.
However, 5 years later, the Milwaukee Brewers switched leagues and began playing as a National League team, while Baseball admitted another two franchises, the Arizona Diamondbacks and Tampa Bay Devil Rays. Since 1998, the NL has had 16 teams, and the AL 14.(I used Baseball-Reference.com to verify some dates etc.)
Additionally, in the first round of expansion, in '61 (AL) and '62 (NL), each league increased the number of regular season games from 154 to 162. The additional 14 franchises and 8 games more per year means that the National League started the 2004 season with 2,592 team games scheduled (vs. 1,232 in 1960) and the American League has 2,268 team games per year (vs. 1,232 in 1960.) In total, their are now 4,860 team games each year. From 1960 to 2004 MLB has increased the total number of team games by 97%.Their are two "team games" per actual game played. For example, the Brewers and Cubs are playing tonight at Miller Park in one actual game. However, since both the Cubs batters and Brewers batters will have a chance to hit a home run, there are two "team games" being played tonight in Milwaukee.
Anyhow, sorry to be incredibly long winded above, but the jist of the matter is that looking at the total number of home runs hit isn't a fair comparison. However, a fair statistic would be home runs per game.
Since I couldn't find a listing of total games played per year, I used the normal number of games played in years with no work stoppage (or early ending due to World War I), and just multiplied the number of games played by the Cubs in shortened years by the number of teams in each league. The second chart shows the increase in home runs hit per year by league, from 1901-2003. Yes, the numbers still went up incredibly, but this second graph is a more accurate view of "home run inflation."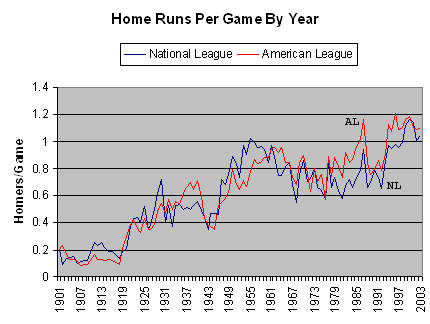 ---

I didn't see yesterday's game against the Brewers. I am actually taking classes this summer and just didn't have the time to see it. Moreover, seeing the final score... I probably won't bother going back to watch it with MLB Total Access.
The Boxscore said: Mark Prior gave up 4 unearned runs in 4 ip(Brendan Harris made a first-inning error in his big league debut), but Prior gave up a 2-run homer in the first. Frankly, a home run should never be considered "unearned." The Cubs bullpen (Leicester, Mercker, and Wuertz) went another 4 innings of no-run baseball, but the Cubs offense couldn't solve Victor Santos, touching him for only 2 runs. The Cubs lost 4-2.
Meanwhile, the St. Louis Cardinals are chasing down the Yankees for the best record in baseball and have built a 5 game lead over Chicago's best team. The Cubs Wild-Card lead has shrunk to 1, with the Brewer's looking to sweep us this evening. Kerry Wood pitched well for AAA Iowa last night, and may be back against the Cardinals next week.
Finally, MLB issued a press release saying the following: In the National League Aramis Ramirez of the Cubs and Bobby Abreu of the Phillies are in a virtual dead heat for first.
We can discuss the merits of Abreu or Ramirez later, but you only have til 5 minutes before the Cubs game starts (7 pm Central) to vote... So, stop reading my drivel and go vote as many times as you can for for Aramis Right NOW!
Posted by Byron at July 7, 2004 1:25 PM | |
Subscribe to The Cubdom - get emails with the latest Cubs info and pictures
---
| | |
| --- | --- |
| This post has been tagged: | |