I feel the need for speed II
Tuesday, July 6, 2004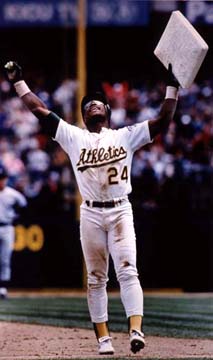 Last week, I wrote about a new statistical tool I felt would better describe the offensive production of the running man in baseball. I brought it up after reading about Rickey Henderson's 130 steal season in 1982. His OBP that year was .398 and his slugging percentage was .382, for an OPS of .780. (In 2004, that would tie him with Junior Spivey for 100th best in the major leagues. In 1982, it placed him about 77th in the league.)
The logical conclusion is this: as great as OPS may be for tracking runs/game, it isn't the definitive statistic to describe a player's contribution to the offense. Typically, speedsters don't have tons of power, but they take extra bases on thefts (and lose on base opportunities when caught.) As a result, I modified our beloved OBP, SLG, and OPS to form OBP-CS, SLG+S, and OPSS.
To Recap:
OBP: On base Percentage = (Hits + BB + HPB)/(AB + BB + HBP + SacFly).
I'll modify OBP by subtracting Caught Stealing from the numerator (the top one). If you think about it, if I get a single, and then get caught stealing, its just like getting thrown out by the catcher at first.
OBP-CS: On base Percentage adjusted for steals = (Hits + BB + HPB - CS)/(AB + BB + HBP + SacFly).
SLG: Slugging % = (Total Bases) / (At bats).
I'll adjust SLG by adding stolen bases to total bases, because if a batter gets a single and then steals second, its essentially the same as a double. This should show up in our adjusted slugging.
SLG+S: Slugging & Speed % = (TB + SB) / (AB).
OPSS: On-base plus Slugging & Speed = (OBP-CS)+(SLG+S) is just like its cousin, Onbase plus slugging, but adds my two new stats.
These new statistics should do a better job of factoring in the role of speed in a player's game. Furthermore, if a player is an excellent base stealer, they will be rewarded statistically for not racking up the Caught Stealings. On the flip side, a poor baserunner will cannibalize their OBP-CS each time they are caught stealing.
To Continue: After reading my post, Brian Hipp, of CubsNow blogging fame, created a fictious character who increased his OPSS over OPS, but was caught stealing just as frequently as he was successful, and asked me to try and show an improved correlation between OPSS and Runs/Game as opposed to OPS and R/G... so I did.
Gathering the statistics and sifting through them took a ton of time, but the results are pretty interesting.
I began by compiling the team statistics for each team over the past 10 years. In all, there were 292 seasons played between 1994 and 2003 (The D-Backs and D-Rays began play in '98). I then used those 292 data points to construct a number of linear and multiple linear regressions to see which statistics most accurately describe the runs/game a team could expect. By all measures, the OBP and SLG method currently used are highly effective... but first the results.
OPS alone - accounts for 89.77% of the variance in R/G
OPSS alone - 90.51%
OBP and SLG in a multiple regression - 91.34%
OBP-CS and SLG+S in a multiple regression - 91.96%
OBP, SLG, SB% - 91.83%
OBP-CS, SLG+S, SB% - 91.96% (results tainted)
So, the bottom line is that my new statistical invention doesn't remarkably increase the accuracy of the current method (.6% - .8%), but it does allow individual players like Rickey to be valued more accurately, and does not degrade the statistical accuracy of the OPS system.
Rickey Henderson - 1982: 130 SB, 42 CS, 75.6%
OBP: .398 + SLG: .382 --> OPS: .780
OBP-CS: .334 + SLG+S: .625 -->OPSS .959
Difference: .179!
---

Yesterday's game against the Brew Crew (our first of eleven this month) was entirely frustrating. Matt Clement allowed a solo home run to Craig Counsell in the first inning, and then no more runs for the next six innings. The bullpen was also perfect, allowing no runs, but the Cubs lost 1-0.
Ben Sheets (and Matt Clement) took advantage of the weird sun conditions for a mid-day game at Miller Park. The two pitchers, and the bullpens racked up 28 strike outs in 8.5 innings (51 outs) of baseball game. Yes, the two teams were the Brewers and Cubs... occasionally known for the K, but still.
Anyhow, despite not having his best command (six walks in seven innings) Clement and the bullpen allowed only one run. Yet, the Cubs offense failed to notch a run for the eighth time this season. Memo to Offense: No matter how well your pitching staff pitches, it is impossible to win a game without scoring... come on!
---
Get Out the Brooms! Oops, I forgot, Carlos Lee still gets an at-bat, and you know what that means in a cross-town series. Boom... stop running the broom-relay race out on Waveland... Ok, start running again, the White Sox just pulled a Cubs and walked in the winning run!
Na Na Na Na, Na Na Na Na, Hey Hey Hey, Goodbye...

Posted by Byron at July 6, 2004 1:29 PM | |
Subscribe to The Cubdom - get emails with the latest Cubs info and pictures
---
| | |
| --- | --- |
| This post has been tagged: | |