---
Editor's Pick:
Honorable Mention:
Newbies:
Soldiering On:
Cubs Sites:
Just Read 'em!
Conglomerates
NL Central
NL East
NL West
AL East
AL Central
AL West
Miscellany
Chicago Sports
News Sources
Maddog heats it up
Monday, June 7, 2004
The Cubs won Sunday 4-1 over the Bucs. Maddog pitched well, going 7 strong innings, allowing 1 run on 4 hits, walking none, and striking out 6. The Cubs won their first series in two weeks. The last series we won? Against the Red-Birds in Wrigley.
After yesterday's game, I started thinking about Maddux performance and so I compiled some numbers. In his last 5 starts, Maddux is 2-1 with a 2.94 ERA in 33.2 IP, not bad. I have also been telling anyone who will listen that Maddux always starts poorly and then improves, this seems to be happening this year too.
This chart shows Greg Maddux cumulative ERA by start number over the past three years. The pattern is unmistakable, and makes me very happy that he will be in the rotation for the next couple of summers.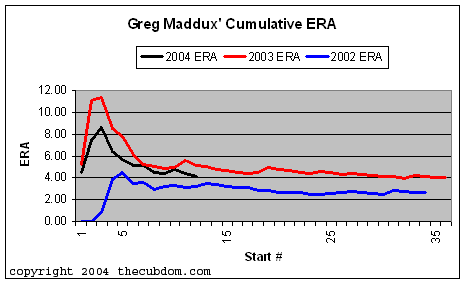 Posted by Byron at June 7, 2004 12:00 AM | |
Subscribe to The Cubdom - get emails with the latest Cubs info and pictures
---
| | |
| --- | --- |
| This post has been tagged: | |
---
Search
---
Recent Entries
---
Monthly Archives
---
---
Cubs Sale Articles