---
Editor's Pick:
Honorable Mention:
Newbies:
Soldiering On:
Cubs Sites:
Just Read 'em!
Conglomerates
NL Central
NL East
NL West
AL East
AL Central
AL West
Miscellany
Chicago Sports
News Sources
Bad Guys 1, Good Guys 0... and thats good!
Saturday, June 26, 2004
The Cubs played the White Sox yesterday, and the Cubs won. Thats really all you need to know.
Frankly, for most Cubs fans I think beating the Sox is a step below beating the Cards and Astros, but a step above beating the Pirates, Reds, and Brewers. On the other hand, Sox fans would probably prefer one win over the Cubs to two wins over the Twins, and Yankees.
Anyhow, since the Sox broadcast team of Hawk Harrelson and DJ (Darrin Jackson) called the game, I have been informed that my team are the "Bad Guys" and the White Sox are apparently the "Good Guys." This brought to mind a Dusty Baker quote I read in Jay Mariotti's piece in the Sun-Times earlier this week.
Speaking about his loss in Subway's promotion to sell Dusty Baker Sandwiches and Ozzie Guillen sandwiches, Dusty explained his loss by saying, "Most of my life, I haven't been with the majority anyway. In cowboy movies, I would always root for the Indians." So, I guess if Dusty could be comfortable being a Bad Guy, I can be too. In Dusty we Trusty (what a stupid slogan :) ) OK, enough drivel. Like I said, the Cubs won the first game against the Sox by a score of 7-4.
On the Mound: Mark Prior had a pretty good outing, pitching 5 innings allowing 1 (earned) run on 2 hits, 3 walks, and 6 strikeouts. His pitch limit was apparently 100 pitches today as Dusty pulled him after 99, even though he probably could have pitched another inning. His pitches per inning ratio is still pretty high. Today, he was doing a pretty good job of spotting his breaking balls, although he hung a number of them, but his fastball wasn't going where he wanted it. Prior wasn't wild, he just couldn't paint the corners consistently and thus went deep to almost every Sox batter.
John Leicester deserves a mention as he has continued to throw well. He threw 2 scoreless innings in relief and has lowered his ERA to 1.13 in 8 ip. Farnsworth entered the game in the eighth, but struggled again, allowing 2 walks, and then a 3-run home run to Paul Konerko. After that, Dusty brought in Kent Mercker to face Jaime Burke, who doubled. So Johnie B. brought in LaTroy Hawkins to get the final out in the eighth. Hawkins also pitched the ninth to record his 10th save.
Hawkins, who officially became the closer on June 5th, now has one more save than Joe Borowski who had the job for two months.
Hawkins 1-0, 10 saves, 2.13 ERA, .85 WHIP, 3 blown saves
Borowski 2-4, 9 saves, 8.02 ERA, 2.44 WHIP, 2 blown saves
At the Plate: Mark Grudzielanek was the hero, hitting a 3 run home run off John Garland in the fifth inning. Also deserving mention was Todd Hollandsworth, who hit a triple to drive in Sammy Sosa, and went 2-4 as the DH.
In the field: The defense was awful yesterday for both teams. There was a high sky at the Cell, and any pop-fly was an adventure. There were easily 4 or 5 balls that should have been caught that were dropped, but most of them were foul, so only Ross Gload and Juan Uribe were credited with errors.
One dropped foul stuck in my mind because of something Steve Stone said when Jermaine Dye (I think it was Dye) dropped a ball. He said the only thing worse than not having sunglasses in the field was when a player had sunglasses on top of their hat. Of course, Aramis dropped a foul ball today with his sunglasses over the bill of his cap... I'll bet Stoney was saying I told you so.
In General: I haven't had a ton of time to watch the last couple of games against the Cards or comment on them here, but I have watched most of the highlights. I don't want to do a blow by blow, but the Cubs bullpen has struggled pretty badly in the last few games. I would not be suprised to see Jim Hendry send a low rated minor league pitcher to a struggling team in return for another decent bullpen arm. I have heard a lot of folks clamoring for Eddie Guardado from Seattle, but I don't know if he's actually available...
Eddie Guardado, LHP SEA: 2-0, 30 games, 1.26 ERA, .81 WHIP, .165 BAA, 9.59 K/9 14 S, 4 BS
... sure hope he is. That would be one way to answer the Beltran trade.
Some Pictures: I made a passing remark about Moises Alou's offensive struggles 11 days ago, and they seem to be continuing. I then saw a comment (Weeks T. Olive) on the Cub Reporter about Moises' .205 AVG .255 OBP and .409 SLG in June, so I decided to make a graph of Alou, Lee, and Ramirez OBP and SLG % over the course of the season.
FYI: I have eliminated the first 10 games of the season so the graph doesn't show the huge swings caused by the first few games. May 1 = game #23, June 1 = Game #51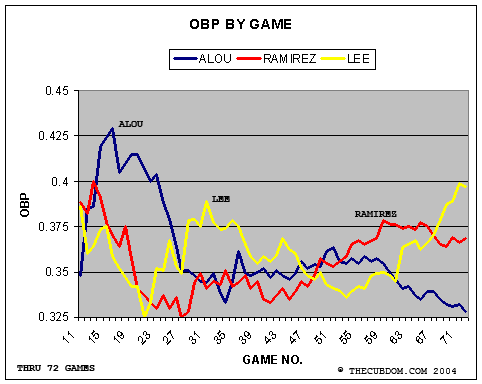 As you can see, Derrek Lee's OBP (yellow) is climbing through the roof this month, Aramis OBP (red) has been climbing since it bottomed out in late April, and Alou's (blue) is taking a nose dive.
The next chart illustrates Moises, Derrek, and Aramis' SLG % over the course of the season. The results are interesting as we see Alou and Aramis start out very hot, and then fade a bit, while Lee is heating up. All three essentially have the same SLG % right now.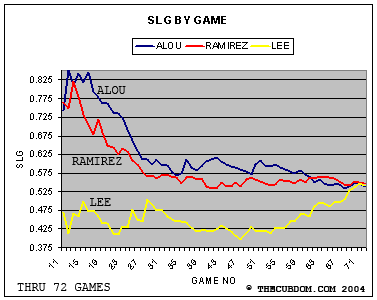 I wanted to include Corey Patterson on the past two graphs, but adding a fourth line made the graphs incredibly jumbled and difficult to read, so I have isolated Patterson's OBP and SLG and its interesting to see his OBP rise while his SLG falls off a bit.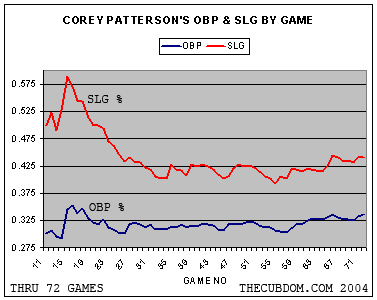 Posted by Byron at June 26, 2004 4:34 AM | |
Subscribe to The Cubdom - get emails with the latest Cubs info and pictures
---
| | |
| --- | --- |
| This post has been tagged: | |
---
Search
---
Recent Entries
---
Monthly Archives
---
---
Cubs Sale Articles