You're going in the book!
« Tim Ward | Main | Ted Lilly pitches against the Braves »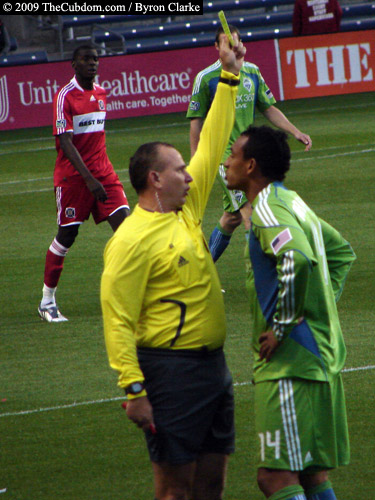 Referee Jasen Anno books Tyrone Marshall of the Seattle Sounders with a yellow card. Chicago Fire defender Bakary Soumare and Sounders forward Nate Jaqua look on.
« Previous Picture | Cubdom Photo Gallery Home | Next Picture »
Photo Information
Date: May 2, 2009
Location: Toyota Park
Teams: Chicago Fire vs. Seattle Sounders, Boxscore
Pictured: Referee Jasen Anno, Tyrone Marshall (#14), Nate Jaqua (background with card obscuring his face), and Chicago Fire defender Bakary Soumare.
Camera: Sony Cybershot DSC-H1
Photo by Byron | |
Put this picture on your website!
TheCubdom.com licenses all images in the photo gallery for use by others. Just copy and paste the code in the box below into your page where you want the photo. The code may be altered, but each picture must include a backlink to TheCubdom.com. (You are not authorized to use any photo from The Cubdom without a backlink.)
| | |
| --- | --- |
| This post has been tagged: | |