Wrigley Field - Aisle 239
« Kosuke Fukudome at bat | Main | John Maine's arm is a blur »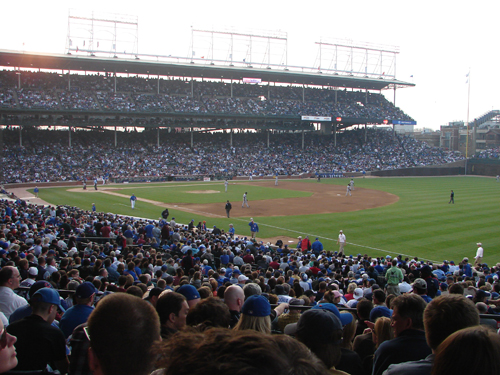 Wrigley Field, as seen from Aisle 239 on April 21, 2008.
« Previous Picture | Cubdom Photo Gallery Home | Next Picture »
Photo Information
Date: April 21, 2008
Location: Wrigley Field
Teams: Chicago Cubs vs. New York Mets, Boxscore
Pictured: Wrigley Field - the Cubs are playing the New York Mets. Fans are in the stands and the sun is setting.
Game Write-up: Wrigley Field - Aisle 239
Camera: Sony Cybershot DSC-H1
Photo by Byron | |
Put this picture on your website!
TheCubdom.com licenses all images in the photo gallery for use by others. Just copy and paste the code in the box below into your page where you want the photo. The code may be altered, but each picture must include a backlink to TheCubdom.com. (You are not authorized to use any photo from The Cubdom without a backlink.)