---
---


---
---
---
Visit Chicago's #1 website for Cubs Tickets and get 10% off With code CUBDOM or buy the Cross town rival White Sox tickets. We also carry bears tickets and view Wrigley field map and cheap concert tickets.

Gonzalo Segares as Captain Morgan
« CJ Brown - Fire Captain | Main | Marco Pappa - a ready made Adidas ad »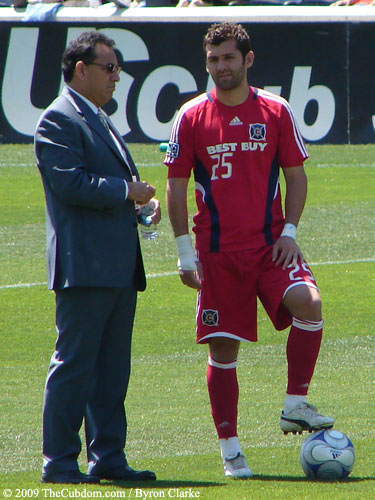 Gonzalo Segares speaks with a suited individual during pre-game warm-ups. Email me if you know who the other fellow is.
« Previous Picture | Cubdom Photo Gallery Home | Next Picture »
Photo Information
Date: May 31, 2009
Location: Toyota Park
Teams: Chicago Fire vs. FC Dallas, Boxscore
Pictured: Gonzalo Segares, Chicago Fire defender and a mystery man
Camera: Sony Cybershot DSC-H1
Photo by Byron | |
Put this picture on your website!
TheCubdom.com licenses all images in the photo gallery for use by others. Just copy and paste the code in the box below into your page where you want the photo. The code may be altered, but each picture must include a backlink to TheCubdom.com. (You are not authorized to use any photo from The Cubdom without a backlink.)