Steeeeer-ike!
« Brushback Pitch | Main | Dave Duncan »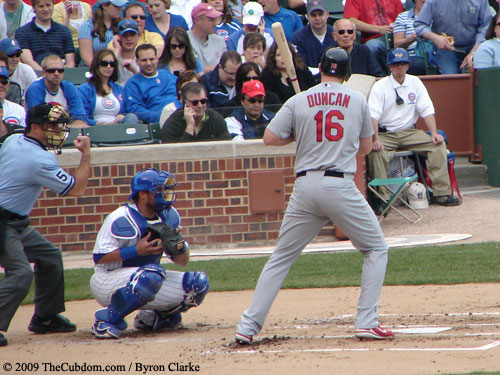 Home plate umpire Dan Iassogna pumps his right fist, calling a strike against Cardinals left fielder Chris Duncan. Cubs catcher Geovany Soto reaches into his mitt to throw the ball back to pitcher Ryan Dempster.
« Previous Picture | Cubdom Photo Gallery Home | Next Picture »
Photo Information
Date: April 18, 2009
Location: Wrigley Field
Teams: Cubs vs. Cardinals, Boxscore
Pictured: Dan Iassogna (Home plate umpire), Chris Duncan (Cardinals batter), Geovany Soto (Cubs catcher)
Game Write-up: Cubs beat Cardinals with Aramis Ramirez walk-off home run
Camera: Sony Cybershot DSC-H1
Photo by Byron | |
Put this picture on your website!
TheCubdom.com licenses all images in the photo gallery for use by others. Just copy and paste the code in the box below into your page where you want the photo. The code may be altered, but each picture must include a backlink to TheCubdom.com. (You are not authorized to use any photo from The Cubdom without a backlink.)
| | |
| --- | --- |
| This post has been tagged: | |