Kevin Gregg delivers
« Joey Gathright takes a hack | Main | Khalil Greene dinks one toward right »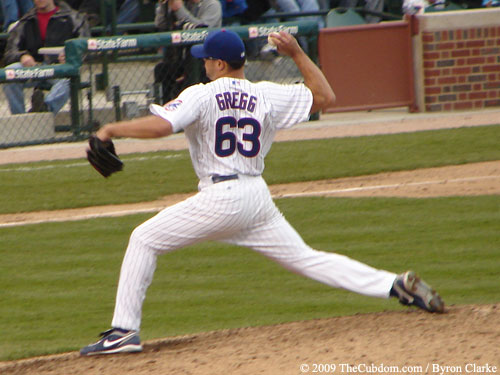 Cubs closer Kevin Gregg strides toward the plate to deliver a strike in the eighth inning of a game against the Cardinals.
« Previous Picture | Cubdom Photo Gallery Home | Next Picture »
Photo Information
Date: April 18, 2009
Location: Wrigley Field
Teams: Cubs vs. Cardinals, Boxscore
Pictured: Kevin Gregg (Cubs Closer)
Game Write-up: Cubs beat Cardinals with Aramis Ramirez walk-off home run
Camera: Sony Cybershot DSC-H1
Kevin Gregg, who typically closes, was brought in with men on first and second in the eighth inning with none out. In his best outing of the young season, Gregg struck out Joe Thurston and Colby Rasmus before inducing a ground ball from Skip Schumaker. By holding the Cardinals scoreless, Gregg preserved the 5-5 tie, allowing the Cubs to eventually win it on an Aramis Ramirez walk-off home run in the bottom of the eleventh. So yes, sometimes it's ok to bring in the closer an inning early.
Photo by Byron | |
Put this picture on your website!
TheCubdom.com licenses all images in the photo gallery for use by others. Just copy and paste the code in the box below into your page where you want the photo. The code may be altered, but each picture must include a backlink to TheCubdom.com. (You are not authorized to use any photo from The Cubdom without a backlink.)